Small or Dwarf Flowering Shrubs With Pictures For Easy Identification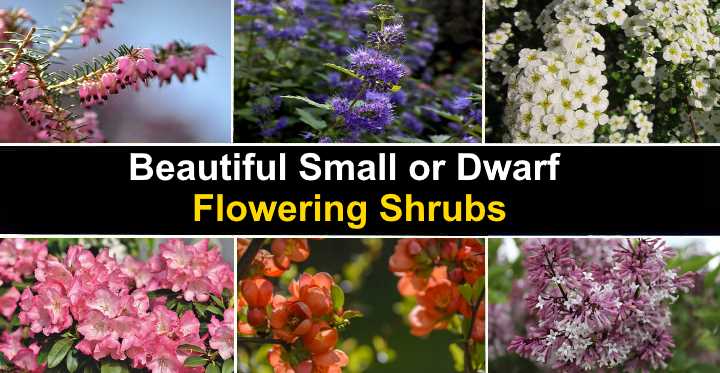 Dwarf or small flowering shrubs are ideal for compact gardens, colorful foundation planting, or to enhance larger flowering bushes. Some varieties of miniature flowering shrubs are evergreen plants. So, apart from producing flowers in spring and summer, these small shrubs stay green all year long. Combinations of low-growing flowering shrubs and evergreen bushes at the front of the house can significantly enhance curb appeal.
Some of the best small flowering bushes are dwarf rhododendrons, small honeysuckle shrubs, miniature spirea plants, compact hydrangea shrubs, and small flowering potentilla shrubs.
Small or dwarf shrubs can have flowers in different colors such as shades of pinks, lilac, yellow, blue, orange, white, and red. If you plant small colorful shrubs in flower beds and along borders and driveways, you can have a colorful garden throughout the year.
This article is a guide for choosing the best ornamental small or dwarf flowering shrubs for your front or backyard. Descriptions of small bushes with their picture and name can help you determine the best ones for your garden landscape.
What Are Dwarf Flowering Shrubs?
Dwarf flowering shrubs and low-growing bushes are plants that grow to between one and three feet (up to one meter) tall. Some varieties of bushy garden plants don't grow very tall and are ideal for planting under windows. For other species of colorful dwarf shrubs, you must find small or miniature cultivars of larger varieties.
Small blooming shrubs are larger and more compact than ground cover plants. Dwarf shrub varieties have upright growth rather than spreading across the ground. Most ground cover plant species grow less than 1 ft. (30 cm) tall. However, the flowering shrubs on this list grow to between 2 and 3 ft. (0.6 – 1 m) high.
Related reading: The best ground cover plants for shade.
The Benefits of Small Shrubs
Growing small colorful shrubs in your garden landscape usually requires little care. Low-maintenance, compact shrubs don't require regular pruning to control their growth. Generally, you don't need to bother with deadheading, trimming, or spending time caring for small flowering bushes.
Miniature shrubs are the perfect landscaping solution for small residential gardens. You can plant short bushes along borders, in mixed flower beds, or as colorful foundation plants. You can even plant small shrubs that flower in containers to brighten up a patio, deck area, or balcony.
Another benefit of small ornamental shrubs is that they add year-long seasonal interest to your landscape.
How to Pick the Best Small Flowering Shrub for Your Garden
Picking the perfect small flowering shrub for your front or backyard enhances your garden's aesthetics. To choose the right types of low-growing shrubs, consider how much sun the plants need and your USDA hardiness zone. It would be best if you also think about each shrub's soil requirements and watering needs.
It's good to remember that your growing zone significantly affects your choice of dwarf shrubs. Some low-growing flowering perennial shrubs only grow as annuals in cold climates. Also, certain small flowering shrub varieties need full sun or partial shade to thrive, whereas other miniature shrubs grow well in full shade.
Most small flowering shrubs grow to between 1 and 3 ft. (0.3 – 1 m). So, it's also a good idea to consider the other plants growing nearby. For example, large trees or bushes could create constant shade for a sun-loving dwarf shrub.
Small or Dwarf Flowering Shrubs With Their Picture and Name – Identification Guide
Here are some of the best dwarf or small flowering shrubs for the front of your house or backyard.
Dwarf Japanese Pieris Shrub (Pieris japonica 'Cavatine')
The Japanese Pieris 'Cavatine' is a compact evergreen flowering shrub. This short evergreen shrub doesn't grow taller than 2 ft. (0.6 m) tall which makes it an excellent choice for small gardens and landscape. The Japanese Pieris 'Cavatine' is a low maintenance small shrub that produces spectacular displays of creamy-white clusters of flowers in drooping panicles. The small rounded bush has dark-green leathery leaves.
Other common names for the small Japanese Pieris shrub are Japanese andromeda and dwarf lily-of-the-valley shrub.
You can grow the compact shrubby Japanese Pieris plant in full sun or partial shade in USDA zones 5 to 8. Dwarf Japanese Pieris shrubs are ideal for flower beds, informal rock gardens, low-growing hedges, and flowering borders.
Dwarf Rhododendron Flowering Shrubs
Miniature rhododendron shrubs produce masses of spectacular pastel-colored flowers every spring. Rhododendrons are hardy, low maintenance woody shrubs, and the dwarf cultivars don't grow higher than 3 ft. (1 m). The small, compact rhododendron shrubs are perfect flowering plants for the front yard, small gardens, containers, mixed beds, foundation plants, and driveway borders.
Evergreen flowering rhododendron shrubs thrive in full sun or partial shade. Small flowering shrubs in the Rhododendron family thrive in zones 5 to 8.
Here are some excellent flowering dwarf rhododendron shrubs for your front or backyard:
Rhododendron 'Ginny Gee'. A miniature flowering shrub that grows between 1 and 2 ft. (0.3 – 0.6 m) tall. Pink and rose-colored blooms appear in spring and cover the whole shrub in beautiful flowers.
Rhododendron 'Hino Crimson'. Magnificent small flowering shrub that is not growing taller than 3 ft. (1 m). The low-growing colorful bush is ideal for planting at the front of the house or as a small flowering hedgerow.
Rhododendron 'Ramapo'. Beautiful cold-hardy small shrub that produces stunning clusters of purple or lilac flowers. Grow this evergreen flowering shrub in full sun in zones 4 to 8. The 'Ramapo' cultivar has more compact growth in small shaded gardens.
Small Cotoneaster Flowering Shrubs
Dwarf cotoneaster shrubs are woody plants with small oval leaves with pink or white flowers. Small varieties of cotoneaster shrubs grow to between 1 and 3 ft. (0.3 – 1 m) and have stiff branches that create sprays of foliage. The small pink or white flowers give way to red berries that look attractive against the green foliage in the fall.
Most species of cotoneaster—dwarf and full-grown—thrive in full sun or partial shade. These hardy landscaping bushes are ideal for compact gardens to provide low-growing edging, ground cover for full sun, or growing in beds or borders.
Most cotoneaster shrub varieties are hardy in USDA zones 5 to 7 or 8.
Small Flowering Potentilla Shrubs (Potentilla fruticosa)
Potentilla bushes produce masses of colorful flowers that bloom for a long time. Potentilla is a deciduous shrub species with many cultivars not growing taller than 3 ft. (1 m). The dainty pastel-colored flowers bloom throughout the summer from spring until frost. The small shrubby plants are best growing in full or partial sun.
Grow potentilla bushes in beds or borders or plant as a low-growing flowering hedge. The masses of yellow, white, pink, red, and orange flowers contrast to the dark-green foliage of small oval leaves. Small potentilla flowering shrubs are perfect for beds and borders or as colorful foundation shrubs under your windows.
Dwarf potentilla shrubs flower and thrive in zone 3 to 7.
Dwarf Spirea Shrubs
Spirea (botanical name Spiraea) shrubs are easy-care small flowering shrubs with clusters of flowers and stunning foliage. Spirea flowers can be red, rosy-pink, white, and blue. Many spirea species are low-growing shrubby plants that thrive in full sun. Spirea deciduous shrubs have foliage that turns spectacular oranges, reds, yellows, and purples in the fall.
Dwarf spirea shrubs grow up to 3 ft. (1 m) tall. The small flowering bushes grow best as foundation plantings, borders plants, or flowering pathway edging. You can also plant the shrubs in containers for growing on porches or balconies. Spirea shrubs thrive in zones 3 to 8.
Japanese Skimmias (Skimmia Japonica)
Japanese Skimmia is an evergreen dwarf flowering shrub that thrives in the shade. This low-growing flower bed shrub grows to 4 ft. (1.2 m) with a domed shape. Japanese skimmia shrubs are known for their fragrant, star-shaped flowers, evergreen foliage with lanceolate leaves, and bright red berries.
It's best to grow short Japanese Skimmias in flowering shrub borders, as low maintenance foundation plantings, blooming hedges, or patio containers. Grow these shade-loving evergreen flowering bushes in zones 6 to 8 for best results.
Japanese Skimmia is on the list of the best small or dwarf evergreen shrubs.
Winter Heath (Erica carnea)
Winter heath is a stunning low-growing flowering plant that flowers in early spring. The spectacular feature of winter heath is its masses of flowers that can have colors such as purple, pink, and magenta. Winter heath has flowers that bloom for many weeks during winter and early spring. Grow the short shrub as a flowering ground cover plant, container plant, or adding winter color to mixed beds.
Winter heath grows up to 1 ft. (0.3 m) tall. The colorful miniature bushes need to grow in full sun in zones 5 to 8 to thrive. Other names for the compact spreading wither heath shrub are December Red, winter-flowering heath, and alpine heath.
Bluebeard (Caryopteris x clandonensis)
Bluebeard is one of the few small flowering shrubs that start blooming late in the season. The flowers on this small deciduous shrub are blue or purple color. Some varieties of bluebeard have dark to light-green foliage, and others have variegated ovate-shaped leaves. Bluebeard is an easy-care shrub that grows best in perennial borders or flower beds.
Small bluebeard bushy shrubs grow to between 2 and 3 ft. (0.6 – 1 m) in zones 5 – 9. The shrub stems grow upward and outward to give the plant a rounded shape. Bluebeard is an ornamental plant that is ideal for compact residential landscapes.
Virginia Sweetspire (Itea virginica)
Also called the Virginia willow, some varieties of sweetspire are dwarf shrubs with white flowers growing in spikes. When in bloom, the bottlebrush flowers almost cover the short rounded shrub. This sun-loving landscaping shrub grows up to 3 ft. (1 m) tall and doesn't require any maintenance.
The dwarf sweetspire cultivars are called 'Little Henry.' The low-growing shrubby plant is ideal for the front of the house to boost curb appeal. And it grows just as well in full sun as it does in the shade. Grow Virginia sweetspire as flowering ground cover, blooming hedges, or to brighten up a shrub border.
Sweetspire shrubs are hardy in USDA zones 5-9.
Japanese Skimmia is on the list of the best low maintenance plants.
Hummingbird Summersweet (Clethra alnifolia)
The summersweet cultivar 'Hummingbird' is a small flowering bush with bottlebrush-like fragrant, white flowers. Summersweet shrubs flower from mid to late summer and the blossoms can last for up to six weeks. This shrub is a compact cultivar ideal for shaded gardens, mixed beds, or flowering shrub borders.
Summersweet shrubs have year-long interest. Beautiful blooms appear in summer that develop into brown fruits that last until winter. In the fall, the glossy dark-green foliage turns a warm yellow. Summersweet is an ideal flowering shrub for growing in the shade or full sun.
Grow summersweet in zones 3 to 9.
Butterfly Bush (Buddleja)
The fragrant flowers on low-growing butterfly bushes do as their name suggests—attract butterflies. Butterfly bush flowers are long colorful panicles that come in shades of purple, lilac, orange, pink, white, and magenta. The stunning ornamental flower spikes last from summer through to the first frost.
The dwarf butterfly bush varieties grow between 1 and 3 ft. (0.3 – 1 m) tall. The small shrubs have a rounded growth habit and have lance-shaped green leaves. Butterfly bush's compact growth makes it ideal for growing in small gardens with limited space.
Butterfly bushes thrive in zones 5 to 9.
Dwarf Blue Honeysuckle Shrubs (Lonicera caerulea, Lonicera xylosteum)
A few honeysuckle shrubs are flowering dwarf plants with compact growth. The 'Blue Moon' and 'Borealis' honeyberry or blue honeysuckle are cold-hardy deciduous shrubs that grow up to 3 ft. (1 m) tall. The blue honeysuckle shrub has yellowish-white flowers that develop into edible blue, blueberry-like fruits.
The honeysuckle species Lonicera xylosteum is a type of compact dwarf honeysuckle that more resembles climbing perennial honeysuckles with their scented flowers. Unlike blue honeysuckle, you shouldn't eat the fruits of regular honeysuckle plants.
Small Hydrangea Shrubs (Hydrangea macrophylla)
Several species of hydrangea have a compact, short growth that makes them ideal flowers for small gardens. Hydrangeas are deciduous landscaping shrubs with a rounded shape and clusters of large globular flowers. Hydrangea flowers appear in summer and bloom for many weeks. The dwarf shrub varieties are ideal for growing where yard space is limited.
Flowering dwarf hydrangeas grow best as low hedges, low maintenance foundation plants, accent plants, or container plantings. Planting a few short hydrangea shrubs at the front of your house will add bright red, pink, and white flowers to your front yard landscape.
Small hydrangeas flower profusely in summer in zones 6 to 9, with some cultivars also cold hardy to zone 5.
Dwarf Fothergilla (Fothergilla gardenii)
Dwarf fothergilla is an ornamental bushy flowering shrub with dense, compact growth. The low-growing shrub transforms in spring when white bottlebrush-like flowers appear. The spiky shrub flowers have sweet honey scents and appear before the green leaves appear. In the fall, dwarf fothergilla becomes a compact shrub of warm yellow, red, and orange hues.
Dwarf fothergilla grows to between 2 and 3 ft. (0.6 – 1 m) tall. The short flowering shrub grows best in shrub borders, compact gardens, along foundations, or to line a path or driveway. This slow-growing small shrub thrives in zones 5 to 8.
Another common name for dwarf fothergilla (Fothergilla gardenii) is dwarf witch alder.
Wine Ninebark (Physocarpus opulifolius)
Ninebark is a tiny flowering shrub that has showy white or pink flowers. The blooms on ninebark dwarf shrubs grow as clusters of dense flowers that form a flat rounded flowerhead. The white flowers in springtime contrast with the round leaves that have three to five lobes.
The ninebark cultivar 'Nanus' is the dwarf variety of this deciduous shrub. The small, compact shrub has dense branches, but foliage and flowers similar to the larger species. Grow this little shrub in flowering borders, as a small hedge or to add showy flowers to a rock garden.
Ninebark 'Nanus' is cold-hardy in zones 2 to 8.
Lavender (Lavandula)
Lavender is an attractive low-growing shrubby plant with scented purple flowers. Lavender shrubs grow to between 1 and 3 ft. (0.3 – 1 m) tall. The small shrub has spikes of purple or lilac flowers with the easily recognizable 'lavender' scent. Lavender shrubs bloom throughout the summer and thrive in zones 5 to 9.
Lavender is an ideal dwarf flowering shrub for borders, informal edging, herb gardens, or mixed flower beds. Plant lavender flowers in full sun and well-drained soil for best results.
Dwarf Blooming Lilac (Syringa)
Dwarf lilac bushes are ideal flowering plants for compact spaces. Although many lilac species are large shrubs or small trees, a few cultivars only grow up to 3 ft. (1 m) high. The small shrubs have a compact rounded growth, and they produce sweetly scented clusters of pink flowers in spring.
Small lilac shrubs are ideal for front-of-house planting, mixed shrub borders, or perennial flower beds. The showy flowers and dense foliage add plenty of color and greenery to small gardens. Grow small lilac shrubs in full sun where they thrive in zones 3 to 7.
Related Articles: