17 Great Ground Cover Plants for Full Sun (With Pictures)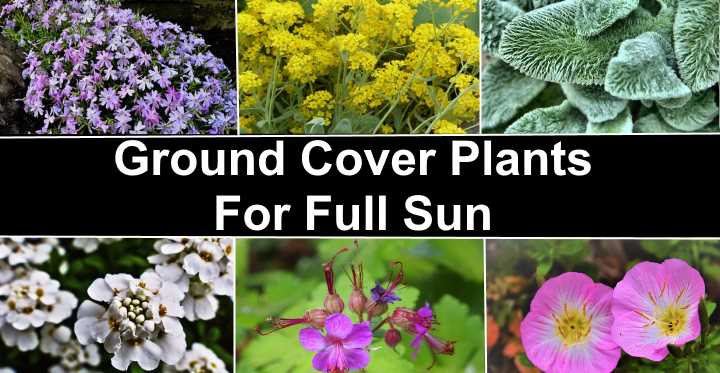 Choosing the right types of ground cover plants that thrive in full sun is essential for any landscaped garden. Flowering ground cover plants for sunny conditions enhance your garden with an array of stunning colors. Many creeping perennial ground covers that withstand bright sunshine also provide year-round green cover for your landscaping solutions.
When looking for the best ground cover plants for full sun, it's important to take into account a number of factors. Many full sun ground cover plants are drought resistant but need well-drained soil. Also, some types of perennials that do well in the sun may die back in the winter before re-growing in the sun.
You can also plant creeping or clumping perennials that flower if you want to brighten up your garden.
One of the great things about planting creeping perennials is that they help keep weeds away. You can also plant common ground covers on south-facing slopes to prevent soil erosion where they get the sun all day. The majority of ground cover plants are low-maintenance but may need cutting back every year to prevent them from taking over your garden.
In this article, you will learn about some of the best ground cover plants that grow well in full sunshine. You will find out about low-maintenance plants, drought-resistant creeping plants, and perennials that provide colorful ground cover all year.
Ground Cover Plants for Full Sun (With Pictures and Names) – Identification and Planting Guide
Creeping Phlox
The Creeping Phlox (Phlox stolonifera) is a flowering perennial ground cover for sun which provides a carpet of green cover throughout the year.
Creeping Phlox is a low-growing type of evergreen plant with trailing stems that help to cover areas of your garden or look good in rock gardens. Every spring, you can expect the green cover to transform into flowers in various colors of purple, white, blue, or pink.
The plant has creeping stems that grow up to 10" (25 cm) long with small thin green leaves. Flowers on the Creeping Phlox are just under an inch (2.5 cm) in diameter. When planted together, the Creeping Phlox looks like a large green mat that transforms into stunning colors when it flowers.
Another evergreen Phlox cultivar that grows in full sun and flowers is the Phlox subulata. This ground cover plant has needle-like leaves and produces flowers with long thin petals.
Plant creeping phlox plants where they get sun all day long. They grow well in USDA hardiness zones 3-9.
Creeping Thyme
The Creeping Thyme (Thymus serpyllum) is a low-growing, low-maintenance sun-loving ground cover plant that produces stunning purple flowers every year.
This hardy tiny plant has tall long creeping stems that provide good evergreen cover in your garden. Being only 1" to 2" (2 – 3 cm) tall, this is a perfect plant to give you a green cushion of foliage in large sunny areas. When creeping thyme flowers, you will have a large sea of color with different shades of purple.
This fast growing ground cover is a great landscaping choice for planting between stepping stones or as a path border.
Creeping thyme is also a drought tolerant evergreen plant that can survive periods of dryness. Planting flowering creeping thyme in your garden also reduces work as the creeping plant keeps weeds at bay. Having this plant in your garden not only looks wonderful but also provides pleasant minty or lemony aromas.
This common creeping ground cover loves the sun and grows in hardiness zones 4 to 8.
Lamb's Ear
One of the best ground covers for sunny areas is Lamb's Ear (Stachys byzantina). The appropriately named ornamental plant has thick silvery foliage that covers ground extremely well.
The most common use of this perennial plant is to edge pathways or flowerbeds. The fuzzy silver-grey leaves grow to between 2" and 4" (5 – 10 cm) long. Lamb's Ear also flowers every year and has purple-pink flowers growing on long stems.
Rather than providing ground cover with creeping stems, Lamb's Ear is a clumping plant. So, the best way to use this plant is to plant it in mass to create as much silver ground cover as you require. You also need to make sure that Lamb's Ear gets plenty of sun throughout the day.
This perennial attractive ground cover plant thrives in USDA zones 4 – 9. This ornamental ground cover plant tends to be evergreen but can die back during cold winters and regrow later in spring.
Basket of Gold
The aptly named Basket of Gold (Aurinia saxatilis) is a robust evergreen ground cover that produces stunning bright yellow clusters of flowers.
This perennial ground cover withstands dry conditions and is on the list of low-maintenance bedding plants. The plant grows in small clumps that measure up to 12" (30 cm) high and has a spread of 20" (50 cm). The best place to plant this flowering perennial is in full sunlight and well-drained soil.
Basket of Gold is also called "yellow alyssum," however, it should not be confused with plants from the alyssum species.
If you live in USDA zones 4 to 7, then this carefree low-growing plant provides great year-round ground cover and bright flowers in the spring.
Candytuft
Another drought-resistant perennial is Candytuft (Iberis sempervirens) which likes plenty of sunshine and blossoms annually every spring.
This sun-loving evergreen gound cover is a hardy short woody plant that grows to about a foot (30 cm) in height. The plant provides good ground cover when planted in sunny areas. This blooming plant also adds color to rock gardens.
Candytuft has thin evergreen leaves that are between 1" and 3" (1.5 – 7.5 cm) long. Late in the spring, clusters of white fragrant flowers appear giving you beautiful white ground cover.
Perennial Candytuft grows well in USDA hardiness zones 3 – 9 and survives frost and cold winters well.
Angelina Sedum
Angelina Sedum (Sedum rupestre, Sedum reflexum) is a spreading evergreen plant that is an excellent landscaping solution for green cover.
This low-growing evergreen goround cover plant looks similar to dwarf spruce shrubs and spreads well to cover plenty of ground. The drought-tolerant perennial has soft needle-like leaves, and every summer flowers with yellow blossoms. This sun-loving ground cover grows between 6" and 10" (15 – 25 cm) in height.
The most common type of Sedum is the one with green leaves, but other spreading varieties have leaves that are blue-grey or yellow.
Plant in sunny parts of your garden for this ground cover plant to thrive. Angelina sedum grows well in USDA zones 5 to 8.
Brass Buttons
Brass Buttons (Leptinella squalida) is a type of flowering spreading plant for covering the ground, especially in sunny areas of your garden.
You can use this sun-loving ground cover, for edging pathways, or as an ornamental plant in a rock garden. Brass buttons have low growth with the creeping plant only reaching 2" (5 cm) in height. The sprawling stems will continue to spread until you cut them back.
Another reason to use Brass Buttons as a landscaping idea is for their delightful yellow button-like flowers. These provide plenty of color when they flower.
For a more striking effect in your garden, you could choose the "Platt's Black" cultivar. This is also a low-growing ground cover plant, but it has purple-black dense foliage.
This creeping plant grows well in USDA hardiness zones 5 – 9.
Creeping Juniper
Another fast-spreading ground cover plant is the Creeping Juniper (Juniperus horizontalis) which is a shrubby type of low-growing plant.
Also called the Creeping Cedar, this evergreen perennial can spread for many meters wide. When mature and well established, the plant forms a soft mat over the ground. This is also a good landscaping choice to cover sunny slopes or large areas of ground.
This ground cover for the sun grows between 4" and 8" (10 – 20 cm) tall. To maximize growth potential, this plant needs full sun and will it will stay green throughout the year.
This hardy creeping ground cover plant grows in zones 3 – 9. It's an excellent ground cover where other types of plants are difficult to grow.
Golden Creeping Jenny
If you are looking for a low-maintenance ground cover plant, then the Golden Creeping Jenny (Lysimachia nummularia 'Aurea') is an excellent landscaping choice.
This sun-loving ground cover plant has long, dangling round leaves that look just as good in a hanging basket as covering a sunny slope. The creeping stem roots give this plant a wide spread and the star-shaped yellow flower brights up gardens in the summer. The flowers grow to around 0.7" (2 cm) in diameter.
The Golden Creeping Jenny is the best choice from the other Lysimachia cultivars as it is a fast-spreading plant but not as invasive. Because this creeping plant enjoys wet or damp soil, you can plant it around ponds or soggy areas of your garden. However, the plant will also tolerate drier soil conditions.
This is a cold-hardy type of ground cover that grows in USDA hardiness zones 3 – 9. Depending on the climate, the plant can be evergreen or a deciduous perennial.
Big Root Geraniums
If you have a garden that gets a lot of sun, then Big Root Geraniums (Geranium Macrorrhizum) can provide colorful ground cover.
Depending on the type of Big Root Geranium, you can get a white, pink, purple or magenta flower varieties. The large green leaves and their spreading habit will provide plenty of ground cover for your sunny garden. The geranium stems grow to 12" tall (30 cm) and have a spread of up to 24" (60 cm)
Once established, Big Root Geraniums are very low-maintenance plants that generally take care of themselves. When planted in full sun, these spreading plants choke out weeds and create a carpet of lush green foliage. In the late spring and early summer, the green ground cover transforms into an array of pink flowers.
If you live in a hot climate, then the Apple Geranium is a drought-tolerant variety that also gives good ground cover.
Some ideas where to use spreading geraniums in landscaping are in gravel gardens, flowerbed borders, or as a colorful ground cover.
Hardy geraniums grow well in USDA zones 3-8.
Showy Evening Primrose
Showy Evening Primrose (Oenothera speciosa) is a type of herbaceous perennial ground cover for full sun that is very drought-tolerant.
These plants have fairly dense foliage and provide good ground cover where needed. Although they can grow in shaded areas, these flowering plants need full sunlight for their showy flowers to blossom. Evening Primrose varieties require well-drained soil to thrive. These plants are also drought-resistant; however, flowers will be smaller in drier conditions.
The Showy Evening Primrose spreads by trailing runners that take root. When left to care for itself, this pink flowering ground cover can become invasive. The leaves are long and broad and can reach up to 4" (10 cm) long and 1.5" (4 cm) broad. During the middle of June, delightful pink blossoms appear that last until the fall.
Other names for this showy ground cover include 'pinkladies,' 'Mexican primrose,' and 'pink evening primrose.'
These ground covers grow 1-2 feet (30 – 60 cm) tall and grow well in USDA hardiness zones 5 – 9.
Veronica Prostrata
The Prostrate Speedwell (Veronica prostrata) is a variety of the Veronica species that provide blue ground cover in the summer.
This low-growing type of perennial plant is described as a semi-evergreen that grows well in sunny conditions. The Prostrate Veronica is also a mat-forming ground cover that spreads constantly. The showy plant grows between 6" and 8" (15 – 20 cm) tall and blooms with blue flowers in early summer.
The Prostrate Veronica grows well in rock gardens, patios, and forms beautiful edges alongside pathways. This type of spreading ground cover plant is also very carefree and grows in most types of soils, even ones that have an occasional drought.
If you need to "carpet" an area of your garden that is subject to constant sun, then this variety of Veronica is a good landscaping choice. The plant grows well in cold hardiness zones 4 – 8.
Blue Star Creeper
The low-growing mat type of plant, Blue Star Creeper (Isotoma fluviatilis) is great for sunny gardens where dense ground cover is required.
Stems from the Blue Star Creeper (also called 'swamp isotome') grow along the ground and the small dark green ovate leaves provide dense cover. The creeping plant only reaches heights of around 3" (7cm) and is a good substitute for lawns where grass won't grow. You can also enjoy tiny blooms during spring and summer from the Blue Star Creeper.
Even though this type of ground cover plant thrives in full sun, it also grows well in the shade. In fact, one of the reasons why this no-fuss ground cover is a popular landscaping choice is due to its ability to grow in most condition.
This creeping perennial is good to plant on sunny slopes, in south-facing rock gardens, between stepping stones, and under shrubs.
Plant Blue Star Creepers in full sun, partial shade, or even in full shade. However, if you want to enjoy its blue flowering cover, plant it in an area that gets plenty of sunshine.
The creeping plant thrives in USDA hardiness zones 6-9.
Ajuga
Ajuga (Ajuga reptans) is a versatile type of ground covering perennial plant that thrives just as well in the sun as it does in partial shade.
This fast sprawling plant provides dense ground cover in any part of your garden. Ajuga reptans (also called bugleweed or carpetweed) has dark green leaves with hints of purple and violet. The creeping plant doesn't grow very tall off the ground and provides a dense carpet of foliage where grass is difficult to grow.
One of the striking features of bugleweed is the large blue flowering spikes that appear at the end of summer. Because this is a fast-growing plant, it requires some maintenance to control it.
When it comes to soil quality, this perennial evergreen can withstand dry soil. However, ajuga grows best in well-drained soil with medium moisture in full sun. This is an excellent landscaping choice to cover a large area of ground.
You can plant ajuga to form dense ground coverage in sunny areas. Also, if you need green cover in the shade, you can plant it around trees, under shrubs, or on shaded slopes. Plant in USDA hardiness zones 3-10.
Barren Strawberry
Barren Strawberry (Waldsteinia fragarioides) is a clumping type of ground cover plant that enjoys lots of sunshine.
This low-spreading plant is virtually carefree and being an evergreen perennial, it provides green ground cover all year. One of the distinguishing features of the plant is its strawberry-like foliage.
The plant only grows to an average height of 4" (10 cm) and has a spread of 12" (30 cm). Planting many of this ground cover will form a lush evergreen mat and help keep weeds away.
In early spring, yellow showy blossoms appear on the plant and give a splash of color to your garden. To make sure that the Barren Strawberry plant flourishes, plant it in full sun and make sure the soil is moist. You may also find that this spreading plant grows well in partial shade.
Barren Strawberries grow in USDA zones 4 – 7.
Soapwort
Another mat-forming perennial plant is Soapwort (Saponaria officinalis) that withstands a lot of sun and summer heat.
The best type of Soapwort for your ground covering landscape needs is the Max Frei cultivar. This fast-growing, low-height clumpy plant is good if you need large scale ground cover. The plant is also a good option to landscape a slope that gets constant sun throughout the day.
Soapwort 'Max Frei' grows to a height of just over a foot (30 cm) and provides stunning pink or purple blooms all summer and fall.
This is not a common type of ground cover plant despite it being available in most countries. So, you can have a stunning and unusual feature in your garden if you add this colorful ground cover.
Soapwort grows well in USDA hardiness zones 4 – 8.
Snow-in-Summer
If you want white flowering ground cover plant through the summer, then plant the perennial Snow-in-Summer (Cerastium tomentosum).
This is a low-height spreading plant that has light-green foliage and an abundance of white flowers when it blossoms. The Snow-in-Summer is a creeping type of perennial that has small silky green leaves. Its dense foliage is good to cover parts of your garden subject to a lot of sun.
These bushy plants grow to a height of between 6" and 12" (15 – 30 cm). They will quickly take root in most types of soil where there is plenty of drainage. The small flowers have white petals that are up to 7 mm long. When well established, this plant forms a mat-covering, and when it flowers it is easy to see why it's called Snow-in-Summer.
You can also grow this spreading plant along walls, on patios, or to decorate a sunny slope.
This hardy, sun-loving perennial grows well in USDA zones 3 – 7.
Related articles: