The Best Flowering Plants For Front of House Landscaping (Shrubs, Annual Flowers, Perennials) – With Pictures and Identification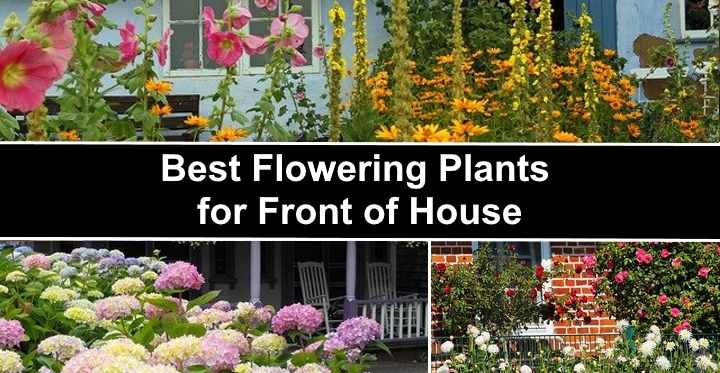 Many flowering plants are ideal for landscaping your front yard. Flowers for the front of the house provide instant curb appeal, making your garden landscape and home look beautiful. Plants that look spectacular in a front yard include flowering shrubs, perennial plants that come back every year, and colorful annual flowers.
Investing in flowering plants for the front of the house is a wise choice. Your front yard landscaping says much about you. By planting suitable flowering shrubs and evergreen bushes, you also help improve the neighborhood's appearance. If you are considering selling your house, then improving curb appeal with beautiful, colorful shrubs can help attract more prospective buyers and sell your home faster.
This article is a guide to choosing the best plants for the front of the house. Descriptions of flowering shrubs and pictures of perennial flowers will give you ideas about enhancing the appearance of your property.
How to Choose Front Yard Landscaping Flowering Plants
Your front yard should be a welcoming place and an area to enjoy spending time. Choosing the best shrubs, bushes, ornamental trees, and colorful flowers can help you get the perfect look for your front yard. It's vital to think about what you want to achieve from front yard landscaping.
For example, you may want to grow evergreen shrubs to have a year-long color in your yard. Most hardy perennial plants are low-maintenance, drought-tolerant plants that provide attractive colors and sweet fragrances during the growing season. Additionally, planting annual flowers along borders, driveways, or paths can transform your front yard into an oasis of color.
For privacy, you could consider planting flowering shrubs that grow as dense hedgerows. Or maybe you need foundation landscaping shrubs to create a natural green border around your property. But it could be that you need to incorporate flower beds around a tree to improve its appearance.
Front Yard Annual Flowers (With Pictures) – Identification

Annual flowers like pansies, petunias, impatiens, and summer snapdragons are an ideal choice for including in your curb appeal landscaping. They provide an instant pop of color and usually bloom throughout the summer. So let's look at some of the most colorful annuals you can plant in your front yard.
Pansies (Viola)
Pansies are ideal annual plants for the flower beds in the front of house because their flowers add fragrance and color to the garden landscape. Pansies, or violas, are small, spring-flowering annuals with flowers in stunning shades of purple, yellow, red, white, and lilac. In addition, some viola flowers have spectacular multi-colored petals that bloom in winter, spring, and summer.
Pansies typically grow between 5" and 10" (12 – 25 cm) tall and 8" (20 cm) wide. As spreading bedding plants with stunning colors, pansies are great annual plants for planting beds, colorful borders, or ground cover in full sun.
Pansies are short-lived perennial flowers that most gardeners grow as annuals because they don't survive frosts.
Petunia
Petunia plants produce spectacular showy, bright blooms of trumpet-shaped flowers that enhance the curb appeal. Some types of petunias are perfect plants for growing in front yard flower beds, along driveways, or around a tree in a front yard. Cascading, creeping petunias are ideal for growing in window boxes, container gardens, or hanging baskets beside your front door.
Petunias are fast-growing tender perennials that are treated as annuals. The showy flowers grow up to 12" (30 cm) tall with a spread of up to 3 ft. (1 m). You can plant petunias in full sun to partial shade to enjoy their long-lasting blooms in your front yard.
Related reading: Petunia Flowers: Care and Growing Guide.
Summer Snapdragon (Angelonia angustifolia)
Summer snapdragon are annual flowers that bloom all summer long and make striking floral displays in your front garden. Summer snapdragon produce spectacular flowering spikes covered in purple, pink, yellow, bicolored, and white flowers. Due to the erect flowering stems, you can have tall flowers up to 4 feet tall (1.2 m).
Planting flowering summer snapdragons is an excellent choice for foundation plantings, garden borders, mixed borders, or back of the bed flowers. Although some species of Angelonia are tall flowering plants, many varieties with white, red, and purple flowers grow around 12" (30 cm) tall and up to 18" (45 cm) wide.
Impatiens
Impatiens are spreading flowering bedding plants that are perfect for front-of-house landscaping if you have a shaded yard. The bright Impatiens flowers come in various colors, including shades of red, pink, purple, yellow, and white. The pretty flowers consisting of five petals bloom consistently and grow among lush foliage.
Impatiens are perfect flowers for adding color to a front yard landscape design. The bold colors and spreading nature have many uses in a garden. The bushy annuals grow well in window boxes, hanging baskets, containers, or along mixed borders. In addition, these are some of the best heat-tolerant flowering plants for growing in the shade.
Marigold (Tagetes)
Marigold flowers are large, orange or yellow pom-pom flowers growing on the end of erect stalks. Large marigold floral heads consist of small florets with ruffled petals. The flowers bloom reliably throughout the summer and don't wilt in full sun. In addition, marigolds thrive in all types of soils.
The larger marigold species (African marigolds, Tagetes erecta) are the showiest and tallest marigolds suitable for foundation planting. The erect flowering stems grow between 1 and 3 ft. (0.3 – 1 m) tall. Smaller marigolds (French marigolds, Tagetes patula) grow between 6" and 18" (15 – 45 cm) and have smaller flowers.
Front Yard Flowering Shrubs (With Pictures) – Identification
Flowering low-growing shrubs are excellent for planting at the front of the house for curb appeal landscaping. In addition, many evergreen plants produce long-lasting blooms all spring and summer. There are also compact shrubs that can enhance the look of your property.
Hydrangeas
Hydrangeas are deciduous flowering plants with large blooms that can add color to the front of house. Hydrangea flowers can be round or umbrella-shaped and come in purple, blue, pink, and white shades. The rounded hydrangea flowering shrub is ideal for front of house foundation planting, summer hedgerows, flowering borders, or mass planting.
Hydrangea shrubs grow between 3 and 5 ft. (1 – 1.5 m) high and wide. Their large, showy pastel-shaded flowers can be clusters of dainty petals measuring between 4" and 14" (10 – 35 cm) across. If you need to landscape a compact front yard, then dwarf hydrangeas are ideal as they only grow up to 3 ft. (1 m) tall and wide.
Related reading: How to care for hydrangeas.
Azaleas (Rhododendron spp.)
Azaleas are ideal flowering shrubs for sunny front yards due to their beautiful foliage, showy flowers, and compact growth. Azalea flowers are colorful funnel-shaped flowers with frilly, ruffled, or flat petals. Depending on the azalea species, the fragrant summer flowers can measure up to 5" (12 cm) across.
If you live in zone 6 and above, azaleas are evergreen flowering shrubs for your front yard. In temperate regions, deciduous azaleas are perennial shrubs that survive freezing temperatures. You can even grow an azalea shrub as an ornamental dwarf landscaping tree to make a statement in your front yard.
Related reading: Azalea Shrubs: Care and Growing Guide.
Rhododendrons
Rhododendron is a group of flowering woody shrubs with showy bell-shaped blooms, thick leathery foliage, and a rounded growth habit. The small to large shrubs are famous for their large clusters of showy spring flowers that bloom in shades of pinks, purples, oranges, yellows, and vibrant reds.
Low-growing rhododendrons are perfect flowering shrubs for growing as front yard foundation plantings. You can also grow the woody shrubs in mass plantings to create a flowering privacy screen or tall colorful border. Also, the evergreen rhododendron varieties can give your front yard year-long greenery and bright spring flowers.
Japanese Pieris (Pieris japonica)
Japanese Pieris is a slow-growing front yard evergreen shrub producing spectacular clusters of showy white or pink flowers in spring. The flowering Japanese Pieris shrub is an ideal front yard landscaping plant thanks to its green foliage and beautiful flowers that produce year-round interest. The flowers on Japanese Pieris are 4- or 5-petalled bell-shaped blossoms growing in drooping racemes (clusters) measuring up to 6" (15 cm) long.
Also called Japanese andromeda, the bushy shrub grows between 9 and 13 ft. (2.7 – 4 m) and up to 8 ft. (2.4 m) wide.
The cold-hardy evergreen foliage is attractive throughout the winter in USDA zones 4 through 8. For many front yard landscape designs, smaller varieties of Japanese Pieris are suitable as foundation plants, shaded borders, flowering hedges, or shrub borders.
Butterfly Bush (Buddleia davidii)
Also called summer lilac due to its conical purple flower clusters, the flowering butterfly bush is a vigorous front yard shrub with arching branches. The attractive landscaping feature of a butterfly bush is its honey-scented flower clusters measuring up to 8" (20 cm) long. The flowering bush grows 6 to 10 ft. (1.8 – 3 m).
The butterfly bush needs pruning back to the ground in the fall when growing in zones 5 and below. However, the hardy shrub will come back the following spring to bloom profusely all through the summer. Other landscape ideas include growing the low-maintenance shrub as a border, hedge, or container plant.
Related reading: Beautiful Types of Butterfly Bushes.
Flowering Spirea Shrubs (Spiraea)
A flowering spirea shrub is a drought-tolerant landscape plant with beautiful small white or pink summer flowers growing in flat-topped clusters (corymbs). The delicate white or pink flower corymbs grow up to 8" (20 cm) in diameter and can be any shade from white, reddish-rose to deep pink. The low growing flowering shrub for front-of-the-house landscaping grows up to 3 ft. (1 m) tall and wide.
Dwarf spirea shrubs are easy to grow landscaping plants for the front yard. The shrub's attractive compact form, flower shape, and feathery deciduous foliage create a soft mound in front of the house. Additionally, the versatile dwarf shrub looks beautiful, growing as a container plant, mixed shrub planting, or flowering summer barrier.
Viburnum Shrubs for Front Yard
Viburnum are flowering low maintenance shrubs ideal for landscaping the front of the house because they thrive in all conditions—sunny, wet, dry, or shade. Viburnum flowers grow as showy clusters of small creamy white or pink five-petalled fragrant flowers. The umbrella-shaped clusters can measure between 2" to 6" (5 – 15 cm) across.
Low-growing dwarf viburnum shrubs can be deciduous or evergreen shrubs. The showy flower clusters almost cover the lush, green foliage in spring. After blooming out, the seasonal interest with the rounded shrub continues thanks to the clusters of vibrantly colored red, purple, black, or blue drupes that grow.
Related reading: Types of Viburnum: Shrubs, Trees and Hedges.
Rose of Sharon (Hardy Hibiscus)
The rose of Sharon is a flowering landscaping shrub in the genus Hibiscus. The hardy deciduous rose of Sharon shrub is famed for its large, trumpet-shaped flowers with prominent protruding stamens. Papery hibiscus flowers are usually pink, purple, or white. The five-petalled tubular flowers can measure up to 3" (7.5 cm) in diameter.
The dense foliage and colorful blooms on a hardy hibiscus create beauty and privacy in a front yard. You can plant the bushy shrubs 3 feet (1 m) apart to create a hedgerow. Alternatively, you could grow the shrubs next to your house to cover foundations or accent architectural features.
Related reading: Types of hibiscus plants for front-of-house landscaping ideas.
Front Yard Perennial Flowers (With Pictures) – Identification
Planting hardy perennial flowers in your front yard is perfect for adding seasonal color to brighten up your garden landscape. Typically, flowering perennials are low-maintenance plants that only require occasional pruning to make them look beautiful.
Dahlias 
Dahlias are perennial flowering plants that can add color to the front of your house. Dahlia flowers have a stunning variety of shapes, sizes, and colors. Dahlia flowers add beauty and spectacular colors to a flower bed at the front of house. The flowers can be large globus flowerheads, colorful star-shaped flowers, or showy double flowers with ruffled petals. Dahlia flowers can grow between 2" and 12" (5 cm – 30 cm) across.
Flowering dahlia plants grow 1 to 4 ft. (0.3 – 1.2 m) tall and up to 2 ft. (0.6 m) wide. The sun-loving plants thrive in USDA zones 8 to 11. In milder climates, you may have to add extra mulch to protect the roots from frost. However, in colder climates, you should dig the tuberous roots in fall and store them indoors during winter.
Peonies
Peony flowers add beauty to the front of your house, and there are so many peony varieties that you can pick from. Peonies are perennial plants that produce huge, heavily scented flowers with showy ruffled petals. Most peony plants grow 1 to 3 ft. (0.3 – 1 m) high, and there are varieties suitable for front yard landscaping in zones 2 through 8. The spectacular blooms appear in spring and flower until mid-summer.
Plant peonies in full sun to partial shade, making sure that they grow in well-drained soil. As a low-maintenance plant, peonies require little pruning to keep their shape and produce abundant blooms. Once established, the flowering shrubs will live for many years, filling your front yard with attractive foliage and colorful flowers.
Catmint (Nepeta)
Catmint is a dwarf perennial flowering foundation plant with spikes of purple flowers that bloom from spring until late summer. As a low-spreading bushy plant, catmint is ideal for growing in front yard borders, along driveways, in rock gardens, or containers beside an entranceway.
Catmint landscaping flowers are hardy in USDA zones 3 through 8. Depending on the species, the herbaceous perennial clumping plant grows between 1 and 3 ft. (0.3 – 1 m) tall and spreads up to 3 ft. (1 m) wide.
Roses
Rose bushes are attractive woody shrubs for the front yard because they produce beautiful flowers and attractive green foliage. There are so many types of roses for landscaping that it's difficult to categorize all kinds. So, here are some landscaping ideas on using roses for the front of the house landscaping:
Climbing roses with cup-shaped flowers or rosettes create stunning entrances as they grow around a doorway or front garden gate.
Grow English rose bushes to create a colorful planting bed with sweet-smelling blooms that last the whole summer.
Rambling roses are ideal for accenting the architectural features of your house.
Plant ground cover roses if you want to accent taller shrubs, create a cottage garden, or grow a spectacular low hedge.
Related reading: Amazing Varieties of Rose Hybrids.
Daylilies (Hemerocallis)
Daylilies are clump-forming perennial plants that have grass-like leaves and large tubular flowers. For the front-of-house landscaping, daylilies are ideal for most climates and any type of soil. The versatile plants can help landscape areas of your front yard where other flowers can't grow—poor soil, shade, wet ground, or full sun.
Daylilies produce abundant bell-shaped or funnel flowers, and the clumping plant constantly blooms for several weeks. The showy flowers can be in shades of orange, yellow, pink, purple, and red. In addition, the flowering stems can grow between 12" and 24" (30 – 60 cm) tall.
You can plant daylilies along fences in the front yard, use them as flowering foundation plants, create grassy borders, or grow in containers.
Hollyhock (Alcea rosea)
Hollyhock is a perfect landscaping perennial flower for the front yard due to its low maintenance, tolerance of frost, and spectacular summer flowers. Hollyhock flowers can have papery petals and can be funnel-shaped, single or double flowers. In addition, the tubular flowers growing on tall, erect stems can be in pastel shades of pink, reds, yellows, purples, and white.
Hollyhock flowers thrive in zones 3 through 9. The tall flowering stems can grow 5 to 8 ft. (1.5 – 2.4 m) tall—perfect for adding color to your front yard.
Related articles: