Low Maintenance Shrubs – Easy Care Garden Plants (With Pictures)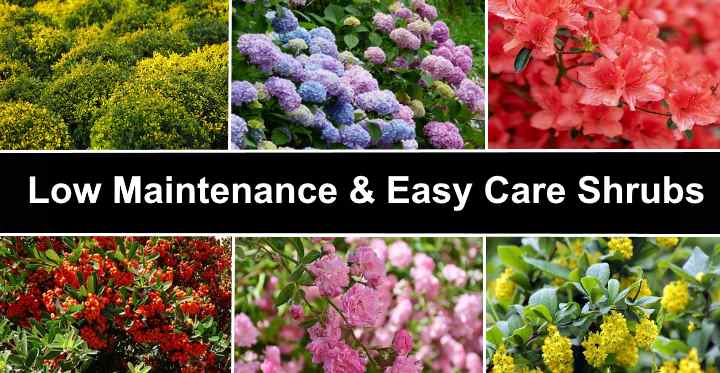 Low-maintenance shrubs are ideal for making your garden look beautiful throughout the year with minimal care. Many easy-care landscaping shrubs need little or no pruning, grow in full sun or shade, are drought-tolerant, and thrive in various soil types. You can plant low-maintenance shrubs along borders, as foundation plantings, flowering hedge plants, privacy screens, or mixed beds.
Low Maintenance Shrubs For Landscaping
Many shrubs that require little maintenance can be evergreen bushes for year-long greenery in your yard. Other easy-to-care-for landscaping shrubs bloom from spring until fall, filling gardens with beautiful colorful flowers. There are even some low-maintenance flowering shrubs that bloom in winter. Whatever your landscaping needs are, there are plenty of trouble-free shrubs for your garden.
This article is a guide to lovely low-maintenance shrubs that don't need much effort to grow. You'll find pictures and descriptions of evergreen shrubs, flowering shrubs, easy-care shrubs with decorative berries, and dwarf bushes.
If you want to plant undemanding shrubs in your garden, please read on to find out more information.
What Are the Best Low Maintenance Shrubs?
Ideally, the best low-maintenance shrubs should almost take care of themselves. Low-maintenance shrubs don't need much pruning, watering, or feeding. It's also a good idea to pick easy-care landscaping shrubs that grow in a variety of soils. This way, you will easily fill your yard with lush foliage and colorful blooms throughout the year.
Another consideration when looking for care-free landscaping bushes is sun requirements. Choose a type of shrub that grows well in the amount of sunlight your garden receives during the day. So, if your front of house gets all-day sun, choose landscaping foundation plants for full sun or partial shade.
To cut down on gardening work, it's best to choose small or dwarf shrubs. These landscaping plants only grow a few feet (1 – 2 m) high and don't require regular pruning to control their height.
Low Maintenance Flowering Shrubs (With Pictures) – Identification

Let's look in more detail at some of the flowering landscaping shrubs that grow in gardens with little care and attention.
Dwarf Blooming Lilac (Syringa) – Low Maintenance Small Shrub For the Front of House
Dwarf lilac shrubs are low-maintenance landscaping plants, ideal for the front of house, shrub borders, or flowering hedges. These easy-care, hardy shrubs are tolerant of drought, thrive in full sun or light shade, and have few maintenance needs. Dwarf pink or purple lilac bushes usually grow up to 3 ft. (1 m) tall and 3 ft. (1 m) wide.
Lilac shrubs are deciduous, perennial landscaping plants with small, green ovate leaves. The dwarf varieties have a compact growth and don't take up much room in backyards or growing as foundation plantings.
Small lilac shrubs bloom profusely in late spring with showy, pink, light purple, or white flower clusters. In full bloom, the beautiful flowers almost cover this dwarf rounded shrub. Many types of low-maintenance lilac plants are rebloomers and blossom throughout the summer and fall.
The only care dwarf lilac bushes require is light pruning to deadhead spent flowers. Because lilac bushes are resistant to pests and disease, you won't have to spend too much time maintaining them.
Virginia Sweetspire (Itea virginica) – Ideal Plant For Low Maintenance Landscaping
Virginia Sweetspire is a versatile, easy-care. low growing deciduous landscaping shrub with lush, dark green lanceolate leaves and masses of white bottlebrush flowers. This low maintenance bushy flowering plant grows in full sun to complete shade and stays attractive from early spring until late fall. Virginia Sweetspire is an excellent shrub for low maintenance front yard landscaping as it only grows between 3 and 10 ft. (1 – 3 m) tall.
You don't need much effort to grow Virginia Sweetspire shrubs in a garden landscape. Mulching around the roots and average watering keeps the ground moist. You can also prune any dead flowers to encourage more blooming. If you need an easy-care landscaping shrub for wet soils with poor drainage, Virginia Sweetspire is an excellent choice.
Virginia Sweetspire is a superb easy care landscaping plant for shrub borders, lush hedges, or foundation plantings. It also spreads quickly without much effort and is a useful ground cover shrub for sun or shade. Like lilac bushes, low-maintenance Virginia Sweetspire has few pest or disease issues.
Small Hydrangea Shrubs (Hydrangea macrophylla) – Low Maintenance Shrubs For Foundation Planting
Hydrangea shrubs grow without much care, producing showy flower clusters during summer. This species of deciduous low maintenance shrub has broadly ovate green leaves with serrated edges. The showy hydrangeas flowers grow as rounded clusters of pastel-colored flowers in hues of pink, white, purple, red, and lilac.
Hydrangea shrubs are popular landscaping flowering shrubs for front of house due to their low-maintenance requirements. The bushy flowering plants grow in full sun or shade, have average water needs, and are not fussy about the soil. The only care these shrubs need is pruning spent flowers.
Plant easy-care dwarf hydrangea shrubs in front of the house, as an accent plant, or grow in a row to create a colorful hedge. As a bonus, the beautiful large flowers look stunning in cut flower floral displays.
Shrub Roses (Rosa)
Shrub roses are some of the most attractive flowering landscape plants that don't require much attention. Many shrub roses varieties grow between 2 and 4 ft. (0.6 – 1.2 m) tall. Typically, the showy flowers are semi-double or double flowers growing in colorful rosettes. With relatively little care, you can enjoy rose blooms from late spring until the first frost.
Shrub roses are ideal low-maintenance plants that thrive in full sun or partial shade, need watering occasionally, and have good disease resistance. Some light spring or summer pruning helps to encourage faster blooming. Many of these hardy perennial shrubs grow in USDA zones 2 through 9.
Some spectacular trouble-free shrub roses include 'Japanese Rose' (Rosa Rugosa), hybrid musk roses, and hybrid tea roses. Some taller shrub roses are climbing roses that grow up to 5 ft. (1.5 m) tall.
Related reading: The most beautiful types of roses for your garden.
Bottlebrush Buckeye (Aesculus parviflora)
Bottlebrush buckeye is an easy-to-care-for flowering shrub for shade or full sun. It's a long-blooming shrub with dense, deciduous foliage made up of lance-shaped, green, palmate leaves. This buckeye species has attractive conical white flowers with a fuzzy appearance. Cold-hardy bottlebrush buckeye grows well in USDA zones 4 through 8.
Bottlebrush buckeye almost thrives on neglect. You can plant this pest-free shrub in virtually any area of your garden and forget about it. It grows between 8 and 12 ft. (2.4 – 3.6 m) and doesn't require pruning. Grow bottlebrush buckeye as a background plant, tall hedge, privacy screen, or specimen plant.
As long as bottlebrush buckeye gets enough ventilation, you'll have few—if any—problems with this untroublesome landscaping shrub.
Witch Hazel (Hamamelis)
Witch hazel is a low-maintenance winter-flowering shrub with yellow flowers, attractive oval green leaves, and a sweet fragrance. The cold-hardy bush easily survives freezing temperature in USDA zones 3 through 9. You can plant witch hazel shrubs in full or partial sun as a specimen plant, hedge, screen, or mixed shrub border plant.
Most witch hazel species are a type of "plant and forget" shrub. Witch hazel shrubs are known for their flowers made up of thin, spindly ribbon-like yellow petals. The masses of yellow flowers look spectacular in winter landscapes growing bare branches.
Being a hardy, low-maintenance shrub, witch hazel has low water needs, is resistant to pests and diseases, and grows in dry to wet soils.
Azalea (Rhododendron)
Dwarf rhododendron or azalea shrubs are versatile trouble-free shrubs with clusters of pretty flowers and evergreen or deciduous foliage. Many varieties of rhododendron shrubs are tough low maintenance landscaping plants that are hardy in temperatures as low as -25°F (-32°C). Dwarf azalea shrubs are an ideal choice for care-free foundation plantings, flowering hedgerows, or privacy screens.
The attractive feature of the low-maintenance rhododendron shrubs is their beautiful flowers. The showy, papery flowers can be deep to light pink, yellow, red, orange, purple, or white.
Rhododendron or azalea shrubs keep their rounded appearance without pruning. Some of the dwarf varieties grow between 3 and 4 ft. (1 – 1.2 m) tall. The only care you need to give these robust shrubs is some mulching in the spring.
Paperbush (Edgeworthia chrysantha)
The paperbush plant is a low-maintenance deciduous shrub with spectacular clusters of yellowish-white fragrant flowers. With only minimal care, you can enjoy the beautiful blooms in late winter or early spring. This easy-care multi-stemmed woody bush thrives in full sun or dappled sunlight.
Paperbush plants grow between 4 and 6 ft. (1.2 – 1.8 m) tall. The bushy shrub has dark bluish-green oval leaves that grow up to 6" (15 cm) long. During winter, sweet-smelling yellowish flowers appear to add color to a winter landscape. This care-free shrub grows in USDA zones 7 through 10.
As a maintenance-free plant, paperbush shrubs don't require pruning. They are also pest and disease resistant and have average watering needs.
Low Maintenance Shrubs with Decorative Berries (With Pictures) – Identification
Many easy-care shrubs provide winter color thanks to decorative berries. Here are some of the easiest-to-care-for shrubs that produce colorful berries.
Korean Barberry (Berberis koreana)
Korean barberry is a hardy, drought-resistant small shrub with pretty clusters of yellow dangling spring flowers and bright red berries. The egg-shaped red berries fill this ornamental shrub in the fall and winter, where they attract birds. The shrub's semi-evergreen foliage consists of elliptical green leaves growing up to 3" (7 cm) long.
Korean barberry is an ideal landscape choice for easy-care shrubs with all-year seasonal interest. This easy-to-grow shrub thrives in most types of well-draining soil and survives periods of drought. The bushy landscape plant grows between 4 and 6 ft. (1.2 – 1.8 m) tall in USDA zones 3 through 7.
It's easy to grow Korean barberry as a foundation plant, privacy screen, or security hedge—the sharp thorns on the branches keep out unwelcome visitors.
Related reading: Shrubs that grow red berries.
Mohave Pyracantha (Pyracantha x 'Mohave')
Also called the 'firethorn shrub,' the Mohave pyracantha is a fast-growing, berry-producing shrub that doesn't need much care. Growing between 6 and 12 ft. (1.8 – 3.6 m) tall, the firethorn shrub has lush evergreen foliage, clusters of small white flowers, and orangey-red berries.
In garden landscapes, Mohave pyracantha is ideal for foundation planting, a privacy barrier, or an evergreen security hedge. This easy-care bushy shrub adapts well to most soils, doesn't need much pruning, and provides year-round interest.
Holly (Ilex)
Holly is a well-known evergreen shrub that produces masses of bright red winter berries. The red berries contrast with the spiny, glossy, evergreen holly leaves. This easy-to-grow upright shrub has a pyramidal growth habit. The best way to grow holly in front or backyards is as a low-maintenance shrub for hedges, mixed shrub borders, or foundation plantings.
There are several varieties of hollies to choose from depending on the color of berries you want, foliage and size.
The holly variety 'Common Winterberry' (Ilex verticillata) produces masses of small cherry-red berries throughout the winter.
The 'Shamrock' inkberry (Ilex glabra 'Shamrock') is a small, hardy shrub with slender, ovate to elliptic glossy green leaves. This Ilex species produces masses of dark-blue berries in the fall that persist throughout the winter.
Low Maintenance Evergreen Shrubs (With Pictures) – Identification
Many easy-care evergreen shrubs are ideal ornamental plants for compact gardens, foundation plants, or growing borders.
Boxwood Plants (Buxus)
Boxwood plants are low maintenance evergreen shrubs that are some of the easiest plants to grow in the front of house or backyards. The non-flowering landscaping boxwood shrubs have dense foliage consisting of small oval, glossy green leaves. Even in cold, freezing temperatures, boxwood shrubs keep their lush greenery. As a versatile, low-maintenance plant, boxwood is drought tolerant and grows in sun or shade.
Boxwood are ideal plants for low maintenance landscaping as they are generally slow-growing and don't require much care. The only maintenance work is to prune these topiary plants to keep their shape. Some mulching around the roots helps to retain water and reduce the number of times it requires watering.
Some dwarf varieties of boxwood, such as Buxus sempervirens 'Blauer Heinz' and Korean boxwood, Buxus sinica var. Insularis 'Nana,' only grow between 1 and 2 ft. (30 – 60 cm) tall. The average height of other boxwood varieties is 4 or 5 ft. (1.2 – 1.5 m).
False Cypress – Low Maintenance Shrubs
False cypress (Chamaecyparis) are evergreen low-maintenance shrubs with feathery needle leaves. Evergreen cypress shrubs have upright columnar or conical growth and are ideal for easy-care privacy screens or hedgerows. These slow-growing shrubby conifers can also be grown as specimen plants or add vertical accents in garden landscapes.
The best false cypress shrubs for a care-free landscape include the following:
Chamaecyparis obtusa 'Nana Gracilis' has a globular shape, soft green feathery leaves, and grows between 3 and 6 ft. (1 – 1.8 m).
Chamaecyparis lawsoniana 'Silver Threads' is a low-maintenance evergreen dwarf shrub with conical growth, yellowish-green foliage, and a maximum height of 3 to 5 ft. (1 – 1.5 m).
Chamaecyparis obtusa 'Kamarachiba' is a low maintenance small shrub for front of house with golden-green leaves that turn golden yellow in winter. This slow-growing care-free shrub takes ten years to reach its mature height of 2 ft. (0.6 m).
Low Maintenance Small or Dwarf Evergreen Shrubs (With Pictures) – Identification
Wintercreeper (Euonymus fortunei)
Wintercreeper is a genus of easy-care small evergreen shrubs that have glossy, dense foliage. Most species of wintercreeper are ideal low maintenance small shrubs for front of house because they only grow between 1 and 2 ft. (0.3 – 0.6 m) tall.
The low-growing creeping shrubs tend to have yellow and green leaves. Wintercreeper grows best as an evergreen ground cover for shade. However, the versatile bushy plant grows just as well in full sun. Wintercreeper shrubs also perform well as foundation plants, edging plants, or low-growing hedges.
Taller varieties of wintercreeper such as 'Emerald Gaiety' and 'Silver Queen' grow between 5 and 10 ft. (1.5 – 3 m) tall and have variegated creamy white and green leaves.
All varieties of wintercreeper grow easily in gardens without much care and attention.
Related reading: The best versatile evergreen ground cover plants.
American Yew (Taxus canadensis)
The American yew is a shrubby, low-maintenance evergreen plant with needle-like leaves. This slow-growing spreading shrub grows easily in most types of soil if there is good drainage. The American yew grows best in the shade or partial sunlight. You can expect this shrub to grow up to 5 ft. (1.5 m) tall and 8 ft. (2.4 m) wide.
The attractive features of the evergreen American yew are the foliage that turns reddish-brown, and bright red cones that appear in winter.
A type of yew ideal for evergreen ground cover is the English yew (Taxus baccata). If you want an evergreen shrub that grows in a columnar shape for vertical height, then choose the Taxus baccata 'Standishii' or the Taxus baccata 'Fastigiata.'
Discover some of the best low maintenance plants (perennials, flowers, ground cover plants, and shrubs).
Related articles: