Evergreen Ground Cover Plants for Sun or Shade (With Pictures)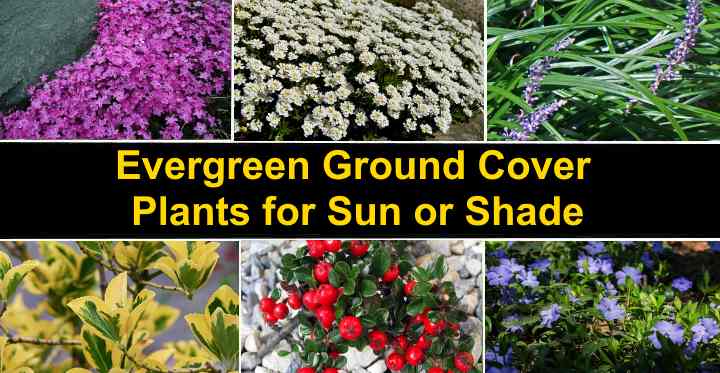 Evergreen ground cover plants are low-growing, ground-hugging plants that keep your garden looking vibrant, healthy, and beautiful. Mat-forming, spreading plants help limit weed growth, prevent soil erosion on slopes, and add year-long interest and texture to your yard. One of the benefits of growing evergreen ground cover plants is that they are easy to care for. So, unlike grass, you never need to mow them.
Many types of ground cover plants thrive in full sun. Some of these low-growing plants flower year after year and don't lose their greenery. Other mat-forming evergreen ground cover plants grow well in the shade. You can grow shade-loving evergreen plants to cover the ground under shrubs, trees, or shaded areas of your garden.
The best evergreen ground covers for full sun are creeping phlox for its stunning flowers, candytuft to create a blanket of white blooms, and evergreen wintercreeper. The best evergreen ground cover plants for shade are deadnettle for its bright variegated foliage and perennial sweet woodruff due to its dainty white flowers.
This complete guide to evergreen ground cover plants describes the best ones for sun or shade. Along with descriptions, the scientific names and pictures of these evergreen ground covers will help you choose the best ones for your garden.
Advantages of Planting Evergreen Ground Covers
Growing evergreen ground cover plants has many advantages in any garden. Ground cover plants help prevent water loss from the soil, keep weeds at bay, stop soil erosion—especially on slopes, and provide year-round interest. Another benefit of evergreen ground cover plants is that they require little care to thrive—in full sun or shade.
Evergreen Ground Cover Plants for Full Sun (With Pictures)
Planting perennial ground cover plants can create a mat of colors in sunny spring and summer gardens. Most ground cover plants for full sun also tolerate some shade. The spreading nature of these plants helps to cover bare ground with foliage throughout the year.
Full-sun ground covers usually produce vibrantly-colored flowers without much maintenance.
Creeping phlox (Phlox subulata)
Creeping phlox is a flowering ground cover plant for full sun. This phlox species is a spreading, low-growing evergreen flowering plant. The mat-forming shrub explodes into vibrant colors in mid to late spring. Grow the flowering creeping phlox in full sun to cover bare ground, rock gardens, or flower beds.
Creeping phlox flowers are in shades of purple, white, pink, lilac, and bi-colored. The small star-shaped flowers bloom profusely in clusters, creating a carpet of colors in spring.
Creeping phlox is also a blooming perennial that thrives in USDA zones 3 – 9. Due to the spreading growth of phlox, it also has the common name moss phlox.
Wintercreeper (Euonymus fortunei)
Wintercreeper is a ground-hugging, sun-loving perennial that spreads fast to cover bare garden soil. The evergreen foliage adds interest to your garden throughout the year. Species of variegated wintercreeper plants brighten summer gardens. Plant wintercreeper as ground cover on sunny slopes, along borders or edgings, or as a low evergreen hedge.
The fast-spreading nature means that wintercreeper is invasive in some regions. Grow in full sun for dense ground cover in zones 5 – 8.
Creeping Jenny (Lysimachia nummularia)
Creeping Jenny is a low growing ground cover that produces masses of bright yellow cup-shaped flowers. This perennial evergreen covers the ground with trailing stems and brightly-colored, heart-shaped leaves. Creeping Jenny doesn't grow taller than 6" (15 cm) and is ideal for covering ground in sunny gardens.
In hot summers, Creeping Jenny needs partial shade and plenty of water to keep the plant thriving. Take care when planting Creeping Jenny in your garden as it can be invasive. Plant in full sun for year-long interest in zones 3 – 9.
Candytuft (Iberis sempervirens)
Candytuft is a fast-spreading evergreen ground cover that produce a mat of white flowers in late spring and summer. The sprawling perennial quickly grows along the ground to protect the soil from weeds and erosion. Plant this ground cover in full-sun or partial shade in the edges of garden beds, raised flower beds or as a cascading plant over the edges of rock gardens.
Candytuft is a bushy ground cover that grows as perennial in warmer regions but may die back in colder areas. Candytuft's growth comes back year after year in zones 3 to 9.
Mondo grass (Ophiopogon japonicus)
Mondo grass is a popular type of ground cover grass for growing in full sun. Plant Mondo grass for ground cover along borders, under shrubs, or to hide bare soil. One of the advantages of Mondo grass is that it forms a weed-proof dense foliage mat. With minimal care, Mondo grass quickly spreads in gardens.
There are other types of Mondo grass that you can grow for striking evergreen ground cover.
Black Mondo Grass (Ophiopogon planiscapus Nigrescens)—This semi-evergreen grass-like plant is ideal for full sun in warmer climates. The perennial has dramatic, deep-purple, almost black, foliage. Plant alongside flowering ground cover plants to create striking color contrasts in a sunny garden.
Mini Mondo Grass (Ophipogon japonicus 'Nana')—This type of Mondo grass grows as short tufts of evergreen blades. Plant as ground cover around shrubs, along borders, on slopes, or add greenery to gravel gardens. You can also plant Mondo grass like a 'no-mow' lawn as the ultimate plant for easy lawn care.
Hens and Chicks (Sempervivum tectorum)
Types of succulents such as Hens and Chicks are excellent evergreen, full-sun ground cover plants. These ground-hugging fleshy plants grow as rosettes forming a mat of red, green, gray, silvery-green, or pink colors. Plant Sempervivums as ground cover in rock gardens, edging, borders, or in mixed beds.
Hens and chicks need full sun to thrive but very little water. Although these succulents die after flowering, offsets ('chicks') grow in their place. Plant these mat-forming plants in full sun in zones 3 – 8.
Angelina Stonecrop (Sedum rupestre Angelina)
Stonecrop 'Angelina' is an evergreen, perennial ground cover plant with succulent foliage. This Sedum species has brightly-colored foliage of needle like-leaves. Due to stonecrop's spreading nature, low-growth, and tolerance for the sun, it's an ideal plant for ground cover. Stonecrop plant grows up to 6" (15 cm) with a spread of 24" (60 cm).
Grow stonecrop for colorful cover over bare soil, rock gardens, or edging. As a low-maintenance spreading plant, stonecrop is ideal for growing if you don't have time to care for a garden. The plant is colorful throughout the year and thrives in zones 5 – 9.
Creeping Flowering Thyme (Thymus serpyllum)
Creeping flowering thyme is a dwarf spreading plant that forms a carpet of leafy foliage. This herbaceous ground cover plant produces clusters of tiny pink-purple flowers in early to mid-summer. Flowering thyme is ideal for creating colorful borders, edging, or adding color to rock gardens.
Creeping thyme is an evergreen plant in regions that enjoy mild winters. The low-care short herb is drought-tolerant, grows up to 3" (8 cm), and has a spread of 12" (30 cm). If you want a sweetly scented floral carpet, choose creeping thyme for zones 4 – 9.
Related article: The Best Ground Cover Plants With Purple Flowers
Wall Germander (Teucrium chamaedrys)
Wall germander is a spreading, low-growing flowering perennial suitable for covering bare soil. The lush foliage is glossy green aromatic leaves. This flowering evergreen ground cover comes to life in summer when dainty purple flowers appear. This drought-tolerant plant is suitable for small-scale ground cover with full sun exposure.
Grow wall germander wherever you need evergreen cover in a backyard that gets sun all day long. Ideal for planting in zones 5 – 9 as a short hedge, flowering border plant, or edging.
Rock cotoneaster (Cotoneaster horizontalis)
Some species of rock cotoneaster are evergreen shrubs with spreading woody branches. The shrubby plants are characterized by prostate branches that spread out horizontally, covering the ground. Rock cotoneaster thrives in full sun to partial shade and tolerates drought. Small red berries contrast with the shiny green leaves for year-long interest.
Plant rock cotoneaster wherever you need to cover large areas of ground. The robust root system is also ideal for preventing soil erosion on slopes and banks. Rock cotoneaster grows in zones 5 – 8.
Bearberry (Arctostaphylos uva-ursi)
Bearberry is a creeping evergreen shrub that's ideal for ground cover in cold climates. This attractive ground cover plant has shiny, leathery leaves that are green in summer and red in winter. In springtime, clusters of dangling white flowers hang from the evergreen foliage. The stems spread along the ground, forming a luscious mat.
Bearberry is drought-resistant, grows in full sun to partial shade, and thrives in poor soil. One of the best ground covers for planting where no other plants will grow. Ideal for zones 2 – 6.
Siberian cypress (Microbiota decussata)
The Siberian cypress is a full sun ground cover but it can also tolerate shady areas in your garden. It is a dwarf conifer shrub that has spreading feathery leaves forming an evergreen mat. Growing a maximum of 18" (45 cm) tall, the low-maintenance short cypress is ideal for ground cover on slopes, banks, hillsides, rock gardens, or beds.
This dwarf conifer is green throughout the year, even in harsh winters. Grow in full sun or partial shade in zones 3 to 7.
Creeping Juniper (Juniperus horizontalis)
Creeping juniper is a type of conifer that's ideal for full sun. This needled evergreen ground cover has sprawling, ground-hugging shrubby stems with dense foliage. This slow-growing mat-forming plant grows up to 18" (45 cm) tall with a spread of 8 ft. (2.4 m).
Plant creeping juniper for ground cover on slopes to prevent soil erosion or have a carpet of soft evergreen foliage in low-maintenance gardens. Creeping juniper thrives in zones 3 – 9.
Honeysuckle (Lonicera)
Honeysuckles are perennial climbing plants with heavily-scented flowers. There are evergreen varieties of huneysuckles, although they may lose some of the foliage in a cold winter. While honeysuckles are popular flowering vines, they grow just as well as ground cover in full sun. The spreading vines bloom profusely from early summer to fall. Honeysuckles are ideal for growing in zones 4 – 8.
Evergreen Ground Cover Plants for Shade
Many spreading, evergreen ground-hugging plants grow better in the shade or partial sun. Growing shade-loving ground cover plants is an excellent choice for plantings under trees or shrubs. The shade tolerant plants for ground cover are also perfect if you have a north-facing garden.
Bugleweed (Ajuga reptans)
Also called carpet bugle, this mat-forming flowering evergreen is ideal for colorful ground cover. Although this ground cover tolerates some sun, bugleweed is a shade-loving flowering plant. In late spring this ground cover produce small flowers in shades of pink, white, blue, or purple that grow on spikes.
The evergreen perennial foliage means that bugleweed is attractive in shaded gardens throughout the year. Grow in zones 3 – 10 wherever you need to grow ground-covering plants where other plants won't grow.
Periwinkle (Vinca)
Periwinkle (also known as myrtle or creeping myrtle) plants are evergreen spreading, mat-forming shrubs that thrive in the shade. Periwinkles grow prostrate stems that take root as they spread along the ground. The dense carpet of glossy foliage produces purple flowers in the spring and summer. For brightly-colored ground cover, choose variegated Vinca cultivars.
Plant periwinkle ground covers to prevent soil erosion, cover large areas of bare ground, or plant under shrubs and trees. Although a shade loving evergreen, periwinkles flower best in full sun. Ideal for ground cover in zones 6 -11.
Lilyturf (Liriope muscari)
When in bloom, evergreen lilyturf can turn ground into a carpet of blue or purple flowers. Lilyturf grows as a perennial, forming dense clumps of thin arching leaves. This evergreen ground cover is also ideal as a lawn grass substitute or to plant under trees.
Lilyturf thrives in the shade to provide colorful ground cover throughout the year. You can also use lilyturf as a full-sun plant for ground cover in zones 5 – 10.
Spotted Deadnettle (Lamium Maculatum)
Spotted deadnettle is one of the most spectacular ground cover plants for shade. This evergreen perennial plant has green or variegated foliage and long-blooming flowers. The fast-growing spreading plant produces pink, magenta, or white flowers that bloom from spring until late summer. Spotted deadnettle for ground cover grows to 8" (20 cm) with a spread of up to 3 ft. (1 m).
Spotted deadnettle is an evergreen ground cover in mild climates. Plant the perennial in shaded areas of your garden to cover bare ground for easy maintenance and care. Deadnettle is an ideal plant for growing under shrubs, trees, or other garden areas in constant shade.
Japanese Spurge (Pachysandra terminalis)
Japanese spurge is a mat-forming perennial plant with evergreen foliage. The hardy fast-spreading leafy plant is ideal for planting ground cover on banks, slopes, under large shrubs, or for protecting soil from erosion or weeds. Plant Japanese spurge in full shade or partial sun for best results. This low-growing plant only grows to 4" (10 cm) tall with a spread of 8" (20 cm).
Another bonus of growing Japanese spurge is the white flower spikes that bloom in early spring. Plant as ground cover in zones 4 – 8.
Coral Bells (Heuchera)
Coral bells plant is a semi-evergreen perennial ground-hugging plant with spectacular colorful foliage. As a ground cover plant, coral bells have a low-growth height and are ideal for shade and full sun. The red, yellow, burgundy, or silvery-colored foliage brightens up borders, shaded areas, rock gardens, or woodland areas. Once established, coral bells require no maintenance to continue growing and spreading.
Coral bells are hardy perennials for zones 4 – 9.
Sweet Woodruff (Galium Odoratum)
Sweet woodruff forms a green floral carpet in moist shady gardens. This attractive ground cover plant has soft-emerald green leaves and clusters of dainty star-shaped white flowers. The mat-forming perennial grows to a height of 6" (15 cm) and a spread of 12" (30 cm). Plant sweet woodruff to cover ground in shaded gardens, under shrubs, in woodlands, or as a beautiful edging plant.
One benefit of growing sweet woodruff as a ground cover plant is its pleasant aromas from the foliage. Sweet woodruff is ideal for growing in zones 4 – 8.
Fast Growing (Fast Spreading) Evergreen Ground Cover Plants
Fast-spreading evergreen plants for ground cover are perfect for covering large areas of land. Some of the best fast-growing mat-forming plants for full sun are wintercreepers, candytuft, flowering creeping phlox, and creeping jenny. If you are looking for ground cover for shade, then spotted deadnettle and lilyturf are fast growing great choices.
Flowering Evergreen Ground Covers
Flowering evergreen plants for ground cover help to create colorful floral carpets in sunny or shaded gardens. For stunning ground-hugging full sun plants, choose creeping phlox, flowering creeping thyme, or trailing periwinkles. Some of the best flowering ground cover evergreen plants for shade are lilyturf and bugleweed.
Related articles: