Types of Peonies With Gorgeous Flowers (Pictures, Name, Colors, and Classification)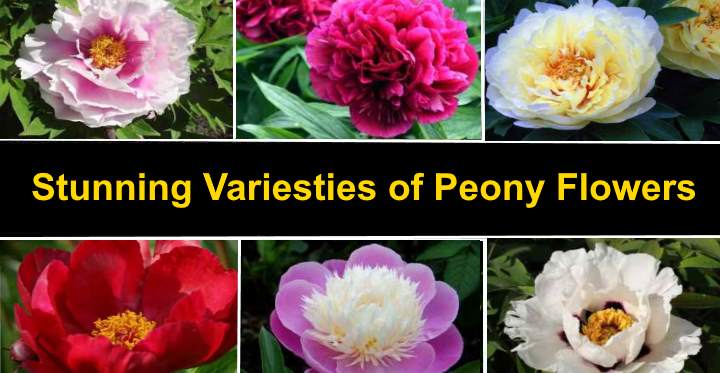 Peonies are a type of shrub that produce an abundance of fragrant colorful flowers. Most types of peony flowers are some of the showiest blooms you will find. Peonies come in a range of color shades from dark purples and reds to light pinks, yellows, and whites. The flowers from these perennial plants are also some of the most beautiful cut flowers to brighten up your home.
Peonies belong to the genus of plants named Paeonia and they are in the Paeoniaceae family of flowering shrubs. Peonies can be further classified based on their type: Tree Peonies, Herbaceous Peonies, and Intersectional Peonies.
There are around 40 species of peonies with around 6,500 cultivars and hybrids. Some types of peonies have single flowers with beautifully-colored petals. Other peony flowers are classified as double flowers because of their layered look and their ruffled petals.
One of the many reasons for planting peonies in your garden is that they are a low-maintenance type of shrub. They are also hardy perennials that will fill your garden with color year after year. Peony flowers usually appear in late spring and early summer and will bloom for up to 10 days.
In this article, you will find out about the many species of peonies and how to identify them. You will also learn about the types of peonies that will suit your garden best.
Types of Peonies
Plants in the Paeonia genus are further classified into 3 different groups:
Herbaceous peonies
Herbaceous peonies are the most common species in the genus Paeonia and they flower in late spring/early summer. Herbaceous peony plants grow well in zones 3 – 8 and grow to become a bushy shrub around 3 ft. (90 cm) tall. The glossy green leaves usually turn a beautiful bronze color in the fall.
Tree peonies
Tree peonies produce very large showy flowers that tend to bloom before the herbaceous peony varieties in early spring. All types of tree peonies thrive in zones 4 – 9. The deep green foliage on the large shrubs contrasts well with the beautiful flowers. Larger and more fragrant than herbaceous peonies, tree peonies grow to between 3 and 7 ft. (0.9 – 2.1 m) tall.
Itoh hybrid peonies (intersectional peonies)
Intersectional types of peonies are some of the most beautiful shrubs for your garden. Intersectional types of peonies are a cross between herbaceous and tree peonies. Intersectional types of peonies are small shrubs that can produce up to 50 showy flowers. They grow well in zones 4 – 9 and will reach a height of around 2.5 ft. (75 cm) tall and a spread of up to 3 ft. (90 cm).
All peonies grow well in full sun or partial shade and require well-drained soil to really thrive.
Types of Peony Flowers
Peonies are also classified by the types of flowers they produce:
Single peony flowers have one row of broad petals and a contrasting center.
Semi-double peony flowers have layered look and their ruffled petals are very showy.
Double peony flowers are identified by their large bushy blooms that don't have a recognizable center.
Japanese peony flowers are called so because the Japanese especially admire these pretty showy flowers.
Bomb peony flowers have this name because of their large globular blooms of petals.
Peony Varieties (With Pictures, Names, and Colors)
There are far too many varieties of peonies to mention. Here is a list of some of the most colorful and beautiful peonies to grace your garden or home.
Peony 'America'
Flowers from the peony 'America' cultivar are a striking deep red color with a single row of slightly ruffled petals. The scarlet petals on this herbaceous peony contrast with the cluster of bright yellow stamens in the center. This hardy spring-flowering shrub can produce up to 10 large brightly-colored flowers.
Peony 'Bartzella' (Itoh Hybrid)
The hybrid peony 'Bartzella' produces stunning golden yellow colored showy flowers in late spring. The double peony flowers have a distinct ruffled look and can grow to between 6" and 8" (15 – 20 cm) wide. These pretty pale-yellow flowers have contrasting red or scarlet centers with a cluster of butter-colored stamens. The 'Bartzella' hybrid peony is a hardy shrub for your garden, and after a few years of growth will produce up to 60 stunning blooms!
Peony 'Buckeye Belle'
The 'Buckeye Belle' peony is a cross between the garden peony species (botanical name: Paeonia officinalis) and the Chinese peony species (Paeonia lactiflora). Its beautiful semi-double showy flowers have made this one of the most popular peonies.
The 'Buckeye Belle' peony is identified by its velvety dark red petals contrasting with the explosion of brightly colored yellow stamens in the center. Being one of the darkest red peonies, these are also great cut flowers for an attractive floral display.
Peony 'Chocolate Soldier'
Another dark peony hybrid is the 'Chocolate Soldier.' This peony got its name due to its dark brownish-red flowers that look almost like chocolate. The single row of petals forms a bowl shape around a bright yellow center.
'Chocolate Soldier' peony is one of the most unique types of peonies due to its dark coloring. The dark blooms also look striking against the dark green leafy foliage.
Peony 'Big Ben'
The large magenta or red flowers and delightful fragrance are two of the attractive features of the 'Big Ben' peony. This double-flowered peony is a perennial from the Paeonia lactiflora species. The large flower heads have stunning disheveled petals and look fantastic as cut flowers in a vase.
Peony 'Bowl of Beauty'
A stunning example of a Chinese peony is the herbaceous peony 'Bowl of Beauty.' Blossoms on this beautiful peony plant have large rose-pink outer petals with a cluster of ruffled white petals in the center. The anemone-shaped flowers grow up to 8" (20 cm) across and will grace your garden or flower arrangement.
Peony 'Do Tell'
Another peony with anemone-shaped pink flowers is the 'Do Tell' hybrid cultivar. The delicate light pink petals surround a cluster of yellow and rose-colored staminodes in the center. These pretty peony flowers give off a mild scent when they bloom in late spring. The numerous flowers on each shrub give your garden a wonderful splash of light pinks and lilacs.
Peony 'Bride's Dream'
This peony from the Paeonia lactiflora species has Japanese types of flowers with beautiful white large petals. The white flowers on 'Bride's Dream' peonies fan out around a cluster of thin tiny white petals in the center. The peony flowers sit on top of sturdy woody stems that hold up well in bad weather. From a distance, the showy blossoms look pure white and stunning against the lush green foliage.
Peony 'Claire de Lune'
The 'Claire de Lune' is a single flower variety of herbaceous peony that is one of the first to bloom in spring. The large ivory-white petals have a crinkled look to them and will gradually open as they bloom. The creamy white flowers have a contrasting golden-yellow center made up of filaments. The large white peony flowers look wonderful in a wedding or celebration flower display.
Paeonia 'First Arrival'
This Itoh peony gets its name 'First Arrival' as it is one of the first hybrid peonies to bloom in the year. This is a semi-double flower variety of peony that has crinkly lavender-pink flowers. The exquisite blossoms gradually become redder closer to the center of the flower. The center of the Itoh peony flower looks like a magenta and yellow-colored spiky ball. These large flowers can be as many as 40 on each plant with each one measuring around 8" (20 cm) across.
Peony 'Julia Rose'
Another Intersectional peony (Itoh) is the magnificent 'Julia Rose.' This type of peony has unique colored petals that change color over time: the bud is cherry red and then it opens to apricot color with purple flushed edging. The showy flowers can appear in different shades of orange and apricot and give off a spicy fragrance. Depending on the type of peony hybrid, flowers can be single blooms or semi-double blooms.
Peony 'Pink Derby'
Huge double blossoms on the 'Pink Derby' peony is the striking feature of this herbaceous plant. The multi-layers of pink and lilac petals have a very elegant look with a large cluster of ruffled petals in the center. Some varieties of 'Pink Derby' can also produce white colored flowers that bloom at the end of spring. Due to the sheer number of large bomb peony flowers, you may need to stalk the peony to give it support.
Peony 'Prairie Charm'
This vigorous and hardy Itoh peony, the 'Prairie Charm,' is a fantastic example of a yellow semi-double blossom peony. The creamy yellow flowers form a large cluster to give the flower heads a wonderful showy look. At the center of this peony are scarlet-colored petals. These large flowers sit on the top of long sturdy stems that sit high above the luscious green foliage. Expect to get a whopping 50 yellow peony flowers from a single bush
Peony 'Festiva Maxima'
The beauty of the 'Festiva Maxima' peony flowers can certainly grace any festival. The pure-white double flowers have fascinating crimson specks in the middle to make this one of the most stunning peonies. The large white frilly flowers can measure between 5" and 7" (12 – 17 cm) across and will brighten up your garden every spring. This peony bush produces a large number of snow-white flowers year on year.
Peony 'Green Halo'
The 'Green Halo' semi-double peony is so-called due to the light-green frilly petals surrounding a tuft of ruffled white petals and yellow center. This cultivar from the Paeonia lactiflora series produces flowers 8" (20 cm) across and gives off a pleasant floral fragrance. These sturdy flowers can make a beautiful addition to any cut flower display.
Peony 'Sarah Bernhardt'
One of the most popular pink varieties of peony is the 'Sarah Bernhardt' cultivar. This fragrant peony with ruffled pink petals produces very beautiful showy displays. Sometimes the flowers have red speckling on the inner petals which makes them even more beautiful. To ensure wonderful pink colors in your garden all spring, plant some of the late, mid and early-blooming varieties.
Peony 'Red Emperor'
This hybrid peony has large brightly-colored red flowers. The crimson double flowers on this herbaceous perennial look striking against the mound of glossy green foliage. These magnificent flowers look wonderful as cut flowers in a vase.
Peony 'Nippon Beauty'
One of the most popular Japanese peonies is the 'Nippon Beauty.' Its dark crimson petals form a cup shape around a ruffled center. The center of this type of peony flower is made from red and gold-colored staminodes. The large deep red open petals of this flower really stand out against the dark green glossy foliage of the peony shrub. There are varieties of the 'Nippon Beauty' that bloom at various times from early spring to early summer.
Peony 'Honey Gold'
A stunning example of a peony with pure white flowers and a yellow center is the 'Honey Gold' peony cultivar. The Japanese flowers are made up of very large petals opening out from the center. Brightly-colored yellow petaloids form a bushy center creating an impressive flower display. If you are looking for stunning white flowers for your garden, then choose the 'Honey Gold' peony.
Peony 'Krinkled White'
Another fantastic example of a white type of peony is the 'Krinkled White' cultivar. The large blossoms on the bushy shrub look superb when they bloom in late spring. Each fragrant peony flower is made from crepe-like papery petals. The crinkly petals surround a small tuft of bright yellow stamens. You can use these white peonies as a centerpiece for an attractive cut flower floral arrangement.
Peony 'Fernleaf'
One of the most unusual and eye-catching peonies is the 'Fernleaf' (Paeonia tenuifolia). These pretty peonies are identified by their relatively small red flowers surrounded by feathery silvery-green foliage. Each of these red peony flowers measures 4" (10 cm) across and has a 'furry' yellow center. Unlike other peonies on this list, the 'Fernleaf' has needle-like leaves rather than dense wide leaves. When planted in groups, these peonies look very attractive in the springtime.
Peony 'Pillow Talk'
This herbaceous peony cultivar gets its name because it looks like a fluffed-up pillow. The frilly soft pink double flowers are created by densely packed petals. This creates a showy peony flower head that gives off a mild scent. These medium-sized peony blossoms measure 5" (12 cm) across and are among some of the best award-winning peonies you can buy.
Peony 'Topeka Garnet'
The 'Topeka Garnet' is a striking example of a dark red flower with a yellow center. The single peony blossoms are a deep red color that fan out and curl to create a bowl shape. The bright golden-yellow stamens in the center create a contrasting yellow tuft of sunshine. When cut in the bud, flowers from the 'Topeka Garnet' last up to a week in a vase.
Peony 'Coral Charm'
One of the early peony bloomers is the 'Coral Charm' with its pink petals and yellow center. This pink peony variety has large pale pink petals that gradually fade to light pink and ivory white. The showy semi-double blossoms form the shape of a bowl that surrounds golden stamens in the center. In the middle of the peony flower are small dark-colored buds with pink tops.
Paeonia lactiflora 'Whopper'
This pink-colored peony certainly lives up to its name of 'Whopper.' This is an extremely showy example of a double blossom peony. The papery ruffled petals clump together to form a frilly center. Larger smooth light-pink petals surround this central tuft to create eye-catching fragrant peony flowers.
'Rock's Peony'
One of the best examples of a tree peony is 'Rock's Peony' (Paeonia rockii). This large flowering peony shrub produces semi-double blossoms of white flowers. The papery, slightly ruffled brilliant-white petals form a cup and saucer shape. The center of these white peony flowers is sunny-yellow with contrasting black or deep purple coloring. 'Rock's' peonies are some of the most fragrant of all the peonies species.
Related articles: