Amazing Types of Pink Flowers to Give Stunning Color to Your Garden (With Pictures)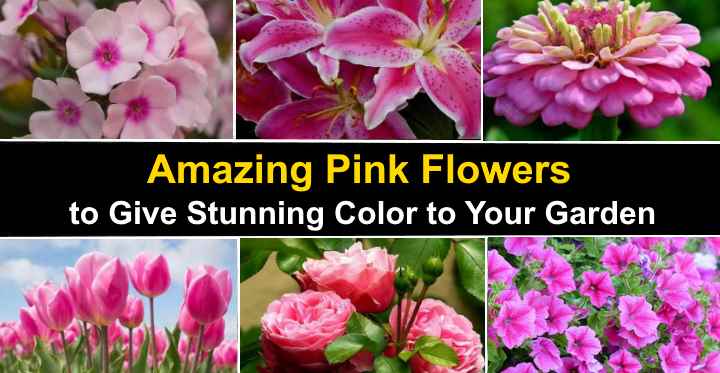 Pink flowers are some of the most beautiful flowers you can grow in your garden or give as a gift. Plants and shrubs with pink flowers look graceful, elegant, and express appreciation. Almost every flowering plant has a species producing pink flowers. These can be any shade from light pastel pinks to coral pink, hot bright pinks, magenta or reddish-pink. Giving a bunch of cut pink flowers can mean affection, care, and admiration.
Growing pink flowering plants can add a wonderful splash of color in your garden. Various pink shades of flowers look beautiful when they flower from springtime until late fall. Some types of pink flowering shrubs can turn your garden into a wall of beautiful pink blossoms. There are even some kinds of plants that produce pink flowers in winter.
In this article, you will find out about some of the most beautiful pink flowers you can find. You will also learn how to identify different types of pink flowering plants.
Types of Pink Flowers With Name and Picture
Let's look in more detail at some of the stunning pink flowers you can grow in your garden.
Azaleas
Azaleas are a type of flowering shrub that commonly produces pink flowers. You can expect azalea blossoms in various shades of pink usually in May and June.
There are many species of azaleas and it is claimed that there are over 10,000 different cultivars. Azalea blooms can be in various shades of pink from very light pink with ruffled petals to deep intense pinks that have clusters of beautiful trumpet-shaped flowers.
The most common species of pink-flowering azalea is the Rhododendron canescens. These evergreen perennial azalea shrubs produce pale-pink flowers every spring. The pink flowers are small in size and have long protruding stamens, giving them a showy look.
Rose of Sharon (Hibiscus)
One of the most beautiful exotic pink flowers you can grow is the Rose of Sharon (Hibiscus syriacus). This type of hibiscus shrub produces large graceful flowers that are pink, white, red, or yellow.
Rose of Sharon is a hardy hibiscus that belongs to the Rosaceae family of flowering plants that are related to roses. Having a Rose of Sharon bush in your garden will give you beautiful pink blooms all summer and into fall. The evergreen foliage will also give good color during winter.
Pink hibiscus flowers have larger blossoms made up of delicate papery petals. These mauve petals open out to reveal a large tube of stamens and a contrasting dark-colored center. Some off the prettiest flowers are double flowers with ruffled petals.
Examples of stunning pink hibiscus cultivars are 'Cherry Cheesecake,' 'Pink Chiffon,' and Hibiscus moscheutos 'Luna Pink Swirl.' This last cultivar has massive pink flowers measuring up to 8" (20 cm) across.
Pink Roses
There can be nothing more elegant or graceful than a bunch of pink rose flowers. Roses are one of the most popular flowers in the world and they come in many shades of pink including salmon, baby pink, blushing pink, and magenta.
Considered as one of the most beautiful flowers in the world, roses are a type of woody flowering shrub (genus Rosa) with 1,000s of cultivars. This means that you can find roses to grow in your garden in almost any shade of pink you like. The classic rose shape is a flower head made up of compact petals that open out to create the famous flowers.
Some types of pink roses (Rosa rubiginosa) have pink petals that fan out with a fuzzy yellow center.
While red rose flowers can mean passionate love and romance, pink rose flowers are associated with joy, affection, and gratitude. Many people may gift pink roses at the start of a romantic relationship.
Mandevilla
Mandevilla is a genus of tropical flowering plant that is commonly called Rocktrumpet. Red, white, yellow, or pink flowers give off a fragrant scent when they bloom in the summertime.
The flowers of the pink Mandevilla cultivars look beautiful in gardens. The trailing nature of this vine means that you can train them to grow up trellises and walls. The leafy green foliage contrasts with beautiful pink flowers.
One popular cultivar is the Giant Pink Mandevilla (Mandevilla x 'Sunmandecos'). This has numerous large pink and white flowers in a trumpet shape. The elegance of these pretty flowers is enhanced by their yellow center and glossy green foliage.
Phlox
Phlox is one of the most colorful types of plants you can grow in your garden. Phlox shrubs and creeping plants from the order Ericales are well-known for their intense shades of color.
There are a number of phlox species that have intensely deep pink flowers. For example, the Phlox paniculata 'Eva Callum' has clusters of small pink, almost mauve flowers with dark pink centers.
Some types of creeping phlox shrubs are excellent if you are looking for shades of pink ground cover. The Creeping Phlox (Phlox subulata) only grows to about 6" (15 cm) tall. When in bloom in late spring, your ornamental garden or rock garden transforms into a sea of pinks and purples.
Other pink Phlox cultivars include 'Candy Stripe,' 'Scarlet Flame,' 'Bright Eyes,' and 'Emerald Pink.'
Petunias
Petunias are one of the prettiest types of pink flowers you can grow in your garden. Their dainty funnel-shaped flowers bloom in wonderful shades of pink, mauve, purple, red, and yellow.
Belonging to the family Solanaceae, petunias are an annual type of plant that flowers from the spring right through until fall. This bushy plant is good for growing in gardens, hanging baskets, or containers.
Some species of petunias produce some of the pinkest flowers you will find. For example, the cultivar 'Supertunia Royal Magenta' has flowers that are deep magenta-pink with dark veins and center. Other beautiful pink petunia species have hot pink flowers with red veins or white flowers with intense pink stripes.
Other types of pink-flowering petunias include 'Supertunia Daybreak Charm' with pink and yellow petals, 'Easy Wave Pink,' and 'Shock Wave Pink Shades.'
Zinnia
If you are looking for a stunning pink plant that flowers in summer, Zinnias are a great choice. Zinnia plants are from the family Asteraceae and produce brightly-colored red, yellow, orange, and pink flowers.
Zinnias are annual shrubs that produce beautiful flowers on the end of long stems. The variety of flowers are quite stunning. Some flowers are large showy globular heads, others are star-shaped, and some are dainty flowers similar to daisies.
There are a number of stunning types of pink zinnias to choose from. For example, some are large double flowers with multiple rows of pink petals that measure 6" (15 cm) across. Other showy blossoms are salmon pink with yellow centers, and another zinnia has white petals with splashes of pink.
Examples of beautiful pink cultivars include 'Pinca' with ruffled thin pink petals, 'Zinderella Lilac' with frilly large flowers that are light blush pink and striking dark center, and 'Magellan Coral' with disc-shaped double flowers in coral pink.
Pink Tulips
Extremely popular worldwide, tulips are a bulbous type of flower that has come to symbolize the start of spring. There are thousands of tulip cultivars and hybrids that have beautiful flowers on the end of straight green stems. The easily identifiable tulip flowers range from the simple classic cup-shaped flower to frilled showy flowers with a ruffled appearance.
A bunch of pink tulip flowers can mean that you care deeply for a person without signifying romantic love. Also, gifting pink tulips can be appropriate to send someone your best wishes.
Stargazer Lily
While lilies come in many different colors, the Stargazer lily is a popular pink type of lily (genus Lilium). Stargazer lilies are identified by their deep pink flowers, pink freckles, and white edging.
Stargazers are so-called because their large easily identifiable trumpet-shaped flowers that point upwards to the sky. This Oriental type of lily grows to around 36" (90 cm) tall and produces up to 8 large bowl-shaped pink flowers. When grown in clumps, Stargazer lilies create a wonderful floral display of pink and white flowers contrasting with dark green foliage.
Other pink lily hybrids include Lilium 'Souvenir' with star-shaped purplish-pink flowers, 'Tom Pouce' with light pink petals and yellow and white stripes, and 'Turk's Cap' lilies with dusky pink petals and dark pink or red speckles.
Pink Carnation flowers
Originally, carnation flowers were always in pink or peach colors. Now, with many hybrids and cultivars, there are hundreds of different types of carnations to choose from.
The carnation species (Dianthus caryophyllus) is from the family Caryophyllaceae. These famous bushy flowers have a distinctly fluffy look and sit on the end of long sturdy stems. The stems can reach heights of up to 31" (80 cm) making them perfect for showy floral displays and arrangements.
Pink carnation flowers can mean undying motherly love. Gifting a bunch of light pink carnations can mean gratitude and heartfelt thanks. Dark pink carnations can express blooming love or fondness for a person you care about.
Hydrangeas
Choose a species of hydrangea if you want beautiful pink flowers in your garden all summer and fall. Extremely popular flower worldwide, hydrangeas (family Hydrangeaceae) are decorative flowering shrubs that are low-maintenance and help to fill your garden with beautiful pastel shades.
These delightful shrubs grow to between 3 and 9 ft. (1 – 3 m) tall. They produce a multitude of pinks, pastel shades, whites, greens, and blue flowers throughout the summer. Hydrangea flowerheads are made up of clusters of smaller flowers.
Some hydrangea cultivars produce some of the prettiest shades of pink flowers you will find growing on plants. Some great cultivars include the 'Panicle Hydrangea' which has delicate shades of light pink and small florets in the large flower, 'Pia' with coral pink and white petals, or 'Endless Summer' with light mauve bushy heads.
Spider Lily (Lycoris)
Spider lilies are not a true type of lily but the common name for a species of flowering plant in the Amaryllidaceae family. They produce pretty lily-like flowers in a number of shades including purple, red, yellow, magenta and pink.
One type of spider lily is the genus Lycoris which can grow to about 3 ft. (90 cm). These perennial plants produce delightful funnel-shaped flowers with long spindly petals.
Pretty Lycoris pink spider lily cultivars include the 'Resurrection lily' with delicate light pink recurved petals and yellow stamens, or the 'Electric Blue' with fragrant pink flowers and orange stamens.
Snapdragons
Snapdragon is the common name for the genus of plants Antirrhinum. These plants produce long leafy stems with flowerheads at the end. Snapdragons are also well-known for their pastel shades of pink, red, purple, and orange flowers.
Snapdragons are generally annuals and their spring and summer flowers are many and showy. The stems can reach up to 40" (100 cm) tall and they bloom continuously all spring, summer, and into the fall.
Because the flowers are long-lasting and tall, they are great cut flowers. Adding pink snapdragons to a floral display can add a touch of class and elegance. Also, their delightful fragrance will enhance the flower arrangement.
Pink Peonies
The showiest type of pink flowers must be pink peonies. There are 40 species of peonies with many more cultivars to choose from. These flowering bushes are in the family Paeoniaceae, and the most common color of peony blossom is pink.
One of the identifying features of peonies is the large ruffled blooms. Some species of Itoh hybrid peonies produce ruffled double flowers that give off a wonderful fragrance. These exquisite flowers with their bold pink colors look stunning against the dark green foliage.
Because of their gaudy appearance, light pink and white peonies are often the centerpiece of wedding floral arrangements. They also make great cut flowers to celebrate any kind of occasion.
Some examples of beautiful pink peonies include the early blooming 'First Arrival' with semi-double blossoms and beautiful pink petals, 'Coral Charm' with peachy-pink flowers and a deep orange center, and the amazing 'Bowl of Beauty' with rose-pink petals and a large light-pink bushy center.
Bougainvillea
Bougainvillea is a large impressive shrub or vine that can turn into a sea of pinks, purples, and reds. The gorgeous waxy flowers infused with pink look stunning as the whole plant seems to bloom. The large flowering climbing shrub can reach up to 20 ft. (6 m) tall and have a spread of up to 9 ft. (2.7 m).
The beautiful flowers on Bounainvilea species are usually clusters of smaller florets. Some of the most stunning flowers are white flowers that become translucent pink as they mature. Other types of these creeping vines can have bright pink flowers with smaller white ones that look like snowdrops.
If you have a smaller garden and want to add these lovely pink flowers, then choose one of the dwarf varieties. For example, the 'Helen Johnson' cultivar has deep pink flowers interspersed with tiny white ones.
Chinese Fringe Flower
The Chinese Fringe Flower or Strap Flower are common names for the plant called Loropetalum chinense. This evergreen ornamental plant has deep pink thin strap-like petals that look like tiny ribbons fluttering in the wind.
These medicinal plants are from the family Hamamelidaceae which means they are related to witch hazel. These shrubby flowering pink plants bloom in winter and can add pretty colors to a barren garden. The pinkish flowers grow in clusters on the end of short branches.
Depending on the variety, some of these species can grow to 6 ft. (2 m) tall. Or, if you want to have pink flowers on your balcony or porch, then choose a slow-growing dwarf variety.
Lilac
Although often associated with purple flowers, some species of lilac produce clusters of light pink flowers. This large shrub in the genus Syringa in the family Oleaceae flowers in spring and produces a delightful aroma.
Lilac flowers are small heart-shaped florets that grow in large clusters called panicles. These flower heads can be up to 12" (30 cm) long and be any shade from dark purple to pastel pink.
If you are looking for a pink lilac cultivar, then choose the 'Beauty of Moscow' with pale pink blush panicles or the 'Katherine Havemeyer' with lilac-pink beautiful blooms.
Cherry Blossoms
One of the most delightful and stunning flowers in the world has to be the pink cherry blossoms. These pinkish-white flowers turn trees in the genus Prunus completely white with hints of pink.
These white and pink tree blossoms flower every March or April. In fact, the flowering trees are so stunning that people flock from far and wide to see the trees in bloom.
Flowering cherry trees in Japan have a special place in culture and the most common species is called sakura (Prunus serrulata).
Lotus
One of the most exotic pink flowers that grows in the wild is lotus flowers. Nelumbo nucifera is the botanical name of this aquatic flowering plant. It is also called the Indian lotus, Sacred lotus, or Egyptian bean.
Pink and white lotus flowers can be seen floating in ponds and lakes. The famous exotic flowers can grow up to 12" (30 cm) in diameter and look stunning against the large glossy lotus leaves. These floating leaves can be as large as 31" (80 cm) in diameter.
Related articles: