Front Yard Evergreen Shrubs (With Pictures) – Identification Guide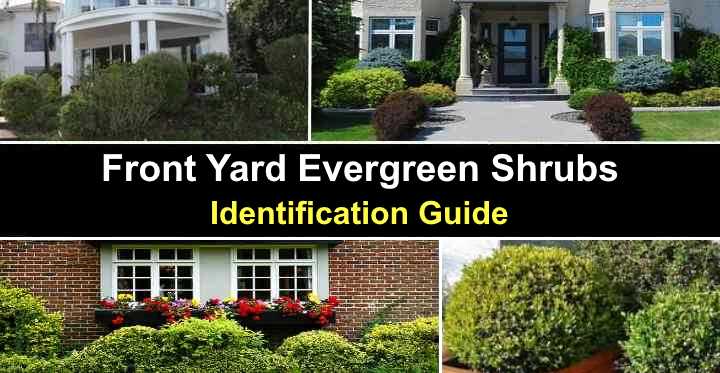 Evergreen shrubs for the front yard can do wonders to enhance your garden landscape aesthetics and boost curb appeal. Front yard evergreen shrubs keep your garden looking lush throughout the year. Flowering evergreen shrubs add a splash of floral color from spring through fall. In addition, planting dwarf, evergreen shrubs in your front yard ensures plenty of green color in an otherwise barren winter landscape.
The best evergreen front yard shrubs should be low-maintenance shrubs that are drought tolerant and require little pruning. Larger evergreen shrubs like flowering azaleas, stunning gardenias, and arborvitae can be planted along the foundation line, used to create privacy, or enhance features of your property. Small or dwarf evergreen shrubs can be planted to accent taller shrubs or flower beds and provide texture and extra dimension to a front yard landscape.
This article is a guide to identifying the best evergreen shrubs for planting in a front yard. Whether you need front yard evergreen shrubs to increase privacy, create structure, hide a foundation line, or accent an entranceway, you will find a suitable bushy plant for your landscape.
What Are Front Yard Evergreen Shrubs
Front yard evergreen shrubs are multi-stemmed, woody, bushy plants that keep their foliage throughout the year. The best front-of-house shrubs with evergreen foliage typically thrive in full to partial sun and need little care. In addition, most evergreen shrubs should only grow 5 or 6 ft. (1.5 – 1.8 m) tall.
Examples of flowering evergreen front yard shrubs include dwarf azaleas, garland flowers, camellia, Japanese Pieris, and viburnum shrubs. The best non-flowering landscaping shrubs for planting in front of your house are typically conifer shrubs. For example, varieties of dwarf spruce, junipers, yew, and arborvitae shrubs are ideal for landscaping a front garden.
Suppose you want to accent a corner of a house. In that case, you can plant tall, columnar shrubs like Japanese holly or conical arborvitae shrubs to create a vertical accent.
How to Choose Evergreen Shrubs For Front Yard
Evergreen shrubs for planting in a front yard are generally woody plants requiring little maintenance. However, it's important to choose shrubs suitable for your USDA growing zone, sun exposure, soil type, and drainage. For example, shrubs for planting in an east, west, or south-facing front yard should be for full sun or partial shade.
Front Yard Evergreen Shrubs (With Pictures) – Identification Guide
Landscaping a front yard with evergreen shrubs doesn't have to be challenging. Please read on to get ideas about shrubs for your front yard to ensure year-long color and plenty of colorful flowers in front of your home, regardless of the growing zone where you live.
Evergreen Azalea Shrubs (Rhododendron spp.)
Many species of azaleas are evergreen shrubs suitable for planting at the front of the house. Evergreen azalea shrubs are known for their spectacular funnel-shaped flowers, blooming in shades of pink, purple, yellow, white, and red. Their rounded growth and eye-catching floral displays can create a dramatic statement on your property.
Evergreen azaleas typically grow between 2 and 6 ft. (0.6 – 1.8 m) tall. However, there are also larger cultivars. Ornamental azaleas provide decorative value to a front yard. You can plant the sun-loving shrubs to create privacy, hide a foundation line, grow them as a floral hedge, or plant them in a shrub border.
Most evergreen azaleas are suitable for landscape planting in USDA zones 7 to 9.
Here are some azalea cultivars that are ideal for a front yard:
Azalea encore 'Autumn Princess'—This flowering evergreen shrub has beautiful pink-red flowers with wavy petals and protruding red stamens. The red flowers stand out against the glossy green foliage. It grows up to 3 – 4 ft. (0.9 – 1.2 m) tall.
Rhododendron 'Ramapo'—Ideal for compact gardens or foundation planting, this dwarf, evergreen azalea blooms with masses of purple or lilac flowers. You can plant this landscaping shrub in full sun at the front of the house. It only grows 2 ft. (0.6 m) tall and 3 ft. (1 m) wide.
Azalea indica 'Formosa'—This evergreen azalea shrub has  deep purple-magenta, trumpet-shaped blossoms, and the rounded shrub grows 6 to 8 ft. (1.8 – 2.4 m) tall.
Japanese Holly (Ilex crenata 'Sky Pencil')
The unique Japanese holly 'Sky Pencil' is a columnar evergreen shrub with a narrow habit, dark green leaves, tiny white flowers, and small black fruits. This slow-growing front yard shrub grows 6 to 10 ft. (1.8 – 3 m) tall and only up to 3 ft. (1 m) wide.
The Japanese holly's compact, narrow growth makes it ideal for planting at the corner of a house, foundation planting, or creating an evergreen screen or hedge. You can also grow the pencil-shaped evergreen shrub in a container to decorate an entranceway or front door.
Plant the Japanese holly in full sun or part shade where it thrives in USDA zones 6 to 8.
Front Yard Small Norway Spruce Shrubs (Picea abies)
Several species of evergreen Norway spruce shrubs add lush green, needle-like foliage to a front-of-house landscape. Low-growing Norway spruces are known for their glossy, dark green needles, spreading nature, and low maintenance. The coniferous shrubs grow relatively fast and will thrive in full sun in USDA zones 3 to 8.
Here are some examples of Norway spruce shrubs you can plant in a sunny front yard landscape:
Weeping Norway Spruce (Picea abies 'Pendula')—The best landscaping feature of this spruce shrub is its weeping, drooping branches. With its arching evergreen foliage, the shrub grows along the ground, creating evergreen ground cover. It can also be stalked to grow as a small landscaping tree.
Bird's Nest Spruce (Picea abies 'Nidiformis')—The flat-topped bushy conifer shrub grows 3 to 4 ft. (1 – 1.2 m) tall and up to 8 ft. (2.4 m) wide. The slow-growing, sun-loving landscaping conifer is ideal as a foundation plant or to line a front driveway.
Dwarf Norway Spruce (Picea abies 'Pumila')—This evergreen shrub is ideal for a front yard landscape because it is slow growing, has lush, dense foliage, and doesn't grow taller than 4 ft. (1.2 m).
Cape Jasmine (Gardenia jasminoides)
Cape jasmine is a beautiful evergreen shrub with large, showy white flowers, orange berries, and glossy green foliage. This outstanding landscaping plant will thrive in a west, east, or north-facing front yard because it thrives in partial shade. Cape jasmine grows 4 to 8 ft. (1.2 – 2.4 m) tall and wide.
Cape jasmine performs best in USDA zones 7 to 11. However, it is possible to find some hardier white-flowering gardenia shrubs. Because it thrives in subtropical landscapes, cape jasmine is ideal for planting in Florida front yards. Blooming from spring until early fall, evergreen cape jasmine grows well as a flowering privacy hedge or specimen plant.
American Arborvitae 'Emerald Green' (Thuja occidentalis 'Smaragd')
One of the most popular landscaping shrubs is the American arborvitae 'Smaragd.' The evergreen conifer is identified by its conical, upright habit and erect sprays of soft, feathery scale leaves. Perfect for the front of the house, the arborvitae is slow growing and eventually reaches 12 ft. (3.6 m) tall.
The American arborvitae thrives in full sun in USDA zones 2 to 7, making it ideal for landscaping in cold climates. It's an easy-grow evergreen shrub-like tree that is perfect as a front yard privacy hedge, foundation planting, specimen plant, or to grow at the back of a border.
Inkberry 'Shamrock' (Ilex glabra 'Shamrock')
The compact, rounded inkberry bushy plant is a low maintenance evergreen shrub perfect for landscaping a front yard. The 'Shamrock' inkberry cultivar has evergreen oval leaves, an abundance of greenish-white flowers, and masses of dark blue-black berries. It's a sun-loving evergreen shrub that grows 3 to 4 ft. (1 – 1.2 m) tall and wide.
Inkberry 'Shamrock' thrives in USDA zones 4 to 9. The multi-stemmed shrub with its upward-growing stems is ideal for planting along a front yard fence, foundation line, or shrub borders. It is also tolerant of soggy soil and will grow well near ponds and streams.
Chinese Snowball (Viburnum macrocephalum)
The Chinese snowball is a large white-flowering shrub with a rounded vase shape and huge globular white flowers. The shrub's valuable landscaping features are its large egg-shaped green leaves and large globular white flowers growing 8" (24 cm) wide. Chinese snowball performs best in USDA zones 6 through 9.
Unfortunately, Chinese snowball is only evergreen in warmer regions. Other semi-evergreen and evergreen viburnum shrubs to choose from are:
Burkwood viburnum (Viburnum x burkwoodii)—Suitable for USDA zones 4 to 8, this attractive shrub with its fragrant flowers and clusters of red berries is ideal for growing in full sun or partial shade. It's evergreen in zones 7 and 8.
Laurustinus Viburnum (Viburnum tinus)—The beautiful pink-flowering shrub is known for its masses of fragrant flower clusters that develop into spectacular showy metallic blue berries. The bushy evergreen shrub grows 8 ft. (2.4 m) tall in USDA zones 7 to 9.
Indian Hawthorn (Rhaphiolepis indica)
Indian hawthorn is an ornamental landscaping shrub with clusters of pinkish-white spring blossoms, lanceolate evergreen leaves, and dark blue berries. The landscaping value of Indian hawthorn as a front yard shrub is its dense foliage and fragrant flowers. It's an evergreen shrub for full sun that grows 4 to 6 ft. (1.2 – 1.8 m) tall.
Indian hawthorn is a front-yard shrub for USDA zones 7 to 10. Popular uses for the pink flowering shrub include foundation planting, evergreen hedges, or shrub borders. In temperate climates, you can grow the evergreen shrub in a planter for container gardens and overwinter it indoors.
Camellia
Camellia shrubs are showy, evergreen bushy plants with spectacular semi-double and double flowers. Evergreen camellia shrub flowers can be pink, red, white or multicolored. Depending on the cultivar, camellias can bloom all season, and they have a long blooming time.
Camellia shrubs are ideal for landscaping a front yard in USDA zones 6 to 9. The attractive evergreen bushy plants grow well in partial sun or full shade. In a front garden landscape, you can plant camellias as a foundation plant, screen or hedge, specimen plant, or in a container to beautify a front door.
Small Evergreen Shrubs for the Front Yard
Many dwarf, evergreen shrubs are ideal for planting in a front yard landscape to boost curb appeal, make your property more attractive, and increase its potential value. Here are the best small shrubs with evergreen foliage for a front yard.
Garland Flowers (Daphne cneorum)
Garland flower is a trailing evergreen ornamental shrub with masses of star-shaped pink flowers creating a colorful carpet. Ideal for adding color to a front yard, garland flower only grows up to 12" (30 cm) tall. The low-growing flowering shrub is suitable for growing in USDA zones 5 to 8.
Garland flower is an ideal choice for front-of-bed planting. You can plant the pink-flowering dwarf shrub to add color and texture to a landscape in the front of your house. Other uses for garland flower include growing in rock gardens, mixed beds, and coastal gardens.
Boxwood (Buxus) Shrubs for the Front Yard
Boxwood is a spreading evergreen shrub ideal for rich, all-year-long dark green foliage in a front yard. Boxwood shrubs are highly versatile and grow in full sun and partial shade. In winter, they provide evergreen foliage in a barren landscape. In contrast, they are an ideal backdrop for flowering perennials in summer.
Boxwood shrubs are suitable for planting in USDA zones 5 through 9. Here are some examples of dwarf, evergreen boxwood shrubs suitable for front-of-the-house planting:
Littleleaf Boxwood (Buxus microphylla 'Compacta')—The landscaping shrub thrives in full sun and grows 1 ft. (0.3 m) tall. The full-sun dwarf evergreen is ideal for foundation planting, container planting, and growing along a border.
Korean Boxwood 'Nana' (Buxus sinica var. insularis 'Nana')—The attractive features of the 'Nana' Korean boxwood are its green, spoon-shaped miniature leaves and ability to keep its lush, green foliage throughout the year.
Boxwood 'Silver Beauty' (Buxus sempervirens 'Silver Beauty')—This dwarf boxwood, evergreen shrub has bright variegated green and creamy-white foliage. The variegated Buxus shrub has a conical-rounded habit and only grows 3 ft. (1 m) tall.
Dwarf Evergreen Yew Shrubs (Taxus)
Dwarf, evergreen yew shrubs are perfect for growing in the front of a residential property. Typically, yew shrubs grow 2 to 5 ft. (0.6 – 1.5 m) tall and perform well in full sun to deep shade. Yew shrubs are identified by their glossy bright green needle leaves and red, seed-bearing cones that appear in the fall.
Here are some examples of suitable low-growing evergreen yew shrubs for a front yard landscape:
Dwarf Bright Gold Japanese Yew (Taxus cuspidata 'Bright Gold')—This dwarf landscaping yew cultivar has upward, spreading growth and a mounding habit. The slow-growing bush grows 3 ft. (1 m) tall. Growing in full sun, the beautiful leafy foliage is green needles that are often yellow beneath and turn golden yellow in winter.
Canadian Yew (Taxus canadensis)—Also called ground hemlock, the dwarf coniferous shrub features soft, evergreen, fragrant foliage and vibrantly colored red berry-like cones. Canadian yew shrubs grow 3 to 5 ft. (1 – 1.5 m) tall and 6 to 8 ft. (1.8 – 2.4 m) wide.
Anglo-Japanese Yew (Taxus x media 'Densiformis')—Suitable for growing in full sun to shade in USDA zones 4 to 7, this dwarf, evergreen features dense, evergreen needle foliage. The attractive feature of the shrub is its coral-red cones that appear in the fall. Plant the shrubs as a low-growing hedge in a front garden.
Creeping Juniper (Juniperus horizontalis)
The creeping juniper is a low-growing coniferous shrub that forms a mat of bluish-green foliage. Creeping juniper is an ideal front yard evergreen shrub because it doesn't grow more than 1.5 ft. (0.5 m) tall and spreads up to 8 ft. (2.4 m) wide. The sun-loving, cold-hardy landscaping shrub stays green in freezing temperatures.
Cavatine Dwarf Japanese Pieris (Pieris japonica 'Cavatine')
Japanese Pieris 'Cavatine' cultivar is a dwarf, low-growing decorative shrub with showy clusters of brilliant white flowers and lush, evergreen foliage. Dwarf Japanese Pieris grows 2 ft. (0.6 m) tall and up to 3 ft. (1 m) wide. The ornamental value of this evergreen shrub is its dangling conical clusters of bell-shaped white flowers.
Related articles: