Flowering Evergreen Shrubs (For Shade and Full Sun) – Pictures and Identification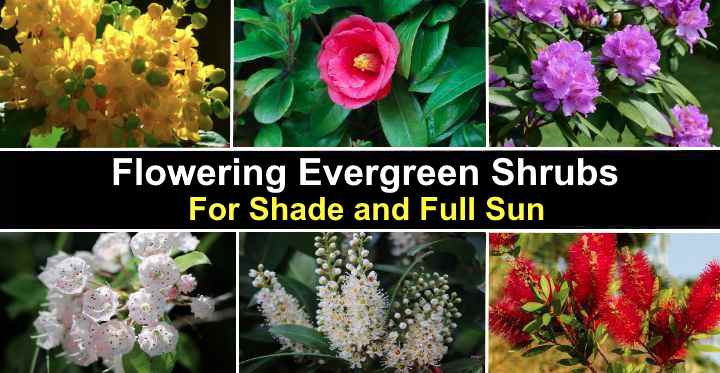 Flowering evergreen shrubs are ideal for enhancing the visual appeal of your garden landscape throughout the year. Evergreen shrubs that flower keep their leaves through winter and add vibrant bursts of color from spring until fall. Whether you have a front or backyard drenched in day-long sunshine or a shaded garden, there are flowering evergreen shrubs for all conditions.
Planting suitable evergreen bushy plants with year-round color requires knowing the correct sun exposure levels. The good news is that there are many varieties of flowering shrubs with evergreen leaves to choose from. 
For example, andromeda japonica and Indian hawthorn are evergreen flowering shrubs for full sun. Mountain laurel, rhododendrons, some azaleas, and garland flowers have leathery evergreen foliage and spectacular pink, red, white, and purple flowers. Or stunning camellia flowering shrubs thrive in full sun and deep shade without losing leaves in the fall. 
This article contains descriptions and pictures of the best flowering evergreen shrubs to plant in a front or backyard. You will also get helpful tips on growing shrubs in shade or sun for the best aesthetic landscape appeal.
What are Flowering Evergreen Shrubs for Shade or Full Sun?
Flowering evergreen shrubs are bushy plants with foliage that remains on the plant throughout the year. Flowering shrubs tend to produce showy blooms with clusters of colorful ruffled petals, funnel or bell-shaped flowers. Shrubs differ from trees because they are multi-stemmed and shorter, typically growing between 1 and 10 ft. (0.3 – 3 m) tall. 
Ornamental evergreen shrubs for full sun typically need a minimum of six hours of direct sunlight daily. Intolerant of shade, full sun shrubs can become leggy or fail to produce abundant blooms growing without adequate sunlight.
Flowering evergreen shrubs for partial sun or shade perform best with four to six hours of sunshine. Typically, partial shade shrubby plants need protection from intense midday and early afternoon sunlight.
Decorative evergreen flowering shrubs for full shade get on by two or three hours of sunlight. These evergreen shrubs are ideal for north-facing gardens or planting in constant shadows. 
How to Choose the Best Evergreen Shrubs 
When planting evergreen flowering shrubs, it is crucial to determine the sun exposure levels in your yard. 
To choose the ideal location to plant evergreen shrubs, check where there is shade in your yard between 12 p.m. and 4 p.m. If the location is shaded, pick evergreen shrubs for partial shade or full shade. However, choose flowering evergreen shrubs for full shade if there is no direct sunlight. 
When choosing to grow evergreen shrubs in your yard, other considerations include your USDA growing zone, shrub size, maintenance requirements, moisture levels, and soil type.
Mountain Laurel (Kalmia latifolia)
Mountain laurel is an evergreen shrub for partial shade. The attractive features of the ornamental shrub are its showy clusters of pinkish-white flowers and leathery, glossy green leaves. The blooms on the leafy shrub are made up of umbrella-like, pale pink flowers that bloom from April through July. 
Mountain laurel grows 4 to 15 ft. (1.2 – 4.5 m) tall and up to 8 ft. (2.4 m) wide. The showy flower clusters measure 4" to 6" (12 to 15 cm), and the evergreen lanceolate leaves are 2" to 5" (5 – 12 cm) long. The native flowering shrub is suitable for USDA zones 4 to 6.
The shrub performs best in partial shade, growing in acidic, moist, well-drained soil. However, evergreen mountain laurel shrubs also tolerate deep shade or full sun. Plant mountain laurel in a landscape in shrub borders, woodlands, or cottage gardens. 
Japanese Camellia (Camellia japonica)
Japanese camellia landscaping shrubs are spectacular evergreen plants with showy pink, red, or white flowers. Shade-loving Japanese camellias, with their evergreen leaves, have a range of flower types. There are miniature flowers growing 1.5" (4 cm) or enormous double blooms measuring 5" (12 cm) across.
Japanese camellias are suitable for partially shaded to full shade landscapes in USDA zones 6 through 10. The long-blooming shrubs have flowers that look like roses, peonies, or cup-shaped blossoms. Mature Japanese camellias are also relatively sun-tolerant. 
Japanese camellias grow 4 to 10 ft. (1.2 – 3 m) tall, depending on the cultivar.
Here are some examples of stunning flowering evergreen camellia shrubs for a shaded landscape: 
Camellia japonica 'Elegans'—Medium-sized evergreen shrub with pinkish-red anemone-form double flowers and clusters of yellow stamens. The camellia flowers measure 5" (12 cm) wide.
Camellia japonica 'Sea Foam'—A fast-growing, white, evergreen flowering shrub with stunning pure white peony-type flowers measuring 4" to 5" (10 – 12 cm). 
Camellia japonica 'Kumasaka'—A stunning landscaping evergreen shrub with masses of ruffled pink flowers contrasting with dark green, glossy foliage. 
Camellia sasanqua
Camellia sasanqua is a beautiful fall-blooming evergreen shrub with large single or semi-double blooms. The heavily scented camellia flowers have pink, white, or deep red colors and ruffled petals. Part-shade lover, camellia sasanqua shrubs grow 2 to 12 ft. (0.6 – 3.6 m) tall. 
Camellia shrubs are suitable for landscaping part shade to full shade gardens. Once established, the evergreen shrubs are sun-tolerant as long as the roots are kept moist and cool.
Plant camellia shrubs as a flowering evergreen hedge, mixed shrub border, specimen plant, or in a large container. 
Cape Jasmine (Gardenia jasminoides)
Cape jasmine is a flowering evergreen shrub identified by its pure white showy blossoms, lush dark-green leaves, and clusters of tiny orange berries. A pleasant feature of sun-loving cape jasmine is the alluring fragrance the rose-shaped or star-shaped flowers emit when in bloom from late spring through summer.
Also called gardenias, cape jasmine thrives in USDA zones 7 to 11. The bushy evergreen shrub grows 3 to 6 ft. (1 – 1.8 m) tall and wide. The brilliant white fragrant flowers contrasting with deep green, lanceolate leaves add dramatic color to a sunny landscape. 
Plant cape jasmine in full sun or partial sun to grow as an evergreen hedge, specimen plant, or trained to grow on a brick wall (espalier). 
If you want to grow an evergreen flowering shrub in a compact garden or container garden, then choose a dwarf variety. Cape jasmine cultivars that don't grow more than 4 ft. (1.2 m) include 'Buttons,' 'Coconut Magic,' 'Crown Jewel,' and 'Daisy'.
Virginia Sweetspire (Itea virginica)
Virginia sweetspire is a dwarf landscaping shrub with cylindrical arching white flower clusters and dense foliage. Semi-evergreen in milder climates, Virginia sweetspire has creamy-white bottlebrush flowers measuring 6" (15 cm) long and lance-shaped leaves up to 4" (10 cm) long. The ornamental shrub is suitable for USDA zones 5 to 10.
Virginia sweetspire is a low-maintenance shrub, suitable for growing in all levels of sunlight exposure. The decorative shrub thrives in full shade as well as basking in six to eight hours of direct sunlight. 
In colder climates, Virginia sweetspire foliage turns spectacular orange and red shade in the fall before falling. However, growing in semi-tropical landscapes like Florida, the shrub stays green all year.
Semi-evergreen Virginia shrubs are ideal for landscaping a front or backyard. The versatile shrub grows well along a foundation line or as a shrub border, hedge, or attractive ground cover. In addition, because it's tolerant of wet soils, you can plant the shrub near ponds or streams. 
Oregon Grape Holly (Mahonia aquifolium)
Oregon grape holly is a splendid yellow-flowering evergreen shrub, perfect for growing in full shade. The identifying features of Oregon grape holly are its clusters of bright yellow flowers, jagged, holly-like leaves, and bunches of blue-purple edible berries. The evergreen flowering shrub grows 3 to 6 ft. (1 – 1.8 m) tall.
Oregon grape holly shrubs are easy to care for and thrive in USDA zones 5 to 8. The four seasons of visual interest are spring when the golden-yellow flowers and glossy, bronze-red leaves appear, summer when the shrub is covered in dark blue berries, fall when the foliage turns burgundy, and winter when spiky leaves add greenery to a bare landscape.
For best results, keep Oregon grape holly out of full sun. In partial shade or deep shade, the small ornamental shrub is perfect for foundation plantings, shade gardens, or small informal hedges.
Evergreen Japanese Mahonia Shrubs For Shade (Mahonia japonica)
Japanese mahonia is a medium-sized evergreen shrub with spikes of lemon-yellow flowers, lustrous, dark-green leaves, and blue-black berries. Decorative features of the ornamental shrub are spiky leaflets, a beautiful lily-of-the-valley fragrance, and a long blooming time from summer through fall. This shade-loving bushy plant grows 8 to 10 ft. (2.4 – 3 m) tall.
Evergreen Japanese mahonia shrubs, with their striking foliage and yellow flower clusters, are perfect for full shade or partial shade garden landscapes in USDA zones 7 and 8. The attractive shrub adds color throughout all four seasons. It performs well as a foundation planting, in a woodland garden, or decorative specimen shrub.
Japanese Skimmia (Skimmia japonica)
Japanese skimmia is an evergreen dwarf landscaping shrub with creamy-white flower clusters, leathery lance-shaped leaves, and bunches of red berries. Japanese skimmia shrubs have an attractive rounded habit. Their evergreen foliage, fragrant white flowers, and red berries add plenty of color in all seasons. 
Small Japanese skimmia shrubs are suitable for shade gardens in USDA zones 6 through 8. You can plant these evergreen shrubs in shrub borders, around a home's perimeter, or brighten up shaded backyards. 
Due to its low growth and short, shrubby habit, Japanese skimmia also performs well in containers. This makes the ornamental shrub ideal for shady container gardens, patios, decking areas, or balconies. 
Mountain Doghobble (Leucothoe fontanesiana)
Mountain doghobble is a decorative evergreen shrub for partial shade. The identifying characteristics of flowering doghobble are drooping clusters of white, bell-shaped fragrant flowers measuring 3" (7.5 cm) long and showy, 5" (12 cm) leaves that turn red or burgundy in the fall. The small flowering evergreen bushy plant is suitable for USDA zones 4 to 6. 
Flowering doghobble grows 2 to 6 ft. (0.6 – 1.8 m) tall and up to 8 ft. (2.4 m) wide. The shrubby plant is ideal for adding four-season color to front or backyards. In addition, the shrub performs well growing as an accent plant, hedge, specimen plant, or to hide a foundation.
'Little John' Bottlebrush (Callistemon viminalis 'Little John')
Bottlebrush 'Little John' is a sun-loving, heat and drought-tolerant flowering evergreen shrub with spectacular crimson red flowers. The identifying characteristics of this tropical shrub are spiky red flowers growing 6" (15 cm) long and small lance-shaped evergreen leaves. Bottlebrush grows 5 to 6 ft. (1.5 – 1.8 m) tall and up to 5 ft. (1.5 m) wide.
As its name suggests, the flowers on Callistemon viminalis resemble a bottlebrush. These brightly-colored blooms attract pollinators in tropical landscapes. The compact evergreen shrub performs best in sun-drenched gardens growing along a foundation, sunny walls, as a hedge, low natural screens, or in containers. 
Bottlebrush 'Little John' is suitable for residential landscapes in USDA zones 10 to 12.
Evergreen Rhododendron Shrubs
Most rhododendron shrubs are large evergreen bushy plants with foliage that stays on the plant through winter. The ornamental shrubs are famous for their spectacular showy spring flowers. Rhododendron flowers bloom in shades of purple, pink, yellow, white, red, and orange. Rhododendron flowers average 1.5" – 3.1" (4 to 8 cm), but some grow as large as 8" (20 cm). 
Identifying features of rhododendron shrubs are their thick, leathery leaves, large showy flowers with ten or more stamens, and clusters of flowers forming spectacular floral displays.
Most rhododendron shrubs thrive in USDA zones 6 to 9, but some are hardy to zone 4. The best planting location is full to partial sun with organically-rich, well-drained soil. 
Here are some attractive evergreen rhododendron flowering shrubs for full sun:
Rhododendron 'Pollonia'—The large shrub has trumpet-shaped pink flowers with an orange tinge. The showy rhododendron flowers also have long protruding stamens. 
Rhododendron 'Norma'—The flowers are a reddish-orange color and in a star-shaped funnel. 
Rhododendron 'Jacksonii'—The fantastic rhododendron evergreen shrub thrives in full sun. The flowering plant is characterized by clusters of brilliant white, bell-shaped blossoms consisting of ruffled petals flowers and prominent pink stamens. 
Evergreen Azalea Shrubs
Evergreen azalea shrubs are a type of easy-care, flowering rhododendron subspecies but generally smaller in size with smaller leaves. The beautiful shrubs bloom in spring and last for several weeks. Azalea flowers can be vibrant shades of red, purple, pink, yellow, and green. Typically, Azaleas grow between 3 and 6 ft. (1 – 1.8 m) tall and wide.
Azalea cultivars can be evergreen or deciduous. Therefore, if you want to plant flowering evergreen shrubs in your front or back yard, it's essential to check the type. Like rhododendrons, azaleas tend to prefer partial sun. However, some cultivars are suitable for planting in full sun locations. 
How to tell the difference between azaleas and rhododendrons? First, azalea flowers are funnel-shaped or tubular with fewer stamens than rhododendrons. Additionally, azalea blossoms grow singularly on stems rather than in clusters. However, there are so many blooming stems that the flowers appear to grow in clusters. 
Here are some spectacular evergreen flowering azalea shrubs for a garden landscape:
Azalea indica 'Formosa'—This evergreen azalea shrub has deep purple flowers with papery petals, creating a trumpet shape. 
Azalea encore 'Autumn Princess'—Pinkish red blooms and small glossy green leaves are the characteristic feature of this eye-catching azalea shrub.
Rhododendron 'Ramapo' – This dwarf evergreen azalea is one of the prettiest purple azalea varieties. This hardy azalea requires very little maintenance and can also withstand full sun. Expect this dwarf azalea to grow up to 2 ft. (60 cm) and have a spread of up to 3 ft. (90 cm).
Cherry Laurel (Prunus laurocerasus)
Cherry laurel is a shade-loving evergreen shrub with white conical flower clusters, dark red berries, and leathery green leaves. The lustrous lance-shaped green leaves measure 6" (15 cm) long, and the upright cone-like flower clusters are 5" (12 cm) tall. The bushy shrub grows 10 to 20 ft. (3 – 6 m) tall and 8 to 11 ft. (2.4 – 3.3 m) wide.
Cherry laurel has many uses in a shade garden in USDA zones 6 to 9. The shrub is perfect for an evergreen privacy screen, windbreak, or hedge. You can also train the multi-stemmed shrub to grow as a small ornamental flowering tree.
Chinese Fringe Flower (Loropetalum chinense)
Chinese fringe flower is an evergreen shrub that thrives in full sun. Identifying features of this ornamental dwarf shrub are its spidery flowers and small, pointed green leaves. The flowers consist of wiry deep ping or dark red petals, depending on the cultivar. Chinese fringe flower grows 5 to 6 ft. (1.5 – 1.8 m) tall and wide.
Plant Chinese fringe flower shrubs in full sun or partial sun in an evergreen landscape in USDA zones 7 – 9. The shrub grows well as a flowering hedge, foundation planting, mass plantings as a border plant, and attractive container plant.
Related articles: