Amazing Types of Azalea Bushes And Their Flowers (Rhododendron spp.) – With Pictures and Identification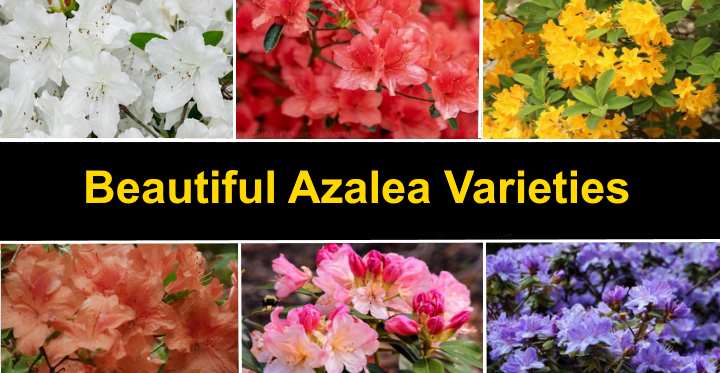 Azaleas are a type of flowering bushy plant in the Rhododendron genus. Azalea shrubs can transform your garden with a sea of color when the plants bloom in the springtime. Azalea flowers come in shades of orange, yellow, purple, red, pink, and white colors. Some spectacular types of azaleas have gorgeous flowers with large bi-colored petals and protruding stamens.
Azaleas can be either evergreen or deciduous shrubs. Evergreen azalea shrubs keep their leaves year round while deciduous azalea plants lose their leaves in the fall.
There are over 800 species of azaleas with more than 10,000 different types. Unlike rhododendrons, azalea shrubs don't grow as tall as their larger cousins. This makes them a perfect choice for any type of garden, large or small. In fact, some azalea plants are beautiful flowering dwarf cultivars that grow well in containers. Most gardeners find that azaleas are one of the easiest shrubs to grow.
In this article, you will learn about the color, size, and blooming times of different types of azaleas. Before we examine the most popular types of azaleas, there is one important question to answer – how rhododendrons and azaleas differ.
The Difference Between Azaleas and Rhododendrons
Azaleas are flowering shrubs that belong to the rhododendron genus. This means that azaleas and rhododendrons are closely related. The botanical names of azaleas often include 'rhododendron' in the name. For example, one of the azaleas that belong to the Encore Azalea Series has the botanical name Rhododendron 'Autumn Chiffon'. So, while all azaleas are a subspecies of rhododendrons, not all rhododendrons are azaleas.
One of the main differences between azaleas and rhododendrons is the type of leaf. Rhododendrons tend to have larger thick leather-like leaves whereas azaleas are identified by smaller leaves. Also, rhododendrons are large bushes that can grow to many meters tall. Azaleas tend to be smaller types of shrubs that suit garden landscapes.
One thing that both rhododendrons and azaleas have in common is their beautiful flowers.
Evergreen Hybrid Azalea Bushes (With Pictures and Names)
Planting evergreen azalea shrubs in your garden can provide greenery all year long. In springtime, the azalea plants transform your garden with their beautiful brightly colored flowers. Some of the most popular species of evergreen azaleas are the 'Encore' and Formosa varieties.
Formosa Azalea (Azalea indica Formosa)
The beautiful feature of the Formosa azalea bush is its large deep pink-colored flowers. These types of flowers have a papery, ruffled look and are in the shape of a trumpet. The Azalea indica 'Formosa' grows to between 6 and 8 ft. (1.8 – 2.4 m) and keeps its leaves all year long. The bright vivid flower colors of the Formosa azalea will add a splash of color when it blooms in early spring.
Encore Azaleas
Azalea bushes in the Encore Series are good garden or container plants that thrive in zones 6 – 10.
Rhododendron 'Autumn Lilac'
This purple-flowering Azalea plant has beautiful lilac-colored blooms that come out in the spring. Depending on the climate, this azalea variety can flower off and on throughout the summer. You can expect the 'Autumn Lilac' to grow up to between 2 and 3 ft. (60 – 90 cm) and have a spread of the same size.
Rhododendron 'Autumn Sunburst'
Another evergreen azalea in the Encore Series is the 'Autumn Sunburst.' This beautiful shrub produces showy, semi-double flowers in the spring. The large blooms are in coral-pink with white ruffled edges. As with all Encore Series Azaleas, they bloom sporadically from spring until the first frost.
Rhododendron 'Autumn Fire'
If you are looking for striking red blooms in your garden, then choose the 'Autumn Fire' Encore Azalea. The large red semi-double flowers can measure up to 2.5" (7 cm) across. These cold-hardy, low-maintenance shrubs are perfect for small gardens, containers, or to create colorful hedges. This small bushy plant grows to between 2 and 3 ft. (60 – 90 cm) and has a spread of around 2 ft. (60 cm).
Rhododendron 'Autumn Chiffon'
The 'Autumn Chiffon' azalea produces elegant white and pink blooms that contrast with the dark green leaves. The large flowers grow up to 2.75" (8 cm) across and are pale pink with dark pink centers. Similar to other 'Encore' azaleas, this azalea type doesn't grow taller than 3 ft. (90 cm) and is a dense evergreen plant.
Rhododendron 'Autumn Ruby'
Blooming in the spring, this Encore Series azalea gives your garden scarlet-red flowers. The cluster of flowers on the 'Autumn Ruby' can include up to 7 or 8 small single flowers. The blooms on this hybrid azalea are single-colored ruby-red and measure just 1.25" (3 cm) across. However, the flower clusters give the flowerhead a larger appearance.
The 'White Group' Azalea Bush
There are 7 varieties of azalea shrubs in the 'White Group' that grow well in Europe and North America. The 7 species are: R. alabamense, R. arborescens, R. atlanticum, R. viscosum, R. eastmanii, R. colemanii and R. occidentale.
Let's look at a couple of stunning examples of azalea bushes that belong to the 'white group':
Rhododendron Occidentale
Native to the Western US, cultivars of this white azalea shrub produce some striking blooms. Some cultivar flowers have pure white flowers with 'jagged' edges, some have white flowers with pale yellow coloring, and others have white and pink flowers.
Rhododendron Alabamense
This medium-sized azalea bush produces snowy-white flowers that give off a beautiful spicy lemon scent. The flower clusters are made up of small brilliant white flowers measuring up to 1.5" (4 cm) across.
The 'Pink Group' of Azalea Bushes
The azalea 'Pink Group' is a deciduous azalea bush variety that blooms in early spring. The 5 species of azalea (R. canadense, R. canescens, R. periclymenoides, R. prinophyllum, and R. vaseyi) produce beautiful blooms in shades from light pink to deep red.
Let's look at some beautiful examples:
Rhododendron Canescens
One of the most striking azalea species from the 'Pink Group' is the Canescens. This hardy azalea is identified by the long stamens and its small pink flowers. Clusters of these pale-pink azalea flowers look stunning when they bloom in spring.
Rhododendron Prinophyllum
The Prinophyllum azalea/rhododendron is a fragrant shrubby bush that grows well in cooler climates. The rose-pink flowers measure between 1" and 1.8" across (2.5 – 4.5 cm). The funnel-shaped blossoms bloom in the spring and give off spicy aromas.
The Orange to Red Flowering Azalea Shrubs
Five species make up the flowering azalea 'Orange to Red Group': R. austrinum, R. calendulaceum, R. cumberlandense, R. flammeum, and R. prunifolium. As their name suggests, these azalea varieties produce flowers in shades of yellow, gold, orange, and cherry red.
Some examples of flowering azalea 'Orange to Red Group' include:
Rhododendron Calendulaceum
Large yellow flowers on the azalea Calendulaceum really brighten up gardens in springtime. Vibrant yellow azalea blooms can be up to 2.5" (6 cm) across. Some cultivars of this species can also have orange, bright red, or sunshine yellow blooms. These cold-hardy deciduous azaleas are easy to grow from seed.
Rhododendron Cumberlandense
This orange deciduous azalea has small flowers and is a great small to medium landscaping plant. There are many orange to red hybrids from the Cumberlandense species. This azalea species flowers in late spring.
Deciduous Hybrid Azalea Bushes
There are 1,000s of deciduous azalea hybrids to choose from with some cultivars able to withstand frost and freezing temperatures.
Rhododendron 'Golden Lights'
This is a cold-hardy azalea bush cultivar that produces many large orange to peach-colored blooms. This orange flowering shrub has clusters of flowers are made up of 10 trumpet-shaped blooms. The outstanding feature of this rhododendron hybrid is its beautiful ruffled petals. It is a compact bush that grows to between 3 and 6 ft. (0.9 – 1.8 m) tall and up to 5 ft. (1.6 m) wide.
Rhododendron 'Homebush'
If you are looking for great color in your garden in the fall, then this flowering azalea hybrid is just perfect. The medium-sized woody shrub starts blooming in late spring and then throughout the summer. The blooms are globe-shaped and made up of small rose-pink funnel-shaped flowers. This award-winning azalea is a perfect landscaping solution for a privacy hedge, growing in containers, or along borders.
Rhododendron 'Klondyke'
The 'Klondyke' azalea is a yellow deciduous variety that has bushy showy flowers blooming in mid to late spring. The funnel-shaped flowers grow in clusters of 8 to 15 to produce large striking bright spring blooms. One identifying feature of this azalea hybrid is that its leaves turn copper-red in the fall. Like most azaleas, the 'Klondyke' prefers full sun to partial shade.
Rhododendron 'Weston's Innocence'
For a stunning floral display in your garden, the 'Weston's Innocence' azalea produces clusters of lily-like flowers. Its long white funnel flowers look stunning with long pink stamens that protrude from them. This deciduous azalea has a large number of blooms in late spring and early summer. The azalea bush grows to between 6 and 8 ft. (1.8 – 2.4 m) tall and is cold hardy to -25°F (32°C).
Rhododendron 'Narcissiflorum' (Azalea 'Narcissiflorum')
This azalea cultivar may get its name from the fact that its flowers look like graceful yellow daffodils. Clusters of yellow double flowers grace this green leafy bush in late spring. The ruffled funnel-shaped flowers give off a delightful floral aroma and they look appealing in any garden. This hardy azalea grows to between 4 and 6 ft. (1.2 – 1.8 m) with a similar spread.
Rhododendron 'Mount Saint Helens'
The 'Mount Saint Helens' azalea produces striking floral displays with pink and orange flowers. An abundance of beautiful trumpet-shaped flowers will brighten your garden in the early summer. The deep pink flowers contrast well with its olive-green leaves. If you live in a cold climate, then this hardy azalea can withstand freezing temperatures. You can expect this azalea to grow up to 6 ft. (1.8 m) tall.
Dodd Confederate Azaleas
Azaleas in the Dodd Confederate series are deciduous, withstand hot climates and grow vigorously. However, they are notoriously difficult to propagate and grow. Once established, Confederate azaleas grow well in partial shade in well-draining soil.
Rhododendron 'Admiral Franklin Buchanan'
This Confederate variety of azalea produces showy deep orange flowers. The blooms have a distinct ruffled look due to the curly edges of the petals. The recurved delicate petals fan out from the center and allow the white-tipped stamens to stick out.
Rhododendron 'Admiral Semmes'
This is an easy to grow azalea that produces bright lemon-colored flowers in the spring. The yellow blooms brighten up a spring garden and also give off a delightful floral fragrance. These deciduous yellow azalea bushes grow to between 4 and 5 ft. (1.2 – 1.5 m) with a similar spread.
Rhododendron 'Stonewall Jackson'
If you are looking for a deciduous azalea with clusters of large showy flowers, then choose the 'Stonewall Jackson' Confederate azalea. The large bushy orange flowers can make for an attractive flowering bush in the springtime. These are some of the largest flowers on any of the Confederate azaleas.
Dwarf Azalea Shrubs (With Pictures and Names)
For many small gardens or containers, choosing the right type of dwarf azalea bush is the best choice. Depending on the cultivar, these small azaleas grow between 1 and 4 ft. (30 – 120 cm) high.
Rhododendron 'Princess Anne'
This compact azalea variety, named the 'Princess Anne,' is one of the prettiest dwarf azaleas in the rhododendron genus. The bush grows to 2 or 3 ft. (60 – 90 cm) and has an array of bright blossoms. Pale yellow-green flowers that are in the shape of a funnel have long white, red-tipped stamens protruding. The azalea flowers are about 1" (2.5 cm) across and can brighten up any part of your garden.
Rhododendron 'Percy-Wiseman'
The abundance of pinkish-white flowers on the 'Percy-Wiseman' azalea shrub is one of its attractive features. The small azalea bush grows clusters of pretty blooms containing between 13 and 15 dainty flowers. This dwarf rhododendron is perfect for containers, cottage gardens, or small gardens. The shrub grows up to 4 ft. and has spread of between 4 and 6 ft. (1.2 – 1.8 m).
Rhododendron 'April Rose'
The 'April Rose' azalea is a medium-sized dwarf type that has beautiful purple flowers. The pretty flowers can grow up to 2" (5 cm) wide and give off a delicate fragrance when they bloom in spring. The 'April Rose' azalea is easy to grow and is a very cold-hardy plant. It will grow up to 4 ft. (1.2 m) tall.
Japanese (Indica) Azaleas
Native to Japan, the Rhododendron indicum species contains a large number of cultivars, including Satsuki azaleas.
Satsuki Evergreen Azaleas
Satsuki azaleas are evergreen bushes that come in a wide range of cultivars. In Japan, these azaleas are often grown as bonsai trees where they produce wonderful flowers. Some notable Satsuki azaleas include:
The Gumpo Satsuki azalea comes in pink, red, or white cultivars.
The Aikoku Japanese azalea has white flowers with purple or pink stripes on them.
The Kazan azalea is one of the most desirable azalea varieties for gardeners due to its wonderful foliage and flowers.
Azalea Japonica 'Girard's Rose'
'Girard's Rose' is a Japanese azalea that was cultivated in the US. The deep pink or magenta-colored flowers look beautiful against the deep green foliage. This type of Japanese azalea is perfect for ground cover or as a small bush. The azalea grows to between 1 to 2 ft. (30 – 60 cm) high with a spread of up to 4 ft. (130 cm).
Beautiful Flowering Azalea Bushes for Rock Gardens (With Pictures and Names)
Most dwarf azaleas are perfect for growing in rock gardens. However, there are few azalea cultivars that are especially good for sunny rock gardens.
Rhododendron 'Ramapo'
This dwarf evergreen azalea is perfect for rock gardens. This cultivar is one of the prettiest purple azalea varieties due to its clusters of tiny violet flowers. Every spring you will get delightful purple flowers covering your rock garden. This hardy azalea requires very little maintenance and can also withstand full sun. Expect this dwarf azalea to grow up to 2 ft. (60 cm) and have a spread of up to 3 ft. (90 cm).
Rhododendron 'Ginny Gee'
This low-growing, evergreen azalea cultivar is well-suited for rock gardens as it only grows to between 1 and 2 ft. (30 – 60 cm). Around mid-spring, a multitude of small ruffled white flowers burst forth. The pretty blooms are in shades of whites and pinks. In fact, there are so many clusters of flowers that it is difficult to see the dark green foliage. The azalea will cover ground up to 2 ft. (60 cm) in diameter.
How to Care for Azalea Bushes
Generally, azaleas are very easy to care for and are low-maintenance plants. Most azaleas thrive in zones 4 to 10 and some may even withstand zone 3. Plant azaleas where they get partial shade and in well-drained soil.
To care for your azaleas during winter, you should put plenty of mulch around the roots.
If you care for your azaleas well, they will reward you with fantastic blooms from early spring onward. Some cultivars may continue blooming sporadically right up until the first frost.
Find out how to care for flowering azalea shrubs.
Related articles: