Ground Cover Plants With Red Flowers (With Pictures) – Identification Guide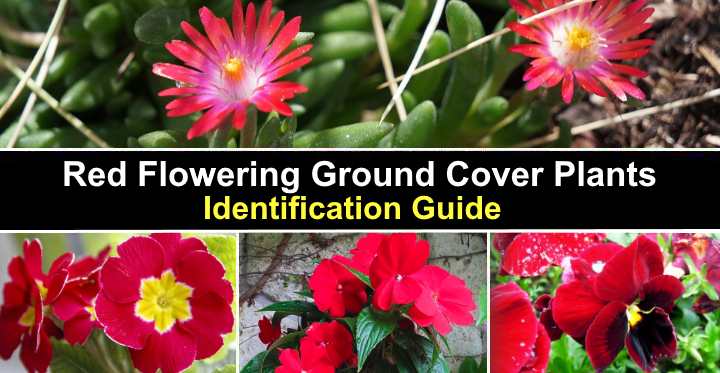 Ground cover plants with red flowers transform garden landscapes with a vibrant mat of stunning blooms. Flowers in bright shades of red creating a colorful carpet can grow in full sun or partial shade and require little maintenance. In addition, the spreading, ground-hugging red-flowering plants help prevent soil erosion and keep weeds under control.
Planting ground cover plants with red flowers is ideal for adding finishing touches to your garden landscape design. Ground cover plants add a splash of color under shrubs, trees, or slopes. You can also use red-flowering ground-hugging plants to accent evergreen shrubs as part of a foundation planting design.
Spreading, low-growing evergreen plants with red flowers are the easiest ones to care for. Typically, evergreen ground cover plants grow easily and keep their color throughout the year.
Some ground cover plants are described as evergreen perennials. This term means that the mat-forming plants keep their leaves in warmer regions throughout winter. However, they lose their foliage in colder or temperate climates before returning in spring.
This article is a guide to choosing the best ground cover plants with red flowers. Descriptions and pictures of the red blooms and ground-hugging plants will help you find the best types to add vibrant colors to your garden landscape.
The Best Ground Cover Plants with Red Flowers
The best red-flowering low-growing plants are periwinkle, violets, impatiens, and verbena. Many of these mat-forming evergreen perennials have vigorous growth and thrive in full sun to part shade. In addition, they are ideal for underplanting shrubs, suppressing weeds, or dealing with soil erosion to help beautify your garden landscape.
Why Plant Red-Flowering Ground Cover Plants
Low-growing flowering plants are perfect for completing a landscape design. The creeping, mound-forming, trailing or spreading plants improve soil consistency, add red colors to landscapes, inhibit weed growth, and retain moisture. In addition, the red flowers attract pollinators and encourage biodiversity in a front or backyard.
Some kinds of evergreen plants with red flowers are perfect for planting where regular turfgrass can't grow. In addition, using carpet-forming plants help to cover bare soil and ensure your garden retains color all year long.
How to Choose Ground Cover Plants with Red Flowers
When choosing ground cover plants with red flowers, it's vital to consider factors like sun exposure, soil type, and maintenance needs. In addition, it's critical to choose mat-forming plants suitable for your USDA growing zone. Some evergreen ground cover plants grow as perennials in colder climates.
Ground Cover Plants With Red Flowers (With Pictures) – Identification Guide
Red ground cover plants are an attractive choice to beautify your yard. Red-flowering ground covers can add color and texture to any type of landscaping. You can plant them along edges, under shrubs, in a rock garden, or trailing over a wall. There are also several sun-resistant and shade-tolerant ground cover plants with red flowers.
Dwarf Chenille (Acalypha Reptans)
Dwarf chenille is a stunning evergreen ground cover shrub with striking crimson red flowering spikes. The red flowers on the trailing plant grow 3" (7.5 cm) long and stand out against the dark green heart-shaped leaves. The free-flowering, easy-to-grow ground cover plant grows 12" to 18" (30 – 45 cm) tall and wide.
Dwarf chenille thrives in USDA zones 9 through 11. The low-growing, spreading shrub performs well in full sun to partial shade in well-drained soils.
If you live in a colder climate, you can grow dwarf chenille as an annual or plant it in a hanging basket. This way, you can grow the trailing plant outdoors in the summer and bring it indoors during winter.
Red Periwinkle (Catharanthus roseus)
Red periwinkle is an evergreen perennial carpet-forming plant with masses of vibrantly colored red flowers. Red periwinkle flowers bloom from July through September in hot climates. The eye-catching 5-petalled red flowers contrast with the dark green, glossy lance-shaped leaves. Red periwinkle grows 6" to 18" (15 – 45 cm) tall and up to 10" (25 cm) wide.
Here are some of the best red-flowering periwinkle cultivars you can plant as ground cover in a sunny garden. Suitable for planting in zones 10 and 11 or as an annual in all other growing zones.
Madagascar Periwinkle – Vinca catharanthus roseus 'Cooler Red': This periwinkle cultivar has deep lipstick red flowers with a contrasting yellowish-white eye in the center.
Vinca catharanthus roseus 'Pacifica Dark Red': Deep red, obovate petals and glossy green lanceolate leaves characterize this red periwinkle variety.
Vinca catharanthus roseus 'Victory Cranberry': The eye-catching red flowers on the 'Victory Cranberry' create a mat of deep red shades during summer and early fall. The flowers have a splash of pinkish white in the center to create a stunning contrast with the cranberry red petals.
Red Horned Violet (Viola spp.)
Red-horned violet is a creeping plant with two-toned blooms and contrasting red, black, yellow, and white shades. The compact flowering perennial ground cover plant blooms from early spring until fall. It fills garden landscapes with vivid colors, bright green foliage, and floral fragrances. Violets grow 8" to 10" (20 – 25 cm) tall and up to 12" (30 cm) wide.
Winter-hardy, heat-tolerant violets are suitable for planting in USDA zones 5 to 9. The plants are characterized by their mounds of bright green foliage, colorful blooms, and tolerance to shade.
In addition to ground cover, you can grow violets or pansies in mixed containers, along driveway edges, or underplanting in mixed beds.
Here are some descriptions of striking red-flowering violets:
Viola cornuta 'Penny Red Blotch': The identifying features of the 'Penny Red Blotch' violet are the dark red patches on three of the crimson-red rounded petals. The flowers have a bright yellow center.
Viola tricolor 'Delta Pure Red': This red-flowering violet has deep red petals with a brightly-colored golden yellow center. The bright red colors contrast with the colorful green scalloped leaves.
Viola Gem Scarlet: This red pansy ground cover plant has bright red to pale red petals with prominent black veins and a yellow center.
Viola x wittrockiana 'Carneval Cherry': Also called Lady's Delight, wittrockiana pansies are popular bedding plants known for their vibrant colors. The 'Carneval Cherry' cultivar has slightly ruffled pure red petals with a bright yellow center.
Viola x wittrockiana 'Dynamite Scarlet': This five-petalled red violet is characterized by its striking black veins emerging from a golden yellow center.
'Arkwright Ruby' Viola: This spectacular pansy has deep ruby-red petals, a golden yellow margin, and a bright yellow center.
Red Impatiens
Impatiens are herbaceous perennial ground cover plants with red, white, pink, purple, or orange flowers. Red impatiens mounding plants have large, 5-lobed petals that bloom from spring until fall. Impatiens grow 8" to 24" (20 – 60 cm) tall and 12" (30 cm) wide. The spreading red ground cover plants thrive in partial or deep shade.
Red impatiens flowers are typically grown as annual bedding plants. The eye-catching flowering ground cover plants are characterized by their double or bi-colored flowers and dense green foliage.
The best shaded places to grow red impatiens are in beds and borders, hanging baskets, containers, edging along pathways, or in containers. Although a shade-loving plant, the trailing flowering plant tolerates full sun if it gets enough water.
New Guinea Impatiens hawkeri 'Sonic Red': This red impatiens variety has bright red flowers that bloom from late spring until early fall.
Impatiens walleriana 'Fiesta Salsa Red': The identifying features of impatiens 'Fiesta Salsa Red' are its red showy double blooms and serrated lance-shaped leaves.
'Super Elfin Ruby' Walleriana impatiens: If you want a carpet of red spring and summer flowers, then the deep red blossoms of this impatiens cultivar are ideal. You can expect continuous flowering from spring until the first frosts.
Impatiens walleriana 'Vitara Red': Red impatiens flowers on the 'Vitara Red' cultivar are pure bright red petals that contrast with dark green ovate foliage.
Red Primrose (Primula vulgaris)
Red primrose forms a mass of red flowers and green foliage when planted en masse for ground cover. Red primrose flowers are six-petalled red flowers with a thin white margin and a star-shaped yellow center. The compact, semi-evergreen perennial grows 4" to 6" tall and up to 9" (22 cm) wide.
Red primrose plants are suitable for USDA zones 4 to 8 in partial sunlight. The carpet of red and yellow flowers looks stunning in bed and borders, containers, or rock gardens.
Red Ice Plant (Delosperma cooperi' Jewel of the Desert Garnet')
Red ice plant is a carpet-forming evergreen plant with masses of red daisy-like flowers. Individual blooms consist of thin red petals forming a disc of rays around a yellowish center. The ground cover plant blooms throughout the season, and its evergreen foliage adds color to bare winter landscapes.
Ice plants grow as evergreen ground cover in USDA zones 6 through 10. The easy-to-grow landscaping plants are an ideal choice for border fronts, rock gardens, slopes, or containers. Red ice plants grow 3" to 6" (7 – 15 cm) tall and up to 24" (60 cm) wide.
Trailing Red Verbena
Trailing verbena is an annual or perennial spreading plant with a super-long blooming season. Verbena plants are known for their vigorous flowering when the leafy mounds are covered in clusters of small red flowers. Spreading verbenas grow 12" (30 cm) tall and up to 5 ft. (1.5 m) wide. They thrive outdoors in USDA zones 7 through 11.
Verbena peruviana 'EnduraScape Red': Bright cardinal-red flowers create a spreading mound that blooms continuously from summer until the first frost. Grow in USDA zones 8 – 10.
Verbena 'Superbena Royale Red': Suitable for zones 3 through 7, this red-flowering ground cover plant has clusters of scarlet-red flowers and toothed mint-like leaves.
Creeping Lantana Red spread (Lantana camara 'Red Spread')
Creeping Lantana is a low-growing, spreading shrub with dark green evergreen leaves and clusters of bright red and orange flowers. Lantana is an ideal ground cover plant because it tolerates poor soil, partial drought, and full sun. The rounded clusters of flowers emerge orange before turning deep red throughout the season.
Creeping Lantana thrives in USDA zones 8 to 11 and performs well in full sun or partial shade. The free-flowering perennial grows best as ground cover or in containers. It grows 24" to 30" (60 – 76 cm) tall.
Drift (Creeping) Roses
Drift roses are beautiful ground cover plants that fill gardens with beautiful red, pink, peach, white, and orange colors. The ornamental feature of these creeping roses is their miniature rose flowers that bloom continuously from spring until frost. The ground-hugging roses thrive in full sun and grow 24" to 36" (60 – 90 cm) tall and up to 47" wide (120 cm).
Coral Drift Groundcover Rose Rosa 'Meidrifora': The showy red rose flowers are beautiful fragrant open blossoms with multiple ruffled petals.
'Red Drift' rose: The drift rose flowers are showy red blooms with a yellow center.
Red Armeria (Armeria pseudarmeria 'Ballerina Red')
Red armeria is a compact evergreen clumping perennial with globus red flower clusters growing on erect stems. Flowering from spring through early fall, the red ball-like flowers create an attractive feature growing along borders, driveways, or in mixed beds. Growing massed as ground cover, the plants grow up to 10" (35 cm) tall and wide.
Red African Daisy (Osteospermum)
Red African daisies are stunning vivid red flowers that bloom throughout the season. Planted en masse, the red-flowering plants grow well as ground cover, creating spectacular floral displays in full sun or partial shade. The disc-shaped deep red flowers grow on the ends of stems 12" (30 cm) long.
Some outstanding red African daisy cultivars include 'Bright Lights Red,' 'Zion Red,' and 'Serenity Red.'
Red Astilbe (Astilbe x arendsii)
Astilbe is a low-growing ground cover plant with vibrant deep red flowering plumes on the end of erect stems. Ideal for planting in shade or full sun, red astilbes are known for their bushy fern-like foliage, tall red flowering spikes, and resistance to drought and heavy shade.
Red astilbes thrive in USDA zones 4 through 9 and are a perfect choice of red-flowering ground cover in shaded gardens. The plant's foliage grows 18" (45 cm) tall, and flowers can reach up to 30" (75 cm) tall.
Astilbe x arendsii 'Glow' (Astilbe 'Glut'): This red astilbe is known for its bright red flowers growing on slender mahogany erect stems.
Astilbe x arendsii 'Fanal': The attractive features of the red astilbe cultivar 'Fanal' are its pointed green leaves and masses of slender conical red flowering spikes.
Cheddar pinks (Dianthus gratianopolitanus 'Red Beauty')
Commonly called Cheddar pinks, the Dianthus cultivar 'Red Beauty' has spectacular bright scarlet-red showy flowers growing on erect stems. The ruffled red flowers with their sweet fragrance contrast with the low-growing green-gray foliage of these Dianthus flowers. The red flowers grow 10" to 12" (25 – 30 cm) tall and thrive in full sun.
Dianthus gratianopolitanus is ideal for ground cover due to its mounding foliage. From all the Dianthus cultivars, the Cheddar pink varieties are the hardiest and thrive in the most challenging locations. They are also tolerant of humidity, drought, and heat.
Red Creeping Sedum (Stonecrop)
Red creeping sedum is a hardy spreading plant with bluish-green foliage and clusters of five-petalled pink to red flowers. The decorative appearance of creeping sedum is enhanced in winter when the bluish succulent leaves turn red and russet. Also called stonecrop, creeping sedum enjoys a long blooming season and thrives in USDA zones 4 to 9.
Creeping sedum grows between 6" and 12" (15 – 30 cm) tall. The clusters of tiny reddish flowers resemble broccoli, turning from pale pink to deep red as the season progresses.
Here are two notable creeping sedum cultivars with red flowers:
Sedum 'Red Cauli': This stunning red-flowering ground cover plant has raspberry-red blooms 4" (10 cm) in diameter growing on deep red stems. As winter approaches, the cherry-red flowers turn a coppery-rust color.
Sedum 'Desert Red' (Stonecrop): This sedum cultivar is characterized by clusters of tiny, deep pinkish-red star-shaped flowers. The red flowers bloom during summer and turn deep cherry-red in the fall and winter.
Spike Speedwell 'Red Fox (Veronica spicata 'Red Fox')
Spike speedwell 'Red Fox' is a bushy ground cover spreading plant with tall flowering spikes of reddish-pink color. The eye-catching slender conical flower clusters typically emerge from bushy clumps of foliage consisting of lance-shaped leaves. The cold-hardy ground cover plant thrives in USDA zones 4 through 8 in full sun.
Spike speedwell 'Red Fox' grows 12" to 24" (30 – 60 cm) tall and wide. The attractive slender pyramidal flowering clusters look attractive in borders, rock gardens, along pathways, and in containers.
Related articles: