Orange Flowering Shrubs (With Pictures) – Identification and Planting Guide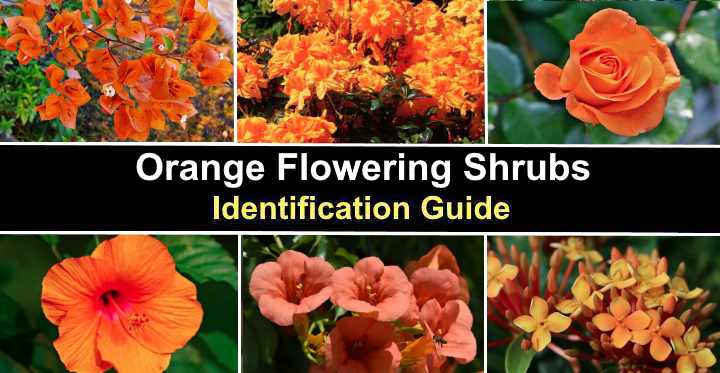 Orange flowering shrubs are a great addition to any garden landscape. Many shrubs with orange flowers are easy to grow, drought tolerant, and thrive in full sun to light shade. Attractive orange flowers contrast nicely with lush green foliage. The orange shrubs are ideal for foundation planting, borders, or growing as a specimen plant. Additionally, the bright orange blossoms attract butterflies and pollinators.
When you think of orange flowering shrubs, you might imagine a small shrubby rose bush, dwarf azaleas, or Japanese quince with orange flowers. However, shrubs with orange blooms come in all shapes and sizes with attractive fragrant flowers. Some shrubs with orange flowers are large thorny bushes like bougainvillea, whereas others are vines with shrub-like growth. In addition, many orange flowering evergreen shrubs have beautiful fall colors that last into winter.
Are you interested in growing orange-blooming shrubs in your front or backyard? Do you want some landscaping ideas on which shrubs with orange blossoms are suitable for your growing area? If so, please read on.
This guide helps you identify the best orange flowering shrubs, including some of the most beautiful landscape plants for your yard. You'll also get tips on where to plant them, what they look like when they bloom, and how to care for them once they're established.
How to Pick the Best Shrubs with Orange Flowers
There are a few factors to consider when choosing which type of orange-flowering shrub to plant in your yard. For example, you should know how much sunlight they require, their USDA hardiness zones, and their watering needs. Additionally, think about maintenance like pruning and trimming.
Before picking which orange-flowering bushes to plant, consider the shrub's mature size. Some shrubs with orange flowers, like dwarf azaleas, are relatively compact and only grow 3 ft. (1 m) tall and wide. However, large shrubs like orange honeysuckle and bougainvillea can spread 20 to 30 ft. (6 – 9 m).
Orange Flowering Shrubs (with Pictures and Descriptions)
Orange flowering shrubs add tremendous ornamental value to a garden landscape. Let's look in detail at some of the most spectacular bushy plants with orange blooms.
Orange Roses (Rosa spp.)
Several varieties of rose bushes are popular ornamental deciduous shrubs grown for their colorful orange blooms. The woody plants with their thorny stems and rosette flowers are easy to identify in gardens. Orange rose shrubs produce flowers up to 5" (12 cm) wide and bloom throughout the summer.
Shrub roses are ideal flowering landscaping plants if you want fragrant orange blossoms in your yard. Shrub roses are low-maintenance plants and resilient against pests and disease. Depending on the variety, the rose plants grow 1 to 20 ft. (0.3 – 6 m) tall and up to 15 ft. (4.5 m) wide.
Shrub roses with orange flowers are perfect for foundation plantings, mixed borders, hedging, or security screen. The shrubby plants thrive in full sun and well-draining soil with medium watering and occasional fertilizing. Varieties of roses are suitable for USDA zones 3 through 11.
Orange Hibiscus (Hibiscus rosa-sinensis)
Tropical orange hibiscus shrubs are popular landscaping and gardening plants due to their large, showy trumpet-shaped blooms. The spectacular orange flowers can grow 3" to 10" (7.5 – 25 cm) wide. The easy-to-recognize shrubs have a vase-shaped habit and bloom continuously from summer through fall.
Many dwarf hibiscus ornamental shrubs are suitable for compact, sunny gardens. The orange-flowering shrubs typically grow 5 to 10 ft. (1.5 – 3 m). Tropical hibiscus shrubs with orange flowers are suitable for growing in USDA zones 10 and 11.
But suppose you want to grow hardy hibiscus shrubs, and you live in USDA growing zones 4 to 9. In that case, there are plenty of perennial flowering shrubs to choose from. However, hardy hibiscus plants don't bloom in orange colors. Similarly, the popular rose of Sharon (Hibiscus syriacus) doesn't have orange blooms.
Related reading: Top tips for hibiscus shrub care.
Orange Flowering Azalea Shrubs (Rhododendron spp.)
Azaleas are popular flowering shrubs that produce colorful blooms in shades of orange, red, yellow, white, pink, and purple. The clusters of large, showy, funnel-shaped orange flowers bloom in late spring and early summer. Azalea shrubs are also identified by thick, glossy leaves and rounded, mounding habit.
Orange-flowering azalea shrubs typically grow 3 to 6 ft. (1 – 1.8 m) tall and wide. In spring, the low-growing deciduous shrubs become an eye-catching mound of orange, red-orange, and pastel orange hues. In addition, the fragrant bright orange flowers attract pollinators to summer gardens. Azaleas are suitable for USDA zones 5 to 8.
Orange azalea shrubs thrive in full sun to partial shade. The small, rounded shrubs are perfect for planting as a flowering hedge, privacy screen, or border. Azaleas also make excellent container plants for patios or decking areas.
Examples of azalea shrubs with orange blooms include the following:
Rhododendron 'Golden Lights'
Rhododendron 'Gibraltar'
Rhododendron calendulaceum 'Flame Azalea'
Rhododendron 'Stonewall Jackson'
Flame of the Woods (Ixora coccinea)
Flame of the woods is an evergreen shrub identified by its beautiful orange flowers. The attractive orange flowers are a tubular shape with four petals and grow in clusters (cymes) up to 5" (13 cm) wide. The broadleaf shrub's glossy green, leathery, oblong leaves grow 6" (15 cm) long.
Blooming in early spring, this rounded bushy, drought-resistant, heat-loving shrub grows 4 to 6 ft. (1.2 – 1.8 m) tall. Also called iron tree and jungle flame, the attractive feature of Ixora coccinea is its densely packed flower clusters with cylindrical orange flowers with four open petals at the tips.
Flame of the woods is best suited for growing in USDA zones 10 and 11. This makes the rounded landscaping bush a popular shrub for full sun in Florida yards. It's an ideal choice for an evergreen hedge, screening plant, or foundation planting.
Orange Bougainvillea
Some varieties of bougainvillea bloom with orange flowers that cover this colossal woody vining plant. Orange bougainvillea flowers consist of papery heart-shaped bracts surrounding tiny tubular orange blossoms. Growing in tropical full sun climates, the flowering shrub blooms throughout the year, filling yards with vibrant orange colors.
Bougainvillea is a popular landscaping shrub for Florida gardens in USDA zones 9 to 11. This vining shrub has a creeping habit and is ideal for growing over walls, entrance-ways, arbors, or to cover a trellis. In addition, the thorny shrub is suitable for foundation planting, privacy hedges, or accent plants.
The sun-loving thorny shrub grows 8 to 40 ft. (2.4 – 12 m) tall and up to 30 ft. (9 m) wide.
You can grow bougainvillea in a hanging basket or as an indoor houseplant if you live in a temperate climate. This way, you can enjoy the showy orange flowers bougainvillea produces.
Darwin's Barberry (Berberis darwinii)
Darwin's barberry is an evergreen shrub identified by its showy orange flowers blooming in late winter and spring on red thorny stems. The orange flower buds bloom in clusters measuring 5" (12 cm) across. These orange flowers contrast with small glossy green leaves with prickly margins.
Orange-flowering Darwin's barberry grows 5 to 10 ft. (1.5 – 3 m) tall and wide. The landscaping shrub, with its arching, densely growing stems, thrives in full sun or partial shade and in moist soil that drains well. It's suitable for growing in USDA zones 7 through 10.
Darwin's barberry is a drought-tolerant shrub with plenty of aesthetic features. The thorny red stems and holly-like leaves make it an ideal privacy plant, evergreen hedge, or foundation planting. Additionally, the showy orange buds and vibrant orange flowers brighten up spring gardens.
Firebush (Hamelia patens)
Also called Mexican firecracker, firebush blooms with a profusion of vibrant orange tubular flowers. The bright orange blossoms grow in forking clusters at the ends of erect stems. The flowers measure 1" to 1.5" (2 – 4 cm), and the pointed evergreen leaves are 6" (15 cm) long. After blooming, the orange flowers give way to glossy black berries.
Firebush is an ornamental shrub growing 2 to 3 ft. (0.6 – 1 m) tall and 2 ft. (0.6 m) wide. Thriving in full sun and moist, well-drained soils, the orange-flowering shrub looks stunning in landscapes. It's a great addition to a sunny garden as a screen, hedge, border plant, or foundation planting.
Firebush is suitable for USDA zones 9 through 11.
Orange Honeysuckle (Lonicera ciliosa)
Orange honeysuckle is a deciduous shrub-like vine with attractive, fragrant tubular orange flowers in late spring and early summer. The fascinating cylindrical bright orange blooms are 1.5" (4 cm) long and have five fused petals that split and curl at the ends. Additionally, the long-blooming shrub has dark-green ovate leaves.
Orange honeysuckle, with its vibrant orange flowers, grows up to 20 ft. (6 m) tall and 30 ft. (9 m) wide. The vigorous spreading shrub is ideal for covering walls, trellises, and fences. Or you can let the spreading stems run freely to grow as ground cover for full sun.
Cape Honeysuckle (Tecoma capensis)
Cape Honeysuckle is an evergreen vining shrub or vine identified by its brilliant orange trumpet-shaped flowers. The showy flowers grow 2" (5 cm) long in dense clusters, blooming from fall to spring. The spreading shrub has dark green compound leaves consisting of five to nine leaflets.
As an orange-flowering shrub, cape honeysuckle grows 7 to 10 ft. (2.1 – 3 m) tall. The bushy fast-growing plant with its climbing stems thrives in full sun or partial shade. Its drought, salt, and heat tolerance make it ideal for landscaping southern coastal gardens. Suitable for USDA zones 9 through 11.
Bush Honeysuckle (Diervilla lonicera)
Bush honeysuckle is a small deciduous shrub with masses of orange and yellow tubular flowers. The orange honeysuckle shrub flowers are characterized by their slender funnel shape and pronounced yellowish stamens. Additionally, the shrub's foliage consists of glossy dark green leaves that turn to orange or yellow shades in the fall.
Bush honeysuckle is a versatile orange-flowering landscaping shrub growing 2 to 3 ft. (0.6 – 1 m) tall. The multi-stemmed shrub thrives in USDA zones 3 through 7, growing in full sun. It's an ideal garden shrub for borders, small hedgerows, and foundation planting. In addition, its resilient root system makes it perfect for erosion control.
Japanese Quince (Chaenomeles japonica)
Japanese quince is a deciduous decorative shrub that blooms with masses of small red-orange flowers growing along its thorny, widely spreading stems. Individual orange flowers are made of five orange-scarlet round petals and creamy-yellowish stamens. The small shrub has lanceolate leaves 4" to 5" (10 – 13 cm) long and small greenish-yellow fruits.
One of the attractive features of this dwarf shrub is the small 1.5" (4 cm) orangey flowers blooming on bare stems. The densely-branched shrub grows 3 ft. (1 m) tall and up to 6 ft. (1.8 m) wide. The orange-flowering shrub is ideal as a specimen plant, planted along a foundation line, or as a low-growing flowering hedge.
Grow the shrub in USDA zones 5 through 9.
Trumpet Vine (Campsis radicans)
Trumpet vine is a native North American climbing vine recognized by its deep orange trumpet-shaped summer-blooming flowers. The eye-catching orange-red flowers bloom throughout the summer and measure 3" (8 cm) long. Other decorative features include been-like seed pods and dark green pinnate leaves measuring 4" (10 cm) long.
The dark orange funnel flowers on the trumpet vine bloom in terminal clusters of 4 to 12 flowers. These long-lasting blossoms attract pollinators and hummingbirds to summer gardens. Thriving in USDA zones 5 to 9, the shrub-like vine grows 20 to 40 ft. (6 – 12 m) tall and up to 10 ft. (3 m) wide.
The flowering orange shrubby vine is ideal for scrambling over fences or walls or growing as ground cover in full sun to partial shade.
Common Lantana (Lantana camara)
Also called bigleaf lantana, this lantana plant is a popular ornamental shrub with orange flowers for landscaping in warm climates. This hardy, drought-resistant flowering plant features attractive tubular flowers, each with four petals forming orange spherical clusters. The colorful clusters have combinations of pink and orange, red and orange, and yellow and orange.
Common lantana grows as a dense thicket. The showy flower clusters measure 2" (5 cm) in diameter, and its ovate, serrated dark green leaves are 4" (10 cm) long.
Growing in USDA zones 7 to 11, the bushy orange-flowering plant grows 2 to 6 ft. (0.6 – 1.8 m) tall in warm climates. In frost-free climates, it also grows horizontal shoots (prostrates) and can be used as a sun loving ground cover.
Black-Eyed Clock Vine (Thunbergia alata)
The black-eyed clock vine is a bushy spreading plant with attractive deep orange five-petalled flowers and black or dark brown throats. This summer-blooming orange vine has evergreen foliage in tropical landscapes. The shrub-like vine has triangular or heart-shaped leaves with toothed margins and grows 3 to 8 ft. (1 – 2.4 m) tall.
The black-eyed clock vine is suitable for growing in full sun to part shade in USDA zones 10 and 11. The orange-yellow flowers bloom from summer until fall. The vining plant is ideal for growing over trellises, arbors, and fences. In temperate climates, you can grow the flowering plant in hanging baskets or as a houseplant.
Marmalade Bush (Streptosolen jamesonii)
The marmalade bush is a beautiful evergreen shrub with fragrant, orange-yellow flowers. This scrambling evergreen shrub features small, dark-green leaves, funnel-like tubed orange flowers, and a climbing habit. The orange-flowering shrub is ideal for sunny landscapes in USDA zones 10 and 11.
The spectacular feature of this flowering shrub is when large 5" (13 cm) clusters of orange flowers cover the lush foliage growing on slender stems. The large orange-flowering shrub grows 6 to 10 ft. (1.8 – 3 m) tall and up to 8 ft. (2.4 m) wide.
Red Ace Shrubby Cinquefoil (Potentilla fruticosa 'Red Ace')
The shrubby cinquefoil cultivar 'Red Ace' has large, bright orange flowers growing on a densely-branched mounding shrub. In hot weather, the five-petalled flowers become even more vibrant. This small shrubby bush has small, pointed dark-green leaves contrasting with the orange summer flowers.
Shrubby cinquefoil grows 2 to 3 ft. (0.6 – 1 m) tall and 4 ft. (1.2 m) wide. The small bushy plant with its vivid, orange-colored flowers is exceptionally hardy. It withstands drought during hot summers and freezing temperatures in winter.
This easy-to-grow shrub is ideal for sunny borders, foundation planting, informal flowering hedging, and edging driveways. The bright orange flowers bloom from late spring until the first frosts in early winter.
Related articles: