Fast Growing Ground Cover Plants (With Pictures)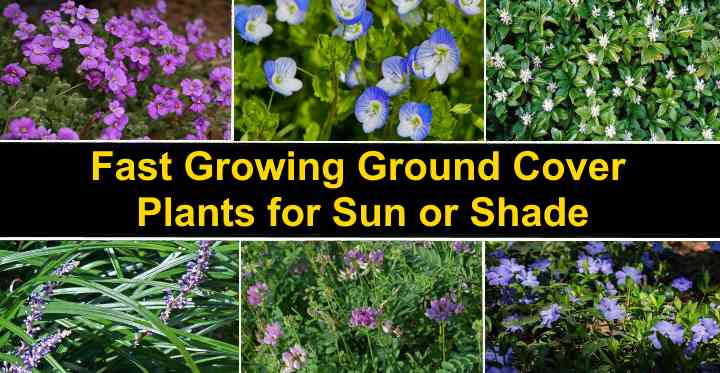 Fast-growing ground cover plants are mat-forming, low-growing plants with vigorous growth. Some plants spread at an incredible rate and are ideal for covering large areas of bare soil or ground. Growing plants that spread fast over the ground also helps prevent soil erosion on slopes or hillsides and keep weeds under control. A benefit of fast-growing ground covers is that they don't take much care to grow.
The advantages of specific quickly-spreading plants can also be their disadvantage. Some ground cover plants spread so fast that they are considered invasive. In fact, in some areas, these ground covers are regarded as no more than fast-spreading weeds. However, when planted in areas restricting their growth, flowering vigorous ground cover plants for sun or shade can help add color to your garden.
Advantages of Planting Fast-Growing Ground Covers
There are many reasons for growing fast-growing ground cover plants in your yard. Many sprawling evergreen ground covers provide year-long interest—especially if they are also flowering ground covers. Additionally, fast-spreading plants keep weeds at bay, prevent soil erosion, and help retain ground moisture.
Also, ground-hugging plants for sun or shade that spread quickly require little care and maintenance to thrive.
Where to Plant Fast-Spreading Ground Covers
It's crucial to choose the right place in your backyard to plant fast-growing ground cover plants. Simply put—vigorous ground covers need plenty of space to spread. Some ground cover plants have an aggressive spreading nature. Before you know it, the mat-forming plants quickly fill the areas you want, but then take over other parts of your garden.
When choosing the right place to plant invasive ground cover plants, choose areas away from flower beds or lawns. It's also wise to check with local state guidelines, as some invasive spreaders should not be planted in back yards.
Some of the most aggressive ground cover plants that can become invasive are English ivy, bugleweed, evening primrose, and creeping Jenny.
Fast-Growing Ground Cover Plants for Full Sun (With Pictures)
Let's look in more detail at some of the quickest spreading plants for full sun that will soon form a natural 'carpet' over bare ground. Most ground cover plants for full sun also tolerate some shade.
Candytuft (Iberis sempervirens)
Candytuft is a flowering fast-growing ground cover plant for full sun. This spreading evergreen perennial is a low-growing bushy plant that produces clusters of dainty white flowers in early summer. Plant candytuft in raised beds or as sprawling ground cover in your garden.
Although candytuft is a quickly-spreading clumping plant, it's not considered an invasive, aggressive ground cover. Candytuft grows in USDA zones 3 – 9.
Creeping Phlox (Phlox stolonifera)
Creeping phlox is a flowering fast-spreading ground cover that thrives in the sun. This mat-forming plant has foliage that stays green for most of the year. When flowering, creeping phlox covers the ground with masses of white, violet, blue, or rose-colored flowers—rapidly creating a colorful floral carpet.
Phlox quickly covers large areas of ground thanks to its dense foliage and vigorous growth. Creeping phlox creates a mat of color in your garden and is not invasive. However, stay clear of wild phlox because that is considered an invasive weed.
Phlox ground covering plants grow in zones 4 – 8.
Bellflowers (Campanula)
Bellflower is a superb spreading plant that quickly covers the ground. This beautiful perennial evergreen ground cover has mat-forming foliage and produces colorful bell-shaped blue or purple flowers throughout the summer. Described as a "well-behaved" ground cover, its vigorous growth quickly fills bare garden spaces without becoming a nuisance.
This low-growing bellflower plant only grows 6" (15 cm) tall. Plant bellflowers as ground cover in full sun wherever you need color all summer long. These ground-hugging plants are perfect for sunny gardens in zones 4 – 9.
Speedwell (Veronica umbrosa)
Speedwell is a non-invasive ground cover plant that has vigorous growth. Speedwell plants quickly form a low mat of lush green glossy foliage that's ideal for low-maintenance ground cover in full sun. One outstanding feature of low-growing speedwells is their dainty blue flowers that bloom in early spring.
Creeping perennial speedwell plants grow up to 6" (15 cm) high and don't have aggressive growth. Speedwell is ideal for ground cover along borders, under-planting shrubs, containers, or colorful edging. Grow speedwell in zones 4 – 9.
Creeping Jenny (Lysimachia nummularia)
Creeping Jenny is an invasive yellow flowering ground cover plant for full sun that quickly spreads. This low-growing attractive spreading plant has brightly-colored foliage and spreading stems. Creeping Jenny produces flowers in midsummer and its evergreen perennial growth provides year-long interest. The creeping stems of this plant take root wherever they touch the ground.
Plant creeping Jenny carefully where you need a vigorous plant that spreads quickly. This quick-spreading plant is ideal for sunny areas in zones 3 – 9.
Dragon's Blood Stonecrop (Sedum spurium)
Dragon's blood stonecrop is a fast-growing, mat-forming succulent for covering the bare ground. This evergreen perennial plant—also called 'red carpet'—doesn't grow tall. Its fleshy rounded leaves form a rosette pattern in colors of green and burgundy. Plant dragon's blood succulent en masse to form colorful ground cover in sunny gardens.
These Sedum plants are the ideal low-maintenance ground cover plant if you've got poor soil. Plant stonecrop as an edging plant, full-sun ground cover, or to fill empty spaces in rock gardens. Dragon's blood doesn't spread, so there are no concerns about this vigorous succulent becoming invasive.
Creeping Thyme (Thymus praecox)
Creeping thyme is one of the fastest growing evergreen ground covers. It has aromatic leaves and it forms a carpet of pretty flowers. This showy low-growing vigorous plant explodes with color in early summer. The spectacular feature of creeping thyme is its clusters of pink flowers that attract butterflies.
Grow creeping thyme in full sun wherever you need colorful ground cover. This mat-forming flower is also ideal in rock gardens, borders, edging, or in containers. Ground cover thyme grows up to 3" (7 cm) tall in zones 5 – 9.
Cranesbill (Hardy Geranium)
Cranesbill is a sprawling easy-to-grow ground cover that has vigorous growth. These plants are prized for their lush foliage, beautiful, showy flowers, and year-long interest. Depending on your climate, hardy geraniums can be evergreen, semi-evergreen, or deciduous perennials. Plant hardy geraniums to reduce weeds, prevent soil erosion and beautify your garden.
Cranebills grow as low mounds and will quickly fill up bare garden areas. Don't confuse these hardy geraniums for Pelargoniums, which are tender flowering annuals that are also called geraniums.
Pink Evening Primrose (Oenothera speciose 'Siskiyou')
Evening primrose is a vigorous ground cover plant with large, showy pink flowers. This plant has sprawling stems that can root quickly to provide full-sun cover. The plant thrives in poor soil and is drought-resistant. The invasive trailing stems have lance-shaped leaves and produce beautiful large pink flowers from late spring.
Spreading evening primrose grows up to 8" (20 cm) tall and is perfect for full sun or partial shade in zones 4 – 9.
Creeping Wire Vine (Muehlenbeckia axillaris)
Creeping wire vine is a hardy ground-hugging plant with vigorous, dense foliage. This plant grows as an evergreen perennial in zones 7 – 9. The spreading vines create a mat that quickly spreads to protect slopes from soil erosion and help choke out weeds.
Creeping wire vine is ideal for ground cover in full sun or partial shade. The plant spreads fast, especially in warmer climates, and needs regular pruning to control its rapid growth.
Crown Vetch (Securigera varia)
Crown vetch is a rapidly-spreading ground cover trailing plant. Also called crown vetch 'weed,' the invasive ground cover is a suitable plant for covering large areas of patchy soil. Once established, crown vetch doesn't require any maintenance to continue spreading at an incredible rate.
You can plant crown vetch to cover slopes or rocky areas in a garden landscape. Enjoying full sun, the sprawling ground cover thrives in zone 6 and above.
Rock Cress (Aubrieta deltoidea)
Rock cress is a stunning and colorful fast-spreading ground cover. The beauty of this plant is its ability to quickly turn barren areas into a sea of purple or deep pink colors. The mat-forming perennial shrub doesn't grow taller than 9" (22 cm) and tolerates bouts of drought.
As a full-sun ground cover, the ground-hugging plant has a spread of 2 ft. (60 cm). Rock cress is perfect for adding color to slopes, mixed beds, borders, or rock gardens. Grow the evergreen perennial in zones 5 – 7.
Creeping Mazus (Mazus reptans)
Creeping mazus is a tiny attractive ground cover plant with vigorous growth. This mat-forming plant is ideally suited for full sun or partial shade. Its spreading foliage produces masses of purple flowers to brighten up summer garden landscapes. One reason why creeping mazus is an ideal ground cover plant is that it withstands plenty of foot traffic.
Grow creeping mazus for covering ground in zones 5 – 8.
Fast-Growing Ground Cover Plants for Shade (With Pictures)
Many fast-spreading ground cover plants are also ideal for growing in shaded areas or partial sun in your backyard. These vigorous plants have evergreen foliage when growing under trees, woodlands, or continuously in the shadows.
Periwinkle (Vinca)
Periwinkle can be an invasive ground cover plant due to its aggressive growth habit. The evergreen perennial quickly spreads to form a mat of glossy green leaves. Showy purple flowers appear throughout the summer to add color to shaded areas of your garden landscape.
For a less aggressive periwinkle ground cover, choose the Vinca minor 'Bowles's Variety.' While having vigorous growth, the spreading plant is not too aggressive. Periwinkles are easy-care plants that are ideal for under-planting shrubs or covering banks and slopes. Periwinkle is suitable for shade or full sun in zones 4 – 10.
Wintercreeper (Euonymus fortunei)
Wintercreeper is a low-growing shrub that spreads quickly. The evergreen plant's spreading stems are covered with bright foliage to form a carpet of glossy green and gold or white leaves. The creeping plant roots wherever it touches the soil and can quickly become an invasive weed.
Grow wintercreeper on slopes, under shrubs, as an edging plant, or trailing ground cover. This aggressive ground cover plant is ideal for full shade or sun in zones 5 – 9.
Lilyturf (Liriope muscari)
Lilyturf is a fast growing evergreen ground cover which is ideal for planting on slopes and banks. This perennial shade-loving plant grows as short clumps of thin, arching leaves. The low-growing ground cover plant blooms in the summer and fall with purple flower cluster spikes. Lilyturf can quickly turn summer gardens into a sea of purple hues.
One benefit of growing lilyturf for ground cover is that it's an ideal grass lawn alternative. Lilyturf thrives in shade to full sun and is suitable for zones 5 – 10.
English Ivy (Hedera helix)
English ivy is a fast spreading and aggressive ground cover plant for slopes. This evergreen perennial is a popular trailing ground cover plant, despite its invasive qualities. This type of ivy has woody stems that root wherever they can. English ivy is a low-growing leafy plant that has a massive spread up to 15 ft. (4.5 m).
Be careful where you plant this shade-loving, drought-tolerant spreading vine. English ivy is a popular plant to cover walls, fences, or large areas of barren woodland soil. Ivy thrives in shaded areas in zones 5 – 11.
Sweet Woodruff (Galium odoratum)
Sweet woodruff is an ideal shade-loving ground cover plant due to its fast growth. This attractive perennial forms a natural carpet of brightly colored leaves and dainty white flowers—even in the shade. The lush white flowering ground cover plant doesn't require any care as it quickly spreads to cover the ground.
In warmer climates, sweet woodruff can be an invasive ground cover plant. It's an ideal spreading plant for shaded gardens, under trees and shrubs, or for edging in colder climates. Grow the plant as an attractive mat-forming perennial in zones 4 – 8.
Blue Star Creeper (Isotoma fluviatilis)
Blue star is a no-fuss ground cover plant that has speedy growth. The lush green foliage forms a dense mat on the ground that is an ideal lawn turf substitute. Creeping blue star withstands heavy foot traffic and grows just as well in shade as it does in full sun. The spreading plant is generally 'well-behaved,' however can become invasive in some places.
Grow blue star creeper as a lush natural carpet to replace your lawn. This mat-forming plant grows well in zones 5 – 9.
Bugleweed (Ajuga reptans)
Bugleweed—also called carpet bugle—is a ground-hugging plant with fast growth. This plant rapidly forms a dense mat of attractive foliage in shaded areas. Planting bugleweed is ideal in the perpetual shade where traditional grass won't grow. Beautiful purple flower spikes spring up in April and May to add color to garden landscapes.
The 'carpet' growth habit of bugleweed and fast growth is ideal for planting on slopes, under trees, or in wooded areas. However, it's good to remember that carpet bugle can be invasive. The low-growing perennial grows in zones 3 – 10.
Spotted Deadnettle (Lamium maculatum)
Spotted deadnettle is a fantastic fast-growing ground cover for shade. This perennial low-growing vigorous plant enlivens shaded gardens with colorful foliage and long-lasting blooms. The attractive white or pink flowers and light-green leaves offer color from spring through fall.
Grow deadnettle as ground cover under trees, shrubs, or in shaded flower beds and gardens. This fast-growing plant is ideal for covering ground in zones 3 – 8.
Japanese Spurge (Pachysandra terminalis)
Japanese spurge is a vigorous ground cover with evergreen foliage. This mat-forming, ground-hugging plant forms a carpet of dark-green leaves in shaded habitats. The creeping foliage grows up to 4" (10 cm) tall and spreads rapidly to cover the ground. Japanese spurge is perfect for growing on slopes, preventing erosion, or adding greenery to woodland gardens.
Grow this fast-growing perennial ground cover plant in zones 4 – 8.
The Fastest Growing Ground Cover for Full Sun
One of the best fast-growing ground cover plants for full sun is flowering candytuft. Despite its vigorous growth, it's not considered invasive. Yet, it quickly covers the ground and produces clusters of white flowers.
The Fastest Growing Ground Cover for Shade
The best quickly-spreading ground cover for shade is Periwinkle 'Bowles' Variety.' This hardy cultivar is less-invasive than other periwinkles. Also the leafy, fast-growing spreading plant produces stunning purple flowers in the shade.
Flowering Fast-Growing Ground Cover Plants
The most attractive flowering fast-growing ground covers for full sun are phlox, creeping thyme, or rock cress. Some remarkable examples of flowering shade-loving ground covers are sweet woodruff, periwinkle, and lilyturf.
Related articles: