Beautiful Yellow Flowers to Give Stunning Color to Your Garden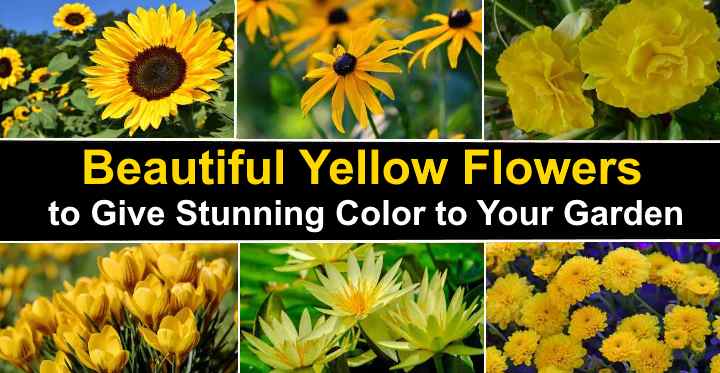 Yellow flowers are perfect for adding bright cheerful colors to your garden in any season. Yellow flowering plants can look spectacular when growing among green foliage or with blue, white, or red flowers. Yellow flowers have many meanings, some being happiness, optimism, loyalty, and positivity.
Plants with vibrant yellow flowers are some of the most beautiful in the garden. From large tall sunflowers to pretty yellow buttercups, or huge gold-colored chrysanthemums, there is a type of yellow flower to suit any taste.
Yellow flowers are especially beautiful in floral displays. Flowers in shades of lemon, mustard, amber, and gold can create spectacular cheerful flower arrangements.
Types of Yellow Flowers (With Pictures and Names)
Read on to find out about some of the best and most beautiful yellow flowers you can plant in your garden. This list of yellow flowering plants contains images for easy identification. It is good to remember that, in general, yellow flowers need full sun to partial shade. You also have to plant them in soil that drains well that is never too damp or dry.
Sunflowers
Sunflowers (Helianthus) are some of the tallest summer flowers that you can easily grow. Sunflowers are easy to identify with their large yellow-daisy shaped flowers that sit on the top of tall leafy stems. Large yellow petals fan out form a yellow or black disc-like center to create stunning yellow flowers. Sunflowers can grow up to 12 ft. (3.6 m) with large yellow blooms measuring between 8" and 12" (20 – 30 cm).
Outstanding feature: Enormous flowers reminiscence of the sun that create stunning centerpieces in flower arrangements.
Growing zones: 5 – 9.
Yellow sunflower cultivars: Helianthus 'Lemon Queen,' 'Happy Days,' Helianthus annuus 'Giant Sungold,' 'Russian Mammoth,' 'Teddy Bear.'
Buttercup (Ranunculus)
Buttercups (Ranunculus) are some of the most adorable yellow flowers to beautify your garden in spring and summer. These clump-forming perennial plants produce small to medium-sized flowers that look like rosettes. The silky petals tightly wrap around to create beautiful single and double blossoms. Apart from yellow, buttercups also come in purple, orange, vibrant red, and white varieties. Yellow blooms are around 5" (12 cm) across and the plants grow to a height of 12" (30 cm).
Outstanding feature: Romantic yellow flowers that grace any garden or floral arrangement.
Growing zones: 4 – 8.
Yellow buttercup cultivars: Ranunculus asiaticus 'Delano Yellow,' 'Tecolote Yellow,' 'Tomer Yellow,' Ranunculus acris 'Flore Pleno.'
Primrose
Primrose (Primula) is a plant genus that comprises of many colorful species. These yellow, pink, red, or purple blooms are some of the first to appear in springtime. Primrose is a perennial plant that grows between 4" and 12" (10 – 30 cm) tall. Popular primrose flowers can be double or single blooms and are some of the prettiest golden-yellow spring flowers. The dainty flowers can be between 0.7" to 1.5" (2 – 4 cm) in diameter.
Outstanding feature: Excellent plants for colorful borders, ground cover, or in containers.
Growing zones: 4 – 8.
Yellow primrose cultivars: Primula 'Belarina Nectarine,' Primula auricula 'Golden Hind,' Primula elatior, Primula florindae, 'Candelabra' Primrose.
Daffodils
Apart from tulips, Daffodils (Narcissus) are some of the most popular spring flowers in the world. All daffodils have a trumpet-like flower in the center. Daffodils come in many shades of yellow with some having yellow petals and a white center or white petals and a yellow tubular center. Some types of daffodils have large yellow flowers with single petals whereas others have pretty double flowers. Some miniature daffodil species have tiny yellow flower heads.
Outstanding feature: One of the most popular flower in the world, daffodils have beautiful showy yellow spring flowers on long green stems.
Growing zones: 3 – 9.
Yellow daffodil cultivars: Narcissus 'February Gold,' 'Golden Ducat,' 'Red Devon' (with lemon-colored petals and deep orange trumpet), 'Yellow River,' 'Golden Bells,' Sir Winston Churchill' (showy daffodil with a bushy heady).
Pansies
Pansies (Viola) are a small type of flower that has petals with many vivid colors. Most types of pansies have oval-shaped petals that fan out to create a rounded pretty flower. Some beautiful types of pansy flowers have yellow and violet colors, whereas others have striking black and yellow flowers. These annual plants can grace any garden border, edging, or container.
Outstanding feature: Wide range of colored flowers with soft two-toned pastels, single colors, or vibrant contrasting colors.
Growing zones: 4 – 9.
Yellow pansy cultivars: Viola 'Sorbet Lemon Blueberry Swirl,' 'Delta Rose Surprise' Pansy (with creamy yellow and white blooms), 'California Gold Violet,' Viola Wittrockania (has tri-colored petals with yellow colors), yellow 'Horned Violet.'
Yellow Roses
Extremely popular flowering plant, yellow roses are a cheerful flower that can mean friendship, care, and happiness. Roses belong to the Rosa plant genus, and there are 1,000s varieties of roses that can beautify any garden. Yellow rose bushes, climbing roses, and ground cover roses bring sunshine even on cloudy days. Some yellow rose flowers are miniature delicate varieties and others are large showy flowers that give off a wonderful fragrance.
Outstanding feature: A large bouquet of yellow roses can show love for a person without the romance associated with red roses.
Growing zones: 4 – 10.
Yellow rose cultivars: Rosa 'Charlotte,' 'Eternal Flame,' 'Flower Carpet Yellow,' 'Gardenia,' 'Gold Medal,' 'Golden Gate.'
Black-Eyed Susan
Rudbeckia is a genus of plants commonly called Black-Eyed Susan. These famous yellow star-shaped flowers have a black center and are very eye-catching. Although there are some species with orange flowers, the yellow variety is the most common and identifiable plant. The pretty flowers are about 3" to 4" (7 – 10 cm) wide and sit on the top of long stems. For best effect, plant them en masse to create a showy sea of bright yellow flowers in the summer.
Outstanding feature: Low-maintenance plants that brighten up any type of garden.
Growing zones: 7 – 9.
Yellow black-eyed Susan cultivars: Rudbeckia 'Summerina Yellow,' 'Giggling SmileyZ,' Rudbeckia fulgida 'Little Goldstar,' Rudbeckia hirta 'Prairie Sun,' 'Toto.'
Begonia
If you are looking for summer-long yellow blooming plants, then begonias are a perfect choice. Bushy begonia flowers grow on the end of long trailing stems. Some popular types of begonias make perfect hanging baskets and others are small shrubs up to 12" (30 cm) tall with large showy flowers. Begonia flowers can be golden yellow, orange, red, and pink. These common flowers can look like roses, peonies, fuchsias, or carnations. Expect to get outstanding blooms from spring until late summer.
Outstanding feature: Constantly flowering all summer with some of the most beautiful yellow flowers you can find.
Growing zones: 9 – 11.
Yellow begonia cultivars: Begonia 'Hanging Basket Yellow,' 'Nonstop Yellow,' 'Picotee Sunburst,' 'Roseform Yellow,' 'Ruffled Yellow.'
Water Lily
The yellow flowers of water lilies (Nymphaea) can beautify a pond in your garden and also attract pollinating insects. Although not a true type of lily, these elegant aquatic flowers look very beautiful. Water lily has exotic flowers that are usually in the shape of a star with multiple layers of petals. The exquisite flowers seem to float on the top of the water next to large green leaves. These perennial flowers can grow to between 2" and 6" (5 – 15 cm) across.
Outstanding feature: Delicate spiky-looking flowers in pretty yellow colors.
Growing zones: 1 – 11.
Yellow waterlily cultivars: Nymphaea 'Carolina Sunset,' 'Gold Metal,' 'Lemon Cup' Waterlily, 'Lemon Meringue,' Nymphaea 'Sunrise.'
Dahlia
There is a rich variety of Dahlia flowers that range from very small to huge. Dahlias are perennials and are classified by their shapes, colors, and sizes. Some yellow Dahlia flowers can be single-flowering or double-flowering with large showy blooms. You can also find colors in varying shades of yellow and orange to give your garden or flower arrangement a rich warm feel. Choose between large pompom flowers, star-shaped ones, or ruffled bushy blooms. Dahlia flowers can grow up to 8" or even 12" (20 – 30 cm) wide!
Outstanding feature: Some of the largest and showiest flowers you can have in your garden or floral arrangements.
Growing zones: 8 – 11.
Yellow dahlia cultivars: Dahlia 'Bridge View Aloha,' 'Gallery Serenade,' 'Happy Single Party,' 'Honka White' (with 8 yellow and orange petals) 'Kelvin Floodlight,' 'Bora Bora' (with yellow and pink spindly petals in a large flowerhead).
Yellow Jasmine
Although generally a type of white flower, some yellow jasmine flowers are extremely pretty. One of the identifying features of white and yellow jasmine flowers is their wonderful scent. This perennial yellow flowering shrub-like tree blooms in late winter and early spring. The yellow jasmine cultivar Jasminum nudiflorum, or 'Winter Jasmine,' grows to about 4 ft. (1.2 m) tall and has small 1-inch (2.5 cm) yellow star flowers.
Chrysanthemum
If you are looking for a plant with bright yellow flowers, then chrysanthemum is a good choice. Chrysanthemums (or, just 'mums') are well-known for their wonderful showy flowers. These summer-flowering woody perennials don't just have amazing colorful blooms, they also give off a wonderful fragrance. Depending on the cultivar, chrysanthemum flowers can range in size from 2" to 5" (5 – 12 cm) across. The large varieties of 'mums' are the spider-type flower heads. Chrysanthemums are also excellent in cut flower arrangements or dried flower displays.
Outstanding feature: Fill your garden with golden yellow colors when other plants are starting to fade.
Growing zones: 5 – 9.
Yellow chrysanthemum cultivars: Chrysanthemum 'Fireglow Bronze' (delightful yellow and orange flowers), 'Harmony' (with pure yellow star-shaped flowers), 'Matchsticks' (with yellow and pinkish 'spiky' petals), 'Bolero.'
Coreopsis
Commonly known as Tickseed, Coreopsis plant produces cute yellow flowers from early summer until the fall. Some types of Coreopsis have sword-shaped petals and others have tubular golden yellow ones. One of the most striking types of Tickseed is a cultivar with dark burgundy blossoms and a yellow center. These are excellent perennials to give a strong impact of color to your garden.
Outstanding feature: Easy to grow dainty flowers that come in many shades of yellow.
Growing zones: 6 – 10.
Yellow coreopsis cultivars: Coreopsis 'Moonlight' (with pale yellow petals and a golden center), 'Solanna Golden Sphere' (bushy pompon flowerheads) Coreopsis grandiflora 'Early Sunrise,' 'Enchanted Eve' (with butter-yellow and red petals), 'Sunray.'
Marigold
Marigold plants (Tagetes) produce clusters of golden yellow flowers in the shape of a star or can be like a bushy pompom. These famous flowering plants provide good green ground cover during the summer and then wonderful shades of yellow during the fall and spring.
Depending on your climate, marigolds can be annuals or perennials. Some marigold varieties are low-growing shrubs that only reach 4" (10 cm) and others are tall varieties can reach up to 7 ft. (2.2 m).
Outstanding feature: Showy yellow blooms in the fall and winter.
Growing zones: 8 – 11.
Yellow marigold cultivars: Marigold 'Maxima Yellow,' 'Discovery Yellow,' Aztec Marigold, Lemmon's marigold.
Pot Marigold
Pot Marigold (Calendula officinalis) is a medicinal flowering plant that has a large disc-like flower. Some spectacular Pot Marigold flowers are made up of rows of small petals giving the flower a showy appearance. Some cultivars look like yellow daisies with pretty yellow/orange petals and a black center. Pot Marigold flowers range in color from bright pastel yellows to deep orange and can grow to between 1" and 2.7" (3 – 7 cm) across.
Outstanding feature: Large stunning flowers that give off a peppery aroma.
Growing zones: 2 – 11.
Tulips
Considered as one of the most beautiful flowers in the world, tulips (Tulipa) are a bulbous flowering plant that belongs to the Liliaceae family that bloom every spring. The Tulipa genus has about 75 species and some cultivars with outstanding yellow flowers. Depending on the variety, tulips can have oval, tapered, sword-shaped, or ruffled petals. The classic tulip flower is an oval cup-shape; however, tulip flowers can be showy double flowers, spiky-looking flowers, or star-shaped ones. Tulips can be tall flowering bulbs reaching a height of 28" (71 cm) with the shortest ones being just 4" (10 cm).
Outstanding feature: Give a bunch of yellow tulips to signify perfect love and cheerful thoughts.
Growing zones: 3 – 8.
Yellow tulip cultivars: 'Bright Gem' Botanical tulips, 'Apeldoorn's Elite' (with pink and yellow petals), 'Yellow Purissima,' 'Flaming Parrot.'
Freesia
Freesias must be some of the most elegant flowers with their dainty petals and wonderful floral scent. Known for their stunning clusters of bright gold colored flowers, freesias have come to mean trust and loyalty in a relationship. The charming bunches of flowers decorating the stems can be yellow, violet, pink, red, or white. Freesias are often grown as annuals and grow to between 12" and 24" (30 – 60 cm) and they bloom from late spring until the end of summer.
Outstanding feature: Very popular type of cut flower due to the abundance of flowers on each stem.
Growing zones: 9 – 10.
Yellow freesia cultivars: Freesia 'Double Yellow,' Freesia 'Single Yellow.'
Yarrow
Yarrow is the common name for the Achillea plant that belongs to a family of flowering plants which also includes sunflowers and chrysanthemums. This perennial yellow, red, or pink flowering plant can brighten up your garden throughout the hot summer months. Bright golden flowerheads sit like umbrellas on foot-long (30 cm) stems. Some cultivars start off as orange flowers before fading to yellowish-bronze colors. Up to 40 small flower clusters can make up the disc-shaped head.
Outstanding feature: Conspicuous brightly colored golden flowers that are easy to grow.
Growing zones: 3 – 9.
Yellow sunflower cultivars: Yarrow 'Coronation Gold,' 'Inca Gold,' 'Gold Plate,' 'Walther Funcke' (with creamy-yellow and terracotta-colored flowers).
Snapdragons
Snapdragons (Antirrhinum majus) produce clusters of pastel-colored flowers in the shape of a long cone. These eye-catching flowers are excellent to grow behind shorter flowers or use as the centerpiece for a stunning floral arrangement. The long leafy stems can grow to 3 ft. (90 cm) and are topped with beautiful puffed petals or azalea-like flowers. The yellow annual cultivars look gorgeous as they complement with the bright green leafy foliage. You can enjoy wonderful garden blooms from spring until the fall.
Outstanding feature: Cultivars come in almost every pastel shade imaginable.
Growing zones: 5 – 10.
Yellow hyacinth cultivars: Snapdragon 'Calima Yellow,' 'Candy Showers Yellow,'
Zinnia
If you are looking for spectacular summer yellow flowers, then Zinnias are a great choice. Its flowers come in all shapes, sizes, and colors comprising of pretty petals. The large flowerheads measuring up to 6" (15 cm) can be in the shape of discs, stars, or look like fuzzy blooms. Some Zinnia flowers can almost be globular in shape and others can look like mini sunflowers.
Outstanding feature: Pick some zinnia yellow double flowers to make a bold statement flower display.
Growing zones: 2 – 11.
Yellow zinnia cultivars: Zinnia 'Benary's Giant Lime,' Zinnia elegans 'Macarenia' (with striking yellow and deep red petals), 'Zowie! Yellow Flame,' 'Soleado,' 'Double Zahara Yellow.'
Related articles: