45 Small or Dwarf Evergreen Shrubs (With Pictures and Names)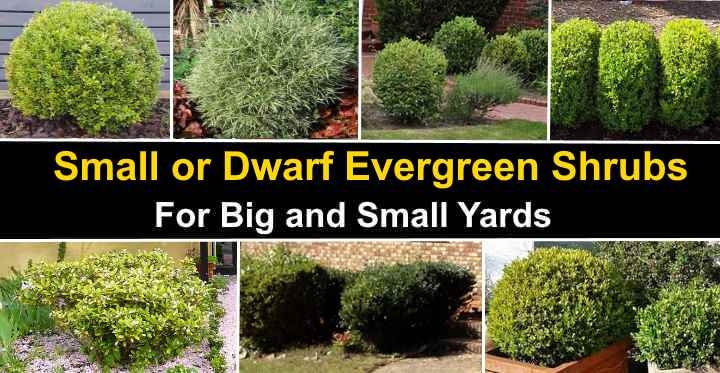 Small or dwarf evergreen shrubs are perfect for enhancing any type of garden landscape. Varieties of compact, miniature shrubs aren't just for growing in small yards. Due to their small size, you can plant many different types of ornamental dwarf conifers or evergreen plants in a large backyard. You can also plant little or dwarf decorative evergreen bushes such as dwarf boxwood and compact junipers in a front yard to enhance your home's curb appeal as they don't grow so large that they hide your property.
The Best Small or Dwarf Evergreen Shrubs
Some of the best small or dwarf evergreen shrubs include:
Dwarf boxwood (Buxus)— Low maintenance, evergreen shrub with a rounded growth that is suitable for growing as a specimen plant in the front yard or low hedge.
Small juniper shrub (Juniperus)—Fast growing dwarf evergreen that can have a low-spreading growth habit and is excellent as ground cover plant, short hedge, or border shrub.
Compact holly shrub (Ilex)—A dwarf thorny evergreen shrub with berries.
Little arborvitae shrub-like tree (Thuja)—Dwarf evergreen arborvitae shrub with soft, feathery foliage with dense growth. Some compact cultivars have rounded growth, and others have a natural conical shape.
Dwarf rhododendron bushes (Rhododendron)— Flowering evergreen shrubs that can act as a natural privacy screen in your backyard.
Compact pine shrubs (Pinus) – Small evergreen tree like shrubs.
The Advantages of Growing Small or Dwarf Evergreen Shrubs
The advantage of planting small or compact evergreen shrubs is that they are low maintenance. Compact evergreen bushes are easy to manage and require little—if any—maintenance. You don't need to prune them to control their height. And, there are no leaves to clear up in the fall.
Another advantage of growing dwarf evergreens such as conifers in your yard is that it lets you grow plants that, otherwise, would be too large. For example, dwarf spruces, yew shrubs, and arborvitaes are just a fraction of the size of the tall garden trees that grow in forests. So, they don't risk causing shadows on your house or your neighbor's backyard.
Small or Dwarf Evergreen Shrubs (With Pictures and Names)
Generally, dwarf, evergreen shrubs only grow a few feet high. Unlike trees that have a single trunk, shrubs have multiple woody stems growing from the ground. But you can also find dwarf trees that have shrub-like growth.
Here is a list of small and dwarf evergreen shrubs that are suitable for all yards. Along with their scientific names, the list of plants below includes descriptions and pictures of these compact shrubs to help you choose the best ones for your garden.
Small Wintercreeper Shrubs (Euonymus fortunei) – Low-maintenance Evergreen
Wintercreeper is a low-growing evergreen shrub that has a spreading growth habit. The dwarf cultivars only grow one or two feet high. These low maintenance shrubs thrive in full sun, and their bright yellow and green foliage brightens up any front or backyard. This versatile little shrub can grow as a vine or ground-cover plant for full sun.
Some of the best compact wintercreeper shrubs are:
Euonymus fortunei 'Emerald 'n' Gold'—Growing between 1 and 2 ft. (30 – 60 cm), this sun-loving, compact shrub has glossy, ovate green leaves with broad yellow edges.
Euonymus fortunei 'Emerald Gaiety'—A small bushy plant with rounded leaves that are emerald green with creamy-white margins. The leaves develop pinkish hues in cold weather, and the plant rarely flowers.
Euonymus fortunei 'Moonshadow'—This dwarf shrub has brightly colored yellow and green foliage. Grow as a small border shrub wherever you need bold colors in your front or back garden.
Dwarf Boxwood (Buxus) – A Small Evergreen Shrub With a Rounded Growth
Compact evergreen boxwood shrubs are the classic hedging plants for living green screens. Their evergreen foliage has small oval leaves with a glossy shine. Boxwood shrubs can also grow as specimen plants, and their rounded growth creates attractive features in front yards. Use boxwoods as border shrubs, low formal hedges, or accent plants.
Some of the best compact boxwood shrubs are:
Buxus 'Green Gem'—This little landscaping shrub grows as a round mound of dark green foliage with small oval leaves. The dense growth habit creates excellent low hedges.
Buxus microphylla 'Green Pillow compact'—As its name suggests, this broadleaf shrub is a low-growing plant with soft foliage. Lime-green oval leaves turn a beautiful bronze color in winter.
Buxus sempervirens 'Suffruticosa'—This small boxwood hedging shrub has small, ovate leaves that create lush green foliage. Not growing higher than 3 ft. (1 m), this low-maintenance shrub is ideal for short privacy hedges.
Buxus x "Green Mountain"—This dwarf hedge plant species has a cute conical shape that looks excellent growing in containers. You can also grow this dwarf plant along garden borders or to accent a feature of your property.
Dwarf Spruce Shrubs
Small, compact, evergreen spruce shrubs are some of the most popular conifers for gardens. Their delicate needle-like foliage can be emerald green or bluish-green, depending on the cultivar. Spruce shrubs and small trees have upright growth and dense foliage that make them ideal for evergreen hedges, foundation planting, or as a specimen plant.
Some of the best small spruce shrubs are:
Dwarf Norway spruce (Picea abies 'Pumila')—This needled compact evergreen shrub has a circular shape with a flat top. Attractive, bright green needles create dense foliage on this dwarf conifer.
Picea pungens 'Glauca Globosa'—Pictures of this miniature spruce show a globe-shaped, blue-needled shrub. The slow-growing dwarf evergreen will eventually reach about 3 or 4 ft. (1 – 1.2 m) tall.
Picea abies 'Little Gem' – A dwarf evergreen spruce shrub with needle-like dense foliage and flattened round shape. This compact shrub will look great in a rock garden or in front of other taller shrubs.
Dwarf Alberta spruce (Picea glauca 'Conica') — A dense, compact pyramid-shaped evergreen spruce shrub that has light green dense foliage. Plant in a sunny spot in a formal garden or use for topiary to boost curb appeal in a front yard. This dense dwarf shrub grows to 12 ft. high in 30 years but because of its slow growth rate it's easy to maintain it as a small compact shrub.
Compact Junipers – Ground Cover Dwarf Evergreen Shrub
Junipers are low maintenance ornamental shrubs that have needle-like foliage that is sharp or scaly. The needle foliage can be green, blue, or gold, depending on the cultivar. When grown together, junipers can make low hedges, and they are generally drought and deer resistant. Usually, juniper shrubs love sunlight and thrive in most soil conditions.
Excellent examples of dwarf juniper shrubs include:
Dwarf Japanese Garden Juniper (Juniperus procumbens 'Nana')—The cultivar name 'nana' indicates that this is a small, compact shrub. The conifer shrub has prickly bluish-green needles and a low-growth habit. It's also useful as a groundcover plant.
Juniper 'Blue Star' (Juniperus squamata 'Blue Star')—Also named 'Flaky Juniper,' this blue-colored shrub adds stunning color to a garden landscape. No taller than 3 ft. (1 m), the compact sun-loving shrub requires no maintenance.
Juniperus communis 'Compressa'—This common juniper looks like a short upright columnar tree with prickly needle foliage. Ideal as a container plant or to add short vertical accents to enhance a front yard landscape.
Blueberry Delight Juniper (Juniperus communis 'AmiDak')—This needled evergreen shrub only grows a couple of feet tall. However, it has wide, spreading growth. Sometimes, the shrubby conifer produces blue cones.
Juniperus horizontalis 'Andorra Compacta'—Growing less than 20" (0.5 m) tall, this creeping miniature juniper shrub has green soft needle leaves and a wide spread.
All Gold Shore Juniper (Juniperus conferta 'All Gold') – Dwarf Shrub With Yellow Color
The All Gold Shore juniper is a low growing spreading evergreen shrub with golden-yellow foliage that turns coppery orange in winter. The slow growing shrub reaches about 1 foot (30 cm) tall with a spread of 4 -5 feet (120 – 150 cm) when maturing after 10 years.
Grow the dwarf hardy low-maintenance shrub as a ground cover or in rock gardens in zones 6 – 9. Grow in full sun for the best leaf color, or part sun.
Japanese Skimmia (Skimmia Japonica) – Flowering Dwarf Evergreen
Japanese Skimmia is a dwarf, shade-loving flowering evergreen shrub that has dense foliage made up of leather, lance-shaped leaves. Japanese Skimmia are small evergreen flowering bushes that produce an abundance of scented flower clusters that turn into ornamental red berries. The easy care landscaping shrubs are dome-shaped and only grow to a maximum of 4 ft. (1.2 m) tall.
Japanese Skimmia is a very low-maintenance bushy plant if you want beautiful foliage and bright, showy flowers.
Dwarf Rhododendrons
Rhododendrons produce some of the showiest flowers on any shrub, and there are plenty of dwarf varieties for your garden. These flowering evergreen shrubs have a rounded shape and produce a stunning array of blooms. Flowers can be colors ranging from purple to pink, white, red, orange, and blue blossoms. Dwarf varieties of rhododendrons grow between 2 and 6 ft. (0.6 – 1.8 m) tall, depending on the variety.
Some of the best low-growing rhododendron shrubs are:
Compact 'Hino Crimson' Azalea (Rhododendron 'Hino Crimson')—A stunning flowering compact shrub that doesn't grow more than 3 ft. (1 m) tall. The densely-growing bush has a dome shape and a spread of up to 5 ft. (1.5 m)
Rhododendron 'Bow Bells'—Beautiful clusters of pink scented flowers cover this small low maintenance evergreen shrub when it blooms. Glossy, dark-green foliage retains its color throughout the winter.
Dwarf Indica Azalea (Rhododendron eriocarpum)—Evergreen in most climates, this dwarf flowering shrub only grows to about 2 ft. (0.6 m) tall. Grow this rounded broadleaf bush in shrub borders, as a small flowering hedge, or an accent plant.
Compact Maximum Rhododendron (Rhododendron 'Maximum Compacta') – A small bushy and hardy evergreen shrub with dark green leaves and pink flowers that bloom in late spring. A good plant for borders or a low informal hedge.
Dwarf Holly (Ilex) – Thorny Small Evergreen Shrub
Growing dwarf hollies as security or privacy hedges is a low-maintenance landscaping solution for any garden. The glossy evergreen foliage contrasts with red berries in wintertime. Some species of evergreen hollies have dark-green foliage, whereas others have bright, variegated spiky leaves. All compact holly cultivars thrive in full sun or partial shade.
Some of the best compact small holly shrubs include:
Compact Inkberry Holly (Ilex glabra 'Compacta')—A broadleaf, compact holly shrub with an oval shape growth that grows to 4 ft. (1.2 m) tall. Rounded oblong, smooth leaves create dense evergreen foliage.
Ilex vomitoria 'Nana'—Pictures of this dwarf holly shrub show it growing as a globular, compact plant. The beautiful foliage starts yellow before turning to dark green.
Ilex crenata 'Dwarf Pagoda'—Tiny glossy green leaves growing on short stems create this decorative super-dwarf holly bush. These slow-growing, low-maintenance shrubs can take 20 years to reach their maximum height of 3 ft. (1 m).
Compact Oregon Holly Grape (Mahonia aquifolium 'Compacta') – A Dwarf Evergreen With Berries
These compact evergreen shrubs get their common name from bunches of berries that grow like grapes. The slow growth of these flowering bushes means that they take a few years to reach 3 ft. (1 m)—their maximum growing height. These dwarf Mahonia shrubs produce clusters of yellow flowers in the shape of spikes that contrast with shiny green foliage.
While the foliage of this small shrub is evergreen, the new leaf growth is reddish-bronze, mature foliage is green in the summer and turns purple-burgundy during fall and winter.
Small Arborvitae Cultivars (Thuja)
Arborvitae shrubs and small trees are some of the most common hedging plants used as privacy screens or windbreaks. Some compact landscaping arborvitae shrubs have a rounded growth habit, whereas others have a pyramidal shape. However, all arborvitae shrubs have a few characteristics—soft green foliage, a dense compact nature, and they are excellent low maintenance plants for hedges.
Some of the best dwarf arborvitae cultivars:
Thuja occidentalis 'Little Giant'— Dwarf, globe-shaped evergreen shrub with soft, feathery foliage. It is an excellent bush for a low hedge or specimen plant in a sunny yard. It takes many years to reach 4 ft. (1.2 m) in height.
Thuja orientalis 'Aurea Nana'—A dwarf arborvitae that has an upright growth and natural pyramidal shape. The foliage of this fastigiate shrub is soft with scale-like leaves and bright, golden-yellow and green colors. Excellent plant for containers in small gardens or as a living screen.
Thuja occidentalis 'Fire Chief'—Also called 'Congabe,' this rounded arborvitae shrub has soft green foliage that turns from bright yellow to sage-green and then hues of red in the fall. Its miniature size makes it perfect for shrub borders, low hedges, or foundation planting.
Thuja occidentalis 'Hetz Midget'—This pretty globe-shaped dwarf arborvitae grows as a soft round ball with a flattened top. Fan-shaped clusters of scaly conifer leaves create the dense foliage.
Thuja occidentalis 'Woodwardii'—Another rounded Thuja conifer that is a dwarf cultivar of a larger tree. This popular landscaping shrub is green in summer and bronze-colored in the winter.
Pittosporum tenuifolium 'Golf Ball' – A Compact Evergreen Shrub with a Rounded Shape
As its name suggests, this dwarf evergreen shrub has a rounded, ball-like shape. Small, round leathery leaves make up its dense foliage. The shrub produces scented purple flowers. Grow the ornamental pittosporum shrub in full sun as a little border shrub, specimen plant, or 3-foot (1-m) high flowering hedge.
Small Yew Shrubs
The soft needles and dense growth of dwarf yew shrubs make these conifers top choice when it comes to evergreen landscaping bushes. Most compact yews have upright growth and thrive in full sun. Yew dwarf shrubs are excellent hedging plants, ornamental border shrubs, or attractive foundation plants.
Some of the best dwarf yew shrubby plants include:
Dwarf Bright Gold Japanese Yew (Taxus cuspidata 'Bright Gold')—This low-growing yew shrub has a wide spread. The shrubby plant grows into a mound of dense foliage about 3 ft. (1 m) tall. Planted in full sun, the soft needled leaves are bright yellowish-green.
English Yew (Taxus baccata 'Repandens')—A popular dwarf shrub where spreading evergreen foliage is needed. Glossy dark green needles and red cones make this low-growing shrub extremely ornamental.
Anglo-Japanese Yew (Taxus x media 'Densiformis')—Described as a semi-dwarf evergreen shrub, this popular hedging plant grows as a small, rounded shrub. Soft glossy green needles and coral-red cones make this a stunning landscaping shrub.
Dwarf Pine Shrubs (Pinus) – Small Tree Like Evergreen Shrub
Dwarf pine shrubs have compact, stunted growth and are ideal for landscaped gardens. Dwarf pine shrubs look like miniature evergreen trees and they add elegance and an exotic touch at the front of the house. Some ornamental shrubs are as small as 1 ft. (30 cm) tall, and others can grow up to 4 ft. (1.2 m) tall. Dwarf pine cultivars thrive in full sun and are cold hardy shrubs.
The best short, compact pine shrubs for front or backyards:
Pinus strobus 'Nana'—The dwarf variety of the Eastern White pine has a dome shape, silvery-blue needles, and dense, compact growth.
Dwarf Eastern White pine (Pinus strobus 'Blue Shag')—This compact evergreen coniferous shrub is ideal for growing in containers. It has a globe shape with soft, bluish-green needles. Although it grows to 6 ft. (1.8 m), it takes many years to reach that height.
Pinus strobus Horsford'—Another stunning dwarf evergreen pine shrub with needled foliage and an oval growth habit. The stumpy shrub won't grow over 1 ft. (30 cm) tall.
Pinus strobus Vanderwolf's Green Globe —As with many dwarf pine shrubs, this evergreen is a rounded bushy conifer with green needles. This miniature Eastern White pine variety thrives in full sun.
Dwarf Scotch Pine (Pinus sylvestris 'Pumila')—This multi-stem needled evergreen shrubby plant has bluish-green needles and dense foliage. The dwarf Scotch pine is a low-maintenance landscaping dwarf shrub.
False Cypress 'Golden Charm' (Chamaecyparis pisifera' Golden Charm')
The False Cypress 'Golden Charm' is a compact, dwarf coniferous shrub that has thread-like golden-yellow needles. The graceful stems have a weeping growth habit that gives the small shrub a bushy appearance.
Grow in full sun as a small hedge, border shrub, or accent plant. This slow-growing evergreen shrub grows to 3 ft. (1 m) tall with occasional pruning to maintain its short stature.
Winter Heath (Erica carnea)
The winter heath is a compact flowering evergreen that is one of the earliest dwarf shrubs to bloom and has delightful purple flowers. The low-growing shrub has needle-like foliage that provides excellent year-round ground cover with minimal care. Not growing taller than one foot (1 m) winter heath provides plenty of color to late winter and early spring landscapes.
Discover the Most Beautiful Small or Dwarf Evergreen Trees For Your Garden.
Chinese Privet (Ligustrum sinense 'Sunshine')
The Sunshine Ligustrum is a small evergreen shrub with attractive golden yellow leaves. The low growing, low maintenance evergreen shrub grows 3 to 4 feet (90 – 120 cm) tall and wide. This compact low growing shrub is easy to care for and is low maintenance. It is suitable for an informal low hedge or as a foundation plant.
Grow in USDA zones 6 – 10 in full to part sun in well-drained soil.
Kaleidoscope Abelia (Abelia x grandiflora 'Kaleidoscope')
Kaleidoscope Abelia (also called glossy abelia) is an evergreen dwarf shrub with colorful foliage that changes throughout the seasons. New leaves emerge yellow-green and then become darker and turn to orange and red in autumn.
Kaleidoscope Abelia is a small landscaping shrub that grows 2 to 3 feet tall (60 – 90 cm) and 3 to 4 feet (90 – 120 cm) wide in USDA zones 6 – 9. Grow in containers, as a specimen shrub or as informal hedge in full sun for best leaf coloration or part shade.
Gold Mop Cypress (Chamaecyparis pisifera 'Golden Mop') – Compact Evergreen Shrub With Yellow-Green Leaves
The Gold Mop cypress (also called Japanese falsecypress) is a compact hardy evergreen shrub with green and golden yellow leaves. Being a low maintenance small shrub with vibrant yellow-green color makes it an ideal plant for front of house, rock gardens, specimen shrub or for foundation planting.
Grow the slow growing dwarf Gold Mop cypress shrub in full sun to part shade in fertile moist and well-drained soil in USDA zones 4 -8. The small shrub grows 3 – 5 feet (90 – 150 cm) tall and wide after 10 years.
Discover the most beautiful small flowering shrubs.
Dwarf Japanese Pieris Shrub (Pieris japonica 'Cavatine')
The Japanese Pieris 'Cavatine' is a compact evergreen flowering shrub. This short evergreen shrub doesn't grow taller than 2 ft. (0.6 m) tall which makes it an excellent choice for small gardens and landscape. The Japanese Pieris 'Cavatine' is a low maintenance small shrub that produces spectacular displays of creamy-white clusters of flowers in drooping panicles. The small rounded bush has dark-green leathery leaves.
Other common names for the small Japanese Pieris shrub are Japanese andromeda and dwarf lily-of-the-valley shrub.
You can grow the compact shrubby Japanese Pieris plant in full sun or partial shade in USDA zones 5 to 8. Dwarf Japanese Pieris shrubs are ideal for flower beds, informal rock gardens, low-growing hedges, and flowering borders.
Related articles: