The Best 35 Foundation Plants (With Pictures)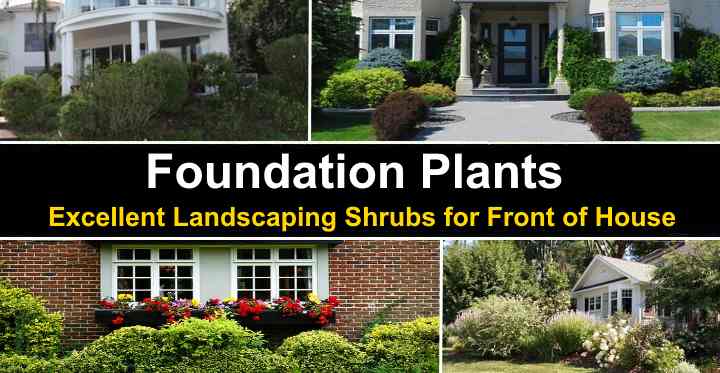 The top choices for foundation plants are low-growing, evergreen shrubs that exude exceptional curb appeal. These evergreen plants are perfectly suited for planting along the front of your house, as their compact size and evergreen foliage beautifully complement your garden landscape while adding to the overall charm of your home. Additionally, these carefully selected foundation plants are well-suited for corner planting or as eye-catching entrance plantings.
Evergreen Foundation Plants
Evergreen foundation plants encompass a variety of options, including low shrubs, dwarf trees, small conifer bushes, and ground cover plants. Incorporating evergreen shrubs in your landscaping ensures year-round greenery around your home.
Additionally, flowering evergreen foundation plants can introduce vibrant colors during spring, summer, and fall seasons.
To enhance the visual allure of your outdoor space, consider the inclusion of small evergreen trees near doorways or in corners.
The article describes some of the best foundation plants to boost your home's visual appeal.
Why Grow Foundation Plants in the Front Yard
Growing foundation plants offers numerous visible and practical advantages. Opting for appropriate low-growing shrubs effectively conceals the foundations of your property, establishing a seamless and natural transition between your garden and the house.
By selecting the right foundation plants, you enhance the overall attractiveness and appeal of your property, potentially increasing its value in the process.
How to Choose Foundation Plants for the Front Yard
Some exceptional low-maintenance evergreen shrubs, including boxwood, wintercreeper, rhododendrons, and holly, serve as ideal foundation plants. These compact, evergreen plants retain their foliage throughout the year, making them a perfect choice. They thrive in both sunlit and partially shaded areas, exhibiting excellent drought tolerance. Furthermore, their modest height ensures they won't grow too tall, simplifying maintenance.
Evergreen low-growing shrubs are a perfect option for foundation plantings, providing year-round attractiveness. These shrubs are specifically chosen to avoid obstructing views from windows, ensuring an unobstructed sightline. When selecting foundation plantings, it's important to consider the sunlight exposure in your front yard, as some shrubs thrive in full sun while others prefer shaded areas.
Drought-tolerant plants are a great choice for foundation planting, offering numerous benefits for your home's surroundings. These plants are specifically adapted to withstand dry conditions, allowing the soil to dry between watering and preventing excessive moisture near your home's foundation.
Avoid large shrubs or small trees that have invasive roots because they can affect the property's foundation.
The Best Foundation Plants (With Pictures)
What are the best low-growing landscaping plants to grow along the front of your house? Let's look in detail at ideal foundation plants to beautify your garden and enhance your home's curb appeal.
Evergreen Boxwood (Buxus) Shrubs for Foundation Plantings
Boxwood shrubs are are considered among the best evergreen foundation plants for the front of the house due to their low maintenance requirements and dense, lush evergreen foliage. The hardy low maintenance shrubs are easy to trim, and most cultivars don't grow higher than 3 or 4 ft. (1 – 1.2 m).
Many boxwood varieties grow in full sun, partial shade, or full shade. Easy to grow boxwoods thrive in well-draining soil and are generally tolerant of drought. The hedge plants thrive in zones 5 – 9.
Here are some of the best boxwood shrubs for foundation planting:
Boxwood 'Winter Gem' (Buxus microphylla 'Winter Gem')—This foundation plant has a rounded shape and grows up to 4 ft. (1.2 m). 'Winter Gem' boxwood has small glossy green leaves that retain their color all year. Suitable for zones 6 – 8.
Japanese Boxwood 'Green Beauty' (Buxus microphylla var. japonica)—The 'Green Beauty' boxwood has lush foliage and glossy lanceolate leaves. This low maintenance small foundation shrub grows well in shade and sun. Suitable for growing in zones 6 – 9.
Common Boxwood (Buxus sempervirens 'Suffruticosa')—The common boxwood is one of the best foundation planting choices. The dwarf boxwood grows to between 2 and 3 ft. (0.6 – 1 m) tall, has evergreen leaves and is drought-tolerant. Grow common boxwood for formal low hedges, ground cover for shade or sun, or as a container entrance plant.
Boxwood 'Green Pillow'—The 'Green Pillow' boxwood is a low-growing broadleaf shrub that is ideal as a foundation plant. The dense shrub looks like a pincushion pillow. As a foundation plant, this boxwood grows up to 1 ft. (30 cm) and thrives in zones 5 – 8.
English Boxwood 'Dee Runk' (Buxus sempervirens)—This tall boxwood shrub is suitable for entrance planting or corner planting. The evergreen shrub has an upright columnar growth and grows around 7 ft. (2 m) tall. 'Dee Runk' boxwoods provide year-round color. You can trim this fast-growing plant to create a foundation planting hedge. Suitable for zones 6 – 8.
Buxus 'Green Gem'—This little landscaping shrub grows as a round mound of dark green foliage with small oval leaves. The dense growth habit creates excellent low hedges.
Small Yew Shrubs – Low Maintenance Shrubs For the Front Of the House
The soft needles and dense growth of dwarf yew shrubs make them a top choice for foundation shrubs. Most compact yews have upright growth and thrive in full sun. Dwarf yew shrubs are among the best bushes for front of the house landscaping due to their low maintenance and versatility. These shrubs can serve as foundation plants, attractive hedging plants, ornamental border shrubs.
Here are a few types of suitable yews for foundation planting:
Anglo-Japanese Yew (Taxus x media 'Densiformis') – Anglo-Japanese yews are ideal semi-dwarf foundation plants. This yew variety is a low-growing shrub with dense foliage made up of glossy green needle-like leaves. The shrubby yew grows to 3 or 4 ft. (1 – 1.2 m) tall. The 'Densiformis' yew is an excellent choice for planting in shady areas around foundations. Low-maintenance, drought-tolerant, and evergreen leaves mean that Anglo-Japanese yew has the perfect characteristics of a foundation plant. Ideal for growing along the front of your house, Anglo-Japanese yews thrive in full sun, partial shade, and full shade in zones 4 – 7.
English Yew (Taxus baccata 'Repandens')—A low-growing, low maintenance ornamental foundation plant with spreading growth. English yews grow to between 2 and 4 ft. (0.6 – 1.2 m) and up to 15 ft. (4.5 m) wide.
Japanese Yew 'Bright Gold' (Taxus cuspidata)—This dwarf foundation shrub has spreading growth and grows around 4 or 5 ft. (1.2 – 1.5 m) tall. The foundation plant grows best in full sun or partial shade in zones 4 – 7.
Cavatine Dwarf Japanese Pieris (Pieris japonica 'Cavatine')
The Pieris japonica 'Cavatine' is a flowering dwarf shrub with evergreen foliage, making it a great choice as a foundation plant.
The 'Cavatine' plant is a compact, low-maintenance shrub for front-of-house landscaping, reaching a height of up to 2 ft. (0.6 m). It features creamy-white flowers that beautifully contrast against the dark green foliage. Also known as the lily-of-the-valley shrub, it is commonly used as a low, informal hedge plant.
Dwarf 'Cavatine' shrubs grow in full sun or partial shade in your front garden. The Japanese Pieris plants are drought-tolerant and grow well in zones 6 – 8.
Rhododendron – Foundation Plants for Front Yards
Rhododendrons are among the best flowering small evergreen shrubs for front-of-house planting due to their beautiful blooms. These low-maintenance shrubs make ideal foundation plants, typically growing to a height of 2 to 4 ft. (0.6 – 1.2 m). They thrive in full sun or partial shade, making them versatile options for planting around foundations. With their stunning flowers, rhododendron shrubs add a vibrant touch to your landscape, particularly during the spring season.
Here are some of the best rhododendron shrubs for front yard foundation planting:
Rhododendron 'April Rose'—This hardy semi-dwarf bush has large purple flowers, broad green leaves, and is extremely cold-hardy. This foundation plant grows 3 to 4 ft. (1 – 1.2 m) tall and thrives in zones 4 – 8.
Rhododendron 'Dora Amateis'—This spectacular small shrub blooms with masses of white flowers every spring. The low-growing, bushy foundation plant grows in the sun and shade. Ideal for planting in front yards in zones 5 – 8.
Rhododendron 'Hino Crimson'—The 'Hino Crimson' rhododendron is a stunning flowering shrub for your house's front yard. Only growing to 2 or 3 ft. (0.6 – 1 m) tall, the low bush has shiny evergreen foliage and showy dark pink flowers. Grow in zone 5 – 9.
Rhododendron 'Bow Bells'—Beautiful clusters of pink scented flowers cover this small evergreen shrub when it blooms. Glossy, dark-green foliage retains its color throughout the winter.
Dwarf Indica Azalea (Rhododendron eriocarpum)—Evergreen in most climates, this dwarf flowering shrub only grows to about 2 ft. (0.6 m) tall. Grow this rounded broadleaf bush in shrub borders, as a small flowering hedge, or an accent plant.
Discover the best small flowering shrubs.
Inkberry (Ilex glabra)
Inkberry shrubs, like the 'Shamrock' (Ilex glabra 'Shamrock'), are ideal for foundation planting in your front yard. These low maintenance evergreen shrubs offer a year-round display with their thick, dark green leaves that provide continuous color. With the added benefit of summer flowers and black berries in the fall, Inkberry shrubs bring beauty and interest to your landscape.
The 'Shamrock' cultivar grows to a height of 3 to 4 ft. (1 – 1.2 m), making it a perfect choice for creating a visually appealing and manageable foundation planting.
Inkberry shrubs grow just as well in full sun or partial shade. The bushy foundation plants grow in all types of soil and don't mind wet ground. These shrubby, low-growing, easy-care plants thrive in zones 4 – 9.
Here are some other inkberry foundation plants:
Inkberry 'Strongbox'—This low-growing compact shrub has small leaves, thick foliage, and grows up to 3 ft. (1 m) tall.
Inkberry 'Gem Box'—Looking like boxwood, the 'Gem Box' inkberry foundation plant has small dark green leaves, compact growth, and survives soggy soil and full sun.
Arborvitae Plants (Thuja)
Dwarf arborvitae shrubs are excellent foundation plants with soft, evergreen foliage. Small varieties of arborvitaes grow best in full sun along the front of houses. Or you can grow taller upright, compact arborvitae trees as corner plantings or entrance plantings. Arborvitae shrubs grow in zones 3 – 7.
Here are some of the best arborvitae choices for growing around the foundation:
Dwarf Golden Oriental Thuja (Platycladus orientalis 'Aurea Nana')—This dwarf evergreen shrub has golden-yellow foliage and soft needle leaves. Grow in sunny or partially shaded front yards to hide foundations.
Thuja occidentalis 'Little Giant'—This conifer species is an excellent choice for foundation plantings. The arborvitae has a compact dome shape with soft green feathery foliage. Grow in sunny front yards around foundations.
Thuja occidentalis 'Hetz Midget'— The pretty compact rounded shrub has a flattened top and soft conifer feathery leaves. Plant this easy care arborvitae along the front of your house as a foundation plant.
Thuja occidentalis 'Fire Chief'— The short shrub has dense feathery foliage that is golden yellow in spring. It gradually turns green and red in the fall. This low-growing arborvitae is perfect for foundation plantings, low hedges, or borders. 'Fire Chief' arborvitae grows to 3 to 4 ft. (1 – 1.2 m) in zones 5 – 9.
Wintercreeper (Euonymus fortunei) Shrubs for Foundation Plantings
Wintercreeper shrubs are foundation plants with golden yellow and green foliage. Wintercreeper cultivars are low maintenance small shrubs that grow to between 1 and 2 ft. (30 – 60 cm) tall and are ideal for hiding foundations, ground cover, edging, or garden borders. These cold-hardy, brightly-colored plants grow just as well in the shade as in full sun.
Wintercreeper shrubs grow in zones 5 – 9. Before planting them near your foundation, check with your state as they are considered invasive in some areas.
Here are some wintercreeper shrubs for foundation planting:
Euonymus fortunei 'Emerald 'n' Gold'—This wintercreeper is a low maintenance plant that will brighten your front yard with its yellow and bright green foliage. Ideal for planting around foundations in shaded areas of your yard.
Euonymus fortunei 'Moonshadow'—Lush green and yellow foliage provides stunning foundation cover in sunny or shaded front yards. 'Moonshadow' wintercreeper grows up to 3 ft. (1 m) tall with a 5 ft. (1.5 m) spread.
Euonymus fortunei 'Emerald Gaiety'—White and green variegated foliage on this low-growing bushy evergreen shrub creates an excellent ground cover. Grow in sunny front yards as a foundation plant, low hedge, or to climb up walls.
Dwarf Spruce Shrubs for Front of House Planting
Dwarf spruce shrubs add plenty of curb appeal to your front yard. Spruce conifer shrubs are low-growing, evergreen plants that grow best in full sun. Their bluish-green colors, needle-like foliage, and spreading growth make them a perfect choice for foundation plants. Spruce shrubs and trees grow in zones 3 – 8.
Here are some of the best spruce conifers for foundation planting:
Bird's Nest Norway Spruce (Picea abies 'Nidiformis')—This low maintenance foundation plant has an oval shape with a flattened top. The 'Bird's Nest' spruce has dense light green foliage. The low-growing conifer grows to 3 or 4 ft. (1 – 1.2 m) tall.
Dwarf Norway Spruce (Picea abies 'Tompa')—The 'Tompa' spruce cultivar is a low maintenance small shrub for front of house that has a conical shape. This compact shrub doesn't grow higher than 3 ft. (1 m) tall. Plant as a foundation plant or entrance plant in a sunny front yard.
Dwarf Black Spruce (Picea mariana 'Nana')—The dwarf spruce shrub is a cute round foundation plant that only grows 2 ft. (60 cm) tall.
Dwarf Alberta Spruce (Picea glauca 'Conica')—This foundation conifer plant has a pyramid shape. Its light green foliage and ornamental look make it ideal for landscaping at corners, as entrance plantings, or to add a visual accent to other foundation plants.
Picea abies 'Little Gem' – A dwarf evergreen spruce shrub for front of house with needle-like dense foliage and flattened round shape. This compact landscaping shrub will look great in a rock garden or in front of other taller shrubs.
Picea pungens 'Glauca Globosa'—Pictures of this miniature spruce show a globe-shaped, blue-needled shrub. The slow-growing dwarf evergreen will eventually reach about 3 or 4 ft. (1 – 1.2 m) tall.
Hydrangea – Flowering Foundation Shrubs
Hydrangeas are deciduous ornamental foundation shrubs with a rounded shape and clusters of large globular flowers. Hydrangeas are popular flowering landscaping plants for front of house due to their low-maintenance requirements and their showy flower clusters during summer.
Most hydrangeas are large flowering shrubs that grow between 3 and 5 ft. (1 – 1.5 m) high. Several species of hydrangea have a compact, short growth that makes them ideal flowers for small gardens and the front yard.
Hydrangea are easy care landscaping shrubs that have average water needs, and are not fussy about the soil. Hydrangea shrubs grow best in partial shade, however, some hydrangea flowers flourish in full sun. The only care these shrubs need is pruning spent flowers.
The beautiful hydrangea flowers bloom for many weeks in the summer and grow as clusters of flowers in shades of blue, lavender, white, pink, red, green, and purple.
Plant an easy-care small variety of hydrangea shrubs in front of the house, as an accent flowering plant, or grow in a row to create a colorful hedge. As a bonus, the beautiful large flowers look stunning in cut flower floral displays.
Most hydrangea cultivars thrive in USDA zones 3 – 9.
Here are some of the best hydrangea shrubs for front yard foundation planting:
Hydrangea macrophylla 'Nikko Blue' – This is one of the most popular mophead hydrangea shrubs for foundation planting. Flowers are blue in acidic soils and develop pink hues in alkaline soils. This ornamental hydrangea plant grows to 4 – 6 ft. (1.2 – 1.8 m) tall and wide.
Hydrangea macrophylla 'Endless Summer Bloomstruck' – a hardy mophead hydrangea variety with attractive rounded growth habit and two-toned lilac or pink flowers. It grows to 3 – 4 ft. (1 – 1.2 m) tall and up to 5 ft. (1.5 m) wide.
Hydrangea paniculata 'Little Lime' – This is a compact dwarf shrub for front of house that doesn't grow higher than 5 ft. (1.5 m). This hydrangea produces lime-green flowers, large pointed green leaves, and has round, mounding growth.
Hydrangea arborescens 'Annabelle' – This front of house plant has spectacular huge showy white flowers. 'Annabelle' hydrangea has a compact, rounded growth habit, making it ideal for foundation planting. This easy care landscaping shrub grows to 3 – 5 ft. (1 – 1.5 m) tall and 4 – 6 ft. (1.2 – 1.8 m) wide.
Mountain Hydrangea (Hydrangea serrata) – This is one of the smaller varieties of hydrangea with showy light pink or light blue flowers and lush green foliage. Ideal for growing in front of the house, or as a colorful shrub border. It grows to 2 – 4 ft. (0.6 – 1.2 m) tall and wide.
Foundation Trees for Corner House Plantings
Upright conical evergreen trees and shrubs such as arborvitae, spruces, boxwood, and yews are excellent choices for planting at house corners. Columnar trees can frame the front of your house and accent your other foundation plants. Ideally, corner plants should be small or dwarf trees that are attractive throughout the year.
When planting trees at the corner of your house, ensure they are not too close to the building. As trees grow and mature, they spread out. So, they shouldn't conceal your house's corners, but they should accent its architectural features.
Here are some excellent choices for trees to grow near the corner of your house.
American Arborvitae 'Smaragd' (Thuja occidentalis 'Smaragd')
The Smaragd arborvitae is a columnar tree that gives visual appeal to the corners of your house. These narrow arborvitae semi-dwarf trees have light green, feather foliage. Slow-growing and easy to grow, the 'Smaragd' reaches heights up to 14 ft. (4.2 m) tall.
Also called 'Emerald Green' arborvitae, you can grow Smaragd evergreen conifer trees in containers at your entrance.
Upright Japanese Plum Yew (Cephalotaxus harringtonia 'Fastigiata')
The Upright Japanese Plum Yew is a skinny compact evergreen tree, ideal for planting at the corners of your house. This evergreen yew grows to 8 or 10 ft. (2.4 – 3 m), has erect upward growing stems, and blackish-green leaves. Plant in sunny or partially shaded gardens to give visual appeal to the edges of your house.
Redbud (Cercis) Tree
Redbuds are small ornamental flowering trees with pink flowers that you can plant near the corner of your home. Redbuds turn a stunning rosy-pink color when they bloom in spring. Lush, heart-shaped leaves cover the tree in summer and fall. Although redbuds are deciduous trees, their intricate stems and branch patterns provide a fascinating winter silhouette.
Discover the best flowering plants for the front yard.
Related articles: