The Best Ground Cover Plants for Shade (Including Pictures) – Identification Guide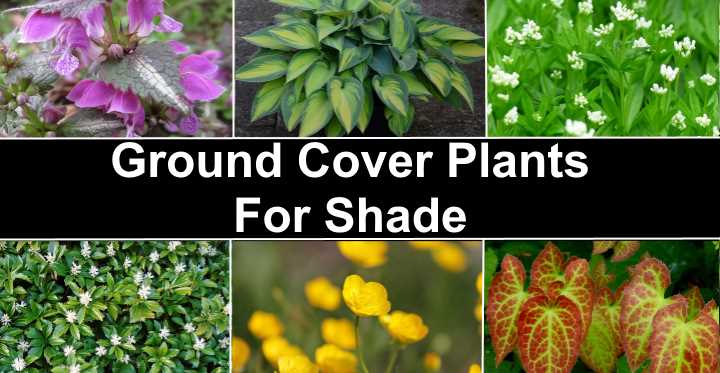 Many types of ground cover plants are perfect for planting in the shade. Ground cover plants for the shade help to provide greenery to areas where other plants don't grow well. Creeping, clumping, or trailing plants are good landscaping solutions that generally require little maintenance. For extra color, you can also choose ground cover plants that flower in the spring, summer, or fall.
There are many varieties of ground cover plants for any type of garden. Flowering ground cover plants can transform pathways, accent garden features, or grow where there is little sun. Generally, ground cover plants for shade are hardy types of creeping or spreading plants that are green all year long.
The reasons to use plants that provide good ground cover in the shade is to help control weeds, prevent erosion, or landscape areas of your garden where other plants don't thrive.
In this article, you will find out about some of the best low-maintenance ground cover plants that grow well in the shade. You will also learn about the best plants that flower, are drought resistant, or just provide evergreen cover in shady areas.
Ground Cover Plants for Shade (With Pictures and Names) – Identification Guide
Spotted Dead Nettle
Spotted Dead Nettle (Lamium maculatum) is a flowering type of low growing ground cover plant that thrives in the shade. Spotted Dead Nettle is an excellent ground cover plant because of its flowers and its spreading growth habit.
Spotted Dead Nettle has many cultivars including some with variegated leaves (meaning they have more than one color) and different colored flowers. This shade-loving plant produces pink, purple, or white helmet-shaped flowers. Different cultivars of this plant have dark green, silver, purple, or gold-colored leaves.
Ground cover Spotted Dead Nettle plants thrive in moist soil that is out of direct sunlight. This evergreen herbaceous perennial plant grows to a height of between 8" and 31" (20 – 80 cm) and spreads very quickly. Most Deadnettle cultivars survive a light frost and start growing again in the spring.
Spotted Dead Nettle grows in USDA hardiness zones 3-10. Although this type of plant is good for ground cover, its invasive nature means that you have to keep it under control.
Hosta
Hostas are shade loving perennial ground cover plants that produce stunning flowers.
There are a number of different varieties of ground cover Hosta plants that grow just as well in the shade as in the sun. This perennial leafy plant has large waxy leaves that provide good ground cover. Some cultivars have light-colored green leaves and others have green-white variegated leaves.
One of the striking features of Hostas is their fragrant flowers. The small flowers grow on upright stems that reach up from the top of the plant. The most fragrant type of Hosta is the Hosta plantaginea which produces strongly-scented white flowers. The lavender, violet, and other white flower varieties are mostly scentless.
Hostas like to grow in the shade and may reach a height of 2 ft. (0.6 m). During the winter the leaves may turn yellow and die off. However, they will regrow the next spring to provide good ground cover from spring until late fall.
Hostas grow from rhizomes. The clumps become larger and spread until they can be divided into smaller plants.
The recommended USDA hardiness zones for hostas are 3 – 8.
Japanese Pachysandra
The Japanese pachysandra (Pachysandra terminalis) is a low-growing leafy evergreen plant that is good for ground cover under shrubs or in other shady parts of your garden.
This type of shade-loving perennial ground cover plant produces small flowers in the spring. The Japanese pachysandra (also called the carpet box plant) has creeping stems with light-green glossy leaves. To get the best ground cover, you can plant many of these plants together.
The plant is slow-growing and will reach a height between 4" and 24" (10 – 60 cm) after 3 years. The foliage on Japanese pachysandras is very dense, making it a good plant that provides creeping ground cover. This is not a good drought-resistant plant as it needs moist, well-drained soil to thrive. However, it is a hardy flowering plant that survives the winter well.
If you are looking for some ideas where to plant this ground covering variety, then you can plant it on the north side of a building. Because this type of flowering ground cover plant is best in the shade, the leaves may start to yellow in full sun.
Grows well in USDA hardiness zones 4-10.
Allegheny Pachysandra
The Allegheny Pachysandra (Pachysandra procumbens) is a popular type of perennial ground cover plant due to its low height and dense green foliage. The ground cover plant thrives in full to partial shade and flowers every spring when new leaves appear. This low-ground cover plant grows to about 12" (30 cm) high
Depending on the growing zone, the Allegheny Pachysandra can be evergreen or semi-evergreen (deciduous in colder climates).
Compared to other low-ground creeping shrubs, this variety is very drought resistant. Actually, this ground cover plant provides a thick dense carpet of foliage in most soils.
Liriope (Lilyturf)
Liriope is a type of fast-growing perennial landscaping plant that provides excellent ground cover in the shade.
Liriope is also called monkey grass or spider grass as it has grass-like foliage that grows in tufts. During the summer and fall, this evergreen plant produces tiny upright lavender-colored flowers that look like spikes.
This perennial landscaping plant comes in both creeping varieties and clumping types. This means that you can use this versatile plant anywhere where you need good ground cover. This spreading plant thrives just as well in the shade as it does in the sun.
The lilyturf plant can grow quite quickly and is a good landscaping solution for evergreen ground cover. It is also drought-resistant and very hardy plant that requires little maintenance. Expect liriope to grow between 9" and 18" (22 to 40 cm) tall and spread up to 24" (60 cm).
Some landscaping ideas to use this plant for good ground cover is to prevent erosion on slopes, use as a colorful edging border, or have foliage under trees or shrubs.
This mat-forming ground cover perennial grows best in hardiness zones 5 to 10. The leaves may lose their color during the winter, but they will start growing again in the spring.
Sweet Woodruff
Sweet Woodruff (Galium odoratum) is a hardy white flowering perennial ground cover for shade. One of the reasons why this perennial is a great ground cover plant is that it grows well in shady areas where other plants don't thrive.
Sweet woodruff grows along the ground and can grow up to 20" (50 cm) long. Woodruffs also produce sweet-scented small white flowers that add fragrant smells to your garden.
You should remember that this ground spreading plant isn't a drought-resistant plant. So, if you plant it to cover ground in shady areas, you need to water it well in the summer.
One of the reasons why many gardeners choose this low-maintenance landscaping option is for its good all-year-round cover.
This type of spreading plant grows well in USDA hardiness zones 4 – 8.
Mazus
Mazus is a group of low-growing spreading plants that provide excellent ground cover in parts of your garden that don't get much sun.
Mazus reptans (creeping mazus) is the cultivar that is fast growing and has creeping and rooting stems. This creeping plant provides beautiful blooming ground cover thanks to its small light-purple flowers.
This low-ground plant grows best when it is planted in partially shady areas of your garden. It can withstand some sun but also needs some protection during the day. This plant is an excellent landscaping choice to protect soil from erosion and have dense ground foliage.
Other Mazus cultivars that provide good ground coverage are Mazus surculosus, Mazus pumilio, and Mazus pumilus.
These hardy plants spread up to 12" (30 cm) and can quickly turn garden areas into a blanket of flowering foliage. Mazus cultivars grow in hardiness USDA zones 5-8.
Bishop's Weed
The perennial plant, Bishop's Weed (Aegopodium podagraria) is another low-maintenance gardening solution for ground cover in shady areas.
Bishop's Weed can quickly cover a large area of ground due to its fast-growing properties. This perennial plant is often seen growing in shady woodlands or on partially-shaded slopes.
Growing to a height of around 40" (100 cm), the broad leaves provide excellent ground cover. The plant also produces clusters of tiny white flowers that grow on the end of long stems.
If you want to add a bit of variety to shady areas of your garden, then choose a variegated variety of Bishop's weed. This type of ground cover plant has green leaves with creamy white edges.
The fast-growing Bishop's Weed grows well in temperate climates and is found in Europe, North America, Australia, and New Zealand.
Creeping Buttercup
The Creeping Buttercup (Ranunculus repens) is flowering low-maintenance ground cover that flowers every spring and loves the shade.
The yellow flowering ground cover plant spreads quite quickly through its running stems that take root in the ground. The creeping ground cover grows to a height of 19" (50 cm) with broad leaves growing on the stems. Some varieties of Creeping Buttercup are low growing varieties that form a soft green mat over the ground.
The bright yellow flowers are around an inch in diameter (2.5 cm) and provide a splash of color when planted under trees, shrubs, or in other shady places.
In some areas, the invasive nature of creeping buttercups causes them to be listed as pests. For example, in the space of a year, one plant can spread to over 40 ft. (12 m).
Creeping Buttercups like to grow in damp soil and enjoy partial to full shade. They grow best in USDA hardiness zones 4-9.
Epimedium
Epimedium is a slow-growing genus of herbaceous perennial plants that are good for ground cover where you have cool shade.
Other names for Epimedium plants include horny goat weed, barrenwort, or Bishop's hat. Some varieties of Epimedium lose their leaves every fall (deciduous) and some are evergreen.
Epimedium plants can provide stunning ground cover in shady parts of your garden. Their leaves can be red, bronze, copper, and green and then turn purple, scarlet, or crimson in the fall. Epimedium cultivars also produce small clusters of flowers in a variety of different colors.
If you need to get good ground cover in shaded areas, then choose some of the more robust Epimedium varieties.
Bunchberry
Bunchberry (Cornus canadensis) is a type of ground cover plant that loves to grow in shady areas.
This slow-growing perennial creeping plant forms an excellent dense covering over the ground. In the late spring and early summer, white small 4-leaved flowers create a carpet-like effect. This creeping ground cover plant only grows to about 8" (20 cm) tall.
You can grow this colorful herbaceous ground covering plant in USDA hardiness zones 2-6.
Vinca Minor (Periwinkle)
Vinca (Vinca minor) is an excellent evergreen flowering ground cover plant because it covers the ground with dense foliage and a few flowers in the spring.
Because this is a trailing variety of plant, you can use it in hanging baskets or allow it to creep along the ground. The Vinca (also called trailing periwinkle) spreads quickly to provide cover around trees, blanket wooded areas, or grow in areas that get little sunshine.
One of the reasons why Vinca has become one of the most popular ground covers is due to its hardiness. The plant survives well in drought conditions but thrives and blooms when it gets enough water.
You can use the trailing Vinca to beautify or decorate a north-facing wall. Very soon, the cascading leaves will beautify your garden or yard.
Wild Ginger (Asarum canadense)
Wild Ginger (Asarum canadense) is a shade-loving perennial ground cover plant with large glossy green leaves. Wild ginger is a perennial plant that can be evergreen or semi-evergreen (deciduous in colder climates).
The distinguishing feature of Wild Ginger is its evergreen kidney-shaped leaves. The spreading plant is not fast growing and doesn't have the invasive qualities of other types of shady ground covers.
In late spring, expect to get delicate flowers that are tan to purple color and have 3 petals.
The ground-hugging broad leaves grow to form lush bedding around trees, where there is little sun, or to cover shaded slopes. Clumps of wild ginger grow to between 4" and 6" (10 – 15 cm) and spread about one foot (30 cm). One of the benefits of using wild ginger as an evergreen ground cover is that it is very low maintenance.
This ground cover plant should not be used as a substitute to ginger because it contains toxic substances.
Bloody Cranesbill
The Bloody Cranesbill (Geranium sanguineum) is a hardy type of flowering ground cover plant that belongs to the Geranium family.
This carefree ground cover is great for beginners as it grows in most types of soil and in partially shady areas or full sun. The Bloody Cranes-Bill grows at a medium pace and will reach heights of between 8" and 20" (20 – 50 cm) within 2 years.
Although other types of geraniums are annuals, the trailing sanguineum variety is a perennial. They help to cover most types of soil or look good in rock gardens. The clumpy plants can spread up to 8" (20 cm). So, if you want to use these hardy plants as ground covers, plant them about 11" apart (30 cm).
Mondo Grass
Mondo grass (Ophiopogon japonicus) is a good alternative for a lawn if you have areas of your garden that are in constant shade.
These small evergreen plants are very low maintenance and, unlike a lawn, don't require regular mowing. All you have to do to keep Mondo grass from becoming too long is to cut it back once a year. The average height of regular Mondo grass is around 7" to 15" (20 – 40 cm).
If you need ground coverage in areas that don't get much sunshine, then another landscaping option is dwarf Mondo grass. This variety only grows to 4" tall (10 cm) with a small spread.
For an even more striking landscape idea, you can plant a black variety of Mondo grass. However, this grass type of ground cover thrives better in full sun rather than shade.
Corsican Mint
Corsican mint (Mentha requienii) is one of the smallest varieties of the mint family and spreads out to form a green mat-like covering in shady areas.
This bedding plant doesn't just provide good ground cover but it also fills your garden with minty aromas. Unlike other varieties of the mint family, this very low-growing variety loves the shade.
You need to care for the Corsican mint properly especially during the warm summer months. It requires watering to keep the soil moist, but not too damp. This landscaping plant is also sensitive to drought.
Compared to other plants that you can use for green ground cover, the Corsican mint needs a warmer climate. This ground cover thrives as a perennial in USDA hardiness zones between 6 and 9. You can expect that the green blanket of this mint plant will transform into a lilac color when it blossoms in the summer.
You can also use your perennial mint plant in the kitchen as an alternative to regular mint. In colder zones, you have to plant Corsican mint as an annual type of plant.
Corsican mint can be an invasive ground cover plant in warm climates.
Stonecrop
When Stonecrop (Sedum acre) blossoms with its bright yellow flowers, it turns into a stunning type of colorful ground cover plant.
Throughout the year, the thick dense foliage of Stonecrop provides good cover in shady areas. This spreading plant also grows well in full sunshine.
The short height of only 2" (5 cm) and spreading nature of Stonecrop have made it a popular type of plant to cover ground. The small plant also accents other garden features and looks good in a rock garden.
Yellow star-shaped flowers appear on the bedding plant around the end of springtime. When mature, Stonecrop will spread up to 24" (60 cm).
Another reason for the popularity of Stonecrop is that it is also a flowering low-maintenance plant that is good for hillside landscaping.
Lily of the Valley
Lily of the Valley (Convallaria majalis) is a flowering perennial plant that grows well in the shade and spreads quickly to cover ground.
Although this fast-spreading plant thrives best in shady areas and woodlands, many gardeners consider it too invasive to plant in the garden. So, this may not be the best type of ground-covering plant if you only have a small garden. However, if you need a ground cover plant for a large area, then Lily of the Valley could be a good choice of flowering perennial for shade.
Lily of the Valley produces large leaves that can be up to 10" in length (25 cm). Small white bell-like flowers appear in the spring where they are famed for their strong scent.
One thing to consider before choosing this type of plant for ground covering is its toxicity. All parts of the plant are toxic and may cause digestive upset or skin irritations.
Ferns are great ground cover plants for shady areas in your garden – learn about the many types of ferns and how to care for them.
Related articles: