19 Beautiful White Flowering Shrubs (With Pictures) – Identification and Planting Guide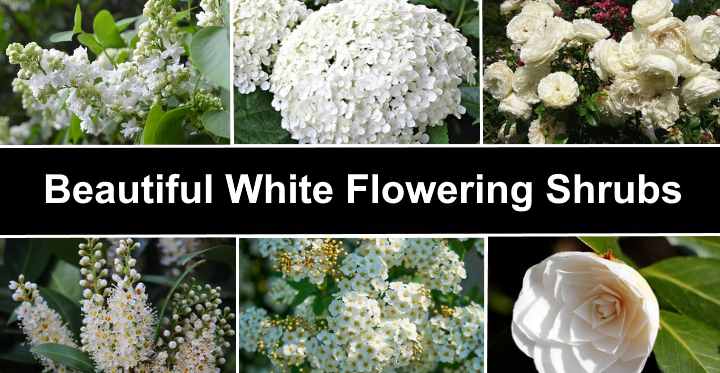 Shrubs with white flowers are perfect landscaping bushy plants to brighten up any garden. White flowering shrubs bloom with some of the most elegant, romantic, and attractive flowers on any plant. The beauty of choosing shrubs with white blooms is that you can find varieties that blossom in all seasons. So, from spring until fall, you can enjoy shrubs with stunning large white flowers.
When choosing the best white flowering shrubs for your landscape, it's a good idea to pick low-maintenance bushes. You should also consider the amount of sun your yard gets, your growing zone, and blooming time. If you want plenty of winter color, then evergreen shrubs with white flowers are ideal.
This article is a guide to picking the best garden shrubs that bloom with white flowers. Descriptions and pictures of each variety of plants will help you decide which type of white flowering bush is best.
How to Pick the Best Shrubs with White Flowers
Several factors can influence your choice of flowering shrub. First, it's crucial to decide on where you want to enjoy white flowers. Some dwarf shrubs with white flowers are ideal for borders, containers, or foundation plantings. Larger white flowering shrubs grow well as living screens, hedges, or specimen plants.
Another consideration when planting shrubs with white flowers is your zone, sun exposure, and soil quality. Many white shrubs such as hydrangeas, white lilac, rhododendrons, and dogwood bushes grow well in full sun in USDA zones 5 to 9. Other perennial shrubs with white flowers such as camellia, viburnum, and hibiscus need warmer climates to thrive.
White Flowering Shrubs (Pictures and Descriptions)
Let's look at some of the best examples of spring and summer blooming bushes with white flowers.
White Hydrangea Shrubs
Hydrangeas are deciduous shrubs that produce large white flowers as well as other colorful blooms. Depending on the hydrangea variety, the white hydrangea flowers can be showy spherical, globe-like, conical, or flat-topped clusters of tiny flowers. The huge creamy-white flowers can measure between 4" and 14" (10 – 35 cm) across.
White hydrangea shrubs are identified by their large, heart-shaped leaves, showy pastel-colored flowers, and bushy growth. Typically, hydrangeas grow between 4 and 12 ft. (1.2 – 3.6 m) tall and up to 8 ft. (2.5 m) wide. The white flowers enjoy a long blooming season and bloom throughout summer until fall.
Grow hydrangeas in full sun or partial shade. Many hydrangea varieties are ideal specimen plants, front of house bushes, shrub borders, or flowering living fences. You can also prune white hydrangeas to create a stunning shrub-like tree.
USDA zone: 3 to 9
White Lilac Bushes (Syringa vulgaris)
Lilac bushes are hardy shrubs that produce cone-like clusters of purple, pink, or white flowers. Lilac flowers have a relatively short blooming season. When the deciduous shrub blooms, masses of long, fragrant, white panicles (flower clusters) cover the large bushy shrub. White lilac flowers grow up to 8" (20 cm) long.
White flowering lilac shrubs grow between 8 and 15 ft. (2.4 – 4.5 m) tall and up to 12 ft. (3.6 m) wide. Large lilac shrubs are ideal for summer privacy screens or hedges. Suppose you have a small garden or container garden. In that case, the beautiful pure white blossoms of various dwarf varieties of lilac are ideal for planting.
USDA zone: 3 to 7
Viburnum Shrubs with White Flowers
Many species of viburnum are multi-stemmed shrubs with clusters of tiny, four-petaled white flowers growing in snowball clusters. White viburnum flowers bloom in mid to late spring for two weeks. Some viburnum shrubs are winter-flowering shrubs with whitish-pink flowers. The fragrant white flower panicles grow 2.5" (6 cm) wide.
In some zones, viburnum is an evergreen flowering shrub. The dense leafy foliage and white flowers are ideal for creating a privacy hedge, perennial shrub border, or foundation planting. In colder zones, viburnum leaves turn a beautiful dark maroon in the fall. These white spring-blooming shrubs grow 8 to 10 ft. (2.4 – 3 m) tall and 7 ft. (2.1 m) wide.
USDA zone: 4 to 8
White Rose Shrubs (Rosa)
Rose shrubs with showy white flowers are some of the most spectacular flowering shrubs for your garden. Growing on woody stems, white rose flowers create a stylish, romantic, and fragrant garden landscape. The multi-petaled flowers are round, with petals distributed evenly around the center. Petals on rose flowers range in number from five to 60.
Roses are perennial shrubs with erect, trailing, or climbing growth with several uses in gardens. The flowering shrubs can grow over arbors, climb trellises, grow as specimen plants, or grow in mixed beds or containers. White flowering rose shrubs grow around 3 to 6 ft. (1 – 1.8 m) tall and climbing roses grow up to 14 ft. (4.2 m) tall.
USDA zone: 5 to 10
Cherry Laurel (Prunus laurocerasus)
Cherry laurel is an evergreen shrub with small white, fragrant flowers growing in 4-inch (12-cm) long upright clusters (racemes). The attractive flowers bloom in spring and give off a plum-like scent. The large, lustrous lance-shaped leaves on this shrub grow densely on branches. Clusters of red berries add plenty of visual winter interest.
Cherry laurel shrubs grow rapidly and mature between 10 and 20 ft. (3 – 6 m) tall and up to 11 ft. (3.3 m) wide. The thick bushy foliage makes the shrubs excellent for flowering hedges, screens, or specimen plants.
USDA zone: 6 to 9
Japanese Andromeda (Pieris Japonica)
Japanese andromeda is a white flowering evergreen shrub with drooping clusters of small bell-shaped flowers. The early spring-blooming shrub white clusters look like lily-of-the-valley flowers and measure up to 6" (15 cm) long. The shrub's lanceolate leaves emerge bronze-orange before maturing to glossy green.
Also called Japanese Pieris, the evergreen shrub grows between 9 and 12 ft. (2.7 – 3.6 m) high and up to 8 ft. (2.4 m) wide. To enjoy the attractive white flowers, grow Japanese andromeda in full sun to partial shade.
USDA zone: 4 to 8
Virginia Sweetspire (Itea virginica)
Virginia sweetspire is a perennial small shrub that has long, thin clusters of creamy-white bottlebrush flower spikes. The white flowering arching racemes measure 3" to 6" (7.5 – 15 cm) long and give off a pleasant fragrance. This easy-care deciduous shrub has lush dark green lanceolate leaves that turn a shade of orange and red in the fall.
Virginia sweetspire is a multi-stemmed shrub that forms dense bushes 3 to 10 ft. (1 – 3 m) tall. The lush foliage and white flowers are ideal in shrub borders, hedges, or foundation plantings. Its tolerance for moist ground makes it suitable for growing near ponds.
USDA zone: 5 to 9
White Spirea Shrubs
Spirea shrubs are hardy, deciduous shrubs that produce masses of white clusters consisting of tiny flowers. Depending on the variety, the flowers bloom in spring or summer and last for a few weeks. Some outstanding white blooming spirea varieties are Garland spirea, bridal wreath spirea, and Korean spirea.
Spirea shrubs with their abundant white flower clusters brighten up spring and summer gardens. The upright, rounded shrubs grow between 3 and 9 ft. (1 -3 m) tall, depending on the variety. The spirea thunbergia, birchleaf spirea, and white meadowsweet spirea are the best specimens for growing in containers.
USDA zone: 3 to 8
White Azaleas
Azaleas or rhododendrons are partial-shade loving, large shrubs, which have beautiful colorful and white semi-double flowers. The 'white group' of azaleas has several native species that produce abundant white summer blooms. The trumpet-shaped white flowers have ruffled petals and long protruding stamens in clusters of five to 25 flowers.
White azaleas thrive in partial sun and prefer moist, well-drained soil. The large, rounded shrubs bloom in spring and summer and fill warm air with pleasant scents. Depending on the white azalea species, the dense shrubs grow between 4 and 20 ft. (1.2 – 6 m) tall and wide.
USDA zone: 4 to 7 or 7 to 9 (depending on the type of azalea)
White Flowering Magnolia Shrubs
Magnolia shrubs are famous for their highly showy white star-shaped or cup-shaped flowers. Magnolia flowers come in various shades, from pure white to creamy-white or tulip-like light pink or darker pink blossoms. Magnolia shrubs typically bloom in early spring, and some have flowers that persist throughout the summer until fall.
White magnolia flowers can grow exceptionally large and measure up to 12" (30 cm) across. Some types of magnolia flowers have 35 white oblong petals in a star shape. Other magnolia shrubs have drooping goblet-shaped with contrasting red stamens.
White flowering magnolias grow as large shrubs or small trees. Magnolias perform best in full sun or partial shade.
USDA zone: 5 to 9
Camellia Shrubs with White Flowers
The Japanese camellia is a broadleaf evergreen shrub with showy white flowers that bloom from late winter until early spring. The early-blooming double flowers grow 3" to 6" (7.5 – 15 cm) wide and consist of up to 20 tightly growing petals in a peony flower-like shape. The stunning flowers complement the lush, glossy green foliage.
Camellia shrubs grow between 10 and 13 ft. (3 – 4 m) tall and 5 to 10 ft. (1.5 – 3 m) wide. Species of the white flowering shrubs grow various sizes of showy flowers, with some being as small as 1.5" (4 cm). Flowers on camellia shrubs bloom for up to four weeks.
The shrubs with their white flowers grow well in containers and shrub borders and create a beautiful fragrant flowering hedge.
USDA zone: 7 to 9
White Hibiscus (Hibiscus syriacus)
White hibiscus shrubs have large 5-petaled flowers in the shape of a funnel or trumpet. The late-blooming flowers have delicate crepe-like petals that measure up to 3" (7.5 cm) across. Flowering occurs continuously on the shrub from summer until fall and flower year after year. However, individual flowers only bloom for a day.
Also called Rose of Sharon, the hardy shrubs are easy to grow in your garden. The beautiful white flowers contrast with dark green foliage. The exotic shrub grows between 8 and 12 ft. (2.4 – 3.6 m) tall and 6 to 10 ft. (1.8 – 3 m) wide.
USDA zone: 5 to 9
Hummingbird Summersweet (Clethra alnifolia)
Hummingbird summersweet has long white bottlebrush flower spikes that cover the informal cold-hardy shrub. The flowering aromatic conical clusters grow between 3" and 6" (7.5 – 15 cm) long. The tiny individual white flowers are shaped like a cup and bloom during June and July. The shrub's glossy-green oblong leaves turn yellow in the fall.
Hummingbird summersweet grows in mounding clumps between 5 and 10 ft. (1.5 – 3 m) tall. Unlike many flowering shrubs, the creamy-white summersweet flowers bloom in the shade just as well as in full sun.
USDA zone: 3 to 9
Wine Ninebark (Physocarpus opulifolius)
Wine ninebark is a leafy shrub with small fuzzy flower clusters in a semi-dome shape. The pretty spherical spring flowers are usually a white-pinkish color and are 1" to 3" (2.5 – 7.5 cm) in size. The deciduous shrub has large ovate leaves with lobed edges that turn golden yellow in the fall.
This popular garden shrub is ideal for growing in mass plantings, flowering hedges, borders, or barriers. Its tolerance for drought, shade, sun and poor soil makes this a useful landscaping plant. The species shrub-like bush grows up to 8 ft. (2.4 m) tall; however, the 'Nana' dwarf cultivar is suitable for containers and grows 1 to 2 ft. (0.3 – 0.6 m) high.
USDA zone: 2 to 8
Purple Ninebark (Physocarpus opulifolius)
Purple ninebark is a stunning decorative landscaping shrub with dark purple leaves and domed clusters of white-pinkish flowers and yellow center. The white flowers provide a stunning contrast against the purple foliage. After the deciduous leaves drop, reddish-brown bark offers plenty of winter interest.
Purple ninebark grows between 5 and 8 ft. (1.5 – 2.4 m) tall and 4 to 6 ft. (1.2 – 1.8 m) wide. This spectacular white flowering, dark-leafed shrub is ideal for planting as a living screen plant, shrub border, and in mass plantings.
USDA zone: 3 to 7
False Holly (Osmanthus heterophyllus)
False holly is a large, late-blooming rounded shrub with masses of small fragrant white flowers that contrast with glossy green jagged leaves. The name of this mounding oval shrub comes from its evergreen holly-like leaves. The sweet-smelling false holly flowers bloom in the fall and persist until early winter.
False holly is an ideal flowering shrub for foundation plantings, security hedges, or to create a year-long privacy screen. This large shrub grows between 6 and 21 ft. (1.8 – 6.4 m) tall and 5 to 10 ft. (1.5 – 3 m) wide.
USDA zone: 6 to 9
Japanese Aralia (Fatsia japonica)
The ornamental Japanese aralia shrub is identified by its large palm-like glossy green leaves growing on long arching stems and creamy-white fall flowers. Japanese aralia flowers grow as small, ball-like clusters measuring 1" (2.5 cm) in diameter. An advantage of this decorative shrub is that it performs well in shade gardens.
The tropical foliage and globular flowers that grow on this shrub create an attractive rounded growth. Japanese aralia matures at 6 to 19 ft. (1.8 – 5.7 m) high and 4 to 6 ft. (1.2 – 1.8 m) wide. Apart from growing in the ground, you can grow Japanese aralia in containers or hanging baskets.
USDA zone: 7 to 10 
Winter Daphne (Daphne Odora 'Alba')
Winter daphne is an evergreen flowering shrub that produces fragrant pale pink flowers. The Winter daphne 'Alba' cultivar has tightly packed globular clusters of creamy white flowers that bloom in late winter to early spring. Another attractive feature of these evergreen shrubs is the glossy green, leathery, pointed oblong leaves that grow 3" (7.5 cm) long.
Winter daphne white flowering shrubs grow between 3 and 6 ft. (1 – 1.8 m) and up to 4 ft. (1.2 m) wide. Grow in full sun and keep the ground moist for the best effect.
Another beautiful white flowering cultivar of daphne odora is 'Aureomarginata Alba' with glossy dark green leaves with white margins.
USDA zone: 7 to 9
Red Twig Dogwood Shrubs (Cornus alba)
Red twig dogwood is an ornamental multi-stemmed shrub with yellowish-white flowers, dark green, ovate leaves, and spectacular coral-red stems. This fast-growing decorative landscaping plant has attractive clusters of flat-topped, star-shaped white flowers.
Red twig dogwood shrubs provide year-long interest. Showy yellow and green, ovate leaves and white flowers cover the shrub in spring and summer. In the fall, the foliage turns spectacular purple, red, and burgundy colors. Then bright red stems provide visual winter appeal.
Dogwood shrubs are ideal as an accent shrub, border plant, or flowering hedge. Plant in full sun to encourage vigorous blooming during spring. Dogwood shrubs grow 8 to 10 ft. (2.4 – 3 m) tall and up to 10 ft. (3 m) wide.
USDA zone: 3 to 7
Related articles: