Stunning Plants with Orange Flowers for Your Garden (Including Images)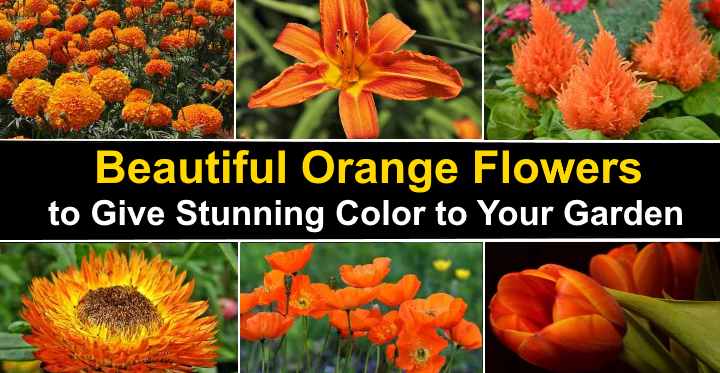 Orange flowers can create stunning colorful displays of beauty in your garden. Orange flowers have many meanings, some being warmth, joy, energy, creativity, and success. Creating floral displays with orange flowers like marigolds, chrysanthemums, pansies, or orange tulips can help brighten up any room.
You can also combine orange flowers with various blue flowers, yellow flowers, or red flowers to create striking floral arrangements.
If you want to add a splash of orange to your garden, read on to find out about some of the most beautiful orange flowers you can plant. Most orange-flowering plants on this list require full sun or partial shade and well-drained soil. This list of orange flowering plants contains images for easy identification.
Orange Flowers (With Pictures and Names)
Here are some of the best and most beautiful orange flowers you can plant in your garden. This list of orange flowering plants contains pictures for easy identification.
Marigolds
Extremely popular worldwide, orange marigolds (Tagetes) are especially beautiful due to their clusters of tiny petals that form large blooms. These common orange flowering plants have floral blooms that can measure up to 2.3" (6 cm) in diameter that sit on top of tall leafy stems. Marigolds are annual flowers that bloom all summer long and give off a peppery scent.
Outstanding feature: Beautiful fall flowers that brighten up your garden.
Growing zones: 8 – 11.
Orange cultivars: Marigold 'Golden Gate,' African Marigold 'Orange,' Marigold 'Moonsong Deep Orange,' 'Aztec' Marigold.
Pot Marigold
The Pot Marigold (Calendula officinalis) is another popular plant with beautiful orange flowers. These famous flower heads can be deep orange or yellow and have a contrasting dark brown or orange center. The petals are tubular and fan out from the center to form a showy disc-shaped bloom.
Although pot Marigold is a perennial, it is commonly treated as an annual flowering plant, especially in colder winters and hot summers.
Outstanding feature: They bloom very quickly from seed and give off a spicy aroma.
Growing zones: 8 – 11, but usually planted as an annual in 2 – 11.
Buttercups
Buttercups are a member of the Ranunculus genus that contains about 500 species of flowering plants. Buttercups have beautiful orange, yellow, or white flowers. Some gorgeous orange buttercup flowers have silky petals that wrap around the center to form a rose-shaped flower. These brightly-colored common flowers come in many shapes and sizes. Floral displays including blue Forget-Me-Nots, yellow African Daisies, and white Candytufts are especially stunning.
Outstanding feature: Are excellent for borders or containers and the cut flowers are beautiful in floral displays.
Growing zones: 8 – 11.
Orange cultivars: 'Elegance Orange,' 'Tecolote Orange.'
Chrysanthemum
Sometimes just called 'mums,' Chrysanthemums are large ornamental common flowers that are yellow, red, white, light or deep orange colors. The floral heads can be like large pompoms, shaped like buttons, or star-shaped. Some blooms are two-toned, some have single colors, and others have multiple colors. For example, some types of flowers have long orange petals with a yellow center.
Outstanding feature: Beautiful blooms and the plant helps to purify the air when growing indoors as houseplants.
Growing zones: 3 – 9
Orange cultivars: Chrysanthemum 'Miranda Orange,' 'Dixter Orange.'
Cosmos
Cosmos is a tall orange flowering plant genus that contains many different species and it grows up to 6 ft. (1.8 m). The outstanding blooms come out in the fall and, depending on where you live, can be annuals or perennials. The florets are disc-shaped with delicate pretty petals.
Some orange varieties have semi-double or double flowers that can measure up to 2" (5 cm) across.
Outstanding feature: Very popular ornamental plants that are low-maintenance and easy to grow.
Growing zones: 2 – 11.
Orange cultivars: Cosmos sulphureus 'Bright Lights,' 'Cosmic Orange.'
Daylilies
Daylilies (Hemerocallis) are perennials that produce attractive and elegant flowers that are pale or darker orange, yellow, pink, purple, or white. These tall plants bloom in spring to mid-summer with trumpet-like pretty flowers and long petals. Some types of daylilies have ruffled petals, some have double ones, and others have recurved petals.
Outstanding feature: Grows in the wild, and orange daylilies are often seen decorating roadsides.
Growing zones: 3- 10.
Orange cultivars: Tawny Daylily, 'Bright Sunset,' 'Primal Scream' Daylily, Hemerocallis 'Rocket City.'
Iris
Irises are perennial flowering plants that have hundreds of species, many of which produce early summer orange flowers. The beautiful flowers on irises have delicate flower head in a fan-shape with ruffled-looking petals. Irises grow to between 1 and 2 ft. (30 – 60 cm) and are a good choice for stunning floral displays. Apart from orange flowers, irises also come in purple, blue, pink, and yellow varieties.
Outstanding feature: Some of the most beautiful and elegant flowers you can grow in your garden.
Growing zones: 3 – 9.
Orange cultivars: Iris 'Maid of Orange,' Copper Iris, Iris 'Grand Canyon Sunset,' 'Acapulco Gold.'
Bird of Paradise
The exotic-sounding Bird of Paradise plant (Strelitzia Reginae) is as exotic as it sounds. This evergreen perennial plant has striking exotic orange flowers that make the flower look like a crane's head. The unusual ornamental flower that blooms in spring sits on top of tall 6.5 ft. (2 m) high stems. The stems grow together in clumps giving the Bird of Paradise a bush-like appearance that makes it easy to identify.
Outstanding feature: Also called the Crane Flower, this is one of the most dramatic easy-to-grow flowers you can plant.
Growing zones: 9 – 11
Dahlia
Another type of spring-flowering plant is the Dahlia genus. Dahlias are a very distinct and easily identifiable flower. The large showy Dahlia flowers come in orange, purple, red, yellow, and white blooms. Some stunning examples of these flowers include magnificent double blooms, pompon dahlias, and peony-flowered dahlias. Expect to get beautiful orange flower displays in summer to early fall. Some types of Dahlias also have spiky orange flowers.
Dahlias can be annuals or perennials, depending on where you live. In cold winter months the dahlia tuber will die, unless you dig it up and store it during winter, planting it again next spring.
Outstanding feature: a diverse range of incredibly beautiful flowers that come in all shapes and sizes. Give cut flower floral displays beauty and elegance.
Growing zones: 8 – 11.
Orange cultivars: Dahlia 'Apricot Desire,' 'Babylon Bronze,' Dahlia 'Color Spectacle,' 'Hart's Autumn Splendor,' 'Mel's Orange Marmalade,' 'Peaches and Cream.'
Begonias
If you want orange flowers all summer long, then choose a variety of begonia. The popular begonia flowering plants have the largest number of species in any plant genus. Large elegant double blooms emerge from this bushy plant that are truly spectacular. Some types of begonia grow upright whereas others are trailing plants that look amazing in hanging baskets. Apart from their bush-like flowers, begonias are also prized for their beautiful leaves.
Begonias can be annual or perennial. As cold weather and frosts may kill begonias, you can grow begonias indoors as perennials to protect them from frost and cold temperature.
Outstanding feature: One of the most versatile and easy to grow flowering plants you can grow.
Growing zones: 10 – 11.
Orange cultivars: Begonia 'Nonstop Orange,' 'Encanto Orange,' 'Hanging Basket Apricot,' 'Hanging Basket Salmon,' 'Picotee Sunburst,' 'Ruffled Apricot.'
Orange Lilies
Lilies (Lilium) are some of the most spectacular flowers to grow in your garden or include in cut flower arrangements. Lilies can grow to a height between 2 and 6 ft. (60 – 180 cm) and have large trumpet-like flowers. If you want to decorate your garden with orange lilies, then choose the Tiger Lily. This plant has bright yellow-orange flowers that can grow up to 2.3" (6 cm) in length and bloom in springtime.
Outstanding feature: Famous large showy flowers with an intense floral scent.
Growing zones: 4 – 8.
Orange cultivars: Asiatic Lily 'Gran Paradiso,' Double Tiger Lily 'Flore Pleno.'
Cockscomb
Another plant that produces orange flowers in the summer is the Cockscomb (Celosia). The name of this plant literally means "burning" and it well describes the look of the cone-shaped flower. This unusual looking plant produces 2 types of amazing flowers. One is a cone-shaped fiery-looking bloom and the other is a wavy pretty flower head sitting on top of the plant. Varieties of this plant come in orange, striking red, gold, and pink.
Outstanding feature: Very unusual wavy petals that give the plant an exotic ornamental look.
Growing zones: 6 – 9.
Orange cultivars: Celosia Cristata 'Chief Orange'
Pansies
Although not often thought of as producing orange flowers, some Pansy (Viola) cultivars have amazing-looking orange flowers. Pansies can be some of the first plants to flower in your garden in spring. These low-growing garden plants have blooms that can be single colors, petals with stunning stripes, or ones with a dark center. Pansy flowers also give off a pleasant floral aroma that is not overpowering.
Outstanding feature: Can have striking large bi-colored petals in contrasting vivid colors.
Growing zones: 4 – 8.
Orange cultivars: 'Matrix Solar Flare Pansy,' 'Nature Orange Pansy,' 'Jolly Joker.'
Orange Tulips
Tulips (Tulipa) are perennial plants that flower in the spring and come in many colors including orange, yellow, red, and multicolored petals. Tulips are a type of bulb plant that grow to between 4" and 28" (10 – 71 cm) high. Tulip flowers can come in many color combinations and the petal shapes can be oval, tapered, or ruffled. There are also single blooms and double bloom varieties. Although tulips are known as a spring flower, there are cultivars that also bloom in summer and late summer.
Outstanding feature: Amazing variety of flowers in many different colors. Considered one of spring's most popular flowers.
Growing zones: 3 – 8.
Orange cultivars: Tulip 'Orange Princess,' 'Apricot Beauty,' 'Orange Emperor,' Tulip 'Calypso.'
Zinnia
Zinnias are a type of annual shrub with long stems that flower in the summertime. Flowers on tall zinnias can be orange, red, pink, white and yellow, or multicolored petals. Zinnias are one of the most spectacular types of flowers due to their differently shaped flower heads. Some are large pompom-type blooms, others are double flowers with spiky petals, and some flowers are in the shape of a star.
Outstanding feature: Easy and quick to grow in many climates and they make stunning cut flowers.
Growing zones: 2 – 11.
Orange cultivars: Zinnia 'Inca,' Zinnia Elegans 'Orange King,' 'Queeny Lime Orange,' 'Zinderella Peach.'
Gerbera Daisy (African Daisy)
For cut flower arrangements, Gerbera Daisies are one of the most popular flowers in the world. Having gerbera daisies in your garden will give you wonderful orange, white, yellow, pink, and red blossoms. The pretty large flower heads can grow between 2.7" to 4.7" (7 – 12 cm) in diameter. The large disc-shaped flower can have a black center and numerous petals that form the stunning bloom.
Outstanding feature: Each long stem has a single striking colorful bloom.
Growing zones: 9 – 11. Can be grown as an annual or perennial depending on the climate
Orange cultivars: Gerbera 'Flori Line Maxi Orange,' 'Garvinea Orangina,' 'Garvinea Sweet Honey.'
Snapdragon
Snapdragons (Antirrhinum) will beautify your garden with large cone-shaped orange flowers. Flowers from snapdragons can be in delightful pastel shades or striking bright colors. The orange, peach, purple, red, or white petals can have a puffed look and some are ruffled. Snapdragons start blooming in spring and will bloom throughout the summer until the fall. Dwarf snapdragon cultivars can grow up to 9" (22 cm) high whereas the tall varieties grow up to 36" (90 cm) tall.
Outstanding feature: Large eye-catching blooms on the end of tall stems.
Growing zones: 5 – 10.
Orange cultivars: Snapdragon 'Speedy Sonnet Bronze,' 'Orange Wonder.'
Helenium
Sometimes called Sneezeweed, Helenium plants are fall-flowering perennials that have showy orange flowers. Apart from the eye-catching displays of color, one reason to grow helenium is that they are tolerant of many soil conditions. The flowers are identified by their protruding central dome and dainty petals that fall back. Although there are a few red or yellow cultivars, most Helenium flowers are shades of brilliant orange.
Outstanding feature: Collections of the small flowers make for stunning floral displays.
Growing zones: 3 – 8.
Orange cultivars: Helenium 'Kokarde,' 'Loysder Wieck,' 'Sahin's Early Flowerer.'
Orange Poppies
Poppies (Papaver) have pretty delicate cup-shaped petals that come in vivid colors that make a real statement. Although generally red in color, there are some stunning orange poppy cultivars. These attractive wildflowers can have deep orange petals with contrasting black centers. You can transform your garden into a sea of fiery orange colors in springtime by planting these frost-tolerant annuals.
Outstanding feature: Early blooming spring flowers that have a wonderful scent.
Growing zones: 2 – 7.
Orange cultivars: Iceland poppy 'Champagne Bubbles Orange,' Papaver orientale 'Prince of Orange,' Oriental Poppy 'Fireball,' 'California' Poppy.
Alstroemeria (Peruvian Lilies)
Although not classed as a true lily, Peruvian lilies have large trumpet-shaped blooms that come in many colors. These lily-like flowers look stunning in floral displays and are often used as a symbol of friendship. The clusters of blossoms measure around 2" (5 cm) and flower from early summer until the fall. Some stunning orange Alstroemeria cultivars have dark brown streaks on multicolored orange and yellow petals.
Outstanding feature: Exotic type of flower that creates a stunning visual impact in a garden.
Growing zones: 7 – 10.
Orange cultivars: Alstroemeria 'Flaming Star,' Peruvian Lily 'Indian Summer,' 'Princess Diana,' 'Saturne.'
Pincushions
It is easy to see why this orange flowering plant is named 'Pincushion' (Leucospermum). The long slender petals stick out of a round ball. Even though the flower has a spiky appearance, the soft flower is a delight in any garden. Flowering throughout the summer, this bushy shrub gives plenty of color from its many blooms.
Outstanding feature: Plant to create a stunning focal point in your garden.
Growing zones: 9 – 11.
Orange cultivars: Pincushion 'Scarlet Ribbon.'
Honeysuckle
The beauty of growing Honeysuckles (Lonicera) is that you get beautiful orange flowers that give off a wonderful scent. You can plant honeysuckles wherever you need climbing or trailing plants. Some orange honeysuckle cultivars have long thin trumpet-like cute flowers. Others have petals in varying shades of orange from deep mandarin colors to orange-scarlet. Expect your honeysuckles to bloom from summer to late fall.
Outstanding feature: Masses of orange-colored tubular flowers that smell amazing.
Growing zones: 4 – 9.
Orange cultivars: Honeysuckle 'Mandarin,' Lonicera brownii 'Dropmore Scarlet,' 'Coral' Honeysuckle.'
Strawflower
Reminiscent of the colors of a sunset, some varieties of Strawflower have wonderful orange to red colors. The Strawflower (Xerochrysum bracteatum) is related to the daisy and is a bushy flowering perennial. Its green stems can grow to between 8" and 32" (20 – 81 cm) in height. These long stems support round-shaped flowerheads in vibrant colors. For example, some have petals (bracts) with shades of red fading to orange. Others have bright red petals and an orange center. Other types of flowers have yellow flowers and orange centers.
Outstanding feature: Vibrantly colored flowers with stiff petals that are good for cut flowers or dried flowers.
Growing zones: 8 – 10.
Orange cultivars: Strawflower 'Cockatoo,' Xerochrysum 'Pink Sunrise,' 'White Monarch.'
Orange Star Flowers (Ornithogalum dubium)
Orange star plants (Ornithogalum dubium) are primarily grown for their ornamental orange flowers. Each star-shaped orange flower consists of six petals in an open cup shape, measuring 1" (2.5 cm) across. The orange star flower's center is brown or black, adding to the beauty of the orange plant. Flower clusters contain five to 25 orange flowers.
Orange star plants require full sun, at least six hours daily. Growing orange star plants in direct sunlight ensures more orange flowers and a longer blooming time. On scorching sunny days, provide some afternoon shade.
Outstanding feature: Beautiful orange flowers that make attractive cut flowers in floral arrangements.
Orange star plants perform best in USDA zones 7 to 11.
The orange star plant (Ornithogalum dubium) is a bulbous plant in the hyacinth family Scilloideae. As an attractive perennial plant, the orange star plant grows between 12" and 20" (30 – 50 cm) tall. The plant's dark green to lime-green leaves are lanceolate-shaped and grow 4" to 10" (10 – 25 cm).
Related articles: