Yellow Shrubs: Landscaping Shrubs with Yellow Leaves or Flowers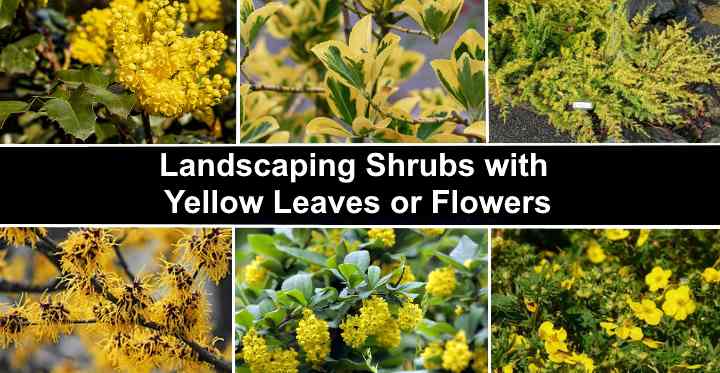 Growing yellow shrubs in your garden is an excellent way of brightening up a landscape. Shrubs with yellow leaves, flowers, or berries provide a splash of bright color that compliments green foliage. Even on drab, overcast winter days, evergreen yellow shrubs continue to provide some brightness. In addition, yellow shrubs can help to mask brown fences or other unsightly garden structures.
Landscaping shrubs with yellow flowers or leaves can create stunning visual effects in your garden or yard. Many varieties of yellow-flowered shrubs are ideal for full sun, partial shade, ground cover, or adding visual height. In addition, many types of yellow-blooming shrubs thrive in various soil types.
Do you want to find good landscaping shrubs to add bold and vibrant yellow colors, texture, height, and fragrance to your garden landscape? This article has descriptions and pictures of the best yellow shrubs for your yard.
How to Choose Yellow Shrubs For the Landscape
To choose yellow landscaping shrubs, it's vital to consider aspects such as USDA growing zones, sunlight, soil types, and the shrub's growth habits. For example, some yellow shrubs or variegated varieties require at least six hours of daily sunshine to retain bright golden yellow colors.
Your growing zone usually determines which shrubs with yellow foliage or flowers can grow in your yard. For example, some yellow evergreen shrubs continue to thrive in freezing temperatures. However, other heat-loving shrubs thrive in semi-tropical climates like Florida.
How to Identify Yellow Shrubs
You can identify yellow shrubs by their leaf shape, growth habit, and the color of the stems and leaves. For example, yellow leaves can be heart-shaped, oval, or pointed and grow oppositely or alternatively on gray, brown, or yellow stems. Other identifying features of yellow shrubby plants could be thorns, flower bud color, and shape.
Evergreen Shrubs with Yellow Leaves (With Pictures) – Identification Guide
Evergreen yellow shrubs are perfect for giving your garden a pop of bright shades of yellow throughout the year. The best yellow shrubs with evergreen foliage are juniper, Chinese privet, and arborvitae cultivars. Also, variegated wintercreeper and holly shrubs have green and bright yellow evergreen foliage.
Gold Mop Cypress (Chamaecyparis pisifera 'Golden Mop') – Small Yellow Shrub
The bright-yellow 'Golden Mop' cypress is a dwarf shrub that forms a conical or rounded mound of golden evergreen foliage. The slow-growing, hardy coniferous shrub has brilliant golden-yellow thread-like leaves through winter and spring. However, the dwarf yellow conifer shrub retains its attractive yellowish-green colors even in summer.
The 'Golden Mop' cypress grows up to 24" (60 cm) after ten years. The dwarf yellow shrub eventually grows up to 5 ft. (1.5 m) tall and wide.
Ideal for growing in USDA zones 4 to 8, the yellow Gold Mop cypress thrives in full sun or light shade. The drought-tolerant shrub grows well as a foundation planting, specimen plant, or container shrub.
Chinese Privet (Ligustrum sinense 'Sunshine') – Dwarf Shrub With Yellow Leaves
The brightly-colored dwarf Chinese privet shrub has chartreuse, yellowish-green ovate leaves growing on reddish-brown stems. The dwarf, evergreen shrub blooms with small white summer flowers that give way to glossy blue-black berries in the fall. The golden-yellow small leafy shrub retains its visual interest throughout the year.
The Chinese privet cultivar 'Sunshine' grows 3 to 6 feet (0.9 – 1.8 m) tall and up to 4 ft. (1.2 m) wide.
This 'Sunshine' Chinese privet thrives in USDA zones 6 to 9 and has the brightest yellow colors in full sun. The low maintenance dwarf shrub is ideal as a small privacy hedge, shrub border, or to brighten up a container garden.
Wintercreeper (Euonymus fortunei 'Emerald 'n' Gold') – Bright Yellow Evergreen Shrub
'Emerald 'n' Gold' wintercreeper is a low-growing evergreen shrub with golden yellow and green variegated leaves. The green oval leaves edged with gold colors brighten up shaded areas in a garden landscape. You can expect the short, ground-hugging yellow shrub to grow 1 to 2 ft. (0.3 – 0.6 m) tall and up to 4 ft. (1.2 m) wide.
Wintercreeper performs best in USDA zones 5 through 9. Because the bright yellow shrub thrives in shaded conditions, it's an excellent ground cover plant for the shade. In addition, its low-growth habit makes it ideal for front-of-house planting, edging along driveways, or a short hedge.
Wintercreeper is a vigorous climber that will quickly cover a wall or fence in golden yellow and green foliage.
All Gold Shore Juniper (Juniperus conferta 'All Gold') – Dwarf Evergreen Shrub With Yellow Color
'All Gold' shore juniper is a dwarf shrub with golden-yellow needle-like leaves. The low-growing, spreading yellowish shrub has soft foliage and a light, airy growth habit. Being an evergreen shrub, the shore juniper has year-long visual interest, from bright yellow leaves in spring to coppery-bronze in winter.
'All Gold' shore juniper thrives in USDA zones 6 through 8. The low maintenance, sun-loving evergreen bush grows 1 ft. (0.3 m) tall and up to 8 ft. (2.4 m) wide, making it ideal for evergreen ground cover in the sun. In addition, the yellowish evergreen foliage makes the shrub ideal for landscaping in front of the house, in rock gardens, or in containers.
Dwarf Golden Evergreen Arborvitae (Thuja orientalis 'Aurea Nana')
The small evergreen arborvitae shrub 'Aurea Nana' has upward growing stems with densely growing sprays of yellow-green foliage. The dwarf evergreen has an overall oval shape and bushy growth habit. The soft needle-like feathery sprays are bright yellow in the spring before turning orange-yellow by winter.
The sun-loving yellow arborvitae 'Aurea Nana' thrives in USDA zones 5 to 9. The dwarf shrub grows 3 to 4 ft. (0.9 – 1.2 m) tall and up to 3 ft. (0.9 m) wide. You can plant the bushy conifer shrub as a specimen plant, low-growing evergreen hedge, foundation plant, or line a pathway or driveway.
False Cypress 'Golden Charm' (Chamaecyparis pisifera 'Golden Charm')
The 'Golden Charm' false cypress is a compact coniferous shrub with soft, thread-like, bright, golden-yellow needles. The attractive, mounding evergreen shrub has semi-weeping branches that create a shrub looking like a mop head. The beautiful non-flowering evergreen shrub keeps its bright greenish-yellow foliage in full sun.
The false cypress 'Golden Charm' is a low maintenance, dwarf shrub that grows well as a specimen landscaping plant, shrub border, evergreen privacy hedge, or container plant. The shrub thrives in full sun, well-drained moist soil, and is cold hardy in USDA zones 4 through 8.
Yellow Flowering Shrubs (With Pictures) – Identification Guide
Growing flowering yellow shrubs can bring a burst of golden yellow color and sweet scents to your garden landscape. Landscaping shrubs with yellow flowers will also attract pollinators to your garden to enhance biodiversity. Here are some eye-catching shrubs with yellow flowers.
Oregon Grape (Mahonia aquifolium) – Thorny Yellow Flowering Shrub
Oregon grape is a prickly shrub with striking clusters of brightly-colored yellow flowers. The small yellow flowers are cup-shaped and form large flower heads covering glossy green jagged leaves. After the golden-yellow flowers finish blooming, clusters of small grape-like blue berries grow on reddish stems.
Oregon grape ornamental shrubs have an upright to spreading habit. The shrubs thrive in landscapes in USDA zones 5 through 8 and require partial sun or full shade to grow best. You can plant the suckering shrub in shade gardens, along north-facing fences, or as foundation plantings.
The slow-growing yellow shrub grows 3 to 6 ft. (0.9 – 1.8 m) tall and 2 to 5 ft. (0.6 – 1.5 m) wide.
Compact Oregon Holly Grape (Mahonia aquifolium 'Compacta') – A Dwarf Evergreen With Yellow Flowers
Oregon holly grape is classed as a yellow shrub because of its abundant yellow flowers blooming in spring. The dwarf, evergreen landscaping shrub blooms with clusters of bright yellow flower spikes that contrast with the dark green, leathery, lance-shaped leaves. The flowers are followed by bunches of dark blue berries.
The Oregon holly grape 'Compacta' is a shade-loving, ground cover plant for USDA zones 5 through 9. The broadleaf, slow-growing evergreen shrub grows up to 3 ft. (0.9 m) tall and 5 ft. (1.5 m) wide.
Agarita (Mahonia trifoliolata) – Compact Shrub With Yellow Flowers
Agarita is a low-maintenance shrub with evergreen foliage and beautiful cup-shaped yellow flowers. The buttercup-like golden flowers appear in early spring and persist through summer. In the fall, the yellow-flowering shrub has gray-green holly-like barbed leaves and bright red edible berries. The yellow shrub grows 2 to 6 ft. (0.6 – 1.8 m) tall and wide.
Agarita shrubs perform best in USDA zones 7 to 9, in full sun and relatively dry ground. The thorny bush is ideal as a security barrier, foundation planting, or planting on slopes.
Small Flowering Potentilla Shrubs (Potentilla fruticosa)
Also called shrubby cinquefoil, yellow-flowering potentilla shrubs are compact, bushy plants with rich yellow five-petalled flowers. The large yellow flowers bloom in late spring and last through the summer until frost. Each sunny yellow flower measures 1.5" (40 mm) across. The flowers are so abundant that they turn the shrub yellow.
Hardy potentilla shrubs thrive in USDA zones 3 through 7. They grow in average, moist soils and tolerate full sun to partial shade.
Landscape uses of potentilla shrubs include informal hedgerows, specimen plants, beds, borders, or foundation plantings.
Yellow Flowering Hibiscus Shrubs (Hibiscus rosa-sinensis)
Some varieties of tropical hibiscus shrubs have huge, trumpet-shaped yellow flowers. Hibiscus flowers are identified by their large papery petals with a ruffled appearance. The spectacular yellow shrub flowers can be double blooms with wavy petals or single blooms in a funnel shape with a large protruding stamen.
For example, one type of yellow-flowering hibiscus shrub is Brackenridge's rosemallow (Hibiscus brackenridgei). This shrub produces tropical yellow flowers measuring 6" (15 cm) across. The rounded golden-yellow petals form a funnel with a deep pink center.
If you live in temperate climates, find out more about hardy hibiscus varieties that can survive harsh winters.
Azalea Shrubs with Yellow Flowers
Many azalea varieties are yellow shrubs blooming with masses of vivid yellow flowers that add a splash of bright colors throughout the growing season. Varieties of azalea shrubs can have red, orange, pink, white, or multicolored blooms. But if you want to brighten up your summer garden, then yellow-flowering azaleas are the best choice.
Some of the best yellow shrub azalea plants are 'Golden Oriole,' honeysuckle azalea, azalea Calendulaceum, 'Klondyke' azalea, and azalea 'Narcissiflorum.'
Depending on the species, azalea shrubs grow 2 to 8 ft. (0.6 to 2.4 m) tall and have a similar width. The bushy shrubs are known for their rounded shape and thick, leathery leaves. Azaleas are cold hardy in USDA zones 4 through 9. However, you should check the hardiness of the individual species before buying.
Related reading: How to care for azalea shrubs.
Border Forsythia (Forsythia x intermedia)
Border forsythia is a yellow, ornamental garden shrub with bright yellow star-shaped blooms consisting of thin, linear petals. The yellow flowers cover the length of the upward growing stems, adding a dramatic yellow accent to spring and summer gardens. The shrubby plant grows as an informal flowering hedge or foundation plant and is ideal for coastal gardens.
Yellow border forsythia thrives in USDA zones 6 through 9 in full sun. It grows 6 to 9 ft. (1.8 – 2.7 m) tall.
Witch Hazel (Hamamelis spp.)
Witch hazel is a fragrant, hardy, yellow-flowering shrub that blooms in winter. The charming yellow shrub is identified by its yellow flowers with spindly petals, attractive oval green leaves, and smooth, brown stems. Plant in full sun or partial shade as a screen, deciduous hedge, or specimen plant.
Witch hazel flowering shrubs thrive in USDA zones 3 to 9 and grow 15 to 20 ft. (4.5 – 6 m) tall and wide.
Winter Jasmine (Jasminum nudiflorum)
Vibrant yellow winter jasmine produces masses of yellow star-shaped flowers in late winter or early spring. The attractive ornamental hardy shrub has vining stems that grow 4 ft. (1.2 m) tall and up to 15 ft. (4.5 m) wide. As a yellow shrub, flowering winter jasmine grows as a sprawling mound.
You can plant winter jasmine in USDA zones 6 through 9 as a specimen plant, mass planting, or allow its trailing vines to cascade over a wall.
Deciduous Yellow Shrubs (With Pictures) – Identification Guide
Deciduous shrubs add yellow color, texture, and structure to the garden throughout the year, even if they don't produce yellow flowers. Yellow twig dogwood, witch hazel, and border forsythia are some of the best deciduous shrubs for a garden landscape.
Japanese Barberry (Berberis thunbergii 'Bogozam') – Shrubs With Yellow Leaves
The Japanese barberry cultivar 'Bogozam' is a yellow-leafed shrub with yellow flowers. The deciduous shrub features a compact, rounded growth habit with small oval yellow leaves that turn paler yellow throughout the season. Inconspicuous yellow flowers appear in spring, followed by red berries in the fall.
The Bonanza Gold has small leaves growing abundantly to form a compact yellow shrub. The low-growing landscape bush grows up to 3 ft. (0.9 m) tall and wide. You can plant this low-maintenance flowering shrub in urban gardens, shrub borders, or cottage gardens.
Japanese barberry 'Bogozam' thrives in USDA zones 6 through 9 in full sun to partial shade.
Sea Buckthorn (Hippophae rhamnoides) – Thorny Shrub With Yellow Berries
Sea buckthorn is a large, deciduous shrub known for its orange or yellow berries. The attractive shrubby plant has slender willow-like leaves on thorny stems, yellowish-green flowers, and long-lasting yellowish-orange fall fruits. Multi-stemmed sea buckthorn shrubs grow 8 to 12 ft (2.4 – 3.6 m) tall and wide.
Sea buckthorn is a cold-hardy shrub that survives freezing temperatures in USDA zones 3 through 8. The suckering shrub has an irregular growth habit but can grow to form a sizable informal hedge or coastal windbreak.
Yellow Twig Dogwood (Cornus sericea 'Flaviramea')

Yellow twig dogwood is a bright-yellow deciduous flowering shrub with spectacular greenish-yellow stems. The upward growing straight golden-yellow branches form colorful thickets in winter. In spring and summer, the yellow shrubs have dark green leaves that turn orange-red in the fall. Creamy-white spring flowers also characterize the multi-stemmed shrub.
Yellow twig dogwood shrubs thrive in USDA zones 3 through 8. The upright shrubs grow 5 to 6 ft. (1.5 – 1.8 m) tall. The shrub stems are golden yellow in fall and winter and greenish-yellow in spring and summer.
Discover the most amazing yellow flowering shrubs. 
Related articles: