Purple Flowering Shrubs (with Pictures) – Identification and Planting Guide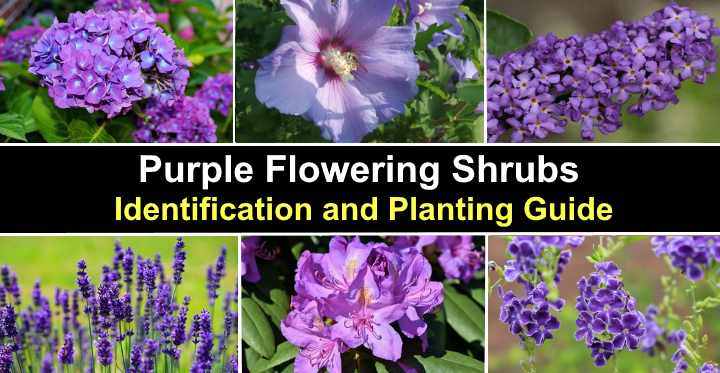 Purple flowering shrubs are excellent additions to your landscape to add beautiful colors. Shrubs with purple flowers can add hues of lilac, lavender, plum, violet, and mauve. In full bloom, the colorful purple bushes contrast with luscious green foliage, creating exciting color combinations. By planting perennial flowering bushes, you have flowers that come back year after year. With evergreen flowering shrubs, your garden can have color in your landscape throughout the year.
Growing purple flowering shrubs in your front or backyard can be straightforward. You should select flowering bushes suitable for your growing zone, hours of daily sunshine, and soil type. In addition, it's always best to choose low-maintenance shrubs to cut down on gardening time. This way, you can enjoy purple flowers and delightful fragrances without spending a long time pruning, fertilizing, and watering the bushy plants.
Even if you don't have a large yard to plant big flower bushes, many purple landscape plants are relatively compact and grow well in containers. For example, when grown in pots, dwarf purple flowering shrubs can decorate a patio, deck, entranceway, or container garden.
This article is a complete guide to the best purple landscape shrubs, bushes, and plants for your garden landscape. In addition, pictures of the purple flowering bushes will help find suitable plants to grow around your house.
How to Choose the Best Shrubs with Purple Flowers
Selecting the best flowering shrubs for your garden depends on several factors. The first factor is location. Flowering evergreen and perennial shrubs can grow as hedges, foundation plants, along borders, or at the back of a flower bed. It's also good to consider the amount of sunlight or shade the plant gets.
One of the most critical factors to ensure flowering shrubs perform at their best is your temperature zone. Many perennial flowering plants thrive in USDA zones 5 through 9. So, you can grow rhododendrons, lilac, rose of Sharon, wisteria, and butterfly bushes in temperate climates. However, purple shrubs like fuchsias, bougainvillea, and golden dewdrops need warm temperatures to thrive outdoors.
Purple Flowering Shrubs (Pictures and Descriptions) – Identification
Let's look in detail at beautiful flowering shrubs that will fill your garden with blooms of purple shades from spring through fall.
Purple Hydrangea Shrubs (Hydrangea macrophylla)
Hydrangeas are large deciduous shrubs with showy flowers, including spectacular purple blooms. Purple hydrangea shrubs can be identified by their large globe-like bluish-purple blooms that are made up of small five-petaled flowers. Depending on the type of hydrangea, the large purple flower heads can measure between 4" and 14" (10 – 35 cm) across.
The various types of flowering hydrangea bushes are bigleaf hydrangeas, smooth hydrangeas, panicle hydrangeas, and oakleaf hydrangeas. Typically, most varieties of purple hydrangea bushes are the bigleaf Hydrangea macrophylla variety. These flowering bushes grow in zones 5 to 9. Under the right conditions, the flowering perennials will bloom all through summer until the end of fall.
Related reading: How to care for hydrangea flowering bushes.
Purple Fuchsia Shrubs
Fuchsia is a type of small flowering shrub that is a popular garden plant for its colorful purple, pink, and red flowers. Fuchsia shrubs grow 1 to 2 ft. (0.3 – 0.6 m) tall and produce decorative drooping flowers with a purple tear-shaped center called a corolla surrounded by bright red or pink petals.
Purple flowering fuchsia shrubs are ideal for planting in mixed borders, along walls, or in containers. The attractive arching branches contain numerous pendulous flowers creating a showy red and purple floral display. You can grow fuchsia shrubs in the ground in USDA zones 8 through 11. However, varieties of hardy flowers are cold hardy to zone 6. Plant your fuchsia shrubs in a shady location or in an area that gets morning sun and afternoon shade.
Purple Flowering Rhododendron Shrubs
Many varieties of rhododendron shrubs bloom with showy purple, purplish-pink, or mauve flowers. The funnel-shaped purple flowers have frilled petals and grow up to 4" (10 cm) wide. When in bloom, the trumpet-like colorful flowers give off a pleasant fragrance. These hardy flowering bushes thrive in USDA zones 5 through 9; however, there is variation among varieties.
Rhododendrons thrive in full sun or partial shade and easily grow in well-drained soils. If the large rhododendron shrubs are too big for your yard, choose from the compact, purple-flowering dwarf rhododendrons that grow between 3 and 6 ft. (1 – 2 m) tall and wide.
With the proper pruning, rhododendrons are excellent front-of-house plants or colorful foundation plantings.
Azalea
Azalea shrubs belong to the rhododendron genus, and many varieties produce stunning purple blooms. Some types of evergreen azaleas have deep purple flowers that last the whole summer. Other deciduous purple azaleas have flowers that come back year after year. Azaleas perform best in full sun to partial shade and grow between 3 and 8 ft. (1 – 2.4 m) depending on the species.
Varieties of purple-flowering azaleas include the Formosa azalea, 'Autumn Lilac,' 'April Rose,' and Satsuki evergreen azaleas.
You can also grow purple rhododendron and azalea shrubs as a flowering hedge. The evergreen plants have dense growth, ideal for privacy screens, living fences, and security hedges. From late spring throughout the summer, the leafy green foliage seems to come alive with lilac, purple, and violet shades.
Related reading: How to care for azalea shrubs.
Bluebeard (Caryopteris x clandonensis)
Bluebeard is a small flowering deciduous shrub with silvery-green foliage and small bluish-purple flowers on upright stems. This low-growing, clump-forming shrub grows 2 to 3 ft. (0.6 – 1 m) tall. The purple blooms appear in late summer and early fall and fill the garden air with pleasant scents.
Bluebeard shrubs grow best in USDA zones 6 through 9. It is best to plant the sun-loving shrub in well-drained soil. Because the purple shrub is relatively tolerant of drought, it's an excellent low-maintenance plant for front gardens, perennial borders, butterfly gardens, or containers.
Butterfly Bush (Buddleja)
The butterfly bush is identified by its stunning cone-shaped clusters of purple flowers. The purple perennials shrubs bloom in mid-summer, and the flowers persist until frost. Masses of spectacular lilac-colored flowers cover the rounded shrub, attracting butterflies and producing sweet scents. The bushy butterfly shrubs grow between 5 and 10 ft. (1.5 – 3 m) tall.
For a compact garden, choose from a dwarf variety of butterfly bushes. The beautiful flowering shrubs have showy conical purple flowers. All types of butterfly bush are ideal for foundation planting, container growing, cottage gardens, or perennial borders.
Lavender (Lavandula spp.)
Lavender is a small herbaceous plant or small shrub producing spikes of fragrant purple flowers. The tall flowering spiked clusters can be in shades of violet, lilac, light blue, or dark purple. Also called common lavender, the woody shrub-like perennial grows in clumps and typically grows 2 to 3 ft. (0.6 – 1 m) tall.
Purple lavender shrubs thrive in USDA zones 5 through 9. They are low-maintenance perennial flowering shrubs that grow in full sun and well-drained soil. Although lavender plants with purple flowers are the most common varieties, there are also types with white-flowering lavender (Lavandula angustifolia 'Nana Alba') and lavender with pink flowers (Lavandula angustifolia 'Rosea').
Lilac Shrubs (Syringa vulgaris)
Lilac is a large, rounded flowering shrub producing clusters of purple, violet, lavender, rose, magenta, and lilac-colored flowers. The large cone-like flower clusters (panicles) grow up to 8" (20 cm) long and produce a strong fragrance. Lilac flowers bloom for up to four weeks in late spring.
Flowering lilac shrubs typically grow 8 to 15 ft. (2.4 – 4.5 m) tall and wide. However, for smaller yards, you can plant dwarf lilacs that don't grow taller than 4 feet (1.2 m). A benefit of growing lilac shrubs is that they are cold-hardy in zone 3 and thrive in most soil types.
You can grow lilac shrubs as deciduous hedgerows, specimen plants, or screens for privacy in the summer.
Related reading: Lilac Bush: Facts, Flowers and Growing Guide.
Clematis 
Clematis is a group of flowering vines, some of which have shrub-like growth and produce purple flowers. Herbaceous clematis is a type of clump-forming perennial with flowers and leaves like the climbing varieties. The bell-shaped drooping flowers have four or five curved purple or blue petals that appear in summer and fall.
Non-climbing clematis shrubs are typically low-growing and reach between 1 and 8 ft. (0.6 and 2.5 m) tall and up to 3 ft. (1 m) wide. The woody shrubs die back in late fall and remerge in spring to bloom again in early summer. Planting clematis in full sun ensures plenty of beautiful blooms.
Purple Flowering Jane Magnolia (Magnolia liliiflora x Magnolia stellata)
The Jane magnolia is a slow-growing purple flowering shrub or a small tree that produces showy, cup-shaped fragrant flowers.
Jane magnolia shrub has purple-pink large tulip flowers that grow up to 8" (20 cm) across. The landscaping shrub's foliage is made up of 6-inch (15-cm) long, ovate shiny green leaves.
The compact Jane magnolia bush grows between 10 and 15 ft. (3 – 4.5 m) tall. Purple flowering Jane magnolia grows best is USDA zones 4 – 8 in full sun to part shade.
The Jane magnolia is part of a series of hybrids of the Magnolia liliiflora and Magnolia stellata called "The Little Girl Series." Some of the other magnolias in the series are 'Susan' magnolia with purplish-red blooms and the 'Ann' magnolia with deep-purple, pink flowers.
Golden Dewdrops (Duranta erecta)
Golden dewdrops is a heat-loving evergreen shrub with vibrantly colored clusters of violet and white flowers. The star-shaped purple flowers consist of five purple petals with white margins. The loose dangling panicles on arching stems grow up to 6" (15 cm) long and emit a sweet vanilla-like fragrance.
In subtropical climates, golden dewdrops grows as an evergreen ornamental shrub. However, it is only cold-hardy in zones 10 and 11. Therefore, in temperate climates, you must grow this show-stopping shrub in a container and overwinter it indoors or grow as an annual.
As a word of warning: after the purple flowers fade, brightly colored orange berries appear. While birds enjoy consuming them, the berries are highly poisonous to humans and animals.
Evergreen Purple Flowering Bougainvillea Shrub
Bougainvillea is an evergreen thorny vining plant or spreading shrub that produces masses of purple, magenta, or pink flower-like bracts throughout the summer. The flowers on a bougainvillea shrub are actually tiny white blooms. The intense color of the plant is from the showy bracts surrounding the flowers.
Flowering evergreen bougainvillea shrubs are common in southern states. In addition, the showy, colorful bushes adorn gardens in Florida, California, South Carolina, and countries around the Mediterranean.
Bougainvillea is a scrambling shrub that grows between 3 and 40 feet (1 to 12 m) tall. The papery red, white, pink, or purple-like flowers appear throughout the summer when grown in zones 9 and 10.
Purple Crape Myrtle Bushes (Lagerstroemia indica)
Crape myrtle is a beautiful flowering shrub with large purple showy flowers, a broad, spreading crown, and attractive leaves. Other identifiable features of the crape myrtle shrub are cinnamon-colored bark and bright orange-red fall foliage. The purple flower clusters appear in late summer and persist until the fall.
There are several varieties of crape myrtle shrubs. Some dwarf shrubs grow 2 to 4 ft. (0.6 – 1.2 m) tall, whereas larger shrubs grow between 5 and 15 ft. (1.5 – 4.5 m) tall and up to 10 ft. (3 m) wide.
Varieties of crape myrtle shrubs with purple flowers include Catawba Crape Myrtle (Lagerstroemia indica 'Catawba'), 'Early Bird Purple,' 'Early Bird Lavender,' and 'Purple Magic.'
Related reading: How to care for crape myrtle bushes.
Rose of Sharon (Hibiscus syriacus) 
Rose of Sharon is a type of hardy hibiscus shrub with showy trumpet-shaped pale purple flowers and a deep purple throat. The five-petaled flowers have ruffled petals, a large protruding stamen, and a sweet fragrance. A colorful rose of Sharon shrub can grow 8 to 12 ft. (2.4 – 3.6 m) high and up to 10 ft. (3 m) wide.
A rose of Sharon shrub thrives in USDA zones 5 through 8 in full sun to partial shade. Plenty of sunshine encourages the deciduous perennial to produce masses of colorful flowers. Depending on the species, the light purple or pink flowers can be single or double and bloom for a long time.
Plant a rose of Sharon shrubs as a foundation planting, summer hedge, or shrub border. With the proper pruning and training, you can also grow a spectacular hibiscus tree.
Related reading: How to care for hibiscus shrubs.
Wisteria
Wisteria is a flowering vine that can grow as a spectacular shrub. The fragrant flowering plant produces masses of white, pink, and purple blossoms on drooping clusters. The eye-catching ornamental flowers on a wisteria plant can be 12" to 18" (30 – 45 cm) long. As a blooming vine, wisteria grows 10 to 25 ft. (3 – 7.6 m) tall.
To enjoy purple wisteria flowers, you can also grow the woody vining plant as a small shrub-like tree. You should prune suckers that appear and stake the central stem for support. In time you will have a small flowering shrub around 6 ft. (1.8 m) tall and up to 10 ft. (3 m) wide.
Alternatively, you can also grow wisteria as a container shrub to enjoy the lavender or purple flower clusters.
Purple Rose Shrub
There are several varieties of purple-flowering rose shrubs that can add dramatic color to your summer garden. Shrub roses are some of the most spectacular flowers for your landscape. Rose shrubs can grow between 4 and 6 ft. (1.2 – 1.8 m) tall and produce masses of showy blooms in deep plum-purple, pale lilac, and pinkish-purple.
Most varieties of purple shrub roses have an informal, bush-like growth. The purple flowers can be open flowers with five petals, or they can have multiple frilly petals forming a double flower.
Winter Heath (Erica x darleyensis)
Winter heath is a low-growing woody shrub that produces clusters of urn-shaped pinkish-purple or pink-lilac flowers. The bushy heath shrubs grow around 18" (45 cm) tall and can be identified by their thin needle-like evergreen leaves growing on erect stems. The tiny light purple or dark pink bell flowers grow on the length of the stem, contrasting with the dark green leaves.
Winter heath is a winter-flowering ornamental plant that blooms in late winter to early spring. The spectacular evergreen foliage and pale purple or pink flowers contrast with the snow and provide color to a barren landscape.
Heather (Calluna vulgaris)
Heather is an evergreen shrub that produces clusters of tiny flowers in shades of purple, mauve, pink, and red. The ornamental flowers grow as racemes on the end of upright woody stems. Unlike the related winter heath, heather typically blooms in late summer and fall. Heather grows 8" to 20" (20 – 50 cm) tall.
The cold-hardy wild shrub can turn landscapes into spectacular shades of purple when in bloom. In addition, some ornamental varieties of heather have attractive red or gold foliage that becomes more intense in cold weather.
Grow heather in containers or along borders for year-long evergreen foliage and light purple summer and fall flowers.
Russian Sage (Salvia yangii)
Russian sage is a small herbaceous shrub with upward growing thin stems covered on lavender-blue flowers. The blue to violet blossoms appear from mid-summer until late fall. The spray of airy stems creates a hazy, pale purple effect in summer landscapes.
Additionally, the aromatic leaves have a sage-like aroma when crushed. Russian sage grows 1.6 to 4 ft. (0.5 – 1.2 m) tall.
Russian sage is ideal for growing as a deciduous perennial in shrub borders, along driveways, and in containers. In addition, the purple lavender flowers persist on the shrub despite drought, making the flowering shrub ideal for xeriscaping.
Related articles: