Red Flowering Shrubs (With Pictures) – Identification and Planting Guide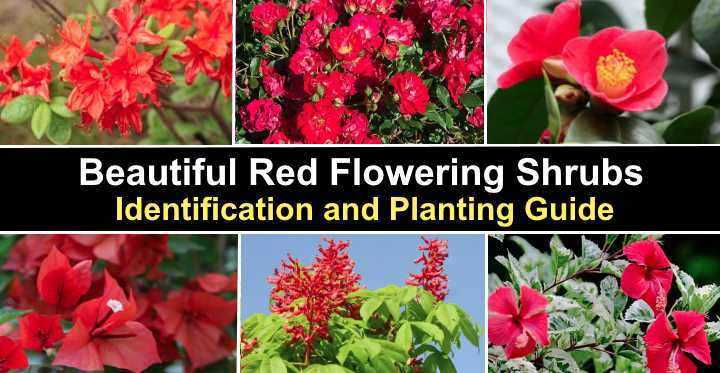 Red flowering shrubs are excellent landscaping plants for adding bright, vibrant, and dramatic colors to your yard. Shrubs with red blooms can range in color from shades of deep, wine-red and burgundy to dark pink, crimson, and light coral. The hues of reds from flowering shrubs help create beautiful, colorful landscape designs. 
Planting perennial red-flowering shrubs is ideal for having a pop of red color in a low-maintenance garden. Many evergreen shrubs bloom with spectacular red flowers from spring until fall. And, apart from filling your yard with bright red colors, red-flowering shrubs also give off floral fragrances.
This article is a guide to choosing the best red-flowering shrubs for your front or backyard. Descriptions and pictures of shrubs with various shades of red blooms will help you select the best bushy plants for your garden.
How to Choose the Best Shrubs With Red Flowers
Selecting the best red-flowering shrubs to plant in your garden depends on a few considerations. First, it's crucial to think about sun exposure and the USDA growing zone. Then, consider the shrub's height and spread. Some red landscape plants grow better as specimen plants, but others in mass plantings. 
For example, some perennial flowering bushes are ideal for zones 5 through 9. So, red-flowering shrubs like roses, flowering quince, and dwarf spirea are suitable for adding a splash of red in temperate climates. However, camellia, fuchsia, and hibiscus shrubs are best grown in warmer climates if you want red flowers in your garden. 
Red-Flowering Shrubs (With Pictures): Identification and Planting Guide
Do you want to identify the best shrubs with red flowers for your garden landscape? Then, please continue reading to learn about spectacular red landscaping bushy plants.
Red Flowering Azalea Shrubs (Rhododendron spp.)
Red azalea shrubs are identified by their masses of showy red flowers blooming from mid-spring until summer. There are many red-flowering azaleas to choose from. The large red flowers can range in size from 3" (7.5 cm) in diameter to small pinkish-red blossoms of about 1.5" (3.8 cm). 
Azaleas can be either evergreen or deciduous shrubs and they can have  blossoms in white, lilac, pale pink, orange, yellow, and vibrant red. The red azalea flowers can be spectacular double-flowered blooms with overlapping, ruffled petals. 
Red azaleas can grow between 3 and 6 ft. (1 – 1.8 m) tall and wide, depending on the cultivar. 
Red azalea shrubs perform best in full sun to partial shade. However, the trusty spring-blooming shrubs may also continue flowering through to fall in milder climates. There are also hardy azalea cultivars like 'Hino Crimson,' 'Flame Azalea,' and 'Girard's Fuchsia' that thrive in growing zone 5.
Related reading: How to care for azalea shrubs.
USDA zone: 6 to 9
Red Flowering Rose Bushes (Rosa)
Red roses are classic flowers symbolizing passion and romance. Red rose bushes have eye-catching showy flowers to brighten your garden landscape. The perennial red flowering bushes bloom in summer with large, multi-petalled red blossoms growing on woody stems. Red rose flowers are identified by their rosette form. 
Red shrubby roses typically grow between 4 and 6 ft. (1.2 – 1.8 m) tall. For best results, plant the shrubs in full sun, where they get at least six hours of sunlight daily. The fragrant red flowers look spectacular, growing as a security screen, foundation planting, specimen plant, or shrub border.
USDA zone: 5 to 11
Red-Flowering Chinese Quince (Chaenomeles speciosa)
Chinese quince is identified as a cold-hardy, woody shrub with cup-shaped red flowers. The attractive red quince blooms consist of five papery petals in an open bowl shape that blossom in spring. The thorny shrub has serrated, ovate dark green leaves, and small fruits ripen by early fall after flowering.
Red flowers grow in small clusters of two to four on the flowering quince shrub. Typically, the delicate flowers measure up to 1.6" (4 cm) across. By early spring, the red flower clusters transform the shrub into a mass of crimson red colors.
Red-flowering Chinese quince grows 4 to 5 ft. (1.2 – 1.5 m) tall and up to 8 ft. (2.4) wide. The robust shrub is ideal as a deciduous flowering hedge, specimen plant, foundation planting, or to grow against a wall. 
Edible quince fruits are also known for being bitter; therefore, they are typically used to make jellies and preserves. 
USDA zone: 5 to 9
Red Hibiscus Shrubs (Hibiscus)
Hibiscus shrubs are characterized by their showy trumpet-like red, orange, pink, yellow, and white flowers. Red hibiscus flowers have delicate crepe paper-like petals that form an open star or funnel shape. Fragrant red flowers on hibiscus shrubs can grow up to 8" (20 cm) across and bloom in summer and fall.
There are two types of hibiscus shrubs—tropical hibiscus and hardy hibiscus. You can grow flowering tropical hibiscus in gardens in zone 10 and above. Hardy hibiscus (also called rose mallow) performs well in zones 5 to 9. 
One of the most common garden shrubs is the rose of Sharon hibiscus plant (Hibiscus syriacus). This late-blooming shrub grows 8 to 12 ft. (2.4 – 3.6 m) tall and is identified by its large, showy funnel-shaped flowers.
Related reading: How to care for hibiscus shrubs.
USDA zone: 5 to 11
Dwarf Spirea Shrubs (Spiraea japonica)
Dwarf spirea shrubs have some red-flowering varieties with clusters of burgundy red flowers in an umbrella shape. The red spirea flowers bloom in spring and become a more vibrant crimson shade as the season progresses through summer. The deep red aromatic flower clusters stand out well with the dark green foliage. 
Although deciduous spirea shrubs tend to have white flowers or pink blossoms, the red cultivars add a dramatic pop of color to a landscape. 
The red-flowering dwarf shrubs grow 2 to 3 ft. (0.6 – 1 m) tall and wide. Although the long-blooming shrubs are ideal for planting at the front of house, you can also grow the shrubs in borders, hedges, or as a specimen plant in full sun. Additionally, the shrubs are suitable for deer-resistant gardens. 
USDA zone: 3 to 8
Shrubby Fuchsia Vines
Blooming in early summer, shrubby fuchsia vines have vibrant crimson, deep pink, or showy red flowers. Red fuchsia flowers are unique because they are bell-shaped with long protruding stamens. The red flowers dangle from woody branches. Heat-loving flowering fuchsia shrubs only grow up to 2 ft. (0.6 m) tall.
Although typically a red-flowering vine, the hardy fuchsia cultivar 'Beacon' is a small shrub. The attractive flowers bloom in mauve-pink, lipstick red, and bright crimson shades. Best planted in full sun or partial sun, the small shrub is ideal for growing in containers, borders, cottage gardens, or along a foundation line. 
USDA zone: 7 to 10
Red-Flowering Climbing Clematis Shrub
Red flowering clematis shrubs are identified by their deep red, star-shaped, bell-shaped flowers, lanceolate leaves, and low-growth habits. The showy flowers bloom in spring and summer and thrive in full sun. Typically, shrubby clematis plants grow between 3 and 5 ft. (1 – 1.5 m) tall. 
Bush-forming clematis plants are ideal for planting in perennial borders, foundation plantings, or along driveways. The bushy plant also performs well in containers where its sweet-smelling blooms can fill patios and deck areas with floral scents.
Red-flowering clematis plants are typically sprawling vines with large, showy flowers. However, some clematis varieties have upright, shrub-like growth. Types of shrubby clematis plants include Clematis integrifolia, Clematis heracleifolia, and Clematis hexapetala. 
USDA zone: 4 to 9
Red Bougainvillea Shrub
Bougainvillea is a sprawling, perennial blooming shrub with masses of magenta, pink, or red flowers. Other identifying features of bougainvillea shrubs are heart-shaped leaves, thorny woody stems, and clusters of tiny flowers in the middle of bright red bracts. Bougainvillea shrubs can grow 15 to 40 ft. (4.5 – 12 m) wide or tall (if supported).
Bougainvillea plants are easy to identify in a tropical landscape. The woody vines usually climb over walls or grow over trellises or arbors. You can train the sprawling woody vine to grow as a shrub. Red bougainvillea is ideal as a privacy hedge and pergola plant in a hot summer landscape. 
You can also train a bougainvillea shrub to grow in containers as a small flowering shrub-like tree.
Red bougainvillea shrubs keep their vibrant colors throughout the season because the 'flowers' are bracts—a type of modified leaf. 
USDA zone: 9 to 11 
Red Bottlebrush Shrub (Callistemon)
The red flowering bottlebrush shrub has easily identifiable flowers that look like a cylindrical brush used for cleaning bottles. The evergreen, heat-loving bottlebrush shrub is identified by its arching branches, lance-shaped leaves, and red flowers that emit a lemon-like aroma. The large shrub or small flowering tree grows between 3 and 25 ft. (1 – 7.5 m) tall.
Red bottlebrush shrubs are evergreen plants that thrive in warm zones. The spiky red flowers bloom throughout the year. Apart from the attractive, fragrant red bottlebrush flowers, the shrub has lance-shaped leaves and large numbers of woody seed capsules. 
In cooler climates, the red bottlebrush shrub grows as a small shrub 3 to 5 ft. (1 – 15. m) tall. The bushy red shrub is ideal for growing as a container plant, or you can use it as a hedge, wall-side border, or foundation plant. In warmer climates, the large shrub can grow as a small tree up to 25 ft. (7.5 m) tall and 20 ft. (6 m) wide.
USDA zone: 10 to 11
Chinese Fringe Flower (Loropetalum chinense 'Ever Red')
The Chinese fringe flower is noted for its brightly colored delicate red flowers with spindly petals and dark burgundy leaves. The red clusters of flowers emerge among the dark leathery leaves in late winter and early spring. The contrast between bright pink-red flowers and dark foliage is outstanding.
The Chinese fringe flower 'Ever Red' evergreen shrub grows 6 ft. (1.8 m) tall. The versatile red-flowering shrub is ideal as a specimen plant growing in full sun. You can also use the red landscape plant as a hedge, privacy screen, foundation planting, or container plant. 
USDA zone: 7 to 9
Red Flowering Maple Shrub (Abution)
The red-flowering maple shrub is identified as a low-growing rounded bushy plant with brilliant red, cup-shaped flowers. The attractive dwarf shrub, with its red flowers, blooms from summer until the first frost. The sun-loving shrub has maple-like leaves growing on arching branches. The small shrub doesn't grow taller than 1 ft. (30 cm).
The short, red-flowering maple shrub performs best in full sun to partial shade. However, it needs a frost-free location to grow outdoors throughout the year. Thanks to its gracefully cascading branches, the attractive red flowers and drooping growth are ideal for hanging baskets or containers.
USDA zone: 8 to 10
Red Buckeye Shrub (Aesculus pavia)
The red buckeye grows as a large shrub or small tree covered in rich red flowers from mid spring until late summer. The large, rounded shrub-like tree has deciduous foliage consisting of narrow dark green leaves. The multi-stemmed tree grows 12 to 15 ft. (3.6 – 4.5 m) tall.
From the middle of spring, the red buckeye blooms with conical clusters of red flowers that give way to brown seed capsules. Although the large shrub performs best in full sun, it needs protection from the afternoon sun in the hottest climates.
The attractive fiery red clusters of flowers are why the tree is also called the firecracker plant.
USDA zone: 5 to 9
Evergreen Red Flowering Camellia Shrubs (Camellia sinensis, Camellia japonica)
Camellia shrubs are easy to identify due to their large showy red to dark pink flowers blooming among glossy, leathery green leaves. Flowering evergreen camellia shrubs with their showy red and yellow stamens flowers grow as large shrubs or small trees. Camellia shrubs grow 6 to 10 ft. (1.8 – 3 m) tall. 
Red-flowering camellia shrubs perform best in partial shade. The leathery green leaves have serrated margins and measure 2" to 4" (5 – 10 cm) long. And the shrub's attractive flowers are typically showy, double flowers with red, burgundy, or pink petals that measure up to 6" (15 cm) across.
One of the reasons to plant a camellia shrub is that the red flowers persist for several weeks. However, the striking red, crimson, and dark pink blooms can also emerge at any time of year, depending on the zone and variety. 
USDA zone: 7 to 9
Red Hydrangea Shrubs
Red hydrangeas shrubs are unique flowering plants due to their vast rounded flowerheads consisting of many small flowers. The small shrubs are identified by their ovate green leaves with serrated margins and a pointed tip. The individual cup-shaped red petals contrasting with the dark green foliage create an attractive visual accent in a garden landscape.
Many red hydrangea shrubs are dwarf varieties that grow between 3 and 4 ft. (1 – 1. 2 m) high. Depending on the cultivar, the large rounded or conical blooms can be reddish-white, bright red, pinkish-red, or coral-red. 
A unique growth feature of hydrangea flowers is that their pastel shades depend on the soil's pH levels. Therefore, red hydrangeas growing in acidic soil may have a different shade from shrubs growing in slightly acidic soil. 
Related reading: How to care for hydrangea shrubs.
USDA zone: 3 to 8
Related articles: