Small Ornamental Trees For Flower Beds (Pictures) – Identification Guide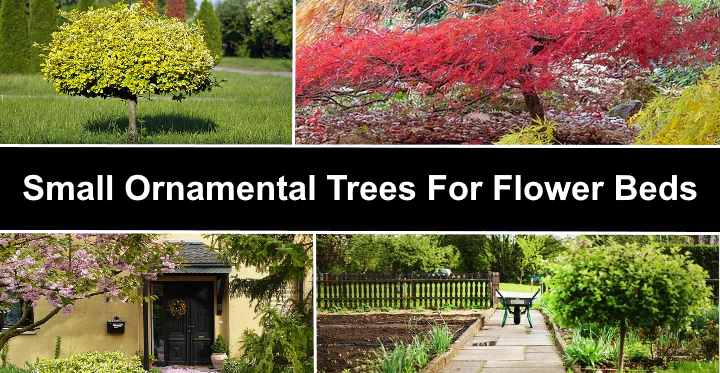 Small ornamental trees are crucial for landscaping, bringing color, vibrancy, and wildlife to your flower beds. Planting small and dwarf flowering or weeping trees means that they don't crowd other flowers or shrubs. In addition, a small ornamental tree won't block out light, potentially impacting other decorative plants in your yard.
There are plenty of compact species of trees under 10 feet tall that won't outgrow a small yard or garden. For example, weeping Japanese maple trees, flowering crabapple trees, or dwarf evergreen conifers stay small and manageable. Growing a small ornamental tree in the right location can make an excellent focal point in your front or backyard and be beautiful throughout the year.
Even if you don't have a flower bed to plant a small ornamental tree, many dwarf cultivars grow well in pots. So, you could still have a small flowering tree in a container garden, patio, balcony, or deck area.
This article is a guide to choosing the best ornamental trees that don't grow more than 10 ft. (3 m) tall. These small flowering deciduous and evergreen trees can be an attractive addition to a flower bed or container garden.
How to Select Small Trees for Flower Beds
When selecting an ornamental tree, it's crucial to consider your garden's hardiness zone, sun exposure, type of soil, and surrounding plants. Also, it's good to think about the plant's mature size to ensure it complements the landscape and visual appearance. Then, it would be best if you thought about how much maintenance the decorative tree requires.
Small Ornamental Weeping Trees Under 10 Feet Tall (With Pictures)

Small ornamental weeping trees with their graceful branches and attractive foliage are ideal for adding beauty to your garden landscape. You can plant them to create a focal point in the flower bed or add additional height.
'Red Dragon' Weeping Japanese Maple Tree (Acer palmatum dissectum 'Red Dragon')
The stunning dwarf weeping Japanese maple 'Red Dragon' has an elegant cascading structure with beautiful leaves that are burgundy to vibrant red and crimson. The rich red feathery maple leaves have pointed lobes and can grow 5" (12 cm) long. The small ornamental weeping Japanese maple tree grows to between 6 and 8 ft. (1.8 – 2.4 m) high.
The deciduous weeping small maple tree performs best in partial shade to prevent color fading from the crimson red leaves. The ornamental weeping tree also has an umbrella-like canopy, spreading up to 5 ft. (1.5 m) tall. Suitable for USDA zones 5 through 8.
Further reading: Dwarf Japanese maple trees.
Dwarf Weeping Mulberry (Morus alba 'Chaparral')
The weeping mulberry is a broadleaf, deciduous tree with a weeping habit. This small, cascading tree has dense foliage consisting of shiny, dark green leaves. After flowering, the tree produces abundant clusters of white berry-like fruits. Ideal for growing as a small specimen tree, the weeping mulberry reaches 6 ft. (1.8 m) tall.
A weeping mulberry is easy to grow in USDA zones 4 through 8. The versatile ornamental weeping tree adapts to most soils and performs well in full sun to partial shade. Its deciduous foliage creates an attractive mound.
Further reading: Types of mulberry trees.
Japanese Weeping Cherry (Prunus serrulata 'Kiku-Shidare-Zakura')
Often called sakura, Japanese dwarf weeping cherry trees have stunning pink, showy blossoms. The cherry leaves make up dense foliage on the umbrella-like tree canopy. In the fall, the leaves turn to a golden yellow color with hints of orange and bronze. The pendulous branches provide plenty of year-long interest.
The bark on Japanese dwarf weeping cherry trees is shiny, smooth with a copper color. This feature gives the weeping dwarf cherry tree plenty of interest in winter months when the droopy branches are bare.
Japanese ornamental dwarf weeping cherry trees grow in USDA zones 4 through 9 and need full sun. These cherry trees grow to around 10 ft. (3 m) tall.
Further reading: Dwarf weeping cherry trees.
Small Flowering Trees Under 10 Feet Tall For Small Yard Spaces (With Pictures)

Small flowering trees are a great way to add color and interest to flower beds in your garden. They produce beautiful, sweetly scented flowers when in bloom from spring until fall. Small or dwarf flowering trees have all the beauty of larger ones, just in a small package.
Sargent Crabapple (Malus sargentii)
The 'Sargent' crabapple is a small ornamental landscape tree that is under 10 feet tall. The small beautiful tree has a spreading crown and zigzagging branches covered in white flowers in spring and dense foliage in summer and fall. Because of its compact size, the flowering crabapple is ideal for growing near flower beds.
The small flowering crabapple tree grows between 6 and 10 ft. (1.8 – 3 m) tall and up to 12 ft (3.6 m) wide. The slow-growing deciduous fruit tree produces clusters of small crabapples the size of cherries.
Lollipop Crabapple (Malus 'Lollizam')
'Lollipop' crabapple trees have dense compact growth and produce clusters of fragrant white flowers every spring. 'Lollipop' crabapples get their name from their unusual growth. The upturned branches give the small crabapple tree a lollipop shape with its straight thin trunk and rounded growth. The compact dwarf crabapple tree keeps its shape without much pruning and turns yellow in autumn.
'Lollipop' crabapples grow up to 8 ft. (2.4 m) high and spread and thrive in full sun in zones 4 to 8.
Further reading: Types of crabapple trees.
Star Magnolia Ornamental Flowering Tree (Magnolia stellata)
The star magnolia is a small flowering tree producing masses of star-shaped, brilliant white flowers in early spring. The eye-catching, gently fragrant flowers have up to 18 petals and measure 4" (10 cm) across. After the white blooms fade, glossy green leaves appear that last throughout the summer until fall.
With its shrub-like growth, the star magnolia is an ideal ornamental tree for small gardens because it is less than 10 feet tall. The star magnolia tree grows around 6.5 ft. (2 m) tall and wide. Plant the tree in full sun or light shade, sheltered from the wind.
Another dwarf magnolia that grows as a small flowering tree or shrub is the magnolia 'Susan.' This ornamental plant has stunning reddish-purple cup-shaped blossoms. It grows 10 ft. (3 m) tall and 6.5 ft. (2 m) wide.
Related reading: How to care for magnolia trees.
Small Flowering Crape Myrtle Trees

Many varieties of crape myrtle trees are ideal for flower bed planting due to their compact size. In addition, the bushy, dwarf trees have deciduous or evergreen leaves, depending on the climate. When it blooms, the ornamental tree produces colorful flowering spikes consisting of papery flowers.
Here are some crape myrtle varieties suitable for compact landscaping requirements. Most cultivars grow outdoors throughout the year in USDA zones 7 to 10.
Tonto Crape Myrtle (Lagerstroemia indica x fauriei 'Tonto'): Grows 10 ft. (3 m) tall and produces brilliantly colored pinkish-red blooms and purple-red foliage in the fall.
Acoma Crape Myrtle (Lagerstroemia indica x fauriei 'Acoma'): The dwarf, bushy crape myrtle tree has clusters of pure white showy flowers made up of ruffled petals. This dwarf flowering tree grows 10 ft. (3 m) tall.
Rhapsody in Pink Crape Myrtle (Lagerstroemia indica 'Whit VIII'): The deciduous ornamental tree has lush, dark green foliage and light-pink spring blossoms. The compact tree grows 6 to 10 ft. (1.8 – 3 m) tall.
Pink Velour Crape Myrtle (Lagerstroemia indica 'Pink Velour'): The shrub-like tree is a long-blooming cultivar that produces spectacular ruffled pink flowers from mid-summer until late fall. Ideal for USDA zones 6 through 9, the bushy tree grows around 6 ft. (1.8 m) tall.
Amelanchier 'La Paloma' (Dwarf Serviceberry)
The serviceberry 'La Paloma' is an upright deciduous shrub or small tree with shiny bronze-red leaves that turn dark green then brilliant shades of orange in the fall. The dwarf flowering tree is famous for its abundant fragrant white flowers that blossom in spring, followed by berries that ripen to red or purple-black in early summer.
The dwarf serviceberry tree grows around 8 ft. (2.4 m) high and thrives in full sun to partial shade. You can plant the tree as a specimen plant in moist, well-drained soil in USDA zones 4 through 8.
Related reading: Serviceberry trees and shrubs.
Purple Leaf Sand Cherry (Prunus × cistena)
The purple leaf sand cherry is a superb small ornamental tree to complement flower beds, container gardens, and compact yards. This gorgeous tree has maroon, purple, or red leaves that provide a stunning contrast with pinkish-white flowers throughout spring. The shrub-like tree grows around 6.5 ft. (2 m) tall.
The purple leaf sand cherry tree produces clusters of strong-tasting edible berries. The attractive tree is ideal as a specimen tree. Because of its shrubby growth, you can also grow the tree as an evergreen or deciduous hedge. In cooler climates, the lush foliage turns bronze.
Plumeria
Also called the frangipani trees, plumeria is a group of exotic semi-evergreen dwarf trees for tropical or subtropical landscapes. The attractive plumeria trees have a rounded crown and bloom with fragrant, exotic, showy pinwheel flowers in red, white, pink, and yellow shades. The trees grow 6 to 8 ft. (1.8 – 2.4 m) tall.
Plumeria trees are suitable for growing in USDA zones 9 through 12. The fast-growing trees are ideal for growing in Florida and other hot, humid regions. You can grow plumeria as a small potted tree in temperate regions and overwinter it indoors.
Related reading: How to care for plumeria trees.
Small Decorative Trees For Landscaping (With Pictures)

Dwarf decorative trees growing in a garden landscape add year-round interest with colorful fall foliage, beautiful spring and summer blooms, and some height and visual appeal in a flower bed.
Hibiscus Tree
A hibiscus tree is a small ornamental plant characterized by large funnel-shaped tropical flowers. Their sizable tropical flowers blossom throughout summer in pink, red, lilac, purple and white hues. Hardy hibiscus shrubs can be trained to grow as a tree. Or, in tropical regions, you can grow an evergreen braided hibiscus tree.
Hibiscus trees are ideal for flower beds because they grow up to 8 ft. (2.4 m) tall. However, you can also buy smaller dwarf hibiscus cultivars that only grow 4 to 5 ft. (1.2 – 1.5 m) tall.
The hibiscus tree is known for its easy growth and continuous blooming during the summer as long as it gets plenty of sunshine.
Related reading: Hibiscus Tree – Care and Growing Guide.
Eastern Redbud (Cercis canadensis)
The eastern redbud is a multi-stemmed ornamental tree, ideal for small to medium yards. Many redbud cultivars have beautiful, variegated foliage and showy floral displays of white or pink blooms. The attractive heart-shaped leaves can be green, with shades of pink or white around the margins.
Dwarf varieties of eastern redbud trees include the 'Ace of Hearts' with pea-like reddish-purple blossoms, 'Merlot' with tiny bright pink flower clusters, and 'Tennessee Pink' with vibrant pink blooms on bare branches.
The shrub-like decorative trees grow between 9 and 12 ft. (2.7 – 3.6 m) tall and are suitable for USDA zones 5 through 9.
Powderpuff Tree (Calliandra haematocephala)
The powderpuff tree is a fast-growing ornamental tree with shrubby growth. The spectacular feature of this ornamental dwarf tree is its feathery, powderpuff-like red flowers that look like soft spiky balls measuring 2" to 3" (5 – 7.5 cm). You can grow the flowering tree in flower beds in USDA zones 9 and above.
The powderpuff tree grows between 10 and 15 ft. (3 – 4.5 m). However, with some annual pruning, it's easy to maintain its height around 8 ft. (2.4 m). The attractive spreading tree has glossy green leaves in a pinnately compound arrangement contrasting with the fuzzy red or pink globose flowers.
Pygmy Date Palm (Phoenix roebelenii)
The pygmy date palm is a low-growing, single-stemmed small palm tree identified by its arching pinnate palm fronds, shaggy trunk, and clusters of small black fruits. The landscaping palm tree grows up to 10 ft. (3 m) tall and 8 ft. (2.4 m) wide. Due to its feathery, light foliage, the tree won't create excessive shade underneath it.
The attractive feature of the ornamental pygmy date palm is its arched fronds. Each palm leaf can measure up to 3 ft. (1 m) long and consists of several slender light green leaflets. The palm grows in gardens throughout Florida and is suitable for growing in the ground in zones 9 to 11.
Further reading: Small or dwarf palm trees.
Shaina Small Japanese Maple (Acer palmatum 'Shaina')
The Shaina Japanese maple is identified by its eye-catching red, maroon, and crimson-red leaves. As a compact deciduous decorative tree, the Japanese maple has cascading branches and a bushy mounding growth habit. The maple tree has palmate red leaves and small reddish-purple flowers.
Suitable for USDA zones 5 through 9, the Japanese maple grows 4 to 5 ft. (1.2 – 1.5 m) tall in eight years. The small bushy tree thrives in full sun to partial shade in moist, well-drained soils. In winter, the tree's bare branches provide an elegant silhouette.
Small Evergreen Trees For Flower Beds and Small Spaces (With Pictures)

Small evergreen trees add a year-round touch of color to your landscape. In addition, decorative evergreen trees are ideal anchor plants in landscapes, providing height, vertical accent, and visual interest during winter months when other plants appear bare.
Irish Yew 'Fastigiata' (Taxus baccata 'Fastigiata')
The Irish yew tree is a dwarf evergreen conifer with upward growing branches, needle leaves, and small red berry-like fruits. The popular coniferous tree takes about 10 years to reach 4.5 to 10 ft. (1.4 – 3 m). However, due to its columnar growing habit, the pencil-like conifer won't take up space in a flower bed.
The versatile Irish yew is cold-hardy in USDA zones 6 to 8 and thrives in full sun and shade. Apart from planting as a vertical accent in flower beds, the dense evergreen foliage makes the conifer tree ideal for a hedge, foundation planting, or privacy screen.
Sky Pencil Holly (Ilex crenata 'Sky Pencil')
The 'Sky Pencil' holly is a small narrow evergreen ornamental tree for flower beds that doesn't grow more than 10 feet tall. The skinny 'Sky Pencil' holly is identified by its small, glossy green leaves, black berry-like drupes, and pencil-thin growing habit. The evergreen holly tree is ideal for compact, space-restricted beds because it grows 4 to 10 ft. (1.2 – 3 m) tall and wide.
The sky pencil holly tree thrives in USDA zones 5 through 8 in full to partial shade and moist, well-drained soil. This holly plant's upright, columnar growth means it won't take much room in a flower bed. It retains its narrow, columnar shape without the need for pruning.
Further reading: Holly Trees and Bushes.
Dwarf Pencil Point Juniper (Juniperus communis 'Compressa')
The dwarf pencil point juniper  is a type of narrow evergreen tree that grows to less than 5 feet tall.
Planting the dwarf pencil point juniper is a good choice for your yard, garden, or container if you need a tall, yet compact tree. The mature upright tree is only about 1 ft. (30 cm) wide and grows no more than 5 ft. (1.5 m) tall. Many gardeners love this miniature accent tree as it grows well in most types of soil. In addition, it's a very hardy tree that withstands temperatures as low as -50°F (-45°C).
Further reading: Juniper Trees and Shrubs.
Dwarf Hinoki Cypress Tree (Chamaecyparis obtusa)
Several dwarf Hinoki cypress trees are suitable for small flower beds where space is a premium. The miniature evergreen tree is known for its soft feathery needles, dark green foliage, and globose brown cones. To add vertical accent and all-year greenery to a small garden landscape, choose dwarf cypress trees that grow between 3 and 6 ft. (1 – 2 m).
Some of the most popular dwarf Hinoki cypress evergreen trees include 'Kosteri,' 'Nana,' ''Nana Gracilis,' and 'Spiralis.'
Related articles: