Easy Perennials to Grow — Best Low Maintenance Perennial Flowers (With Pictures)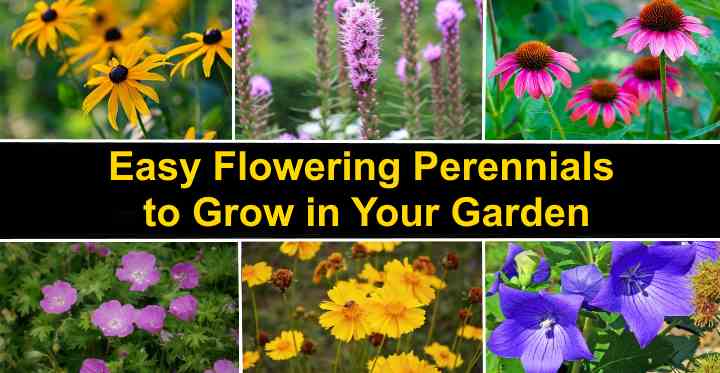 Many types of perennial flowers are easy to grow in your garden and produce stunning blooms year after year. Easy growing perennial flowers take much of the work out of gardening without compromising on beauty. Some of the best low maintenance perennial flowers for your garden include daylilies, black-eyed Susan, geraniums, honeysuckle, and creeping phlox.
Flowering, low-maintenance perennials are perfect for adding color, scent, and visual appeal to your back yard. Some creeping blooming perennials are ideal for ground cover. But tall perennials are perfect for flower beds, borders, or planting at the back of mixed beds.
In this article, you will find a list of the best perennials that are easy to grow in your garden. Pictures of these beautiful flowers, along with descriptions, will help you decide on how to choose the perfect flowers that return every year.
Do Perennials Come Back Year After Year?
Perennials are plants that survive harsh winters and come back year after year. After planting in your garden, easy-care perennials will bloom annually without much attention. But some types of perennials are classed as 'tender perennials' and grow as annual plants in cold climates.
To know which blooming plants return each year, it's vital to find out the plant's hardiness zone. For example, some flowering plants grow as annuals in northern states. However, in the south, such as in Florida, California, and Texas, they will grow as perennials.
It's also important to know that some perennials can show signs of decline. So, they may bloom year after year, but need replanting every three or four years. But that's not the case with all flowering perennials. Some easy perennials continue thriving for many years—annually producing new foliage and colorful flowers.
Tender perennials
Tender perennials are plants that grow in warm climates and can't survive cold temperatures. Tender perennial flowering plants usually thrive in zones 10 and 11, while some grow well in zone 9. In colder zones—for example, zones 8 and below—tender perennials are grown as annuals.
Half-hardy perennials
Half-hardy perennials are types of plants that survive in colder temperatures better than most tender perennials. Many kinds of half-hardy perennials will survive brief cold winters and return year after year.
Easy Perennials to Grow – Best Low Maintenance Perennial Flowers (With Pictures)
Let's look in more detail as some of the easiest perennial flowers to grow in your backyard. Many of the blooming plants on this list grow in most zones and are cold hardy in zones 3 or 4.
Black-eyed Susan (Rudbeckia)
Black-eyed Susan is an easy-care perennial that grows best in full sun. Black-eyed Susan has tall stems and bright yellow flowers that fill your garden with color. These drought-tolerant flowers for landscaping are perfect for giving visual height and color to flower beds and borders.
Black-eyed Susan grows to 2 or 3 ft. (0.6 – 0.9 m) tall. The long-lasting blooming perennial flowers thrive in zones 3 to 9. As a low-maintenance perennial, they require little care and survive periods of drought.
Perennial Coneflowers (Echinacea)
Coneflowers are some of the toughest and hardiest perennial flowers you can grow in your yard. Coneflowers are tall blooming perennial plants that are easy to grow, thrive on neglect, and yet produce flowers year after year. Beautiful purple and pink flowers grace the tops of tall 1 to 4 ft. (0.3 – 1.2 m) stems.
Coneflowers are herbaceous low maintenance perennials that bloom from late spring until late summer and even survive some frost. The flowering plants return yearly and grow best in borders, flower beds, or in wildflower gardens. Coneflowers thrive in zones 3 to 10.
Perennial Tickseed (Coreopsis)
Tickseed is a cold-hardy low maintenance perennial flower that is famous for its bright golden yellow blooms. Many varieties of tickseed are ideal in perennial gardens, beds, borders, or patio containers. Some tickseed flowers are simple like daisies, whereas others are showy double flowers that bloom prolifically.
Apart from stunning yellow flowers, perennial tickseed produces orange, pink, red, and bicolored blooms. The clumping flowers grow to between 0.5 and 3 ft. (15 cm – 1.2 m) and thrive in full sun. These perennials grow just as well in the cold north as they do in southern states (zones 3 – 10).
Balloon Flowers (Platycodon)
Balloon flowers are easy to grow perennial border plants that produce lilac and purple bell-shaped flowers. Species of Platycodon are low-growing, low-maintenance flowers that grow best in full sun or partial shade. Plant balloon flowers in rock gardens, mixed flower beds, borders, or containers. These perennial flowers grow up to 10" (25 cm) tall.
Balloon flowers blossom throughout the summer and will last a long time in your garden. The only care that balloon flowers require is some watering to keep the soil moist. The hardy flowering perennials are suitable for zones 3 to 8.
Blazing Star (Liatris spicata)
Also called gayfeather, blazing star flowers are hardy perennials that bloom for many weeks every summer and fall. The plant's ornamental flowers in shades of pink, purple, and white are the outstanding feature of these low maintenance perennials. The flower spikes consist of small pastel-colored flowers.
Easy to grow and low care, blazing star flowers are showy plants for borders, flower beds, or in cottage gardens. The tall 2 to 4 ft. (0.6 – 1.2 m) flowers look stunning when growing alongside black-eyed Susan or coneflowers. Blazing star thrives in zones 3 to 9.
Bugleweed (Ajuga reptans)
Bugleweed is a flowering perennial plant for ground cover in the shade or partial sun. This fast-growing colorful plant grows in shaded areas of your garden where other plants can't. A low-maintenance plant, bugleweed is an evergreen perennial that only reaches about 8" (20 cm) tall. Bugleweed grows best in the shade of trees, in rock gardens, or containers.
Bugleweed flowers in spring and the striking blooms will last until summer. Growing bugleweed in your garden creates a mat of white, pink, or blue flowers. Easy to care for and cold hardy, bugleweed thrives in zones 3 to 10.
Cranesbill geranium perennials
Cranesbill geraniums are robust low maintenance perennial flowers that produce dainty flowers from late spring until early fall. Easy to grow, hardy geraniums grow best in full sun as ground cover plants. You can also grow cranesbill plants in rock gardens or containers. Many species of cranesbill geraniums are tolerant to drought and require little maintenance.
Don't confuse cranesbill geraniums with tender geraniums in the genus Pelargonium. Cranesbills are hardy geraniums that bloom profusely throughout the summer and are cold hardy in zones 4 to 9. Some species of cranesbill plants survive temperatures as low as -50°F (-45°C).
Daylily (Hemerocallis)
Daylilies are ideal low maintenance perennial flowers due to their tolerance for heat, drought, and cold. Daylilies produce large, showy, colorful flowers in shades of red, pink, yellow, orange, and apricot. The best places to grow daylilies are in mixed beds, shrub borders, or containers.
Individual species of daylilies have short blooming periods. However, you can plant varieties that bloom at various times to extend their flowering time. If you choose plants wisely, daylilies can flower year after year in your garden from early spring until late summer.
Some species of daylilies are evergreen perennials, whereas others are dormant in the winter, where their leaves die back. Grow these flowers in zones 3 to 9.
Bleeding Heart (Dicentra spectabilis)
Bleeding heart plants are perennial flowers that bloom every year from late spring until early summer. Looking at pictures of these perennials, it's easy to see where they get their common name. The elegant red or pink flowers look like hearts with 'bleeding' white petals.
Bleeding hearts grow best in partly shaded borders or flower beds and reach 4 ft. (1.2m) tall. With little care, the flowers on these plants grow back every year to add beautiful colors to your yard.
These hardy perennials thrive in zones 3 to 9.
Hardy Perennial Begonias (Begonia grandis)
Begonia grandis is a species of hardy begonias that have flowers that return every year. The lush perennials have wing-shaped green leaves with red undersides and clusters of dainty pendulous pink flowers. Hardy begonias are perennials that thrive in shade or partial sun and grow up to 3 ft. (0.9 m) in height.
Although most species of begonias are annuals and don't survive cold temperatures, perennial begonias grow well in zones 6 to 9.
Speedwell (Veronica)
Speedwells are tough ornamental flowering perennials with spiked flowers in various colors. Speedwell perennials grow as clumps that have dense green foliage with flowering stems that bloom throughout the summer. The clumping growth of speedwells makes them perfect for growing along borders, edges, in containers, or mixed beds.
Speedwell's vibrant floral displays last for a few weeks, and they come back every year. Speedwells come in a variety of sizes from 1 to 3 ft. (30-90 cm) tall. Speedwell grows best in zones 4 to 8.
Creeping Speedwell (Veronica filiformis)
This variety of speedwell is an evergreen, ground-hugging perennial plant that flowers in late spring. Creeping speedwell produces masses of small light purple flowers that brighten up spring gardens. Creeping speedwell grows best as edging, border, or carpet-forming ground cover plants for full sun.
The easy care creeping speedwell perennials are drought-tolerant, heat-tolerant, and don't mind some shade. These are ideal evergreen flowering plants if you live in zones 4 – 7.
Leopard Plant (Ligularia)
The leopard plant is an ornamental perennial that produces flowers every year at the end of long stems. The leopard plant features large heart-shaped leaves, long flower spikes, and densely packed foliage. Leopard plants grow best at the back of borders or flower beds to provide colorful visual height. The plant's love of moist ground means you can also plant it near garden ponds or streams.
Leopard plants perform best in full sun and partial shade. Ideal for adding color to summer gardens in zones 4 – 8.
English Lavender (Lavandula angustifolia)
English lavender is the ideal flowering perennial for adding color and herbaceous scents to backyards. Small clusters of lilac flowers grow as compact spikes at the end of long stems. Flowers on these low maintenance perennial plants last for around four weeks and may rebloom if you prune dead flowers.
Plant these shrubby lavender herb plants in full sun. To add colorful interest to your floral landscape display, plant English lavender en-masse along walkways or driveways. English lavender is a perfect herbaceous perennial for zones 5 to 9.
Honeysuckle (Lonicera)
Honeysuckle are easy care perennial plants that have flowers that grow back every year. Depending on the variety of honeysuckle, the semi-evergreen plants can be climbers, vines, ground cover plants, or flowering shrubs. Some varieties of honeysuckle produce flowers every winter and spring. Other types of honeysuckle bloom with sweet-scented flowers throughout the summer.
Low maintenance perennial honeysuckles require light pruning. But apart from that, the easy-care plants are tolerant of heat, drought, humidity, and cold. Honeysuckles perform best in zones 4 – 10.
Ice Plant Perennial Flowers (Delosperma cooperi)
Ice plants are some of the best flowering perennials for displays of spectacular vibrant blooms that last from early summer until fall. When in full bloom, the masses of colorful flowers cover the green foliage to fill your garden with color and scent. Ice plants are ideal perennials for borders, bright ground cover, rock gardens, or flower beds.
Ice plants are heat-resistant, salt-resistant, drought-resistant perennials that require almost no care at all. Grow in zones 6 to 10 and plant the flowers in full sun.
Yarrow (Achillea)
Yarrow is famous for its feathery foliage, fragrant flat-headed flowers, and long-lasting blooms. Yarrow flowers grow in pastel shades of pinks, reds, yellows, and white. Some of the most spectacular blooms are bicolored flowers lasting for weeks from late spring until late summer. Yarrow plants grow to between 1 and 3 ft. (0.3 – 0.9 m).
Grow yarrow in clumps to form low-growing shrubs, borders, or for height at the back of flower beds. Yarrow flowers grow best in zones 3 to 9.
Creeping Phlox Flowering Perennials (Phlox subulata)
Creeping phlox is one of the most colorful perennials you can grow as a ground cover plant. The mat-forming plant blooms profusely with rich, vibrant colors for a few weeks from mid spring to mid- or late summer. Phlox produces brightly-colored flowers in shades of white, red, blue, purple, or pink. Because this perennial only grows around 5" (12 cm) tall, it also has the common name moss phlox.
Requires little care, creeping phlox is the best type of flowering plant for borders, containers, ground cover, edging, rock gardens, or foundation plantings. Add these colorful perennial flowers to your garden in zones 3 to 9.
Indian Pink (Spigelia marilandica)
Indian pink is the ideal perennial flowering plant if you need to grow plants in full shade. This clump-forming plant with dense foliage grows best in north-facing gardens, under trees or shrubs, or in complete shade. Stunning red and yellow flowers emerge from the glossy green foliage in late spring and early summer.
Indian pink is an easy-to-grow type of perennial that grows best as border plants. The Indian pink bushy plant grows up to 1.5 ft. (0.6 m) tall. Ideal for zones 5 – 9, where it produces flowers year after year.
Green and Gold (Chrysogonum virginianum)
Green and gold is a flowering perennial that is easy to grow in gardens with partial shade. This creeping perennial has dense foliage, making it perfect for ground cover. Brightly-colored yellow flowers in the shape of a star appear from late spring until late summer. After the low-growing plant is established, little maintenance is required for the flowers to grow back every year.
Green and gold bushy plants are ideal for shaded gardens in zones 5 to 9.
Discover the most beautiful long blooming perennial flowers to enjoy all summer long.
Related articles: