Types of Daisies: Amazing Varieties of Colorful Daisy Flowers (With Pictures) – Identification Guide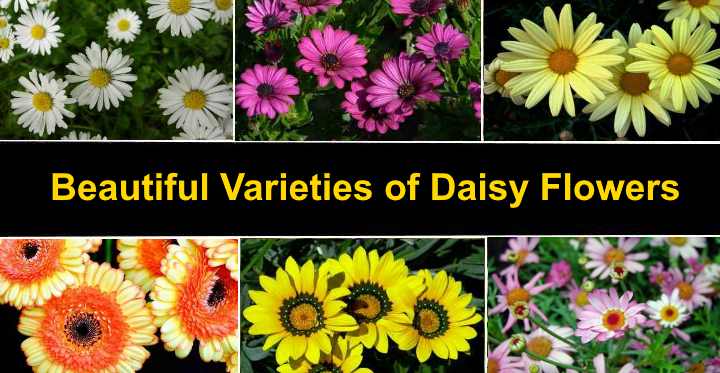 Daisies are a type of flowering plant that belong to one of the largest plant families in the world. The most common type of daisy flowers that most people recognize are the ones with white petals and a yellow center. It is easy to identify most flowers in the daisy family due to their star-shape and elegant petals. Although some daisy species are invasive and regarded as weeds, many species have beautiful bright flowers to add color to any garden.
Daisies are a number of genera (groups) of flowering plants in the family Asteraceae and the order Asterales. The Asteraceae family contains over 1,500 genera of plants, many of which can be called daisies. This classification of daisies means that they are also related to plants such as sunflowers, gerberas, asters, marigolds, chrysanthemums, and zinnias.
Most daisy species are sun loving plants that require at least 6 hours of direct sunlight a day and a fertile well-draining soil.
Are Daisies Annuals or Perennials?
Depending on their species and growing environment, daisies include both annual varieties that bloom for only one season, as well as perennial varieties that bloom year after year.
Some daisies are tender perennials which are not cold hardy and don't survive the harsh cold winter. In cold temperatures they only grow one year and as such can be defined as annuals.
The common daisy is a cold hardy perennial plant that is generally grown in USDA zone 4-8 where minimum winter temperature can reach −30 °F (−34 °C). On the other hand, Gerbera daisies are not cold hardy and they grow in zones 8 -11. In zone 8 they are tender perennials that need winter protection, or otherwise they can be grown as annuals.
Osteospermum (African daisy) and Marguerite daisy both require warm winters and are considered tender perennials.  They are cold hardy in USDA zones 10-11, and everywhere else they are grown as annuals.
How to Identify Daisies?
The common daisy is identified by its star shaped flower that has long white petals that fan out from a yellow center. However, there are hundreds of daisy species that can range from a simple flower with one row of petals to showy types of daisies with double flowers.
Daisy Flower Color
The color of daisy flowers varies from the classic white petals that surround a yellow disk to Gerbera daisy flowers that come in a wide array of colors such as yellow, orange, red and pink.
In this article, you will find out about some of the most popular daisies that can add a splash of color when they flower from late spring until fall.
Types of Daisies (With Pictures and Names) – Identification Guide
All types of daisies in the family Asteraceae are divided into a number of genera, depending on their identifying features.
Let's look in more detail at some of the most popular daisy species you can grow in your garden.
Bellis Daisies
Daisies belonging to the genus Bellis are some of the most common types of daisies you will find. Generally, Bellis daisies are perennials that flower in the middle of summer.
English daisies (common daisy)
The common daisy is also called the English daisy or lawn daisy and its botanical name is Bellis perennis. This invasive species of daisy has become so common that many gardeners view it as a weed.
English daisies are one of the easiest daisy species to recognize. They are perennial plants that have beautiful flowers with pure white petals fanning out from a yellow center. These small white flowers are between 0.8" and 1.1" (2 – 3 cm) across, and a single flower grows on top of a leafless stem.
Common English daisies are traditionally used in herbal medicine and their leaves are edible.
Annual Daisy (Bellis annua)
This yellow and white daisy is the only annual type of daisy in the Bellis genus. The flowers of the Bellis annua daisy are different from the common daisy flowers as they have wider white petals with a yellow center rather than the more elongated white petals of other daisies.
Another way to identify this type of daisy is by its small flowers. These tiny flowers only measure about 0.4" (1 cm) across.
Leucanthemum Daisies
There are a number of beautiful daisy species in the genus Leucanthemum. Some of the more showy daisies are grown specifically for their ornamental value and they add beauty to cut flower arrangements.
Oxeye daisies
Oxeye daisy (Leucanthemum vulgare) is the common name for a species of plants in the genus Leucanthemum of the daisy family.
This is a perennial daisy plant that grows up to 20" (50 cm) tall and has flowers that can be up to 2" (5 cm) wide. Oxeye daisies have the classic daisy fan floret shape with brilliant flowers that have white petals and a yellow center.
Shasta daisies
One of the most popular types of daisies is Shasta daisies (Leucanthemum superbum). This perennial bushy daisy produces flowers that have white petals and yellow center throughout the summer in your garden. They are also very easy to grow and just need to be in an area of your garden that gets full sun.
Shasta daisies grow to between 2 and 4 ft. (60 – 120 cm) tall and each stem has beautiful white flowers.
'Crazy Daisies' (Leucanthemum)
One of the showiest daisy cultivars in the daisy family is the 'Crazy Daisy' cultivar. These yellow and white daisies belong to the genus Leucanthemum. Their flowers have multiple rows of long thin white petals. This helps to create bushy flowerheads that look just as attractive in gardens as they are in vases.
'Banana Cream' Daisy (Leucanthemum)
Because daisies are related to sunflowers, it is no surprise that there are some large varieties of daisy flowers with yellow petals. The 'Banana cream' daisy cultivar has massive starry flowers that measure 5" (12 cm). As its name suggests, the 'banana cream' daisy has yellow-cream colored flowers which look stunning against the dark green foliage.
Gerbera Daisies
Some of the largest types of daisy flowers are those on plants in the genus Gerbera (the daisy subfamily Mutisioideae). Gerbera daisy flowers come in a range of colors including red, yellow, white, and multicolored flowers. Some types of gerbera are also referred to as African daisies as they are native to that country.
Gerbera daisies are so popular that they rank high on the list of the world's most popular flowers.
Gerbera 'jamesonii' daisy
The most common species of gerbera daisy is the Gerbera jamesonii. It is also named the Transvaal daisy, Barbertonse madeliefie, or the Barberton daisy.
These daisy flowering plants grow as perennials outside and also in containers indoors.
The single Gerbera 'jamesonii' daisy flower sits on top of a thick erect stem and it can have colors such as red, yellow, orange or pink. The daisy flower has long elegant petals in the shape of the sun's rays surrounding a yellow-cream-colored center disk. The star-shaped flowerheads measure between 3" and 4" (7 – 10 cm).
Lollipop gerbera daisy
If you are looking for an especially colorful type of gerbera, then the 'Lollipop' gerbera cultivar is a good choice. As with species of gerbera daisies, there are a number of 'lollipop' cultivars.
In general, 'Lollipop' gerbera daisies have flowers that have two layers of colorful petals. There is the layer of long elegant petals that are characteristic of all gerbera. They also have an inner ring of shorter petals, usually in contrasting colors.
In most climates, 'Lollipop' gerberas grow as annuals.
Chrysanthemum Daisies
The name of this daisy family, 'chrysanthemum' literally means 'golden flower' in Greek. The plant family is also called Tanacetum and contains many species of showy daisy flowers.
Painted daisies
The most common daisy species in the Chrysanthemum genus are called painted daisies. These perennial daisies flower from early summer and continue until the start of fall.
Painted daisies have a star-shaped flower that has a large yellow colored disk in the center. One of the reasons why these daisies are so popular is due to the large number of flowers on the plant.
The painted daisies is a bushy type of daisy plant that has flowers with beautiful colors such as pink, red, purple, and white – perfect plant in your summer garden.
Their long sturdy, straight stems mean that painted daisies are a great choice for cut flower arrangements. Also, their beautiful ray flowers last a long time in a vase.
Golden feverfew daisies
Another popular variety of daisy in the genus Tanacetum is the 'golden feverfew daisy' (Tanacetum parthenium 'Aureum'). These dainty daisy flowers have the classic white colored petals and yellow centers that daisies are famous for. The short oval petals in a single row fan out in a ray around a large golden yellow disk. These low-growing, sun-loving perennials are a good choice for borders as they only grow to about 12" – 24" (30 – 60 cm) high.
Tanacetum coccineum 'Robinson's Red' daisy
One of the most beautiful chrysanthemum daisies is the 'Robinson's Red' cultivar. This spectacular daisy has deep pink or magenta petals with a contrasting bright yellow colored disk center. This plant from the daisy family also has fern-like foliage that adds color and volume to cut flower arrangements.
Arctotis Daisies / Osteospermum (African Daisies)
There are a few daisy genera that are called African daisies. These species of daisies also have some of the most colorful daisy flowers you will find. Let's look at a few of the most popular ones to brighten up your garden or room.
Arctotis daisies
Daisies in the genus Arctotis are tender perennials and may need to be taken indoors in cooler weather. These daisies usually grow in clumps and can grow to between 12" and 24" tall (30 – 60 cm) and have a spread of 12" (30 cm). Here are a few outstanding Arctotis daisy cultivars:
The Ravers 'Pumpkin Pie' is a spectacular type of African daisy that has a gerbera-like flower head. This beautiful colorful daisy has deep orange flowers with a black disk center surrounded by a yellow ring.
Arctotis hybrid 'Wine' daisy flower has delicately-colored pink and white petals in a fan shape. The petals are darker nearer the center which is a grayish-white color.
Arctotis hybrid 'Flame' is an African daisy flower that lives up to its name with its fiery-orange spiky-looking petals. The large flowers on top of the tall stems are 4" (10 cm) wide.
Osteospermum African daisies
Another daisy genus classed as 'African daisies' are flowers in the Calenduleae tribe and genus Osteospermum. This may be one of the smaller genera of African daisies, but the flowers are among the most beautiful. Here are a few of the most stunning African daisies from the genus.
Osteospermum 'Soprano Purple' is a stunning type of African daisy flower due to its deep purple, almost black center. The elongated oval leaves are various shades of purple and produce beautiful blooms in early summer. With each plant, you get a mound of beautiful purple or lilac daisy flowers.
The Osteospermum 'Lemon Symphony' daisy flower is composed of brightly-colored yellow colored petals and a small dark center. If you look closely at pictures of these daisies, you will notice that the petals form a deep purple-colored ring near the center. Plant in full sun to cheer up your garden with these yellow flowers.
A similar African daisy cultivar to this one is the 'Orange Symphony.'
Osteospermum 'Bright Lights Double Moonglow' is one of the showiest flowers of all the African daisy varieties. This beautiful type of daisy has flowers consisting of creamy-yellow petals surrounding a bushy yellow center. This daisy cultivar grows in short clumps not more than 12" (30 cm) tall. Apart from its spectacular showy flowers, this perennial daisy blooms from late spring right up until the first frost.
Argyranthemum Daisies (Paris daisy / Marguerite daisy)
Daisies in the genus Argyranthemum have striking ray florets that look like a bright star. In most warm climates, these Paris daisies (also called marguerite daisies) grow as perennials. However, they may not survive cold winters and in some climates, you have to plant them every year.
Some of the most striking cultivars of this genus have spiky-looking flowers. Due to their showy display of starry flowers, Paris daisies are grown for their ornamental value.
Most varieties have pure white flowers with lance-shaped petals. These fan out from a bushy center to form a beautiful 'aster' shape. Other varieties of these daisies have yellow or pink flowers. Some types of marguerite daisies have small daisy-like flowers with oval, rather than spiky-looking petals.
Coneflowers
Daisies in the genus Rudbeckia and Echinacea are commonly referred to as coneflowers. They are named coneflowers because their petals tend to droop down from the center to form a cone shape. Most coneflowers are hardy perennial daisies that can be some of the last plants to flower at the end of fall.
Here are some of the best and most popular coneflowers from the daisy family:
Black-eyed Susan
Black-eyed Susans (Rudbeckia hirta) are spectacular yellow daisy flowers that create a splash of yellow in the fall. Most flowers of this daisy species have large pretty yellow petals and a contrasting black center.
Some Black-eyed Susan cultivars such as 'Indian Summer', 'Little Henry,' or 'Sweet coneflowers' are simple flowers with a row of long yellow petals. Other showy cultivars such as 'Cherokee Sunset' or 'Sonora' have large bushy flowers in various shades of reds, oranges, and yellows.
Echinacea coneflowers
Echinacea flowers are a member of the daisy family in the tribe Heliantheae. These species of daisies are easy to grow and will tolerate most conditions in your garden. To get the best out of the purple daisy flowers, plant them in mass to provide plenty of fall colors for your garden.
The most common type of echinacea is the Echinacea purpurea. This flower has lilac-purple petals that droop down from a reddish showy cone-shaped center.
Some of the most outstanding Echinacea daisy-type flower cultivars include the following:
Echinacea 'Flame Thrower' flower has two-tone red and orange colored petals with a massive cone-shaped center that is brown red. This tall daisy plant adds beautiful orange flowers and fall colors to your garden.
Echinacea 'Double Delight' is one of the few Echinacea plants with double flowers. The center is a pompom-like bushy flower and from this, elongated pink petals form drooping rays.
Echinacea 'Tomato Soup' flower has large tomato-red petals drooping down from a dark-brown ball-shaped center. The flowers are some of the largest in the Echinacea species with them measuring around 6" (15 cm) wide. Plant in your garden for an amazing show of red daisies in the fall.
Echinacea pallida is a species of Echinacea flowers that are identified by their long thin drooping purple flowers. These attractive daisy plants with their spindly flowers look very attractive in contrast to their dark green foliage.
Echinacea 'White Swan' has the flower features of a typical Echinacea plant and the colors of a traditional daisy. The flowers have a yellow cone-like center protruding from a ray of short white petals surrounding it. These are very hardy perennials that will attract pollinating insects late in the season.
Other Types of Daisies
Apart from the most popular daisies mentioned in this list, there are a number of other daisy species that grow in the wild.
Townsendia daisies are a type of wild flowering plant that grows in high elevations. Depending on the species, these white and yellow flowering plants can be annuals or perennials. Some species have attractive flowers that grow on tall stems and produce ray florets. Other native species are small daily plants that have a spreading nature.
Monoptilon daisies are also called desert stars and are native to North America. They are a small genus of annual daisy plants. The daisy flowers have dainty white colored petals like the sun's rays and a yellow center.
Related articles: