Drought Tolerant Perennial Plants – Best Perennial Flowers (Pictures)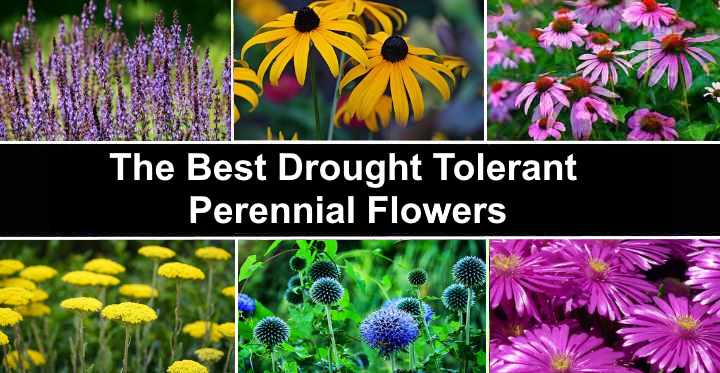 Drought-tolerant perennials are garden plants that need very little care. The best drought-resistant perennials only need occasional watering and withstand plenty of sunshine. Many drought-tolerant perennial plants are ideal for growing in zones 9 and 10, and their flowers come back year after year.
Some perennials resistant to drought are flowering shrubs. Others are colorful specimen plants, and other tall perennials bloom all summer long and into fall.
Some examples of drought tolerant perennial flowers include stonecrop, coneflowers, sage, speedwell, tickseed, black-eyed Susan, and clematis. Generally, hardy drought-resistant perennial plants produce flowers that come back every year.
Planting drought-tolerant perennials is ideal for low-maintenance gardens. Even in hot, arid weather, you don't need to water these hardy plants very often.
This article is a guide to some of the best drought tolerant flowering perennials for your front or backyard. Some of these low-water plants are ideal for full sun. Grow these perennial plants in mixed beds, borders, cottage gardens, rock gardens, or low-growing foundation plants.
What are Drought-Tolerant Perennial Plants?
Drought-tolerant perennials are plants that require little water. Many types of drought-tolerant plants go dormant during exceptionally dry periods. Other species of drought-resistant plants have extensive root systems or small leaves that help retain moisture.
Drought-tolerant perennials are also called xeric plants or water-wise plants. Many types of xeriscaping plants are perennial ornamental garden plants such as bushes, bulbous plants, and shrubs that adapt to drought-prone environments. Usually, these plants can go for long periods with little water due to small leaves that don't give off moisture.
Do Drought-Tolerant Perennials Come Back Year After Year?
The benefit of drought-tolerant plants is that they don't need planting every year. Every year, the low-water plants produce flowers to brighten your garden in spring, summer, and fall. Even if there's no rain for a while, dry, arid conditions don't affect the plants' growth.
To survive dry conditions, some species of tough perennials stop growing. Then when they get moisture, the plants revive and start to bloom or produce seed. Some cold hardy perennials may die back in winter before returning with new growth in the spring.
When choosing the best drought-tolerant perennials for your garden, always pay attention to growing zones. Perennials for USDA zone 10 can bloom year after year, but they grow as annuals in colder zones.
Drought-Tolerant Perennials – Flowers That Come Back Year After Year (With Pictures)
Here are some of the best drought-tolerant perennials for your sunny garden.
Black-Eyed Susan (Rudbeckia)
Black-eyed Susans are one of the most drought-resistant perennials you can grow in a garden. This water-wise plant species produces large yellow flowers with black centers. The long petals fan out like the summer sun's rays. Black-eyed Susan are flowering perennial plants that thrive in full sun in zones 3 through 9. Their stunning yellow flowers come back year after year.
Hardy black-eyed Susans are low-maintenance plants, ideal for growing at the back of a mixed bed or along perennial borders. Rudbeckia plants grow up to 4 ft. (1.2 m) tall, and their long-lasting flowers are ideal for dried floral displays.
Stonecrop (Sedum)
Stonecrop is a species of hardy perennial with low water needs. Species of stonecrop drought-tolerant plants can be ground cover plants for sun or upright, bushy flowers. Stonecrop is ideal for fall gardens and is one of the last perennials to flower. This drought-resistant perennial thrives in zones up to 9.
Upright stonecrop flowers grow best in full sun and soil with dry to medium moisture. Their pastel-colored flowerheads of tiny white, pink, or red flower clusters resemble broccoli. Sedums are drought-tolerant plants due to their succulent-like leaves and robust root system.
Coneflower (Echinacea)
Coneflowers are hardy flowering perennials resistant to drought, heat, poor soil, and full sun. These low-water plants are easy to grow, thrive on neglect, and yet produce flowers year after year. The tall, upright stems grow to 4 ft. (1.2 m). Beautiful cone-shaped purple and pink flowers grace the top of these tough garden flowers. Coneflowers are perennials, ideal for growing in zones 10 and below.
The best place to grow coneflowers is in full sun and well-draining soil. The tall, long blooming perennial flowers are perfect choices for the back of borders, along walls, or wildflower gardens. Coneflowers are tolerant of most conditions, apart from soggy soil.
Daylily (Hemerocallis)
Daylilies are described as the perfect perennial flower due to their tolerance of drought. This xeriscaping plant has few care requirements. Daylilies thrive in full sun, producing wonderful red, purple, white, orange, yellow and vibrant multi-colored flowers. The showy flowers sit on the end of tall, erect stems up to 5 ft. (1.5 m) tall.
Various species of daylilies bloom from early spring until late fall. The cheerful, colorful plants bloom even during periods of drought. Evergreen daylilies go dormant in winter, and some in warm climates stay evergreen. Grow daylilies in perennial beds, as evergreen ground cover, or flowering borders in zones 3 through 9.
Tickseed (Coreopsis)
Tickseed plants are brightly-colored tall perennials that have low water needs. Species of tickseed perennials produce masses of showy flowers in orange, yellow, red, and gold colors. The drought-tolerant flowers need at least six hours of sunshine daily to thrive. Grow these hardy plants in beds and borders, containers, rock gardens, or cottage gardens.
Tickseed varieties are varied types of flowers. Some species are clumping plants that are ideal for edging. Other Coreopsis flowers stand tall and are better for beds or borders. One thing is characteristic of tickseed flowers—they are all perennials that don't need much water. Grow tickseed perennials in USDA zones up to 10.
Clematis
Clematis are climbing or creeping drought-tolerant perennials. Over 300 species of clematis are known for their large, showy, colorful flowers and pleasant scents. Depending on the species, clematis flowers can be star-shaped, ruffled double blooms, or small bell-like flowers. Grow clematis perennials in full sun in zones 4 through 9.
Clematis perennials grow best covering walls, trellises, or arbors. You can also plant clematis perennials in containers to grow on a balcony, porch, or paved backyard.
Perennial Russian Sage (Salvia yangii)
Russian sage is one of the most drought-resistant flowering perennials for full sun you can plant. This plant species is an ideal xeriscaping plant because it hardly needs any water. The herbaceous shrub blooms throughout dry summers and produces small aromatic green leaves and light blue-purple flowers.
Russian sage bushes grow up to 4 ft. (1.2 m) tall and the same wide. This hardy water-wise perennial is perfect or dry, arid sunny gardens in dry to medium moist soil. Although Russian sage is a low-maintenance plant, you'll need to prune it in spring to control its bushy growth.
Common Yarrow (Achillea millefolium)
Yarrow is a hardy perennial that doesn't mind bouts of drought. The tall perennial plant has clusters of white, red, pink, yellow, and pastel-colored flowers making up a flat flowerhead. Yarrow grows best in dry to medium moist conditions in full sun. Being among some of the best drought-tolerant plants, you'll hardly ever need to water yarrow.
Yarrow flowers are tall perennials that grow between 1 and 3 ft. (0.3 – 1 m). The aromatic feathery-looking leaves provide interest from early spring until late fall. Yarrow plants grow best in borders or mixed beds, and their cut flowers are perfect for dried flower arrangements.
Speedwell (Veronica)
Easy-to-grow speedwell perennials have colorful spiked flowers and are relatively drought-resistant. This bushy small shrub-like plant species grows in full sun to partial shade. The violet-purple, red, or pink spiked flowers add plenty of color to your garden without much work. Growing to a height of 2 ft. (0.6 m), speedwell perennials are best growing in borders or containers.
Hardy drought-tolerant speedwell plants are ideal for sunny gardens in zone 4 through 8. As these are long-blooming perennial plants, you can enjoy their flowers for the whole summer.
Prostrate speedwell (Veronica 'Whitewater') is a low-growing, semi-evergreen perennial. The creeping stems and white flowers are perfect for ground cover plants for shade or full sun. However, creeping speedwell isn't as cold hardy and only grows in zones 7 and lower.
Ornamental Onion (Allium)
Ornamental onions are tolerant of drought and ideal for perennial gardens. The stunning purple flower heads on the end of straight upright stems bloom from late spring until summer. The tall summer flowers grow to between 2 and 5 ft. (0.6 – 2.5 m) high. Ornamental onions are best for growing in mixed beds or providing height along perennial borders.
Ornamental onion perennials thrive in zones 10 and below. The sun-loving perennials thrive in moist but well-draining soil and need very little water to survive.
Golden Marguerite (Anthemis tinctoria)
One of the most attractive drought-tolerant perennials is the pretty golden marguerite. The orangey-yellow colorful flowers provide plenty of color to your garden throughout the summer. Anthemis tinctoria also has fine, fern-like foliage that adds to its attractiveness.
The best feature of golden marguerite is the fact that they thrive on little water and little maintenance. Golden marguerite grows well in poor soil as long as it gets full sun. The aromatic plant grows up to 3 ft. (1 m) tall. Plant in any area of your garden where other plants don't grow.
Butterfly Weed (Asclepias tuberosa)
Butterfly weed is a colorful perennial plant that survives periods of drought. This is one type of "weed" that you won't mind in your garden. The clusters of showy orange flowers sit at the top of stems with lance-shaped leaves. Butterfly weed grows best in mixed beds, colorful borders, and butterfly gardens. The long-blooming stalks make attractive floral bouquets.
Butterfly weed is a full-sun, drought-tolerant perennial that is ideal for zones 3 through 9. If you're looking for an easy-care, colorful perennial plant, then butterfly weed is an excellent choice.
Butterfly Bush (Buddleia)
Butterfly bush is a low-maintenance perennial that tolerates a wide range of soil conditions, including drought. As its name suggests, the flowers on this shrubby plant attract butterflies. Clusters of white, magenta, yellow, and purple flowers grow in eye-catching long panicles. You can enjoy these large flowers displays from summer until the first frost.
All plant species in the genus Buddleia thrive in dry to moist soil in zones 5 through 9. Grow butterfly bush plants as specimen shrubs, in borders, foundation plantings, or containers in small gardens.
Hardy Ice Plant (Delosperma)
Ice plants are drought-resistant, low-growing perennials that have vigorous growth. Ice plants are perfect for rock gardens, colorful ground cover, or low-growing flowers. The magenta petals fan out around a yellow center. Ice plants also look stunning in bloom, as the daisy-like flowers seem to cover the whole plant.
Ice plants have typical characteristics of xeric plants. The small, flattened hairy leaves don't give off much moisture, making these extremely tolerant of dry conditions. Delosperma plants are ideal for growing in zones 6 to 10.
Globe Thistle (Echinops bannaticus)
Globe thistle plants are easy-to-care-for perennials that grow well in dry conditions. The plants have spectacular blue rounded flower heads. The globular spiky flowers grow at the end of tall upright stems that are 4 ft. (1.2 m) tall. These hardy plants thrive in dry conditions and poor soil. Even in the hot summer sun with little rain, these perennials continue to add color and height to garden landscapes.
Globe thistles grow best in borders, cottage gardens, or gravel gardens. You can also plant these long-lasting flowers to attract butterflies and other pollinators to your front or backyard. Echinops bannaticus thrives in zones 3 through 8.
Blanket Flower (Gaillardia)
Blanket flowers are long-blooming perennials that have excellent tolerance for dry conditions. The showy flowers are beautiful shades of yellows, oranges, and reds. As their name suggests, the spreading plant creates a blanket of color when blooming from early summer until fall. The large flowers are up to 3" (7.5 cm) wide, and the thin stems grow up to 3 ft. (1 m) tall.
Grow Gaillardia plants in full sun for best results. The dry-tolerant perennials grow well in sandy soil; however, they also thrive in moist soil with good drainage. Blanket flowers are the ideal drought-tolerant perennial flower for zone 10 and below.
Hellebores (Helleborus)
Also called Christmas roses or Lenten Roses, Helleborus plant species are attractive perennials perfect for drought-prone areas. Hellebores bloom from late winter until spring. These evergreen Mediterranean plants are attractive in all seasons and are ideal for growing in hot, dry, arid climates.
Unlike many other drought-tolerant perennials on this list, hellebores are shade-loving flowering perennial plants. The easy-care flowering hellebores plants grow best in shady borders, under trees, or on shaded patios. Hellebores are the perfect type of perennial for growing in zones 3 through 9.
Snow in Summer (Cerastium tomentosum)
Snow in summer is a vigorous low-growing perennial that copes with drought. This spreading plant has dainty white flowers that come back year after year. When in full bloom, the creeping perennial turns gardens into a sea of white—just like snow in summer. The evergreen plant also provides excellent ground cover in winter.
When growing perennial snow plants in summer, it's vital to remember that they prefers cool summers. Heat and humidity will cause the delicate plant to wilt. So, this perennial isn't suitable for zones 9 and 10.
Hyssop (Agastache)
Hyssop is a species of beautiful aromatic perennials that thrive in full sun and withstand drought. Hyssop produces dainty pink or purple flowers on the ends of long stems. This low-maintenance plant will flower and grow without much attention. The best way to grow hyssop is by planting en masse to enjoy their long summer and fall blooms.
Hyssop perennial flowers are perfect for borders, mixed beds, herb gardens, or butterfly gardens. Hyssop plants grow well in dry soil and tolerate heat exceptionally well. Grow hyssop in hot sunny gardens in zones 5 through 10.
Learn about other drought tolerant plants that hardly need water.
Learn about other perennial flowers: