18 Purple Perennial Flowers to Give Stunning Color to Your Garden (Including Pictures)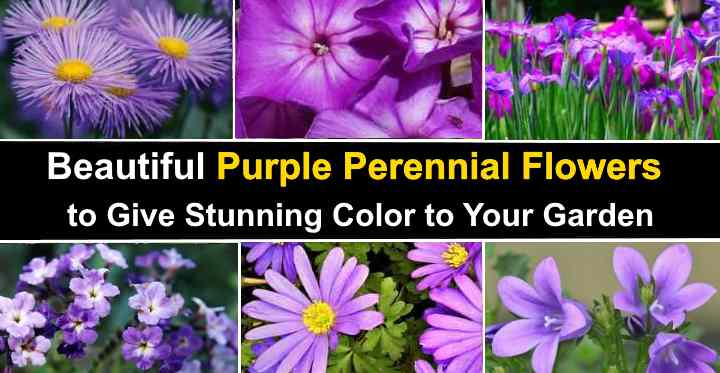 Flowering purple perennial plants add wonderful shades of lilac, violet, blue, and lavender to your garden. Purple perennial flowers vary in size from beautiful large blooms on a phlox to delicate violet petals on irises. Planting purple flowers is also a great way of attracting pollinating insects as the various purple shades attract bees and butterflies.
Some types of purple perennials are low-growing creeping plants that help to provide good ground cover. Other flowering perennials are larger shrubs or bushes that have stunning purple, mauve, and lilac clusters of flowers. Some tall perennials have purple flowers that grow at the end of long stems.
Whatever your landscaping requirements are, there are purple perennial flowers to suit your needs.
In this article, you will find out about the qualities, features, and characteristics of the most popular purple flowering perennials.
Purple Perennial Flowers (With Pictures and Names)
Iris
Iris is a bulbous perennial flowering plant that has some stunning purple cultivars. If you are looking for bright blue or purple flowering irises, then choose the 'winter iris' (Iris histrioides) or the 'netted iris' (Iris reticulata). However, other types of irises have been cultivated to flower in various shades of purple.
If you want to decorate your garden with incredibly beautiful purple flowers, then irises are one of the first bloomers in spring. Their delicate deep purple spring flowers appear near the end of January or start of February.
Purple flowering irises, as with other types of iris, are hardy plants that survive winter. To make sure irises thrive, plant them where they get full sun and in well-drained soil.
Garden Phlox
The Garden phlox (botanical name: Phlox paniculata) is a large bushy flowering perennial shrub that has some stunning purple varieties. Some phlox cultivars that have purple flowers that bloom in summer include 'Grenadine Dream,' 'Violet Flame,' 'Peacock Neon Purple,' and 'Purple Eye Flame.'
Perennial phlox plants grow to about 4 ft. (1.2 m) tall and have a spread of around 3 ft. (0.9 m). From summer to the fall, large colorful flowers beautify this perennial with purple, white, pink, and red blossoms. To encourage more flowers to blossom, deadhead the plant after flowering in the fall.
Purple Heart Tradescantia
Famed for its purple foliage and pale purple flowers, the Purple Heart (Tradescantia pallida) is a great addition to add striking color to a garden.
This flowering purple perennial is a low-growing trailing plant that is good as a bedding plant or in a hanging basket. Although the Purple Heart blossoms during the summer, its light-purple petals are not too pronounced. Usually, most gardeners plant this type of Tradescantia to contrast the plum-colored leaves with other green plants.
To grow this common purple flowering plant outdoors, you need to be in a temperate climate. You can also plant it in containers as a flowering indoor plant where its trailing purple stems will add a nice feature to your room.
Clustered Bellflower
If you are looking for a perennial with purple summer flowers, then the clustered bellflower (Campanula glomerata) is a good choice.
This tall perennial grows to about 23" (58 cm) and has clusters of purple bell-shaped flowers. One stem can hold a number of dark purple flowers measuring about 1" (3 cm). The clustered bellflower thrives in full sun and can also withstand partial shade.
There are also other types of bellflowers that produce purple flowers in the summer. Some cultivars include rampion bellflower (Campanula rapunculus) with its star-shaped light mauve flowers or the harebell (Campanula rotundifolia) with lilac or lavender colored bell flowers.
Geranium
Geranium is extremely common flower. Some geranium varieties have purple flowers that blossom in spring and last throughout the summer. Two types of flowering purple perennials are the 'Rozanne' geranium and the 'Johnson's Blue' geranium. Both of these geranium cultivars have deep blue/purple delicate petals.
Apart from having purple summer blossoms, other types of geraniums produce white, pink, and blue flowers. Planting winter-hardy geranium perennials is a good landscaping option as they have attractive foliage and small colorful flowers. Some geranium cultivars grow as high as 2 ft. (60 cm) and have a spread of the same size.
To fill your garden with spring and summer purple flowers, plant geraniums in sunny areas of your garden.
Salvia (Sage)
Salvia is an herbaceous purple flowering plant that grows every year and produces showy small flowers all summer long.
This purple perennial herb loves to grow in hot sunny climates. The flowering stems grow upright and consist of needle-like leaves with small blossoms on them. Although purple is a common type of salvia, some varieties also produce blue, red, or white flowers.
Apart from producing attractive purple flowers every year, many grow salvia (Salvia officinalis) for its delicious taste. Sage (salvia) is a popular herb used in Mediterranean, British, and American cooking. You can also use sage for its medicinal properties.
Veronica
If stunning bushy purple flowers is what you are after, then the perennial Veronica (Veronica spicata) is a great choice. Some varieties of this tall plant with purple flowers include 'Royal Candles' and Veronica 'Purple Explosion.'
Purple Veronica cultivars have tall stems with long purple flowers on the end. Depending on the type of plant, the blossoms can look like dark purple spikes or large clumps of tiny purple flowers.
This low-maintenance plant flowers year after year and is hardy down to USDA zone 3. To really appreciate the stunning purple blooms, plant this perennial in full sun behind other smaller bedding plants.
Anemone
Anemone is a group of plants that include perennial varieties which produce purple spring flowers.
The most common variety of purple anemone is the 'Winter Windflower' (Anemone blanda) with purple-blue petals and a striking yellow center. Other purple spring flowering varieties include the broad-leaved anemone (Anemone hortensis) with light violet star-shaped flowers.
To make sure this purple perennial blooms in the early spring, plant it in shady areas of your garden in rich, moist soil.
Aster
There are a number of tall purple perennials to choose from, but aster plants seem to be a favorite for sunny gardens.
The purple color of aster flowers is highly attractive to bees, butterflies and other pollinators. The purple or lilac daisy-shaped flowers sit on the top of long stems that can grow up to 8ft. (2.4 m) high. However, most varieties of this perennial are shorter.
The light purple petals are also quite attractive. Some aster cultivars have multilayered dark purple petals giving the flower head a puffy look.
If you have asters in your garden, you can expect purple blossoms to appear in late summer or the fall. This means that asters are one of the latest of the purple flowering plants to bloom.
Chrysanthemum
Chrysanthemum is another type of purple perennial that blooms late in the summer. These plants produce bursts of purples, lilacs, and mauves when they flower in July and August.
Chrysanthemums are a flowering plant that come in many colors. Some types of "mums" with purple flowers include 'Lynn' which has two-tone lavender colors and a purple center, 'Stargazer' with dark lavender petals, and 'Barbara' with blooms that look like purple pompons.
Depending on the type of chrysanthemum, they grow between 1.5 and 3 ft. (45 – 90 cm) tall and have a spread of around 3 ft. (90 cm).
One reason why chrysanthemum perennials are so popular is for the sheer number of flowers from each plant. If you plant a number of varieties, you will have delightful purples, reds, yellows, and whites brightening your garden.
Blue False Indigo
The Blue Indigo (Baptisia australis) is a delightful bushy perennial with small purple flowers and is on the list of early spring bloomers.
This shrub-like plant has long stems that can grow up to 5 ft. (1.5 m) tall and spread between 2 ft. and 3 ft. (0.6 – 1 m). The stems contain small ovate leaves that provide good ground cover with dense foliage.
In early spring and summer when Blue False Indigo blossoms, small pea-sized dark purple or blue flowers appear on long stems. These purple flowering stems can increase the height of the False Indigo by 1 to 2 ft. (30 – 60 cm).
You can plant these purple perennials where they get sun all day and in well-drained soil.
Clematis 'Etoile Violette'
The Clematis cultivar 'Etoile Violette' is a great landscaping option if you are looking for a perennial climbing plant that has deep purple or violet flowers.
The Etoile Violette has broad dark-violet-purple petals that can be as large as 4" (10 cm) across. These showy purple flowers bloom mid to late-summer and can add a lot of color to a trellis, arbor, wall or fence. The purple climber shrub thrives in full sun or part shade and needs to have moist, well-drained soil.
One of the reasons to add this purple flowering vine is that it grows very quickly every year. The purple clematis plant produces an abundance of purple flowers and can grow between 10 and 15 ft (3 – 4 m) long.
Garden Heliotrope
This tall perennial purple flowering shrub produces clusters of bright tiny purple flowers. One of the interesting features of these clustered violet-purple flowers is their delicate vanilla fragrance.
These evergreen shrubs grow up to 3.9 ft. (1.2 m) tall, although you can get smaller varieties for growing in containers. The blooming shrub has large leaves that provide good ground cover. This flowering perennial shrub grows well as a border or feature in a flower bed.
The delightful purple summer flower clusters can grow up to 4" (10 cm) across. Some cultivars have larger purple flowerheads. For example, the 'Marine' has large purple clusters measuring 6" (15 cm) in diameter.
This bushy perennial shouldn't be confused with the herb valerian, which is also referred to as "garden heliotrope."
Crocus
Crocus is one of the plants that produce purple flowers in the early spring. Crocuses are a type of flower that grows from bulbs and the purple and lavender colored cultivars are very popular.
There are around 90 species of this perennial bulbous plant. Some types of crocuses are cultivated to flower in the fall, winter, or spring. If you plant many crocus bulbs together, your garden can be transformed into an array of many different colors.
Some crocus cultivars have multicolored petals. For example, 'Bieberstein's crocus' (Crocus speciosus) has large light lilac petals that fade to almost white and has dark purple veins running through it. Other crocuses with purple flowers are the 'Tuscan crocus' (Crocus etruscus), Crocus banaticus with its light purple flowers and purple stamens, and the light purple 'Crocus corsicus.'
Delphinium
One stunning type of sun-loving purple perennial is the delphinium with its long cone-shaped purple and lilac blooms.
There are actually many varieties of flowering plants in the delphinium genus. These tall plants with purple flowers can grow up to 6.5 ft. (2 m) tall! It can be challenging to grow delphiniums in your garden. The tall perennials need full sun but not hot dry summer. They are also susceptible to breaking if there is a strong wind.
Some the best flowering purple delphiniums are in the 'Belladonna' group and 'Elatum' group. If you want to adorn your garden with stunning purple blooms, look for 'Blue Bees,' 'Bruce,' and 'Blue Nile' varieties of delphiniums.
Lavender
Lavender is one of the most well-known types of perennial purple flowering herbs. Its fragrant aromas and purple flowering stems are a delight in any garden.
Although there are many lavender cultivars, they all have one thing in common. This common flowering herb produces various shades of purple flowers every year. Some cultivars have darker purple flowers, some have the traditional lavender color, and other gorgeous flowers have an almost blackish purple hue.
The purple flowering shoots from lavender plants can grow between 8" and 16" (20 – 40 cm) long. Because the flowering spikes are longer than their leaves, fields of lavender can look like a sea of purple when in full bloom.
Plant lavender where it enjoys full sunshine all day long and in moist, well-drained soil.
Lavender is also famed for its healing essential oil that treats wounds and helps you get to sleep better.
Millennium Flowering Allium
Ornamental onions such as the 'Millennium Flowering Onion,' 'Round and Purple,' or 'Purple Sensation' produce fuzzy purple flowers that bloom into large ball-shaped clusters.
Purple flowering onions make a great addition to any garden and add a splash of color and also attract pollinators. Flowering onions are especially good for their purple colorful hues as their blooms last a long time. They are also hardy perennials that can withstand temperatures as low as -20°F (-6°C).
Coralbells
If you are looking for a purple-leaf perennial, some Coralbell (Heuchera) cultivars are a good choice. For example, types such as 'Plum Pudding,' 'Purple Palace,' 'Purple Petticoats' and 'Dark Secret' can add stunning dark foliage to your garden landscape.
Cora bells grow best in full sun to partial shade, and they like a neutral to slightly acidic soil with good drainage. Plant them in groups for beautiful purple effect.
Related articles: