The Best Florida Butterfly Plants (With Pictures) – Identification Guide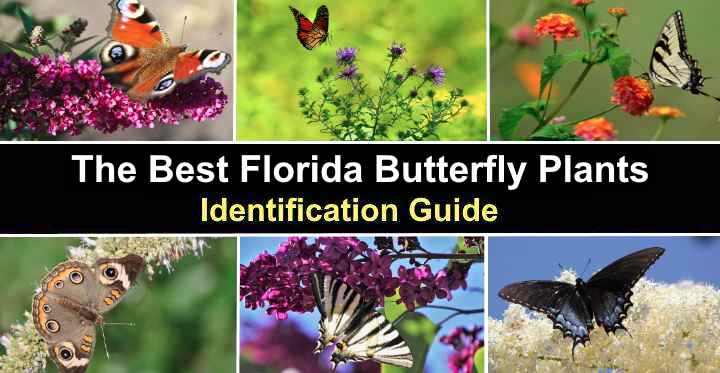 Several varieties of native Florida plants attract butterflies to your garden. Planting the right shrubs and flowers encourages healthy populations of common butterflies in the Sunshine State—monarch, swallowtail, fritillary, admiral, and sulphur butterflies. The best plants native to Florida for butterflies include the butterfly bush, milkweed, lavender, coralbean, and lantana.
Plants for attracting native Florida butterflies must serve two purposes—provide nectar and pollen for adult butterflies and leaves for their caterpillars. Evergreen and deciduous shrubs in Florida also provide shade and shelter in the Sunshine State's hot, humid, and harsh climate.
This article describes the best Florida butterfly plants for your garden landscape. Whether you're a seasoned gardener or just starting, these plants will add beauty to your garden and provide a habitat for lots of butterflies to thrive.
How to Create a Successful Butterfly Garden
Creating a butterfly garden is a rewarding project. First, it's best to select plants native to Florida. These should have nectar-rich flowers and dense, leafy foliage. It's also good to grow various plants with brightly colored flowers to attract several varieties of the more than 200 butterfly species native to the Sunshine State.
Variety is key when planning a butterfly garden in Florida. Try to incorporate a diversity of colors and sizes of shrubs and flowers. Additionally, don't forget flowering shrubs for the shade in Florida, as some butterflies prefer shadier locations. Planting long-blooming flowering shrubs ensures a constant supply of food.
Florida Butterfly Plants (With Pictures)
What are the best plants for a Florida landscape to attract butterflies and pollinators? Please read on to find out.
Butterfly Bush (Buddleja)
Butterfly bush is a sun-loving shrub with conical clusters of colorful, fragrant, nectar-rich flowers that attract beautiful butterflies in Florida gardens. The cone-shaped clusters of flowers bloom in various shades of purple, pink, orange, white, and yellow. The blooms grow en masse on arching branches, giving the shrub a graceful appeal from late summer through late fall.
The butterfly bush grows 3 to 7 ft. (1 – 2.1 m) tall and wide, making it an excellent choice for a focal point in the landscape or as a flowering hedge, foundation planting, or shrub border. It's suitable for growing in USDA zones 5 to 9.
As its name suggests, the deciduous flowering shrub attracts butterflies, making it an ideal addition to butterfly gardens. In addition, the shrub's compact size and low-maintenance make it ideal for small front or backyards or containers.
Bottlebrush (Callistemon)
Bottlebrush is a tropical, sun-loving evergreen shrub with unique, fuzzy, bottlebrush-like flowers. The vibrant red, pink, or white flower spikes bloom in spring and summer and attract a range of native Florida butterflies. The shrub grows 6 to 12 ft. (1.8 – 3.6 m) tall and wide and has narrow, leathery leaves.
Bottlebrush is an ideal plant for sunny butterfly garden landscapes. In addition, its drought-tolerant nature makes it perfect for xeriscaping in hot, dry regions. The shrub is also suitable for planting as an evergreen hedge or screen or growing as a specimen plant in a mixed border.
Bottlebrush thrives in all growing zones in Central and South Florida.
Lavender (Lavandula)
Lavender has fragrant purple flowering spikes for attracting butterflies in Florida. Sun-loving lavender is well-known as a compact herbaceous shrub with fragrant purple-blue flowers and small grayish-green leaves. The flower spikes grow up to 3 ft. (1 m) tall and bloom throughout the summer.
Lavender is a magnet for many types of butterflies. As a result, the small fragrant shrub is perfect for butterfly gardening. The hardy aromatic plant grows in clumps 2 to 3 ft. (0.6 – 1 m) tall and wide. You can grow lavender in borders, rock gardens, herb gardens, and containers.
Lavender thrives in full sun and well-drained soil. It is also suitable for growing in USDA zones 5 to 9.
Butterfly Weed (Asclepias tuberosa)
Butterfly weed is a beautiful orange-flowering perennial shrub that attracts beautiful butterflies in Florida. The outstanding ornamental feature of butterfly weed is its large blooming bright orange, flat-topped clusters of upward-pointed tubular flowers contrasting with green, lanceolate leaves. Butterfly weed grows 1 to 3 ft. (0.3 – 1 m) tall and wide.
Butterfly weed is a host plant and one of the main food sources for the beautiful monarch butterfly. Planting butterfly weed in your garden provides a vital food source for these stunning orange and black flying insects. In addition to attracting butterflies, this bushy plant is an ideal ornamental shrub for beds, borders, foundation plantings, and
Butterfly weed is suitable for growing in USDA zones 3 through 9.
Coral Honeysuckle (Lonicera sempervirens)
Also called trumpet honeysuckle, the red tubular flowers on this climbing Florida plant attract masses of native butterflies. The clusters of tubular, coral-red flowers with yellow throats grow in whorled clusters at the ends of the stems, providing abundant food for butterflies. The flowers are followed by clusters of bright red berries that attract birds.
The red-flowering climber brows 8 to 15 ft. (2.4 – 4.5 m) tall.
The brightly colored red flower clusters contrast nicely with the plant's glossy, dark green ovate to oblong leaves. In Central Florida, the shrub's foliage is evergreen, making it ideal for covering a fence line, cascading over a retaining wall, or climbing a pergola or trellis. In addition, its growth habit makes it ideal for adding vertical interest to your garden.
Coral honeysuckle is suitable for growing in USDA zones 4 through 9.
Coralbean (Erythrina herbacea)
Coralbean is an attractive flowering shrub with bright coral-red curved, tube-shaped flowers. The brilliant red flowers attract several species of native Florida butterflies. In South Florida, the shrub's trifoliate leaves stay evergreen. Also, the flowers bloom throughout spring, summer, and fall. Its upright spikes with red flowers grow 2 ft. (0.6 m) tall.
Coralbean is ideal for planting in hot, humid, tropical climates and is drought-tolerant once established. The shrub thrives in full sun and looks attractive as an accent or specimen shrub. Its tolerance to salt spray and drought makes it ideal for butterfly gardens in Florida's coastal and inland regions.
Coralbean is suitable for growing in USDA zones 8 through 11.
Firebush (Hamelia patens)
Firebush is an attractive ornamental flowering shrub for Florida gardens that attracts a variety of butterflies. This tropical, sun-loving Florida shrub produces bright red-orange tubular flowers measuring 1.5" (4 cm) long and growing in whorls of three and followed by black berries. The shrub also has lanceolate evergreen leaves growing 6" (15 cm) long.
Firebush is ideal as a butterfly magnet in Central and South Florida, where it thrives in full sun or partial shade. Growing 2 to 15 ft. (0.6 – 4.5 m) tall, the evergreen shrub is suitable in a sunny landscape as a foundation plant, evergreen hedge, or natural screen.
The butterfly-friendly firebush shrub is ideal for USDA zones 9 to 11.
Firecracker Plant (Russelia equisetiformis)
Firecracker is a small shrub with narrow leaves and a profusion of red, yellow, or pale pink tubular flowers. Suitable for butterfly gardens in most regions of Florida, the wispy stems, cascading branches, and eye-catching flowers of the shrub have tremendous ornamental value. The attractive shrub grows 3 to 6 ft. (1 – 1.8 m) long and up to 2 ft. (0.6 m) wide.
Apart from butterfly gardening, ornamental uses of firecracker include growing in a hanging basket, containers, or in mass planting to create a colorful border. The bright red flowers bloom continuously from spring to fall, attracting hummingbirds and butterflies to the garden.
Firecracker is suitable for growing in USDA zones 9 to 11.
Ice Plant (Delosperma)
Ice plant is the perfect low-growing flowering succulent to attract a host of butterflies to your Florida landscape. The stunning ground cover plant features vibrant ray flowers in fire-like red, orange, yellow, and pink colors. Additionally, its succulent fleshy leaves tolerate the hot sun of the southeastern United States.
Ice plants are ideal for water-wise landscapes and xeriscaping. The heat and drought-tolerant plant survives poor soil conditions. The succulent plant grows 2" to 3" (5 to 7.5 cm) tall and up to 24" (60 cm m) wide. Landscaping uses in a butterfly garden include border fronts, ground cover, rock gardens, an edger, or containers.
Ice plant fire spinner is suitable for growing in USDA zones 6 to 10.
Lantana
Lantana is a group of sun-loving shrubs with bright pink and yellow rounded flowering clusters. The abundant flowers on lantana shrubs are a vital nectar source for butterflies in South Florida landscapes. In addition, the heat-tolerant plant enjoys a long blooming season—from spring until frost in northern Florida and year-long blooming in the south.
Most varieties of lantana shrubs are small bushy plants growing 1 to 3 ft. (0.3 – 1 m) tall and wide. Thanks to their low height and compact habit, they are ideal landscaping plants for small gardens in Florida. Additionally, the shrubs are ideal for use as a border plant, foundation planting, or container plant on a patio.
Lantana grows well in USDA zones 8 through 11 and is suitable for planting in coastal regions.
Nettlespurge (Jatropha)
Nettlespurge is a beautiful flowering large shrub or small tree that adds a pop of color to butterfly gardens in Florida. Identifying characteristics of the native Florida plant are its oblong or fiddle-shaped leaves, umbrella-like clusters of bright pink or red flowers, and large oval seeds. In southern states, peregrina blooms throughout the year.
This low-maintenance plant grows 5 to 6 ft. tall (1.5 – 1.6 m) and wide. The red, star-shaped flowers measure 1" (2.5 cm) wide and will bring butterflies to your garden.
It's good to note that some species of Jatropha are invasive in Florida. Therefore, to add this large shrub to your butterfly garden, choosing the Jatropha integerrima or Jatropha multifida species is best. 
Mexican Heather (Cuphea hyssopifolia)
Mexican Heather is a ground-hugging shrub with tiny jewel-like flowers that attract native butterflies. Ideal for ground cover, the deciduous foliage consists of small, green leaves, and it has small white or purple tubular flowers that grow in clusters and bloom continuously throughout the year, attracting bees and butterflies to the garden.
Mexican Heather grows 1 to 2 ft. (0.3 – 0.6 m) tall and has a spreading, irregular habit. Its prostate habit makes the small shrub ideal for planting in garden borders, rock gardens, or as a ground cover. The plant prefers well-drained soil and full sun to partial shade.
Mexican Heather is hardy in USDA zones 8 to 11 and grows as an annual in cooler climates.
Egyptian Star Flowers (Pentas lanceolata)
Egyptian star flowers are flowering shrubs that thrive in tropical landscapes, attracting various species of butterflies. The spectacular feature of the shrub is its large, showy clusters of five-petaled pink, lilac, red, or white star-shaped flowers. The evergreen tropical shrubs grow 2 to 3 ft. (0.6 – 0.9 m) tall and wide.
Egyptian star flowers are versatile butterfly plants that you can grow in full sun or light shade and well-drained soils. The pink-flowering shrubs are perfect for planting in garden beds, borders, or containers. The low-maintenance plants bloom from summer until fall and require occasional deadheading to promote new growth.
Egyptian star flowers are suitable for growing in USDA zones 9 to 11.
Purple Coneflower (Echinacea)
Purple coneflower is a hardy flowering plant with showy daisy-like flowers that thrive in Central and North Florida. The eye-catching flowers have drooping petals and pronounced brown cone-like centers. These blooms grow atop erect, upright stems 2 to 4 ft. (0.6 – 1.2 m) tall.
Purple coneflowers are irresistible for butterflies and other pollinators. The sun-loving flowers can be purple, lilac, dark red, yellow, or orange, depending on the variety. In a southern butterfly garden, you can use the ornamental flowers in wildflower gardens, back-of-the-border planting, or to produce a vibrant floral display.
Purple coneflower is suitable for growing in USDA zones 4 through 9.
Bushy Aster (Aster dumosus)
Bushy aster is a native purple-flowering perennial plant with masses of daisy-like flowers that butterflies love. The native wildflower blooms in late summer to early winter with fancy ray florets on arching stems, creating a beautiful floral display. The flowers measure up to 1" (2.5 cm) across.
Bushy aster grows 1 to 3 ft. (0.3 – 1 m) tall and wide. Apart from being an abundant nectar source for many species of butterflies, the late-flowering plants are ideal for growing in sunny borders, cottage gardens, native butterfly gardens, or mixed beds.
Bushy aster is suitable for growing in USDA zones 4 to 11.
Black-Eyed Susan (Rudbeckia hirta)
Black-eyed Susan is a Florida native wildflower plant with yellow flowers that are irresistible to native butterflies. These eye-catching bright daisy-like flowers have linear yellow petals with a dark chocolate-colored conical center. Black-eyed Susan's tolerance to heat, sunshine, drought, humidity, and salt air makes it an essential butterfly plant for Florida landscapes.
Black-eyed Susans grow 2 to 3 ft. (0.6 – 1 m) tall and 2 ft. (0.6 m) wide. Thriving throughout the Florida peninsula and the Panhandle, the tall native flowers are ideal for yellow-flowering plants for mixed borders, growing along a foundation line, or hiding an ugly fence line.
Grow black-eyed Susans in USDA zones 3 through 10 in well-drained soil and full sun for best results.
Cosmos
Cosmos is a group of bushy perennial plants that have a long blooming time in the Sunshine State. The vigorous flowers produce a stunning floral display with an abundance of daisy-like flowers in shades of pink, white, red, and purple, along with feathery foliage. These showy blooms can be single or double flowers and some with ruffled petals.
Cosmos flowers grow 3 to 4 ft. (1 – 1.2 m) tall and 1 to 2 ft. (0.3 – 0.6 m) wide. Apart from enticing fritillary butterflies and swallowtail butterflies to your backyard, the shrubs have tremendous ornamental appeal. Thriving in full sun, cosmos flowers look stunning in beds, borders, and containers.
Annual cosmos is suitable for growing in USDA zones 2 through 11. However, you can expect the flowers to grow as hardy perennials in Florida.
Passionflower (Passiflora)
Passionflower is a group of exotic vining plants with intricate flowers that butterflies love. The passionflower climbing vines grow up to 30 ft. (9 m) long. The beautiful blooms feature showy filaments and come in deep purple, blue, white, and red colors. The flowers measure up to 5" (13 cm) across and have a central disk surrounded by a ring of colorful petals and filaments.
Passionflower thrives in full sun to partial shade. The semi-evergreen climber is ideal for growing on trellises, arbors, wall-side borders, or fences.
Passionflowers are suitable for growing in USDA zones 8 to 11, making them suitable vining plants for butterfly gardens throughout the Sunshine State.
Senna Mexicana (Cassia bahamensis)
Senna Mexicana is a tall shrub that produces masses of bright yellow flowers contrasting with dark green foliage. The showy yellow flower clusters are especially irresistible to cloudless sulphur butterflies and swallowtails. The yellow flowers consist of five heart-shaped petals in clusters measuring 1" (2.5 cm) across.
Senna Mexicana has feathery foliage, and the large evergreen shrub grows 3 to 9 ft. (1 – 2.7 m) tall. You can plant the drought-tolerant shrub to attract pollinators to the garden. Its landscaping uses include an evergreen hedge, privacy screen, or specimen plant.
Senna Mexicana is suitable for growing in USDA zones 9 and 10.
Related articles: