The Most Beautiful Flowers in the World (With Name and Picture)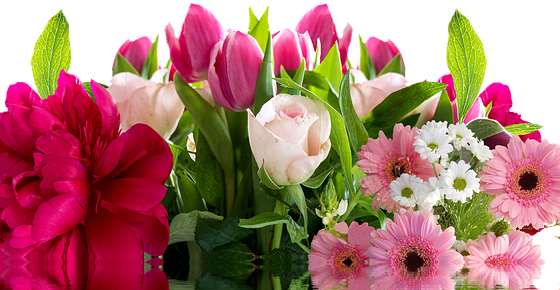 Every type of flower is beautiful in its own right. There are many flowers that people regard as some of the most beautiful flowers in the world. Some of the prettiest flowers have large showy blooms, striking colors, or exotic looks. Outstanding examples of beautiful flowers have unique characteristics that set them apart from all other flowers.
Of course, every person will have their own favorite flower they regard as the most beautiful.
In this list, you will find about some of the most gorgeous flowers you can find. All of these flowers look stunning growing in your garden or as part of a cut flower display. You will also learn how to identify these beautiful flowers and about some of the exceptional species or cultivars in these types.
22 of the Most Beautiful Flowers in the World With Name and Picture
Roses
Due to their exquisite beauty, roses are one of the most beautiful flowers in the world and the most popular.
There are over 300 species of woody shrubs in the genus Rosa and even more cultivars. Roses are easily recognizable with their fragrant flowers that come in almost any color. Some of the most eye-catching rose flowers are bushy layers of petals of colorful petals.
Roses are so beautiful they have come to mean passion, romance, desire, and friendship. Different colors of roses also have different meanings. The most popular type of rose, red roses are a classic symbol of love, whereas white roses can mean humility and innocence.
Tulips
When it comes to beautiful spring flowers, tulips top the list of graceful and exquisite early bloomers.
Tulips are a bulbous plant species in the genus Tulipa belonging to the Liliaceae family. These are some of the most popular flowers in spring. Tulip flowers proudly stand on top of long green stems. These exquisite and graceful flowers come in shades of pink, white, yellow, orange, lilac, purple, and red.
Most tulips consist of a single row of petals in a cup shape. Some outstanding tulip cultivars can be large ruffled flowers with multicolored petals. Other elegant lily-shaped tulip flowers have pointed petals with trumpet-like flower heads.
Although these delightful flowers are synonymous with springtime, many beautiful tulip cultivars bloom at most times of the year. So, you are bound to find tulips for any occasion.
Orchids
Orchids are very distinct and easy identifiable flowering plants due to their exotic flowers gracing long stems.
Flowers in the orchid family are some of the most diverse and breathtaking flowers on the planet. There are over 28,000 species of plants in the Orchidaceae family. Orchids come in all shapes, sizes, and vivid colors.
Although orchids are generally a type of tropical plant, many cultivars are perfect as house plants. Phalaenopsis, or moth orchids, have large colorful petals in contrasting colors. You will never cease to be amazed at the different types of beautiful flowers you get from orchids.
Peonies
Peonies (Paeoniaceae) are a beautiful species of plant that produce some of showiest flowers you will ever see. Even single peony flowers that form a cup shape are very pretty to look at, let alone the ruffled petal types.
These woody perennial shrubs bloom from late spring until early summer. The large bright gaudy flowers give off a wonderful floral scent and look stunning in bouquets, wedding displays, or floral arrangements. Many peony flowers are very lush and gorgeous due to their double blooms, frilled petals, and exquisite pastel shades.
Peonies also produce some of the largest flowers you can grow in your garden. For example, some lush ruffled blooms can grow up to 12" (30 cm) in diameter. Adding to their beauty are petals on peony flowers with contrasting colors.
Dahlias
Another example of a bushy plant that produces beautiful showy flowers is dahlias. These flowering plants belong to the Asteraceae family meaning they are related to daisies, zinnias, and chrysanthemums.
There are a number of stunning dahlias to choose from. Some of the smallest and cute types of dahlia flowers may just measure 2" (5 cm) across. However, some exceptional species produce gorgeous flowers up to 12" (30 cm) in diameter!
Looking at the sheer variety of dahlias, it's not difficult to know why they are listed among the most beautiful flowers in the world. Among the hundreds of cultivars are flowers with multilayered petals, stunning star-shaped petals, and large globular blooms.
Their beauty is enhanced by the many shades of color they come in. Some very beautiful dahlia flowers are in shades of orange, light pink, red, and yellow. Some of the most striking examples of these lovely flowers are deep purples, pastel colors, and chocolate-brown.
Lotus Flowers
Lotus flowers (Nelumbo nucifera) have always been a sign of beauty as they grace ponds and lakes. These delicate aquatic flowers are beautiful to look at as they seemingly float on water among green foliage.
Native to India and East Asia, lotus in the family Nelumbonaceae is a delightful white and pink flower. They can be confused with another type of aquatic plant – water lilies. Although they look and grow similarly, water lilies and Indian lotus plants are from different families.
Lotus flowers are beautiful large and showy flowers. The dainty pastel-colored flowers can measure up to 12" (30 cm) in diameter. These star-shaped flowers sit on green leaves measuring up to 31" (80 cm) across.
Calla Lilies
With their incredibly beautiful lily-like flowers, calla lilies really make a statement in a floral display or wedding bouquet. These are not true lilies (Lilium) but belong to the family Araceae.
There are 8 recognized species of calla lilies, all with flowers in the shape of a trumpet. The elegant flowers sit on the top of tall stems that can measure up to 12" to 24" (30 – 60 cm) tall.
Calla lilies look magnificent with their pure white flowers or flowers in shades of orange, yellow, pink or red. Some species of calla lily have such deep purple coloring that their flowers look almost black.
Oriental and Trumpet Lilies
If you are looking for truly beautiful flowers to grace your garden or room, then any type of lily is an excellent choice. Lilies produce huge trumpet-shaped flowers in various colors and shades.
Appreciated around the world for their flowers, popular lilies such as the Oriental Stargazer lily have large petals and give off a fragrant scent. Some popular oriental lilies have fully recurved petals that show off amazing colors and long protruding stamens. Lilies such as breathtaking Trumpet lily flowers keep a more funnel-like shape.
A few stunning lily flowers in a floral arrangement can create a beautiful centerpiece that many will admire.
Buttercups (Ranunculus)
There are over 500 species of flowers in the Ranunculaceae family that produce some beautifully exquisite flowers. The prettiest types of ranunculus flowers are the flowers with multiple layers of silky double petals.
Ranunculus (buttercup) flowers are well-known for their beautiful blossoms and delicate petals. The prettiest of the blooms have compact clusters of petals. Some of the most delightful flowers look like whipped cream. Many people say that buttercups are just as beautiful as roses or peonies.
You can also find ranunculus cultivars to suit any occasion. Some of the most elegant flowers are pure white with dark centers. Buttercups can also be deep orange, bright red, pink and purple pastel shades, or sunny yellow.
Asters
Related to other gorgeous flowers such as sunflowers and daisies, asters provide beautiful colors in the fall.
There are some simple and cute asters that have thin purple or lilac flowers in a star shape and yellow center. However, some of the 600 species of asters are very attractive and look nice in any garden due to their large flower heads and double flowers.
Some of the larger aster cultivars have deep pink flowers that can measure up to 2.5" (6 cm) across. Other types of asters have bushy double flowers that can be as large as 3" (7 cm) in diameter.
Whatever type of aster you choose, these delightful flowers can add color and joy to any flower arrangement.
Hydrangea
Hydrangeas are a very popular flower worldwide due to their clusters of beautiful flowers.
Florists and gardeners highly prize hydrangeas for their colors, size of blooms, and versatility. The ginormous flower heads bloom from early spring, throughout summer, and into fall. Some of the showy flowers look like round mopheads, some are like flat discs, and others are conical-shaped blooms.
Choose these magnificent blooms to add lilac, purple, pink, or white colors to attractive flower displays.
Plumeria (Frangipani)
Some of the prettiest flowers you will come across are plumerias from the family Apocynaceae. These extremely attractive flowers are made up of 5 oval petals and can have different shades of color. Common names for plumeria vary according to region and variety, but the name Frangipani is the most common.
Some of the most beautiful examples of plumerias have pink edges that fade to white and then yellow in the center. Some plumerias have deep vibrant colors such as magenta, red, and purple. Their heavenly scent is another reason why these are an especially desirable type of pretty flower.
Irises
One of the easiest ways to identify irises is by their delicate attractive petals that create these beautiful flowers. These popular flowering plants are loved because of their showy ruffled flowers and vibrant colors.
There are hundreds species of irises that bloom every spring. There is also one variety of iris plant that flowers in winter. The beauty of iris flowers has come to symbolize respect, wisdom, hope, and courage.
Some of the prettiest irises are bearded irises with breathtaking colors and frilled petals. Other irises such as Siberian irises have dainty flowers with paper-like petals sitting on long slim grassy foliage.
Planting as a delightful spring border plant or using in cut flower arrangements, irises will provide beauty, elegance, and prettiness.
Heliconia Flowers
One of the most exotic and unusual flowers are one from the Heliconia family, which contain several cultivars and hybrids for garden planting.
The identifying feature of Heliconia flowers is their bright orange, pink, red, or purple colors. One interesting species of Heliconia plant is the 'Parrot's Beak' due to its weird flowers that look like a parrot's plumage and a beak. Another exotic flower is the 'Lobster-Claw' Heliconia with its dangling stems and rows of bracts that look like small red lobster claws.
If you want to grow these beautiful tropical plants, then they grow well indoors in containers. These eye-catching ornamental plants will surely be a talking point with your visitors.
Cherry Blossom
Cherry blossoms are well known for beautiful displays of pink and white flowers when the trees are in bloom. In fact, these flowers are so stunning that people travel many miles just to see them.
There are a number of species of flowering shrubs or trees in the genus Prunus. The most popular species is the Japanese Cherry tree which is also called Sakura. Flowering every spring, cherry blossoms look stunning, especially if there are many trees planted together.
Cherry blossoms are so pretty that they have a special role in Japanese culture.
Hibiscus
Extremely popular worldwide, hibiscus is a type of flowering plant that produces exquisite delicate flowers. These beautiful plants from the family Malvaceae have ruffled and frilled showy flowers.
One of the identifying features of hibiscus plants is their large conspicuous flowers. Petals are like crepe paper and the large showy flowers look beautiful in celebration floral displays.
Some of the most beautiful hibiscus flowers are the double bloom varieties. These frilly flowers come in various shades of red, pink, white, yellow and orange. Spectacular examples of hibiscus flowers have multicolored petals. An identifying feature of many hibiscus flowers is their dark center contrasting with the rest of the brightly colored flower.
Chrysanthemum
There are more than 40 species of chrysanthemums in the family Asteraceae with hundreds of more cultivars. These flowering bushes have large cute flowerheads that are made up of tiny petals.
Chrysanthemums are among the most beautiful flowering shrubs in fall. Some of the largest showy flowers can grow up to 5" (12 cm) across. These popular 'mums' come in a range of colors with vibrant reds, bright yellows, and delicate pinks being the prettiest examples.
It is difficult to describe the exact form of chrysanthemum flowers. Some are large globular flowers, others have spider-type flowers, and others have bushy double flowers.
Bird of Paradise
If there was a prize for coolest-looking flower, then the exotic-looking "Bird of Paradise" would surely win it. Blooming from spring to fall, these pretty flowers look just like a crane's head.
The spectacular flowers sit on the top of 3-meter tall stems. The unique flowers have a pointed part that looks like a beak and 3 orange sepals pointing upwards. There are also blue sepals on the flowers to make this one of the most exotic flowers you will find.
Another feature of this clumping plant is the wide oval leaves that give the plant an appearance of a large bush. Each plant can have a number of beautiful flowers to create a showy display in your garden. The Bird of Paradise also flourishes as an indoor plant if it gets plenty of sunshine.
Gazania
The most striking feature of Gazania plants is the large vivid multi colored star-shaped flowers. These species of flowering plants belong to the family Asteraceae, which makes them relatives of daisies.
These common ornamental flowers have a striking appearance and beautiful colors. Some of the most beautiful species of gazanias have striped yellow and red petals. Others have multicolored petals that fade to darker colors nearer the center. A spectacular type of Gazania looks like spokes of a wheel with white and purple petals and a bright yellow center.
Flowering from spring right through to fall, these flowers are truly beautiful and eye-catching – Just perfect for creating stunning ornamental floral displays.
Gerbera
Beautiful gerberas are in the same family as asters and daisies and are striking disc-shaped flowers. In fact, gerberas are so pretty that they look fantastic as a single flower.
Like many flowering plants in the Asteraceae family, gerberas have a star shape flowerhead made up of dainty petals fanning out from the center. Gerberas are identified by a large dark center in the flowerhead. This is made up of hundreds of tiny individual flowers.
The cute gerbera flowers also come in a wide variety of sizes. The smaller species can measure around 2.7" (7 cm) and the largest showy flowers as large as 4.7" (12 cm).
When it comes to choosing beautiful cut flowers, gerberas are almost as popular as roses, carnations, and tulips.
Carnations
There are more than 12,000 species of carnations (Dianthus caryophyllus) that are well-known for their bushy frilled flowers. Carnations also have a special symbolism in many countries being widely used at celebrations, political demonstrations, and funerals.
Carnations are such a versatile flower that even the simple, single-colored varieties are very pretty. When it comes to the different cultivars, double blossoms with bushy, multicolored petals are especially stunning and beautiful. Some striking varieties of carnations have dark purple, almost black petals with white edging.
The name of some carnation cultivars such as 'Raspberry Swirl,' 'Arctic Fire,' 'Starburst Pink,' and 'Black and White Minstrels' all accurately describe these beautiful flowers.
Related articles: