Winter Plants: Outdoor Winter Plants to Grow in The Garden or in Pots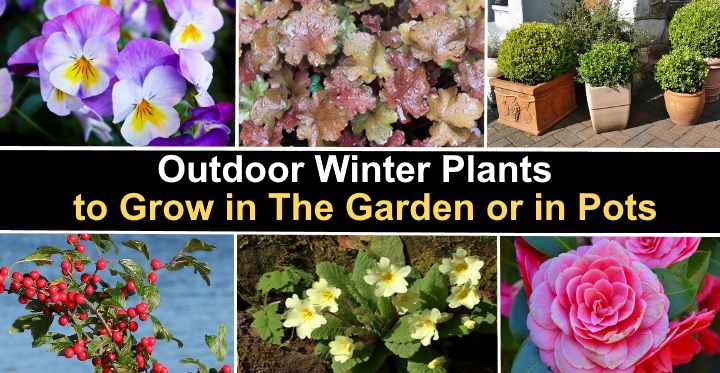 Winter plants are perfect for keeping winter garden landscape green and full of life. Many types of hardy plants that grow in winter can survive freezing outdoor temperatures and never lose their leaves. Some perennial winter plants also produce flowers while the ground is still frozen or there is a blanket of snow.
The best outdoor winter plants stay green throughout the year, and some even bloom in the winter months. Unlike most fall plants that lose their foliage and suffer die-back, winter plants are hardy in cold climates. Blooming winter plants can fill a winter landscape with hues of pink, red, purple, blue, yellow and white.
Planting winter flowering plants and shrubs is an excellent way to improve your front or backyard's look. You can plant cold-hardy shrubs along driveways, sidewalks, and mixed flower beds. Some evergreen winter plants are ideal for growing in pots to add greenery to your deck area, patio, or entranceway.
Winter is typically when trees, shrubs, and plants lose their colorful flowers, foliage and enter a period of dormancy. However, outdoor winter plants are excellent survivors in freezing climates.
This article is a guide to the best plants you can grow outside in winter. Descriptions and pictures of winter plants will help you choose the best evergreen shrubs and winter flowering plants for your front or backyard.
How to Choose Winter Plants for Gardens and Pots
Picking the best plants to grow outdoors in winter can be challenging. To ensure that your garden plants survive below-freezing temperatures, it is vital to check the growing zone.
The best winter plants to grow outdoors are plants that grow in USDA zones 5 and below. Plants that grow in USDA zone 5 won't die when temperatures dip below -20°F (-29°C). Some suitable plants for zone 6 may grow outdoors in winter if you give the roots and canopy some protection from frost.
Depending on your climate, some winter plants are best growing in pots. There are flowering winter plants that are not so cold-hardy in the harshest of winter climates. Growing in pots allows you to take the potted plants indoors in very cold winter so that their roots don't die.
Of course, growing flowering winter plants and small shrubs in pots is ideal if you want potted plants on your balcony, patio, driveway, or to grace your home's front door.
The Best Winter Plants: Outdoor Winter Plants to Grow in The Garden or in Pots
Let's look in more detail at the best winter plants that continue to grow from November until March. You will also learn about some beautiful flowering plants that bloom in the winter months and early spring.
Winter Gem Boxwood (Buxus microphylla var. japonica 'Winter Gem')
One of the best winter plants is the boxwood cultivar 'Winter Gem' which is an evergreen hedging shrub suitable for zones 5 through 9. 'Winter Gem' is the hardiest boxwood cultivar. This winter shrub has a rounded shape with small oval green leaves that turn golden bronze in winter. Boxwood bushes grow between 4 and 6 ft. (1.2 – 1.8 m) tall. However, you can prune them to the desired height and shape.
Boxwood's dense foliage makes this shrubby plant perfect for creating formal hedges. You can also grow boxwood shrubs throughout the winter as foundation plantings, driveway borders, and privacy screens. Boxwood also grows well in pots outdoors from November until March.
Prune boxwood shrubs in winter to limit their height, shape them, or thin their foliage.
English Boxwood (Buxus sempervirens 'Suffruticosa')
English Boxwood is a small, slow-growing compact shrub with evergreen foliage. This common boxwood cultivar has glossy green, ovate-shaped leaves that keep their color throughout the winter. As a cold-hardy, small shrub, English boxwood grows between 2 and 3 ft. (0.6 – 1 m) tall and up to 4 ft. (1.2 m) wide.
English boxwood is an easy to grow winter plant that thrives in full sun or shade. Grow English boxwood as a border shrub, formal hedge, evergreen privacy screen, or in pots. Boxwood is also a drought-tolerant perennial shrub and only requires watering during hot weather. In winter, this evergreen plant grows without much attention.
Colorado Blue Spruce (Picea pungens)
Colorado blue spruce is a type of ornamental conifer tree or shrub that survives temperatures in USDA zone 1. Picea pungens has evergreen foliage, and the shrubby spruce tree has a columnar or conical shape. The foliage is made from gray-green needle-like leaves, giving the branches a spiky look.
Colorado blue spruce trees grow around 15 to 20 ft. (4.5 – 6 m). However, you can grow smaller cultivars in pots if you want greenery in a winter landscape. For example, the Picea pungens 'Glauca Globosa' is a dwarf spruce with a spreading rounded crown that only grows between 3 and 5 ft. (1 – 1.5 m) high.
However, spruces are slow-growing trees and take many years to reach their mature height.
Dwarf Hinoki Cypress (Chamaecyparis obtusa)
Dwarf Hinoki cypress is a small evergreen conifer with soft, feather-like foliage that is a bright yellow to green, depending on the cultivar. The Hinoki cypress is a false cypress, and the dwarf shrubby tree grows between 5 and 10 ft. (1.5 – 3 m) and thrives in full sun or partial shade. Grow dwarf Hinoki cypress in zones 5 through 8.
Due to its dense, pyramidal growth, Hinoki cypress shrubby trees are best for growing as privacy screens, specimen trees, or a background plant in a mixed border.
To grow the dwarf Hinoki cypress winter plant outdoors in pots, choose small cold-hardy Hinoki cypress shrubs that don't grow over 3 ft. (1 m) tall. Some examples of winter evergreen shrubs are Chamaecyparis obtusa 'Pygmaea' and Chamaecyparis lawsoniana 'Minima Aurea.'
Golden Privet (Ligustrum 'Vicaryi')
The 'Vicaryi' golden privet is a deciduous shrub that grows well in winter climates. This golden privet cultivar has green golden-yellow leaves that grow up to 2.5" (6 cm) long. This hedge plant also produces clusters of showy white flowers in spring. Golden privet grows between 6 and 12 ft. (1.8 – 3.5 m) tall.
Golden privet is a fast-growing winter plant that grows outdoors well as a hedge or attractive foundation planting.
Purple Coneflower (Echinacea)
Coneflowers are flowering winter plants with attractive flower heads on the end of long stalks. The perennial flowers grow between 1 and 4 ft. (0.3 – 1.2 m) tall and thrive in full sun to partial shade. Echinacea plants will flower all summer until the first frost in USDA zones 3 through 8.
The long-blooming time of coneflowers means that you can enjoy wonderful purple and pink hues in your garden. The daisy-like flowers attract pollinators to gardens in summer and late fall. Coneflowers are plants that withstand extreme cold, and the flowers return year after year.
Coral Bells (Heuchera)
"Coral bells" is a genus of evergreen and semi-evergreen flowering perennials with a high tolerance of winter conditions. As a clump-forming, low-growing winter plant, coral bells grow up to 1 ft. (0.3 m) tall. Coral bells cultivars have spectacular colorful foliage that can be pink, purple, golden yellow, red, lime green, and multi-colored.
Coral bells thrive in USDA zones 4 through 9. Depending on the cultivar, the spreading plant grows well in full sun to complete shade. Plants in the genus Heuchera are perfect for winter ground cover in full shade or sun.
Winter Pansies (Viola hiemalis)
Winter pansies flower in winter to fill garden landscapes with stunning yellow, purple, and orange shades. Also called ice pansies or violets, winter pansies are cold-hardy winter plants. The low-growing bedding plants grow around 9" (23 cm) tall and prefer growing in full sun. Winter pansies grow well in USDA zones 4 through 7.
Many species of pansies bloom from November until March in mild winter climates. If you live in cold, northern regions, plant pansies from the Viola hiemalis species. These annual winter plants start blooming in late winter and early spring.
Winterberry Holly (Ilex verticillata)
Winterberry holly is a cold-hardy winter shrub with glossy green leaves and clusters of small flowers and red berries. The winter interest of Winterberry comes from the bright crimson berries that add bright crimson colors to winter landscapes. Because there is no foliage on the deciduous shrub, the berry clusters look spectacular against the white snow.
Winterberry holly shrub grows between 3 and 15 ft. (1 – 4.5 m) tall. The dense, bushy growth forms large thickets that are excellent for ground cover in full sun. Winterberry shrubs are ideal for growing in poor soil where little else grows.
Primrose (Primula vulgaris)
Common primrose is a flowering winter plant that starts blooming at the end of winter. Primrose is a small clumping plant that prefers growing in partial shade. The crinkly, green leafy foliage grows up to 6" (15 cm) tall and 9" (22 cm) wide. The yellow flowers last from winter until spring, and the semi-evergreen perennial comes back every year.
Primrose flowers grow best in mixed flower beds, borders, rock gardens, or pots. Because primrose plants grow outdoors all winter, you don't have to bring pots indoors to winterize them. You can also plant primrose as a winter ground cover plant for its green foliage and yellow flowers.
Catmint (Nepeta)
Catmint is a perennial winter plant that thrives in zones 3 through 7. Also called catnip, catmint plants have long branches producing green leaves with toothed margins. Winter catmint blooms from spring to fall with spikes of small purple, pink or white flowers. Catmint grows between 2 and 3 ft. (0.6 – 1 m) tall.
Grow catmint in full sun or partial shade. As a low-maintenance plant, catmint is drought-tolerant and survives a range of climate conditions—from hot summers to freezing winters.
Flowering Kale (Brassica oleracea)
Decorative kale is a great winter plant for growing in the ground or pots. Ornamental cabbages such as kale produce spectacular colored ruffled leaves in a rosette shape that look like flowers. The deep colorful foliage of flowering kale usually lasts throughout the winter. Flowering kale grows between 1 and 1.5 ft. (0.3 – 0.45 m).
Ornamental kale is suitable for growing in USDA zones 2 through 11. The colorful winter plant is attractive, growing along borders, in containers, or mass plantings.
Winter Jasmine (Jasminum nudiflorum)
Winter jasmine is a shrub-like vine that blooms in the winter with spectacular yellow flowers. As a plant that flowers in winter, Jasminum nudiflorum is covered in star-shaped yellow blooms in late winter. After flowering, small, ovate leaves appear in spring.
Winter jasmine grows up to 4 ft. (1.2 m) tall, and the trailing vines grow between 10 and 15 ft. (3 – 4.5 m) long. Winter jasmine is a hardy winter plant for zones 6 through 9.
Cotoneaster 
Cotoneaster shrubs can be evergreen or deciduous. But all of these shrubby plants have colorful berries that last from fall through winter. The red or orange berries grow on woody stems and add plenty of winter color to barren landscapes. Cotoneaster shrubs also have small, ovate leaves that turn red, purple, or bronze in the fall.
Serviceberry (Amelanchier)
Serviceberry is a genus of deciduous shrubs that thrives outdoors in winter climates as low as -30°F (-34°C). Serviceberry shrubs provide year-round interest in all seasons. In later winter or early spring, dainty white flowers appear on the woody branches. In summer, clusters of berry-like pomes appear and then become purple or black. In fall, the foliage turns warm shades of orange, red, and yellow.
Star Magnolia (Magnolia stellata)
Star magnolia is a winter-flowering tree with stunning brilliant white, star-shaped flowers. When magnolias bloom in late winter, the tree turns into a mass of white blossoms. Cold hardy Magnolia stellata thrives in cold zones such as 4 and 5. The shrub-like tree has a rounded to oval crown.
Star magnolia grows best in full sun as a flowering specimen tree, foundation plant, or shrub border. You can also plant the shrubby trees in a row to create a tall privacy screen.
Related reading: How to care for magnolia shrubs.
Japanese Camellias (Camellia japonica)
Japanese camellia shrubs produce spectacular blooms in winter gardens in zones 6 through 9. Flowers on Japanese camellia bushes are large showy white, pink, or red flowers. The Japanese camellia shrubs are also famed for their glossy evergreen foliage and attractive rounded shape.
For climates with mild winters, Japanese camellias are ideal in the ground as an attractive landscape shrub.
It's best growing small Camellia japonica cultivars in pots in colder climates and then take them indoors if the temperature drops below freezing.
Winter Aconite (Eranthis hyemalis)
Winter aconite is a low, spreading perennial winter plant with attractive yellow cup-shaped flowers blooming in late winter. As a winter bedding plant, winter aconite grows up to 4" (10 cm) high. The ground-hugging plant spreads through tuberous roots. Because winter aconite thrives in USDA zones 4 through 9, its flowers come back year after year.
Winter aconite can turn a bare, winter landscape into a sea of yellow and green.
Hardy Winter Viburnum Shrubs (Viburnum)
Hardy viburnum shrubs are attractive bushy winter plants with a rounded crown. Viburnum shrubs have dark green, ovate leaves with prominent veins and toothed edges. Flower clusters appear in late spring and develop into red fruit that becomes black in winter.
Some of the most spectacular winter viburnum shrubs are snowball varieties. These shrubs have large white pompom-like clusters of white flowers.
Some cold-hardy winter viburnums include cultivars such as American cranberry bush (Viburnum trilobum), arrowwood (Viburnum dentatum), blackhaw (Viburnum prunifolium), and dwarf European viburnum shrubs.
Related articles: