Hellebore Flowers (Lenten Rose) With Pictures and Identification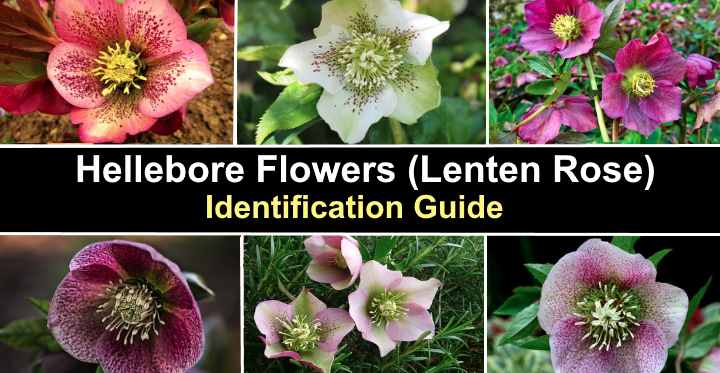 Hellebore flowers are spectacular colorful plants famous for their cup-shaped blooms that appear in late winter and early spring. Also called Lenten roses or winter roses, these perennial plants are a hybrid of Helleborus orientalis and other species of hellebores. The flowers on ornamental hellebore plants can be single or double blooms with colors like pink, red, peach, purple, green, and rose.
Lenten rose flowers are among some of the most prized ornamental perennials for a shaded garden landscape. With their colorful flowers, the bushy plants are easy to grow and thrive in most climates. In addition, the deer- and rabbit-resistant plants tolerate frost, and many varieties keep their foliage throughout the year.
The article is a guide to identifying some of the most eye-catching hellebore flowers. In addition, you will learn about the various Lenten rose flowering hybrids and how to use them in a garden landscape.
Hellebore Flowers
Flowers blooming on hellebore hybrids are showy, cup-shaped blossoms at the end of upright stems. Individual cupped flowers can be single or double blossoms consisting of five rounded or pointed petals that have a ruffled or smooth appearance. The breathtaking blooms measure 2" to 3" (5 – 7.5 cm) across.
Hellebore flowers have five overlapping petals surrounding a crown of yellow stamens. The cup or bowl-shaped flowers either have a nodding form or are outward-facing blooms.
Lenten rose flowers bloom in late November and persist through spring until April. They are sometimes the first flowers in the season to appear. The colorful pink, red, purple, peach, and white flowers bloom for six to eight weeks.
Hellebore plants are perennials, meaning the flowers come back every year. You can enjoy Lenten roses in the garden for several years with little maintenance. Year after year, the bushy plants bloom, filling winter landscapes with color and showy decorative flowers.
Although hellebore hybrid plants are called Lenten roses, they are not related to roses. The common name comes from the plant's blooming time —late winter through early spring. They are called roses due to the rose-like buds that appear before the beautiful flowers emerge.
Hellebore Leaves
Hellebore plants are evergreen broadleaf perennials with large, stiff, glossy, leathery leaves. The long-lasting compound leaves consist of usually seven to nine leaflets forming an umbrella shape. Each leaflet has serrated margins and a lanceolate oval shape. Because of their evergreen foliage, Lenten roses keep their dark green color throughout winter.
However, in colder climates, the shrub-like landscaping plants can be semi-evergreen.
Hellebore Identification
Hellebore plants are identified by colorful, showy cup-shaped flowers nodding at the end of erect stems. There are typically three or four blossoms on a stem. The garden landscaping plant has palmately compound large evergreen leaves. Lenten roses are clumping bushy plants reaching 2 ft. (0.6 m) tall and wide.
Hellebore plants (Helleborus spp.) are low-growing evergreen and semi-evergreen perennials in the buttercup family Ranunculaceae. In warmer climates, the flowering plants keep their color throughout the year. However, the hardy, robust plants die back in colder regions before returning in late winter.
It's vital to remember that all parts of hellebore plants are poisonous. Ingesting the leaves, stems, or flowers causes seizures and vomiting. Also, sap from the plant can irritate the skin.
Lenten Rose Varieties
Here is a brief overview of some outstanding varieties of Lenten roses you can plant in USDA zones 4 to 9:
Double white picotee: This Lenten rose has double blooms with white petals with a deep pink edge. Some varieties have pointed petals with pinkish streaks or veins.
Lenten rose 'Ivory Prince': This hellebore has greenish to creamy white saucer-shaped flowers emerging from pink buds. A feature of the flowers is that they are outward-facing, not nodding.
Lenten rose 'Red Lady': This hellebore cultivar has cup-shaped nodding blooms in deep red, cherry, and almost dark purple shades.
Black flowering hellebore: A spectacular black-flowering plant with several rows of five almost black petals contrasting with a crown of white stamens in the center.
Hellebore 'Windcliff Double Pink': The spectacular showy flowers of this hybrid are deep pink with lighter pink mosaic-like patterns. These contrast with the ring of showy yellow stamens in the center.
How to Plant Hellebore
Hellebore flowers thrive in partial shade during summer, although some tolerate full shade. In winter they need more sunlight but will appreciate shelter from the midday sun. Hellebores can be grown in full sun, but the leaf edges can turn brown with increased heat.
Plant Lenten roses in fertile, humus-rich, moist soil with excellent drainage. The best location to plant hellebore plants is in front of a border or beneath deciduous trees or shrubs so in winter they will get more sun exposure. Hellebore thrives in USDA zones 4 to 9.
Like all flowering evergreen perennials, hellebores come back year after year. So here are some helpful tips on how to plant Lenten roses.
Where to plant hellebores: Plant hellebore plants at any time of year, ensuring the ground isn't frozen. Choose a location with partial shade and where the ground has excellent drainage. In addition, most hellebores benefit from some protection from the midday summer sun.
How to prepare the soil: Before transferring flowering hellebores to the ground, amend the soil with organic matter and compost to boost nutrient levels.
How to plant hellebores in the ground: The next step is to dig a hole just as deep as the root ball and twice as wide. It's vital to ensure the plant grows at the same depth as the pot. The crown should be slightly above soil level. Space the plant 15" (38 cm) apart.
Before putting the root ball in the ground, gently loosen the roots. Then backfill the hole, tapping down the soil as you go. Lastly, thoroughly water the ground.
How to Care For Hellebore
Lenten roses are relatively carefree ornamental landscaping plants for shade. Hellebores bloom best when the ground is consistently moist but never soggy. If there is no rain, you should give the flowers about one inch (2.5 cm) of water weekly. In summer, ensure the plant gets protection from the sun in partial or dappled shade.
For healthy blooming and plenty of flowers, hellebores need some organic matter. Therefore, in late fall, add compost to the root area once a year. If you have mass plantings, it's a good idea to use a balanced, slow-release fertilizer for flowering plants.
Hellebore care requires that you prune the plants once a year. To do this, cut back the large leathery leaves when new foliage emerges and the plant blooms.
Types of Hellebore Flowers (Lenten Rose) With Pictures
Hellebore flowers have several uses in the landscape. Growing in partial to complete shade, the ornamental plants are ideal for growing in shady borders, under large shrubs, or in woodland gardens. Due to their glossy evergreen leaves and winter-to-spring flowering habit, the low-growing perennials have four-season interest in a landscape.
What are the most outstanding Lenten rose flowers to grow in your front or backyard? Please read on to find out.
Hellebore 'Double Pink' Flowers
The 'Double Pink' hellebores have masses of stunning dark or pale pink flowers nodding over the clumping plant. The showy pink double blooms consist of rows of ruffled petals forming a compact cup shape. The hellebore flowers bloom from late winter through early spring, adding bright pink colors to bare winter landscapes.
Helleborus × hybridus 'Mrs Betty Ranicar'
Lenten rose flowers 'Mrs Betty Ranicar' produces pure white flowers with fully doubled petals. The pointed white petals form an elegant cup shape and gracefully nod at the end of erect stems. These immaculate white double blooms contrast nicely with the leathery evergreen leaves.
This mounding evergreen perennial grows 16" to 30" (40 – 60 cm) tall and wide. It's suitable for growing in containers, along a foundation line, borders, or as an understory flowering plant.
Lenten Rose 'Pink Lady'
The hellebore flower on the 'Pink Lady' hybrid is a spring-blooming variety and blooms in shades of pink to rose. These Lenten rose flowers feature speckled patterns inside the flower cup and bright yellow stamens. These pretty pink flowers nod gracefully at the ends of stems.
Lenten rose 'Pink Lady' clumping perennials grow 12" to 18" (30 – 45 cm) tall and 18" to 23" (45 – 60 cm) wide. The deep green foliage, light to dark pink flowers, and bushy appearance make this a beautiful landscaping plant.
Lenten Rose 'Red Lady'
As part of the Lenten rose 'Lady' series, this flowering evergreen plant produces single blossoms in shades of cherry red to dark crimson, often with darker blotches. Like most hellebores, the flowers are cup-shaped, fairly compact, and nod downward. The long-lasting landscaping plants bloom for two months, from late winter until spring.
Black Flowering Hellebore
Several spectacular hellebore plants have flowers with deep purple petals that appear black. Along with purple foliage, these eye-catching shrub-like plants offer plenty of visual appeal for landscapes. Black-flowering Lenten rose plants can be single or double-blooming varieties.
Helleborus orientalis 'Ruse Black'
The cup-shaped black flowers of the 'Ruse Black' are deep blackish-purple flowers with contrasting tufts of white stamens in the center. In addition to the single black flowers, the mounding perennial has clumps of thick, leathery, evergreen lance-shaped leaves.
Hellebore 'Double Black'
The hellebore 'Double Black' hybrid has showy black flowers consisting of several rows of deep purple, almost black petals. The oval petals have a pronounced tip, adding to the visual appeal of these black flowers. The dark blooms look spectacular when they emerge in late winter and early spring.
Hellebore Ivory Prince (Helleborus niger 'Ivory Prince')
Also called Christmas rose, the hellebore 'Ivory Prince' produces flat and upright creamy white flowers emerging from burgundy-pink buds. The abundant creamy white flowers rise on reddish stems and measure 2" to 3" (5 – 7.5 cm) wide. As the flowers mature, they become chartreuse. Unlike most Lenten rose flowers, the blooms face outward.
Like all varieties of hellebores, 'Ivory Prince' bushy flowering clumps are ideal for shade gardens. They thrive in the shadows of large trees and bushes and are ideal for containers on a patio. Plant the creamy white hellebore flowers in groups for the best visual impact.
Green Flowering Hellebore (Helleborus viridis)
Green hellebore flowers are relatively unique in the botanical world. The nodding cup-shaped single flowers can be as green as the leaves. Green hellebore plants have lance-shaped leaves with pronounced jagged margins. The green flowers consist of five large sepals, appearing from February to April.
Green hellebore flowers are open cup-shaped and measure 1.6" to 2" (4 – 5 cm) across. Native to some European countries, the green hellebore plant is invasive in many parts of North America. Other names for this green-flowering plant include boar's foot or bear's foot.
Hellebore 'Candy Love' (Helleborus x ballardiae 'Candy Love')
The hellebore hybrid 'Candy Love' blooms with masses of large, saucer-shaped white flowers with pink tint. The eye-catching blooms measure 3.5" wide (8 cm) and are open-faced rather than cup-shaped. The white-pinkish star-shaped flowers have a clump of green and yellowing stamens in the center. This hellebore cultivar blooms heavily for several weeks.
The outward-facing white starry flowers are showy and long-lasting on this vigorous plant. 'Candy Love' hellebore grows as a bushy clumping plant with upright stems. The small flowering plant grows 12" to 15" (30 – 37 cm) tall and up to 18" (45 cm) wide.
The bright hellebore flowers are ideal for brightening a shade garden and providing nectar for early pollinators when it starts blooming profusely in late winter.
Helleborus × hybridus 'Double White Picotee'
The spectacular showy double flowers on the double white picotee hellebore hybrid have purple-pink-edged ruffled petals. The cup-shaped double flowers emerge in late winter, blooming through early spring. The brilliantly colored white flowers contrast with the clumps of dark-green foliage consisting of leathery, deeply-lobed flowers. Flowers measure 3" (7.5 cm) across.
Unlike many other hellebores with bowl-shaped double flowers, this cultivar has outward-faced blooms, not nodding. This allows you to admire the stunning pinkish-white petals forming a rosette shape. In addition, the 'Double White Picotee' cultivar flowers grow in loose clusters, ideal for adding color to shaded borders, fence lines, or in front of foundation plantings.
Hellebore Brandywine (Helleborus x hybridus 'Brandywine')
The Lenten rose hybrid 'Brandywine' is a high-performing shade-loving evergreen or semi-evergreen series of clumping plant with bowl-shaped dark maroon, burgundy, dark red, pink, and apricot flowers. The open cup colorful flowers are outward facing and measure 3" to 4" (7.5 – 10 cm) across. These attractive flowers appear in late winter and bloom for ten weeks.
Like all types of Lenten roses, these mounding hybrids with colorful flowers are perfect for planting in partial shade to shade. The clump-forming plants grow 12" to 15" (30 – 37 cm) tall and up to 18" (45 cm) across. These harbingers of spring look spectacular in winter, with the dark flowers contrasting against the white snow.
Helleborus × hybridus 'Pine Knot Best Strain'
The 'Pine Knot Best Strain' hybrid is a strain of bushy, clump-forming perennial plants with cup-shaped flowers. Also called winter roses, these single flowers bloom in various shades of purple, green, red, white, pink and yellow. In some varieties, you'll notice spotting inside the flowers. The flowers contrast with dark green, leathery leaves with toothed margins.
The winter-to-spring blooming plant grows up to 16" (40 cm) tall and wide. Its attractive open, shallow cup-like flowers measure 2" (5 cm) across. Plant the hellebore flowers in shaded locations. You can also use them as ground cover for shade, as the clumps are self-seeding and spread slowly.
Related articles: