Tall Flowering Perennial Plants to Add Gorgeous Color (With Pictures)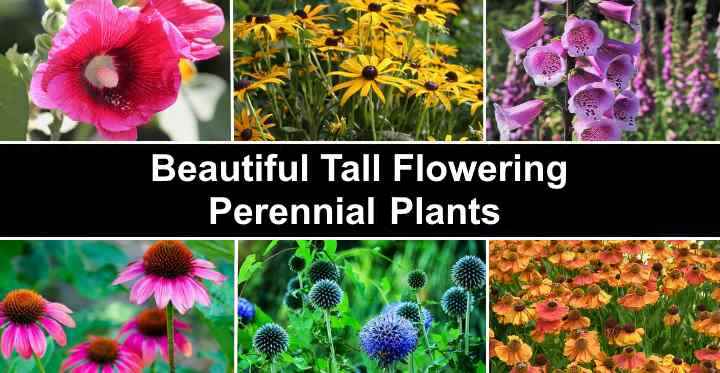 Tall flowering perennial plants add stunning splashes of color and vertical visual appeal in any garden. Tall, elegant plants that flower year after year are perfect for creating a dramatic landscape backdrop. Colorful spring, summer, and fall flowers on the end of tall stems also serve as tall accents in privacy fences. Because the easy-care plants flower annually, there is less work to make your backyard beautiful.
Tall perennials that flower year after year are generally low-maintenance plants. The tall flowers are ideal for planting in mixed beds, borders, edges, or at the back of flower beds. Or, you can grow tall flowering plants along fences, to hide garden eyesores, or for colorful garden backdrops.
Some of the best tall flowering perennials are rose mallows for their showy pink flowers, coneflowers for their dramatic blooms, oriental lilies for their heavenly scent, false asters for their clusters of daisy flowers, and hollyhocks for their large showy flowers on the end of tall stems.
In this article, you will find out what the best tall flowering perennial flowers are to add color and height to your front or backyard.
What are Tall Flowering Perennials?
Tall flowering perennials are plants that are at least 3 ft. (1 m) tall. These types of plants bloom yearly and generally require little maintenance. After planting these perennials in a sunny spot in your garden, the tall blossoming plants should flower for many years.
Do Perennials Come Back Year After Year?
Many tall perennials return year after year. Perennials are types of plants that generally survive harsh winters but grow back the following year. Some tall perennial flowers die back to the ground, but then start growing the next spring again. With minimal care, you can have flowers every year.
It's important to know that some types of tall perennial flowers show signs of decline. These perennial plants continue to flower year after year. However, after a few years, they start to die off and require replanting. Although some perennials decline, others continue flowering annually for many years.
Tender perennials
Tender perennials are flowers that grow as perennials in warm climates but are not cold hardy. Because these types of flowers don't survive freezing temperatures, they grow as annuals in colder regions. So, it's essential to check the plant's hardiness zone to know if they come back year after year.
Tall Flowering Perennials – Colorful Perennial Flowers (With Pictures)
Let's look in more detail at some of the best tall flowering perennials suitable for most growing zones. Many of these hardy perennials flower year after year in the coldest growing zones. However, some are tender perennials that grow best in warmer climates.
Coneflowers (Echinacea)
Coneflowers are tall, hardy herbaceous perennials that flower year after year. Stunning cone-shaped flowers sit at the top of tall 4-ft. (1.2 m) stems. Coneflowers are easy-care perennials and they are tolerant of drought, heat, and neglect. Grow these tall flowering perennials in mass to add visual impact to beds, borders, and wildflower gardens.
Coneflowers are on the list of long-blooming perennials that thrive in the sun. The long purple and pink petals on the large flowerheads droop down from the center. These landscape plants thrive in zones 3 – 10.
Black-eyed Susan (Rudbeckia)
Black-eyed Susans are showy tall perennials that have bright yellow flowers. Like coneflowers, these colorful plants grow to about 4 ft. (1.2) m tall, thrive in full sun or partial shade and bloom all summer into fall. Plant black-eyed Susans at the back of flower beds to provide colorful height.
One reason to plant Rudbeckia plants is that their blooms are long-lasting. The flowering stems also last long as cut flowers or in dried floral displays. Easy to care for, black-eyed Susan doesn't need much water, and they grow well in zones 3 – 9.
Rose mallow (Hibiscus)
Rose mallows are tall perennial Hibiscus shrubs with large, showy flowers. Many hibiscus plant cultivars can grow up to 6 ft. (1.8 m) tall and bloom continuously throughout the summer until fall. Red, crimson, pink, white, and bi-colored trumpet-shaped blooms grace these tall plants.
Rose mallow plants grow well in shrub borders in zones 4 – 13. These perennial flowering bushes survive in soggy, damp soil and are perfect for planting alongside streams or ponds. After the tall bushy plant is established, it doesn't require much care for the blooms to return year after year.
Before planting perennial hibiscus plants, it's vital to check your growing zone as some are tender perennials.
Chimney Bellflower (Campanula pyramidalis)
Chimney bellflowers are tall perennials that flower year after year. The tall plants have long-lasting purple, pink, white, and blue flowers that can be cup, star, tubular, or bell-shaped. Bellflowers (campanula) grow up to 5 ft. (1.5 m) tall and the clusters of showy flowers grow as tall spikes.
Chimney bellflower is an ornamental plant for full sun that's ideal for mixed borders, edging, or at the back of flower beds. These tall flowers don't tolerate frost and are hardy in zones 7 and above. Some types of bellflowers are perennial creeping plants that are ideal for ground cover in full sun.
False Aster (Boltonia)
False aster perennial plants produce spectacular clusters of daisy-like flowers on tall stems. These tall perennials flowers grow up to 6 ft. (1.8 m) tall and become a mound of brilliant white colors and bloom all summer. Easy-care false asters are perfect for planting at the back of borders.
False asters are the ideal bushy flowering perennial for late-season garden color where you can enjoy the blooms year after year. Grow these daisy plants in full sun and any type of soil. False asters are cold hardy in zones 3 – 10, so perfect for any backyard.
Sneezeweed (Helenium)
Sneezeweed is a tall perennial with flowers that come back every year. Also called false sunflower or yellow star, these sun-loving tall plants grow between 3 and 5 ft. (1 – 1.5 m) tall. The large papery flowers are in warm shades of red, orange, and yellow. Plant among tall grasses for best effect.
The tall flowers require regular watering throughout the summer to bloom. You can extend the flowering season by deadheading the flowers. After blooming, cut the tall stems down, so they return next year. Sneezeweed is a perfect perennial for growing in zones 3 – 8.
Globe Thistles (Echinops)
Tall globe thistles bloom every year with ball-like flowers. Easy-care perennials, globe thistles create vertical interest with their straight, tall stems and flowers that are the size of golf balls. These blooming ornamental perennials are ideal for beds and borders and bloom in full sun.
Globe thistles are some of the most unusual flowers for a perennial garden. Their tolerance for cold, heat, and drought makes them ideal low-maintenance plants. Grow in zones 3 – 9.
Hollyhock (Alcea)
Many hollyhock plants grow as tall as a person, and their flowers come back year after year. Tall species of perennial hollyhocks have red, pink, white, or showy burgundy flowers towering up to 6 ft. (1.8 m) tall. Plant in full sun or partial shade for best results.
The fast-growing plants are ideal for planting along fences, walls, or at the back of flower beds. The showy hibiscus-like flowers grow up tall spikes that are covered in blooms. After flowering in mid-summer, cut the flowers back, so they return the following year. Ideal for growing in zones 3 – 8.
Elecampane (Inula helenium)
Elecampane is an upright tall flowering perennial plant with large yellow flowers that look like the sun. The flowers have thin yellow scraggly petals fan out from an orangey center. The sunflower-like blossoms stand tall about 6 ft. (1.8 m) high. Elecampane flowers look spectacular along borders or as a vertical accent in garden landscapes.
Grow elecampane flowering perennials in full sun or partial shade. Low maintenance means that after the Elecampane plants are established, little care is necessary for yearly blooming. Elecampane thrives in zones 3 – 7.
Monkshoods (Aconitum)
Monkshoods are tall perennials that flower in the fall. Clusters of purple-blue, tubular flowers grow in colorful spikes at the end of long stems. Monkshoods have a long blooming time from late summer until late fall—depending on the species. Grow these tall plants in full sun and well-drained ground.
Although monkshoods provide shades of blue flowers in the garden, all parts of the plants are poisonous. Avoid planting where young children or pets might encounter them and use gloves when handling the toxic plant. These spiky flowering plants are cold hardy to zone 3.
Red Valerian (Centranthus ruber)
Red valerian is a popular ornamental perennial that grows tall in sunny gardens. This prolific bloomer fills backyards, borders, or cottage gardens with clusters of red flowers. Easy-care valerian also has cultivars with white, pink, or crimson blossoms. Valerian species are drought tolerant beautiful plants that enjoy full sun.
Growing up to 3 ft. (1 m) tall, red valerian with its showy flowers is one of the longest blooming perennials in a garden. Ideal for growing in zones 5 – 8.
Wild Senna (Senna hebecarpa)
Tall wild senna perennial plants grow up to 6 ft. (1.8 m) high with a spread of 3 ft. (1 m). The flowering plant produces clusters of pale-yellow flowers that bloom for four weeks at the end of summer. Wild senna is ideal for growing as a perennial flowering hedge.
Low maintenance wild senna is easy to grow in most gardens. Grow as an interesting landscape backdrop in sunny gardens. This tall perennial grows well in zones 4 – 8.
Meadow Rue (Thalictrum rochebrunianum)
Meadow rue is an attractive tall perennial with clusters of wispy lavender flowers. These bushy flowering clumping plants grow quickly in wildflower gardens, as a stunning background plant, or growing together in groups. Meadow rue provides ornamental interest in backyards thanks to their graceful flowers and foliage.
Meadow rue grows between 4 and 6 ft. (1.2 – 1.8 m) tall with a spread of up to 3 ft. (1 m). The flowers appear in mid to late summer and last for six weeks. Grow in zones 3 – 8.
Oriental Lilies (Lilium)
Oriental lilies are stunning tall plants with large, showy, scented flowers that return every year. Perennial Oriental hybrid lilies reach heights of 4 ft. (1.2 m) and have numerous trumpet-shaped flowers on sturdy, tall stalks. Usually, Oriental lilies are the last type of lily to bloom in the season.
Colorful pink, white, red, and multi-colored flowers add spectacular visual height as garden landscape backdrops. Plant in full sun in zones 4 – 9 to add plenty of color and scent to your garden.
Joe-Pye Weed (Eupatorium maculatum)
Growing as tall upright perennials, Joe-Pye weed produces clusters of dainty pink, purple, red, and lilac flowers form huge flower heads. Joe-Pye flowers tower up to 6 ft. (1.8 m) tall to provide a striking colorful backdrop to garden landscapes.
Easy-care Joe-Pye flowers are excellent accent plants and suitable for borders or planted together with ornamental grasses. Joe-Pye weed is one of the best flowering perennials for shade but it can also grow in full sun in zones 4 – 9.
Candle Larkspur (Delphinium)
Candle larkspurs are perennials with some of the tallest flowers in the garden. Masses of showy flowers grow on tall flower spikes that can be white, blue, purple, pink, or lilac. The colorful densely-packed flowering spikes stand tall at about 5 to 6 ft. (1.5 – 1.8 m) high, making a stunning backdrop.
Species of Delphinium are also a fantastic addition to mixed beds and borders. The long-lasting blooms are also excellent as cut flowers. Grow perennial larkspurs in zones 3 – 7.
Red Hot Poker (Kniphofia)
Red hot poker flowers are flowering perennials that have tall colorful spikes. Looking at pictures of these stunning plants, it's easy to see how they get their common names 'red hot pokers' or 'torch lilies.' The flowering spikes stand 6 ft. (1.8 m) tall with a flowerhead in eye-catching hues of reds, oranges, and yellows.
Grow red hot poker flowers as vertical accents in gardens, along water edges, or as spectacular stand-alone flowering bushes. Before planting Kniphofias, check your zone as they are cold hardy to zone 5.
Plume Poppy (Macleaya microcarpa)
Plume poppies are flowering perennials that add height to borders and flower beds. The tall, upright stems grow between 6 and 8 ft. (1.8 – 2.4 m) and have clusters of tiny coral-colored flowers. The fast-growing, easy to grow plants bloom throughout the summer until fall.
Grow plume poppies as a colorful backdrop to add visual height in your garden landscape. Some regular pruning in the spring helps to keep its bushy growth. This tall perennial is perfect for growing in zones 4 – 9.
Canna Lily (Canna indica)
Canna lilies are flowering tender perennials that grow to immense heights in gardens. The lily-like plants have large leaves like banana plants and tall flowering stems that can reach the dizzy heights of around 8 ft. (2.4 m) or more. Canna lilies grow best in masses along fences, walls, or hedges.
For year-long interest in warm climates, look for varieties with variegated foliage with green and bronze leaves.
Canna lilies are not cold hardy, and they grow as annuals in colder climates. If you live in zones 7 and below, grow these stunning plants in containers. Or, plant the bulbs in your garden for flowering throughout the summer before digging them up and storing indoors during the winter.
Related articles: