Trellis Plants (With Pictures) – Identification Guide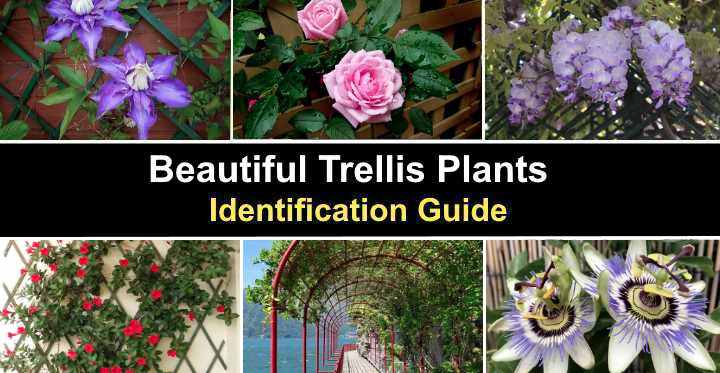 Trellis plants are the perfect choice to boost the visual appeal of your garden landscape. Climbing plants and flowering vines add height, color, summer fragrances, stunning flowers, and leafy foliage to a trellis system. In addition, picking the right trellis plants can add a natural screen, privacy fence, or evergreen barrier to your backyard. And the beauty of plants that grow up trellises is that they generally require little—if any—maintenance.
Wooden trellising provides a natural structure for plants to climb. Trellises can enhance a garden landscape if you choose the right trellis plants. You can enjoy climbers that have fragrant, colorful blossoms to add beauty and texture to your garden. Regardless of the climber or flowering vine, a trellis is a great addition to your yard.
This identification guide will introduce you to the most popular trellis plants. In addition to descriptions and pictures of plants that climb trellises, you will get helpful tips on caring for them.
How to Choose Trellises for Climbing Plants
Trellis systems can be made from treated or painted wood, plastic, powder-coated steel, or galvanized metal. The garden trellis should be sturdy enough for the type of trellis plant you want to grow. Additionally, you can consider how the trellis will become a focal point—will it be an arch, arbor, pergola, or attached to a wall?
Trellises have a practical and decorative use in a garden landscape. They help provide a strong vertical element, serving as a focal point in the yard. For example, an arch trellis with climbing vines can decorate an entranceway. Or a cage or obelisk trellis can add visual appeal and height. And a flat type of trellis can be used in a container or for screening with vines covering a fence.
What are Trellis Plants?
Trellis plants are typically fast-growing vines that attach themselves by stem tendrils, aerial rootlets, twining stems, or adhesive discs. Therefore, the stems of trellis plants either wrap around the supports or stick to surfaces. Some woody climbing vines also require additional support with garden twine due to their weight.
Examples of popular trellis plants are sweet peas, star jasmine, morning glory, honeysuckles, clematis, and passion flower vines. These fast-growing plants will rapidly grow up a trellis and spread out, creating a colorful feature in a summer landscape.
Evergreen trellis plants are also ideal for providing year-long privacy in a backyard. For example, English ivy is an excellent climber for growing on a trellis. In addition, this variety of vining plant has the advantage of being shade-tolerant.
Flowering Trellis Plants
Let's look at the best flowering trellis plants for your garden landscape. Many of these flowering vines and climbers grow throughout the United States in most growing zones.
Climbing Nasturtium (Tropaeolum majus)
Nasturtium is a climbing trellis plant with sprawling stems that produce abundant showy, trumpet-like flowers. These flowering vines grow as annual or short-lived perennials. The attractive plants have disc-shaped leaves at the ends of thin petioles and large funnel-shaped flowers blooming in shades of red, orange, yellow, and mahogany.
Climbing nasturtium grows easily in containers with trellises or in the ground to climb up a wall. The spreading plants grow up to 10 ft. (3 m) tall and spread 3 ft. (1 m) wide. For flat or arch trellises, choose the climbing types of nasturtium. Without support, nasturtium plants can grow as annual ground cover in full sun.
Morning glory (Ipomoea purpurea)
Morning glory is a popular climber for growing on trellises, fences, arbors, and pergolas. The exotic vine is noted for its heart-shaped leafy foliage and beautiful deep blue-purple trumpet-shaped blossoms. The flowers measure 2" to 3" (5 – 7.5 cm) long. The fast-growing climbing habit of this flowering vine quickly covers a trellising system.
Morning glory gets its name from how the flowers open in the morning, revealing white throats, then close in the afternoon. This long-blooming flowering vine has masses of purple-bluish flowers from early summer through fall.
Morning glory thrives in USDA zones 2 to 11, where it grows as an annual in cooler climates. The trellis plant grows 6 to 10 ft. (1.8 – 3 m) tall and spreads up to 6 ft. (1.8 m) wide.
Moonflower (Ipomoea alba)
Moonflower is a flowering vine with white blooms, heart-shaped green leaves, and a fast-growth rate. Moonflower trellis plants are perennial vines with twining stems. The white flowers measure 3" to 6" (7.5 – 15 cm) across, contrasting nicely with deep green foliage.
Moonflower is ideal for scrambling up a trellis, fence, or over a wall. Its twining stems with lush foliage grow 10 to 15 ft. (3 – 4.5 m) long and spread up to 6 ft. (1.8 m) wide. The self-seeding vine thrives throughout the year in USDA zones 9 to 11 in full sun and moist, well-drained soil.
Like morning glory, moonflower grows as an annual in climates with cold winters.
Firecracker Vine (Ipomoea lobata)
The firecracker trellis plant is a red-flowering vine famed for its showy flowering spikes in the colors of the Spanish flag. Small tubular flowers blossom red before fading to yellow and creamy white. Typically, the tips of the flowering racemes are red—giving it the name firecracker vine.
Firecracker vines are popular for growing up a trellis in full sun but in a sheltered spot. Its bell-shaped flowers grow on spikes 6" (15 cm) long, and the lobed leaves are 2 to 6" (5 – 15 cm). The perennial, heat-loving vine grows 13 ft. and 26 ft. (4 – 8 m) tall.
Although growing as an annual in temperate climates, this fast-growing vining plant can grow 10 – 16 ft. (3 – 5 m) in a single season.
Sweet Pea (Lathyrus odoratus)
Sweet pea is an elegant trellis vine with flowering clusters of purple, violet, red, lilac, orange, and pink wavy blooms. Sweet peas grow as bushy annuals and enjoy a long blooming season – from spring until fall. The climbing vine attaches to trellises with stem tendrils that hook around the structure.
Sweet pea vines thrive in USDA zones 2 to 11, where they grow 6 to 8 ft. (1.8 – 2.4 m) tall in a single season. These beautiful flowers also perform well in containers, massed in borders, or twining on arbors and arches.
Black-Eyed Susan Trellis Plant (Thunbergia alata)
Black-eyed Susan is a yellow-flowering herbaceous vine that easily covers a large trellis in a single season. The perennial vine is a fast-growing climber with heart-shaped leaves and bright yellow or orange flowers with dark brown centers. The attractive climber blooms from summer through fall and thrives in full sun or partial shade.
Black-eyed Susan vines perform best outdoors in the summer. Its fast climbing habits mean it quickly reaches 3 to 8 ft. (1 – 2.4 m) tall in one season. Apart from decorating a trellis, arbor, or wooden fence, the trailing flowering stems look spectacular, cascading over hanging baskets or containers.
Black-eyed Susan is also on the list of beautiful vining plants to grow indoors.
Climbing Roses (Rosa)
Climbing roses are fast-growing shrubs with arching woody stems that can be trained to grow on a sturdy trellis. The outstanding landscaping feature of these thorny perennial plants is the showy, fragrant flowers that bloom throughout the season. The flowering climbers are suitable for growing on pillars, obelisks, arbors, arches, fences, and against a wall.
Climbing roses thrive in USDA zones 5 through 10, performing best in full sun to partial shade and moist, fertile, well-drained soil. Climbing roses grow 10 to 20 ft. (3 – 6 m) tall.
Star Jasmine (Trachelospermum jasminoides)
The stunning star jasmine vine is famous for its star-shaped creamy-white flowers and glossy foliage. This vigorous evergreen twining vine is perfect for covering trellises or creating privacy fences. Its pinwheel white flowers are 1" (2.5 cm) across, and the shiny dark green leaves measure 3" (6.5 cm) long.
Star jasmine vines thrive outdoors throughout the year in USDA zones 8 to 10. The wiry, twining stems grow 10 to 20 ft. (3 – 6 m) tall. In cooler climates, the beautiful trellis plant grows 3 to 6 ft. (1 – 1.8 m) in a single season.
Trumpet Honeysuckle (Lonicera sempervirens)
Trumpet honeysuckle is an eye-catching trellis plant with fast climbing habits. The perennial vine is covered with clusters of bright red tubular flowers with yellow throats. These red flower clusters contrast with round,  dark green leaves before giving way to bright red berries in the fall. The fragrant blooms appear from spring through summer and attract hummingbirds and butterflies.
Trumpet honeysuckle thrives in USDA zones 4 to 9, making it ideal as an outdoor trellis plant in most regions of the United States. The fast-growing vine performs well in full sun or partial shade, where it grows 8 to 15 ft. (2.4 – 4.5 m) tall.
Climbing Clematis
Climbing clematis is a beautiful trellis plant with showy star-shaped or bell-shaped flowers. Growing clematis vines up a trellis, arch, or arbor adds beauty and style to any outdoor space. Clematis vining plant varieties have lush green foliage and colorful flowers growing on woody stems.
Clematis vines can have large, star-shaped flowers with single or double blooms. Some of these spectacular blossoms can measure several inches across. Other vining clematis plants have clusters of dangling cup-shaped flowers with recurved pink, purple, or white petals.
While most clematis varieties are ideal as vines, avoiding vigorous self-seeding ones is good as they can become invasive.
Related reading: How to care for clematis flowers.
Wisteria
Wisteria is a beautiful climbing vine with masses of drooping clusters of purple, pink or white flowers. Blooming in late spring or early summer, woody wisteria vines have conical flower clusters measuring up 20" to 24" (50 – 60 cm) long. It has attractive golden yellow and bronze fall colors. And velvety finger-shaped seed pods appear in late fall.
Climbing wisteria plants are suitable for USDA zones 5 to 9. However, if you plan on growing the vines on a trellis, fence, or pergola, ensure the vine has plenty of support, as it can become heavy.
Related reading: Types of wisteria plants.
Trellis Plants For Privacy
Trellis systems in a backyard are ideal for screening or privacy when covered with evergreen vining plants. Other trellis plants for privacy are deciduous but have densely-growing foliage from early spring through fall. Here are some trellis plants that are ideal for creating a privacy screen in your yard.
Virginia Creeper (Parthenocissus quinquefolia)
Virginia creeper is an ideal trellis plant for privacy thanks to its large palmate leaves and vigorous growth. The deciduous vine grows up to 50 ft. (15 m) tall. Its attractive foliage emerges purplish bronze in spring before turning deep green in summer and then a brilliant crimson red in the fall.
Virginia creeper thrives in USDA zones 3 to 11 and performs best in full sun or partial shade. The fast-growing vine is easy to care for and quickly attaches itself to walls, fences, large trellises, and arbors. You can also leave the spreading stems to grow as ground cover for erosion control.
English Ivy (Hedera helix)
English ivy is an ideal plant for growing on any type of trellis in the shade. This shade-loving ivy has lobed evergreen leaves growing on climbing stems. The perennial vine produces greenish-white flowers followed by black berries. English ivy is a hardy, easy-to-grow in shade gardens. It grows 30 to 50 ft. (9 – 15 m) tall.
English ivy may be an invasive species in some regions. Therefore an alternative trellis plant would be Boston ivy (Parthenocissus tricuspidata). Although not a 'true' type of ivy, this vigorous perennial climber has large three-lobed deciduous leaves that turn brilliant crimson, scarlet, and burgundy in the fall. Its sticky tendrils cling to arbors, brickwork, fences, and large trellises.
Carolina Jessamine (Gelsemium sempervirens)
Carolina Jessamine is a beautiful vine that grows well over garden trellises. The evergreen twining vine has glossy green foliage and fragrant yellow trumpet-shaped flowers that bloom from late winter through fall. The showy golden yellow tubular flowers grow abundantly in large clusters. This vine grows 10 to 20 ft. (3 – 6 m) tall.
Carolina Jessamine is a fast-growing vine that thrives in USDA zones 7 to 10. The natural climber performs best when growing on trellises, arbors, and over garden structures in full sun and organically rich, well-drained soil. Without support, you can grow Carolina Jessamine as yellow-flowering ground cover.
Climbing Hydrangea (Hydrangea anomala subsp. Petiolaris)
Climbing hydrangea is an excellent trellis plant for screening and increasing privacy in a backyard. This deciduous climber has large, heart-shaped leaves and flattened clusters of fragrant, white lacecap flowers. The foliage is deep green and dense in summer before turning golden yellow in the fall.
The climbing hydrangea grows 30 to 40 ft. (19 – 12 mm) tall and is hardy in USDA zones 4 to 9. As a versatile vining plant, the woody climber thrives in full sun to complete shade. It's an ideal choice for growing on trellises, against walls or covering unsightly garden structures.
Fast-Growing Trellis Plants
Fast-growing trellis plants are ideal for bringing some life and greenery to an otherwise plain garden space. You can plant them to cover an ugly fence, act as a natural privacy screen, or add texture and vertical interest to any outdoor space. Here are some of the fastest-growing plants for growing on trellis structures.
Trumpet Creeper Vine (Campsis Radicans)
Trumpet creeper vine is an evergreen, woody climbing plant with self-clinging stems. Its fast-growing habit means it quickly scrambles up trellises, fences, and arbors. Trumpet creeper trellis plants are known for their tubular, funnel-shaped orange-red flowers growing in showy clusters. Additionally, lush foliage adds privacy and screening to a large trellis.
Trumpet creeper vine is cold-hardy in USDA zones 5 to 9, where it thrives in full sun or partial shade. The vigorous vine quickly grows over fences and other structures when planted in well-drained soil with average moisture. This orange-blooming vine is native to Eastern North America.
Bourbon Rose (Rosa 'Zephirine Drouhin')
The Zephirine Drouhin rose is a fast-growing climbing plant that looks spectacular growing over a trellis. The outstanding feature of this shade-loving rose variety is the masses of fragrant semi-double pink rose flowers. These showy blooms flower continuously from spring until the first frost. This free-flowering heirloom woody vine is one of the best climbing rose varieties.
Bourbon rose thrives in USDA zones 5 to 9. Although the spreading rose plant performs well in full sun, it is highly tolerant of shade. As a result, it's a perfect choice for climbing up a trellis, creating a flowering hedge, or hiding an unsightly fence.
Bourbon rose grows 4 to 12 ft. (1.2 – 3.6 m) tall and up to 6 ft. (1.8 m) wide. You can also grow it as a pink-flowering perennial dwarf shrub rose.
Passion Flower Vine (Passiflora)
Passion flowers or passion vines are exotic twining vines that quickly grow over a trellis when planted in full sun. Passionflower vines are known for their unusual purple flowers that consist of slender linear petals, wiry filaments, and protruding stamens. These fascinating fragrant flowers give way to egg-shaped fruits that have tasty flesh.
Passion vines are an excellent choice of trellis plant in USDA zones 6 to 10. The fast-growing climbers provide a visually striking statement and fill an entire garden with fragrant scents. In ideal conditions, and depending on the variety, the purple-flowering vines grow 10 to 30 ft. (3 – 9 m) tall. They thrive in moist soil with full sun exposure and do not become invasive.
Related articles: