Small Trees for Landscaping Backyard, Front Yard, Small Spaces – With Pictures For Easy Identification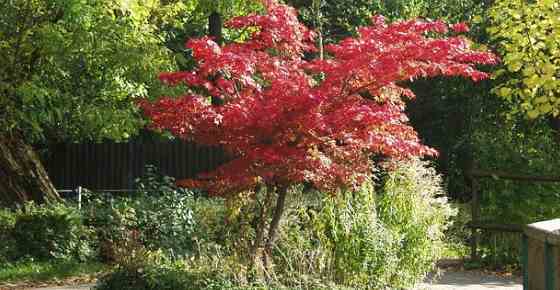 Small trees are perfect for landscaping small yards where space is limited. Having trees in a small yard provides more than just ornamental value. Many types of small trees provide shade, privacy, colorful flowers, attract wildlife, and give plenty of fruit. Some species of trees are specially grown to have a small stature and not grow very tall. Examples of small trees for landscaping a backyard include crabapple, red buckeye, gray birch, and cockspur hawthorn.
What kind of small trees are suitable for a landscape garden? There are small evergreen trees that don't grow taller than 5 or 6 feet. Other tree cultivars may have dwarf varieties that look like the original tree but may only be a few feet tall. Also, some small species of trees have a spreading nature and you can control their height by pruning.
Whether you have a small backyard, front yard, or a tiny garden, there is a type of small tree perfect for you. Read on to find out which type of small and dwarf trees could be suitable for growing if you don't have a lot of yard space.
Small Trees for Landscaping Small Spaces
When planning types of trees for a small landscaped yard, it is important to consider a number of factors.
To pick the right low-growing tree for your front or backyard, you should know how much space you have. So, it is good to check out how tall the tree will eventually grow and what its spread will be. Also, make sure that you know how much sun the small tree needs and if it grows well in your zone.
The height of the tree will also determine how close to your house you can plant the tree. As a rule of thumb, the distance of the tree from your home should be at least one-half of its height. So, if your tree will eventually be 20 ft. (6 m), plant it at least 10 ft. (3 m) away from the building.
It is also good to remember that some ornamental trees are perfect for small-scale yards because they are slow-growing. As well as dwarf evergreens, some other excellent choices where yard space is limited include small weeping trees, miniature cypress trees, and small fruit trees.
What is classed as a small tree for landscaping? Generally, any tree that doesn't grow taller than 25 ft. (7.6 m) is classed as a small type of tree. Depending on the limited size of your yard, you may have to look for smaller cultivars or dwarf specimens.
Small Trees for Backyard
When choosing suitable sizes of trees for a small backyard, it is important to think about maintenance too. Low-maintenance small trees such as Japanese maples, crape myrtle trees, miniature magnolias, and dwarf junipers are excellent choices.
Some types of fir trees are excellent to use a privacy hedge in a small garden. They don't require much maintenance and their foliage is soft and dense.
Small Trees for Front Yard
Some of the most popular low-maintenance small trees for the front yard are small cultivars of redbuds, crabapples, dogwoods, and magnolias. In a small front yard, these flowering trees will also create a stunning impact on the look of your home.
Dwarf Trees vs. Small Trees for Landscaping – Which One is the Best Option?
When it comes to landscaping a small garden, you have a choice between small trees or dwarf trees. Many types of dwarf trees are beautiful ornamental specimens with unique shapes and colors. The advantage of picking out a dwarf tree is that you know what size it grows to. Usually, dwarf cultivars are between 8 and 10 ft. (2.4 – 3 m) tall.
Depending on the size of your yard, you could also look for small miniature trees. Some of these cultivars may only grow to between 6 and 8 ft. (1.8 – 2.4 m) high. Choosing a few miniature trees can add to the aesthetic appeal of your front or backyard.
The Best Trees for Small Front Yard or Small Back Yard (With Pictures)
What are the best small trees to plant in a small-scale yard or garden? Here are some of the best landscaping trees to choose from if your space is restricted. At the end of this list, you will find some varieties of dwarf flowering trees.
Small Trees for Landscaping (With Pictures For Easy Identification)
Gray Birch (Betula populifolia)
The gray birch is the smallest of the birch tree species and is a good choice as a small landscape tree. Gray birches grow around 20 ft. (6 m) and have white-gray bark.
This type of tree has bright green leaves that are ovate shaped with an elongated tip. Leaves grow to about 2.7" (7 cm) long and 2.3 (6 cm) wide. The tall narrow growing nature of the gray birch means it won't cause too much shade in the garden. This makes it a good choice if you have plenty of plants or don't want to block sunlight in your home.
Gray birch trees grow in zones 3 to 6, thrive in full sun and part shade, and can tolerate many soil types.
If a 20-ft (6-m) birch tree is too tall for your backyard, check out the Betula utilis 'Long Trunk' Tree. This small weeping birch cultivar takes 20 years to grow 16 ft. (5 m) tall.
Cockspur Hawthorn (Crataegus Crus-Galli)
A spectacular ornamental tree for small landscapes is the cockspur hawthorn. This small flowering tree grows to about 25 ft. (7.6 m) tall and has a wide spread and rounded shape.
White flowers appear in spring which are followed by red berry fruits. When the leaves change color in the fall, they become a spectacular display of red or purple foliage. This is a low-maintenance type of small tree that requires little pruning. However, you can prune it regularly if you want to restrict its height.
These small landscape hawthorn trees grow well in zones 4 – 7 and provide color in your garden for most of the year. You should plant them in full sun and remember that they have a spread up to 35 ft. (10.5 m).
Eastern Redbud (Cercis canadensis)
If space is restricted in your backyard, then the eastern redbud is a compact flowering tree that doesn't grow too tall. The outstanding feature of eastern redbuds is their display of white or pink flowers in spring.
The Cercis canadensis 'Ace of Hearts' is a perfect choice for space-limited gardens. The tree has multiple stems that grow to between 9 and 12 ft. (2.7 – 3.6 m) tall. This creates a tree that looks like a large flowering shrub with multiple thin trunks. The dark green leaves transform into warm shades of yellow in the fall.
This easy-to-grow landscaping tree grows in zones 5 – 9 and loves full sun to part shade.
Red Buckeye (Aesculus pavia)
If you are looking for a nice small tree for your front yard or back yard, then consider a red buckeye. Also called the red horse chestnut tree, the red buckeye is a beautiful specimen tree where yard space is limited. This can also be used as a privacy tree for small yards.
Red buckeye trees grow to between 12 and 15 ft. (3.6 – 4.5 m) tall and create a canopy of dense dark green leaves. Red flowers appear in mid- to late-spring providing a splash of warm colors. One of the advantages of these landscaping trees is that they are slow-growing with an attractive bushy appearance.
These short trees for a backyard or front yard grow in zone 5 – 9 and need full sun and moist but well-drained soil.
Kousa Dogwood (Cornus kousa var. chinensis)
One of the most beautiful flowering small landscaping trees for gardens is the kousa dogwood.
All species of dogwood produce beautiful blossoms. This small tree has stunning pink and white star-shaped flowers during spring. During summer, red berries decorate the tree and its wide canopy of large oval, pointed leaves create shady places in the yard. During the fall, you are rewarded with beautiful shades of purple and scarlet-red when the leaves change color.
The kousa dogwood is a hardier and more disease-resistant landscape tree than its cousin the Cornus florida. As with many of the best small landscape trees, this has a medium growth rate and needs little maintenance.
This small colorful tree grows well in zones 5 – 8 and needs full to partial sun.
Small Witch Hazel Trees (Hamamelis)
Witch hazels are classed as small trees or large shrubs depending on their growth. These small trees are the best types for small gardens in cold climates. One of the ways witch hazel trees add to landscape beauty is by their colorful foliage.
The short height of many witch hazel trees makes them ideal where planting space is limited. The tree has attractive bright green foliage in spring that turns to yellowish-orange in the fall. During winter, witch hazels add color to barren gardens with their scented yellow flowers that have thin spindly petals.
There many species of witch hazels to choose from and they grow to between 15 and 20 ft. (4.5 – 6 m) and have a spread of the same size.
These decorative small trees grow well in zones 3 – 8 and enjoy full sun and partial shade. You can also use them for privacy hedges, specimen plants, or shrub borders.
Weeping Cherry (Prunus 'Snow Fountain')
One of the best weeping landscape plants for a small yard or garden is the weeping cherry. This small, almost dwarf-sized tree, grows to between 8 and 15 ft. (2.4 m – 4.5 m).
The reason why this weeping cheery blossom is a popular choice for small front yards is that it produces an explosion of stunning small white flowers. The snow-white flowers sit beautifully on cascading branches. During the summer, dark green ovate-shaped leaves create rich foliage before turning into shades of orange and yellow in fall.
The weeping cherry is one of the best landscaping trees that grows slowly, has weeping branches, and low height.
Dwarf weeping cherry trees can be used as stunning landscape trees in the middle of a front or backyard. They Need full sun to grow and thrive in USDA zones 5 – 8.
Magnolias
Most species of magnolias are perfect for small gardens to add beauty, summer fragrances, and wonderful green foliage. The shorter types of magnolias grow to between 10 and 15 ft. tall (3 – 4. 5 m) and are famed for their stunning flowers.
Magnolias bloom in early or mid-spring and each flower is a thing of beauty. Flowers on small magnolia trees can be star-shaped, saucer-shaped, bowl-shaped, or tulip-shaped. The blossoms can be pink, white, yellow, magenta or cream-colored. Some varieties have delightful showy flowers that give off amazing scents.
Check out small varieties of magnolias to landscape your garden. Some impressive species are Magnolia 'Ann,' 'Black Tulip,' 'Genie,' 'Susan,' or 'Nigra.'
Depending on the species, magnolias are beautiful small trees for landscaping in zones 5 – 9.
Crabapple Trees (Malus)
For beautiful spring colors in your garden, plant small trees such as crabapples. While standard apple trees can grow to 30 ft. (9 m) high, dwarf apple trees and crabapples will grow about 10 ft. tall (3 m). Planting crabapples in your small landscaped yard doesn't just give you a bumper crop in the fall, but you get beautiful white blossoms in spring.
Look for the Malus x robusta 'Red Sentinel' if you want a short crabapple tree. The flowering fruit tree gives an abundance of garden color in most seasons. White flowers beautify your spring garden. Then bright red small apples that appear can stay on the tree for most of the winter.
If you prefer getting larger apples, then choose a variety of semi-dwarf or dwarf apple trees.
All types of apple trees grow well in zones 4 – 8 and require moist, well-drained soil and plenty of sun.
Persian Ironwood (Parrotia persica 'Vanessa')
An example of a spectacular tree for small gardens is the Persian ironwood. This slow-growing, low maintenance tree is one of the best landscape trees for winter color.
The exotic-looking Persian ironwood has beautiful oval-shaped leaves creating a dense canopy. The leaves are a bronze or burgundy color that gradually turn deep green in summer. In the fall, the leaves become brilliant gold, bronze, orange, and crimson shades. Spectacular spidery red flowers appear in winter that contrast against the gray bark.
Persian ironwoods grow to between 15 and 40 ft. (4.5 – 12 m) and thrive in zones 6 – 9.
Dwarf Flowering Trees to Plant in Small Yards (With Pictures For Easy Identification)
If your yard is limited in space, then choosing from some dwarf variety of flowering trees can add impact to a small garden without sacrificing space. Many flowering dwarf trees also grow in containers if you want them on your porch or balcony.
Dwarf Pear Trees (Pyrus communis)
Dwarf pear trees are perfect for small gardens where space is restricted. Dwarf pear tree varieties will grow to between 8 and 10 ft. tall (2 – 3 m) and produce beautiful flowers in spring and full-sized pears later in the season. These dwarf flowering fruit trees also provide red and yellow colors of foliage in the fall.
Plant as a specimen tree or as part of a shrub border.
Japanese maples (Acer palmatum)
For outstanding bright colors in a small landscaped garden, choose a dwarf species of Japanese maple tree. If you really want to make a focal point, then a weeping Japanese dwarf maple will look outstanding.
The best landscape specimen for small gardens is the 'Red Dragon' cultivar. This Japanese maple tree has purple-red foliage that turns bright scarlet red. It is a slow-growing tree that has cascading branches, and grows around 6 ft. (1.8 m) tall. Although its flowers are inconspicuous, the tree's amazing colors make up for its lack of blossoms.
Amelanchier 'La Paloma' (Serviceberry)
A spectacular dwarf flowering tree that adds color to tiny gardens is the 'La Paloma' serviceberry tree. This beautiful tree has a thin trunk and foliage that grows in a rounded shape. This dwarf landscape tree attracts pollinators and birds with its fragrant white flowers and edible berries.
Growing around 8 ft. (2.4 m) in height, this small ornamental tree is an excellent plant for flower beds and small spaces.
Hydrangea 'Grandiflora' (Small Tree)
Although generally thought of as a landscaping shrub, hydrangeas can also be classed as a dwarf flowering tree. The beauty of hydrangeas in a small landscape is their huge showy flower heads. The 'Grandiflora' grows like a multi-trunk small tree with a multitude of blooms all through the summer.
Hydrangea landscaping trees grow around 10 to 25 ft. tall (3 – 7.5 m)
Discover the most beautiful small flowering trees (with pictures).
Small Evergreen Trees
Adding small and dwarf varieties of conifers such as spruce, pine, and fir trees can help complete landscaping in a small-scale yard.
What are some of the best dwarf evergreens for your small garden or container? Here are a few to consider:
Blues Weeping Colorado Spruce. Grows up to 10 ft. tall (3 m) and has silver-blue foliage with needle leaves.
Dwarf Japanese Black Pine. Give your small backyard an exotic look with this Asian dwarf evergreen pine tree. Slow-growing, it will measure just 4 ft. (1.2 m) after 10 years.
Dwarf Pencil Point Juniper. The tall, thin growth of this juniper makes the perfect evergreen to get height in limited space.
Dwarf Balsam Fir. Slow-growing evergreen conical tree with dense green foliage that grows in a pyramidal shape. Excellent landscaping choice for small yards, balconies, patios, or in containers.
Related articles: