Types of Creeping Thyme (With Pictures) – Identification Guide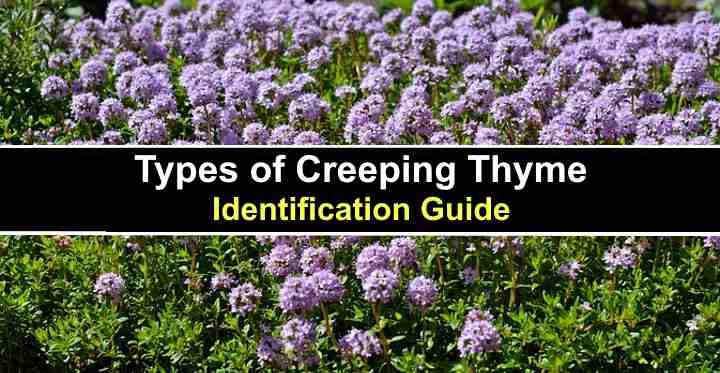 Creeping thyme is a beautiful herbaceous ground cover shrub-like plant that spreads out to form a carpet of colorful purple, red, and pink flowers. As a dwarf perennial aromatic low-growing herb, creeping thyme is perfect for growing in sunny garden landscapes. In addition, the easy-care, mat-forming plant, with its glossy green leaves and small clusters of flowers on erect shoots, has tremendous value in beautifying a front or backyard.
You can grow creeping thyme from seeds; however, buying nursery plants is easier. After planting the seedlings in the ground, creeping thyme will quickly grow over bare soil, fill spaces between stepping stones, or cascade over a retaining wall or container. Once established in your garden, this blanket-forming dwarf shrub will bloom every spring and summer, filling your garden with pink, red, or purple flowers.
This article is an introduction to creeping thyme and its various colorful cultivars. Descriptions and pictures of creeping thyme's dainty pinkish-purple flowers, along with planting and care tips, will help you choose how to use this herbaceous perennial shrub in your landscapes.
About Creeping Thyme (Thymus spp.)
Creeping thyme is a perennial flowering shrub that spreads out, forming a beautiful sea of purple, pink, or red flowers. As a dwarf, low-growing shrub, creeping thyme is in the shrub genus Thymus and related to plants in the mint family Lamiaceae.
Described as a prostrate, spreading shrub, creeping thyme grows up to 3" (7.5 cm) tall and has creeping woody stems growing up to 24" (60 cm) long. The self-seeding subshrub quickly spreads over the ground, filling gardens with strongly scented flowers growing in dense, small clusters.
Creeping thyme flowers are tiny bell-shaped blossoms, typically pink-purple, magenta, or lilac. Some rare varieties of creeping thyme also bloom with white flowers. The small tubular pinkish-purple flowers grow 0.15" to 0.23" (4 – 6 mm) long. Creeping thyme becomes a flowering mat of breathtaking color in late spring and early summer.
One of the features — and reasons for growing creeping thyme — is its heavily scented flowers and foliage. The floral scents from the plant range from herbal to highly lemony. There is also a type of orange-scented creeping thyme.
Also called 'Mother of Thyme,' creeping thyme has many uses in garden landscapes in USDA zone 4 through 9. The ground-spreading plant is perfect for use as ground cover, border plants, flowering container plants, rock gardens, or for decorating stone paths.
Varieties of ground cover thyme plants are classified as evergreen perennials. This expression means that the flowering woody shrubs keep their foliage all year long in mild winter areas. However, in colder climates, thyme grows as a perennial — dying back to the ground in winter before returning in spring.
One of the benefits of ground creeping thyme shrubs is as a lawn alternative in xeriscape landscapes to replace bluegrass. This hardy, woody low-growing shrub withstands moderate foot traffic and is tolerant of poor soils and drought.
Some other creeping thyme facts include its small aromatic edible leaves with a minty taste. Additionally, the aromatic herbaceous plant is deer resistant, attracts pollinators like bees, and doesn't require much care to thrive.
Types Of Creeping Thyme (With Pictures) – Identification Guide
Creeping thyme is one of the best ground cover plants for your garden landscape. The trailing plants spread outward at a reasonably rapid pace, quickly covering large areas of bare ground. How can you identify the various creeping thyme cultivars? What other varieties of creeping thyme work well as flowering ground cover for full sun? Please read on to find out.
Creeping Thyme (Thymus serpyllum)
Creeping thyme is an attractive dwarf perennial evergreen ground cover shrub identified by its pink or purple-lavender colored flowers. This showy, flowering plant spreads over the ground creating soft padding of green foliage and purplish blooms. Growing in full sun, creeping thyme reaches 3" (7.5 cm) tall and 12" (30 cm) wide.
Creeping thyme spreads rapidly by rooting stems to the ground. It is an herbaceous perennial that thrives in USDA zones 4 through 9 and requires at least six hours of sunlight to thrive. Its dainty pinkish blooms attract butterflies, bees, and other pollinators when in bloom in late spring and early summer.
As a low-maintenance, ground-hugging shrub, creeping thyme is a perfect landscaping plant for growing between paving stones, along borders, in containers, cascading over retaining walls, or trailing from window boxes.
The pleasant fragrance from purple-flowering creeping thyme is one reason to plant it along pathways or between stepping stones. When crushed by foot traffic, the aromatic foliage gives off a herby, minty aroma.
Red Creeping Thyme (Thymus serpyllum 'Coccineus')
Red creeping thyme is a spreading perennial herb that creates a low mound of tubular, deep pink flowers and glossy green foliage. This red-flowering ground creeping plant is covered in masses of vibrantly colored deep pink flowers in early to late summer. The semi-evergreen plant grows 3" (7.5 cm) tall and 12" (30 cm) wide.
Red creeping thyme is identified by its small rounded shiny green aromatic leaves that give off herby fragrances. The magenta-red blooms are tiny, bell-shaped flowers growing in small clusters at the ends of wiry stems.
Red creeping thyme is suitable for planting in USDA zones 4 through 9.
Like most varieties of spreading thyme plants, the attractive flowers perform best in full sun; however, the ground cover tolerates partial shade. Apart from the brilliant colors, the benefits to landscapes of planting creeping thyme are its tolerance for drought and poor soils.
Creeping thyme with red flowers is an excellent ground cover plant for growing between stepping stones. When stepped on, the fragrant foliage releases pleasant scents. Red-creeping thyme is ideal for planting along borders and edges and adding color to rock gardens. Other landscaping ideas for creeping thyme include an alternative lawn for full sun.
Elfin Creeping thyme (Thymus serpyllum 'Elfin')
The creeping thyme cultivar 'Elfin' is a miniature, low-spreading shrub with masses of lavender-pink flowers that form a soft carpet of pink and green colors. 'Elfin' creeping thyme grows 1" to 3" (2.5 – 7.5 cm) tall and up to 18" (45 cm) wide. The spreading plant is characterized by its fragrant oval leaves.
The Elfin creeping thyme is a low-growing, wide, spreading evergreen perennial which is suitable for planting in USDA zones 4 through 9. The ground-hugging shrub thrives in xeric landscapes and is suited to poor soils in urban environments. It is easy to care for and requires little maintenance.
Apart from ground cover for full sun, pink-flowering 'Elfin' creeping thyme has several uses in a residential landscape. You can plant this mounding miniature shrub as edging along driveways or flower beds. Additionally, it looks spectacular in containers, with its long trailing stems tumbling over the edges of planters.
White Flowering Creeping Thyme (Thymus serpyllum 'Albus')
'Albus' creeping thyme is an eye-catching low-growing plant that forms a soft mat of light green foliage, and small white flowers that bloom throughout summer. White-flowering creeping thyme is relatively uncommon. This attractive flowering shrub grows up to 12" (30 cm) tall and 20" (50 cm) wide.
The tiny star-shaped white flowers are the outstanding feature of creeping thyme 'Albus.' This mounding spreading plant creates a brightly-covered cushion over the ground. In addition, its tiny dark green oval leaves contrast nicely with the white blossoms. The white creeping thyme also complements planting alongside red or pink thyme ground cover plants.
White-flowering creeping thyme is ideal for patios when grown in containers. Or you can use it in rock gardens, along borders, or in front of foundation plantings to add texture to flower beds.
Creeping Thyme' Pink Chintz' (Thymus serpyllum 'Pink Chintz')
The mother of thyme cultivar 'Pink Chintz' is a compact perennial low-growing shrub with a ground-hugging habit. This creeping thyme is characterized by tiny, slightly fuzzy, dark-green aromatic leaves and small starry pale pink flowers. This low-growing carpet-like shrub grows 2" (5 cm) tall and up to 12" (30 cm) wide.
The 'Pink Chintz' creeping thyme cultivar thrives in full sun and blooms profusely during summer. The small pale pink flowers attract pollinators and bees. Additionally, its slightly woolly leaves are aromatic, releasing woody fragrances when crushed. It's a low-mounding ground cover plant suitable for planting in USDA zones 5 to 9.
Like most varieties of miniature spreading thyme plants, the 'Pink Chitz' cultivar is an excellent edging plant for pathways, filler for stepping stones, or adding charm to rock gardens. In addition, the trailing wood stems and furry leaves look attractive, tumbling over containers and tall planters.
Creeping Thyme 'Magic Carpet' (Thymus serpyllum 'Magic Carpet')
The creeping thyme cultivar 'Magic Carpet' is a low-growing aromatic shrub forming a dense mat of tiny, rounded, glossy dark green leaves and bright magenta-pink clusters of flowers. The masses of stunning flowers have five rounded pink petals forming an open cup shape. The dark green foliage is also ideal as a lawn alternative.
Typically used as an understory or ground cover plant, 'Magic Carpet' creeping thyme blooms profusely from early spring through summer. The plant forms a spectacular bright pink carpet of starry flowers when blooming. Plant this ground cover in full sun, and well-drained soils in USDA zones 4 through 9.
Landscaping ideas for 'Magic Carpet' ground cover thyme include adding texture to front-of-house plantings, edging flower beds, or brightening driveways with pink flowers. You can also plant the pink-flowering thyme in containers for the trailing stems to fall down over the edges of planters.
Purple Creeping Thyme (Thymus praecox)
Purple creeping thyme is an attractive perennial herbaceous plant with flowering woody stems spreading horizontally. The identifying features of this purple-flowering plant are aromatic dark green leaves, bright pink tubular blooms, and a creeping growth habit. Carpet-forming creeping thyme grows 3" to 6" (7.5 – 15 cm) tall and up to 12" (30 cm) wide.
Some valuable landscaping features of purple creeping thyme include attractive foliage color, a long-blooming period, and tolerance for poor soils and drought.
This low-growing plant grows well as a border or edging plant, ground cover, and mounding plant to attract pollinators. In addition, the dwarf spreading shrub is also perfect for compact gardens, slopes, edging walkways and lawns, and growing in containers.
Purple creeping thyme also has a white-flowering cultivar, Thymus praecox 'Albus' and a variation with red flowers, Thymus praecox 'Coccineus' — also sold under the name 'red creeping thyme.'
Orange-Scented Thyme (Thymus x citriodorus 'Spicy Orange')
Orange-scented thyme is an easy-to-grow ground cover perennial identified by its needle-shaped aromatic leaves and rounded clusters of lavender-pink flowers. As its name suggests, the slender, linear leaves of the 'Spicy Orange' thyme cultivar have a distinct orange fragrance. The ornamental garden plant is easy to cultivate and perfect for ground cover in USDA zones 5 through 9.
'Spicy Orange' creeping thyme grows 2" to 4" (5 – 10 cm) tall and up to 12" (30 cm) wide. The ground cover plant spreads by rooting its stems to the ground and has moderate growth. The pale pink flower clusters contrast nicely with the dark green foliage growing sparsely on erect stems.
Landscaping ideas for orange-scented thyme include edging, full-sun ground cover, lawn alternative, and a low-growing plant to fill spaces between stepping stones or cracks.
The 'Spicy Orange' thyme cultivar is hardy in USDA Zones 8 through 10.
Creeping Woolly Thyme (Thymus pseudolanuginosus)
Woolly Thyme is a perennial herbaceous plant prized for its carpet-forming growth, pale pink flowers, and woolly foliage. Pictures of this creeping thyme plant reveal how it gets its name. The bright green oval leaves are covered in fine, long hairs giving the low-growing plant a soft, fuzzy appearance.
Woolly Thyme has a dense mat-like hairy foliage that also features masses of pale pink flowers in early summer. However, in warm-winter landscapes, the foliage of this evergreen perennial takes on pinkish tones. Therefore, this ground cover thyme plant has a four-season interest.
Forming evergreen flowering blankets on bare ground, this hairy thyme plant only grows 3" (7.5 cm) tall and up to 12" (30 cm) wide. Its fuzzy grayish foliage makes this spreading shrub ideal for adding texture and color to rock gardens, edging, and flower bed borders. You can also grow it as a filler between stepping stones. Additionally, the trailing stems look attractive cascading over ledges and containers.
Broad-Leaved Lemon Thyme (Thymus pulegioides)
Creeping lemon thyme is a low-growing subshrub with semi-woody horizontally spreading stems covered in aromatic herbaceous leaves and pink or pinkish-lavender summer tubular flowers. Some eye-catching creeping lemon thyme cultivars have variegated green leaves with creamy-white or golden margins. The attractive ground cover has tubular rose-purple blooms measuring 0.25" (0.6 cm).
Suitable for growing in USDA zones 4 to 8, creeping lemon thyme grows 8" to 12" (20 – 30 cm) tall and wide. The mounding ground cover plant is known for its exceedingly fragrant leaves that give off a distinct citrusy aroma.
Compared to other varieties of low-growing thyme, broad-leaved lemon thyme is more erect than the creeping varieties. However, its mounding growth and spreading nature make it suitable for perennial ground cover. You can also plant this variety as attractive pink-flowering container plants for patios or sunny balconies.
How to Grow Thyme From Seeds
Growing thyme from seeds can be tricky because they can take time to germinate. Here are some helpful tips if you want to plant creeping thyme seeds.
Sow creeping thyme seeds indoors in late winter or early spring in a seed-starting container filled with seed-sowing compost. Scatter a few seeds over the surface and cover them with a thin layer of soil. Mist the soil and cover the pot with plastic to increase humidity. Place in a warm location to germinate.
It typically takes around 3 weeks for thyme seeds to sprout and grow. Once the danger of frost has passed, and the thyme seedlings are 4" (10 cm) high, you can transfer thyme seedlings to the ground.
Space creeping thyme seedlings 8" to 12" (20 – 30 cm) apart so that the spreading stems have ample room to spread to their full size. During the first year, water the purple-flowering ground cover plants twice a week for two to three months to help the roots become established.
The best place in your garden to plant creeping thyme is in a sunny location, moderately fertile, and average to dry soil with excellent drainage. During the first year, creeping thyme doesn't grow too fast. However, from the second year, this perennial will spread over the ground rapidly.
Related articles: