Types of Climbing Plants: Climbers For Trellis, Walls and Fences — Identification Guide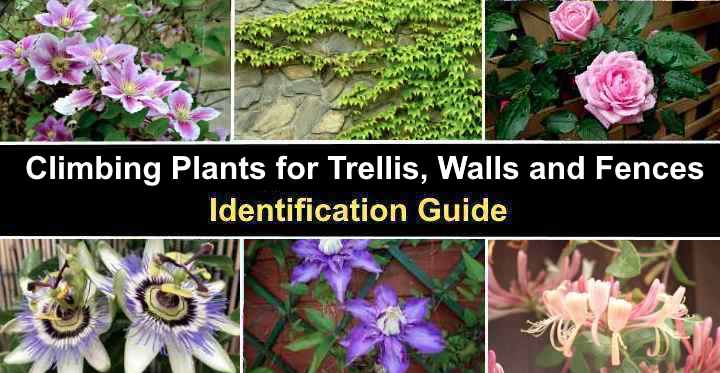 Climbing plants are an ideal landscaping solution to grow flowers and leafy foliage over walls, fences, and trellises. Plants with long stems that cling to structures by aerial roots, tendrils, or twisting around branches, wires, and poles can beautify a front or backyard. Many flowering plants with climbing habits add color and floral fragrances to enhance a garden landscape. Additionally, climbing plants are excellent for screening, privacy, and hiding ugly eyesores on your property.
Many types of plants have climbing tendencies. For example, some flowering climbing plants like morning glory, sweet pea, and climbing nasturtium are planted as annuals to fill gardens with flowers throughout the summer. However, perennial climbers like climbing roses, honeysuckle, and climbing hydrangeas produce flowers year after year without much effort.
This article is a complete guide to climbing plants for trellises, arbors, walls, or fences. In addition, you will find descriptions and pictures of the climbing plants' identifying features to help you decide which plants to grow over an arch, arbor, fence, or for screening in your garden landscape.
What are Climbers?
Climbing plants are twining, clinging, scrambling, or tendril plants that can climb up structures. Climbers can introduce height and visual interest by growing up walls or fences which would otherwise be bare. They can also provide a backdrop as a mass of foliage for screening or concealing parts of the garden.
Climbers are excellent plants for growing on various structures or garden features. For example, you can plant them to cover an arch, obelisk,  arbor, pergola, chain link fence, or trellis.
Here are the types of plants considered to be climbing plants:
Twiners—These long-stemmed plants have leaves or stems that twist around wires, twigs, or poles.
Tendrils—These are wiry structures that look like springs and grow from climbing plants that attach themselves to structures. These can grow from leaves or stems.
Scramblers—These plants have long flexible stems but won't attach themselves to structures. You may need to support the stems with garden twine.
Climbers Vs. Creeping Plants
Climbing and creeping plants are often confused, but they are two distinct types. Climbers use aerial roots, tendrils, or twining stems to attach themselves to structures like fences, walls, and trellises. On the other hand, creeping plants have stems that grow along the ground but don't attach themselves to surfaces.
Most varieties of creeping plants can be trained to grow as climbers by attaching the stems with twine to the fence, arbor, wall, or pergola. Also, some vining plants are fast-growing climbers with the name "creeper," for example, the Virginia creeper. Also, some climbers can grow as ground cover if there is nothing to climb on nearby.
Climbing Plants for Trellis
Trellises are a great way to add height and visual interest to your garden. Climbing plants for growing up a trellis come in wide varieties, from flowering vines to evergreen climbers. So whether you're looking for a colorful backdrop or a privacy screen, there's sure to be a climbing plant that will suit your needs.
Chocolate Vine (Akebia quinata)
Chocolate vine is an elegant semi-evergreen woody vine with twining stems. The ornamental features of this purple-flowering vining plant are its deep purple wine-red flowers, chocolatey fragrance, bright green oval leaves, and sausage-like, violet-colored seed pods, 4" (10 cm) long. This is a superb climber for masking an arch, pergola, or fence.
The chocolate vine climber plant grows 20 to 40 ft. (6 – 12 m) tall and spreads 6 to 9 ft. (1.8 – 2.7 m) wide. This twining climber is fast-growing and provides quick cover for fences, arbors, walls, and trellises. In addition, you can let the scrambling vines grow as ground cover with purple flowers.
Carolina Jessamine (Gelsemium sempervirens)
Carolina Jessamine is an evergreen climber with spectacular blooms of trumpet-shaped yellow flowers 1.5" (3 cm) across. This twining climbing plant blooms throughout summer with buttery yellow or golden yellow showy clusters of tubular flowers. The yellow-vining plant gives off sweet scents and attracts hummingbirds and pollinators.
Carolina jessamine thrives in USDA zones 7 to 10 in full sun or partial shade. Plant the climber in organically rich, moist, well-drained soil for best results. The yellow vine easily scrambles over garden structures, fences, arbors, or arches. It is also suitable as a ground cover plant with yellow flowers.
Climbing Nasturtium (Tropaeolum majus)
With its twining leaves, climbing nasturtium is an annual climber plant with sprawling or creeping stems. Identifying features of this climbing variety are its parasol green leaves on the end of long stems, red trumpet-like flowers 2" to 3" (5 – 7.5 cm) wide, and its vigorous climbing habits.
Common nasturtium climber plants can grow up to 10 ft. (3 m) tall. In USDA zones 9 to 11, the self-seeding plant grows as a short-lived perennial vine. However, in colder climates, it is a fast-growing climber with red, orange or yellow flowers that you must plant every spring.
Bourbon Rose (Rosa 'Zephirine Drouhin')
Zephirine Drouhin rose is a variety of climbing roses famed for its masses of fragrant, semi-double pink flowers. This free-flowering heirloom rose has thornless, flexible, woody stems with a climbing habit. The pink flowers, with their ruffled petals, bloom continuously throughout the summer and contrast nicely with glossy green foliage.
Bourbon rose grows 4 to 12 ft. (1.2 – 3.6 m) tall and 3 to 6 ft. (1 – 1.8 m) wide. Ideal for planting in full sun, Rosa 'Zephirine Drouhin' is an ideal choice for covering fences, arbors, or other garden structures. You can also plant it as a shrub for a flowering hedgerow.
Trumpet Creeper Vine (Campsis radicans)
The trumpet creeper vine is a fast-growing, hardy climber suitable for fences, trellises, arbors, and walls. The landscaping features of this woody climber are its clusters of orangey-red tubular flowers, small oval leaves, and ornamental bean-like seed pods. The orange or red flowers bloom throughout the summer, creating eye-catching floral displays.
The trumpet creeper vine is a self-clinging climber that attaches its stems by aerial rootlets. Suitable for USDA zones 5 to 9, this vigorous vine has a fast growth habit in full sun or partial shade. As a result, it's an excellent choice of climbing plant for fences, walls, or trellises.
Types of Climbing Plants
Growing climbers in a garden landscape is a great way to add visual appeal with height, texture, and color. Various plants with climbing habits are perfect for screening, hiding ugly garden structures, or increasing privacy in a backyard.
English Ivy (Hedera helix)
English ivy is a type of fast-growing evergreen climbing plant with attractive leaves that look like goose feet. The three to five-lobed leaves grow densely on stems that attach to structures with adhesive pads. As a hardy perennial vine, English ivy grows 30 to 50 ft. (9 – 15 m) tall.
This versatile climber grows in almost any location and light exposure. It thrives in full sun to full shade. And the evergreen sprawling plant is also ideal for fast-growing ground cover in shaded gardens, containers, or hanging baskets. It is also on the list of top indoor vining houseplants.
English ivy is also a suitable ground cover plant for shade.
Passion Flower Vine (Passiflora)
Passion vines or passion flower vines are exotic climbing plants with stem tendrils that attach themselves to wooden, metal, plastic, or brick structures. Passion flowers are known for their eye-catching pink, purple, or white petals, conspicuous stamens, and curly or wiry filaments. The large purple or white flowers can grow 4" (10 cm) across.
Passionflower vines thrive in the ground in USDA zones 6 to 10. These excellent climbers quickly cover fences, walls, arbors, or trellises with attractive dark green foliage, purple flowers, and egg-shaped fruits. Passion vines grow 10 to 30 ft. (3 – 9 m) tall.
Hops (Humulus lupulus)
Hops are ornamental climbing plants for fences and trellises that provide a dense screen of chartreuse foliage. Planting hops to climb over a fence or up a wall is ideal for temperate climates. The fast-growing perennial vine climbers are resistant to cold weather. They bloom with yellowish-green flowers followed by papery fruits that look like pinecones.
Hops thrive in USDA zones 3 to 8. The climbers perform best in partial shade or full sun, where they grow 15 to 25 ft. (4.5 – 7.5 m) tall and up to 6 ft. (1.8 m) wide. The herbaceous perennial dies back in the winter before returning in spring.
Types of Climbing Plants With Flowers
Climbing plants with flowers come in many varieties. They are perfect for adding a pop of color to any front or backyard. Flowering climbing plants include clematis, morning glory, star jasmine, and moonflowers. These flower-bearing climbers quickly grow over trellising systems, obelisks, poles, wooden frames, and fences.
Morning Glory (Ipomoea purpurea)
Morning glory is an exotic climbing plant with twining stems, funnel-shaped purple flowers, and deeply lobed leaves. The outstanding feature of morning glory is the masses of purple-blue tubular flowers that bloom continuously from summer through fall. In addition, some morning glory varieties have pink, red, magenta, and white flowers.
The fast-growing perennial vine is ideal for covering fences, walls, pergolas, or trellises. Morning glory thrives in full sun and grows 8 to 10 ft. (2.4 – 3 m) tall. The plant is hardy in USDA zones 3 to 11 and can be grown as an annual in colder climates.
In addition to planting morning glory to add height and colorful texture to a backyard, you can grow the sprawling plant as blue-flowering ground cover. Additionally, it performs well in planters, where you can enjoy the flowering stems cascading over hanging baskets or containers.
Red Morning Glory (Ipomoea coccinea)
Red morning glory is an exotic climbing plant with beautiful fragrant red or orange-red blossoms and heart-shaped leaves. This flowering vine grows as an annual. However, its speedy growth habit means it quickly scrambles over arbors, arches, trellises, or fences. The trumpet-shaped flowers are bright red with an orange throat.
Red morning glory quickly climbs to reach heights of up to 10 ft. (3 m) in a single season. The twisting flowering vine is adorned with large leaves and small clusters of red flowers measuring 2" (5 cm) long.
Clematis
Clematis is a flowering climbing plant that clings to structures with twining leaves. Depending on the variety, these climbers can be large or small-flowering varieties. The climbing plants with large flowers have star-shaped pink, purple or white blossoms measuring 5" to 10" (13 – 25 cm) across. The small-flowering vining varieties have clusters of bell-shaped or star-shaped drooping white or purple flowers.
Clematis vines thrive in USDA zones 7 to 9 and grow between 15 and 30 ft. (4.5 – 9 m) tall and 10 to 15 ft. (3 – 4.5 m) wide.
Related reading: How to care for clematis vines.
Moonflower (Ipomoea alba)
Moonflower is an exotic climbing plant with spectacular fragrant white flowers that bloom at night. The large, sweetly-scented ruffled flowers contrast nicely with large heart-shaped green leaves. The foliage and flowers grow densely on climbing stems forming a screen, barrier, or privacy fence.
Moonflower climbing plants with their white flowers thrive in USDA zones 9 to 12. In full sun, the summer-blooming vines grow 10 to 15 ft. (3 – 4.5 m) tall in a single season. With support, they will climb fences, pergolas, and walls. They also perform well in containers, hanging baskets, or ground cover with white flowers.
Sweet Pea (Lathyrus odoratus)
Sweet pea is a climbing annual that attaches to structures with its leaf tendrils. The outstanding feature of this ornamental climber is its masses of ruffled flowers that bloom in clusters of pink, purple, deep red, coral pink, orange, white, and lilac. Sweet pea is a fast-growing, easy-to-care-for climber that can reach up to 8 ft. (2.4 m) tall in a  single season.
Sweet pea climbers, with their colorful flowers, are an excellent choice for covering trellises, pergolas, or other structures in the garden. The flowering climbing plants also perform well in containers if they have a small trellis to climb.
Star Jasmine (Trachelospermum jasminoides)
Star jasmine is a beautiful climbing plant with delicate star-shaped white flowers and glossy deep green foliage. Ornamental features of this climber are its densely growing evergreen foliage that emerges bronze-purple, masses of white pinwheel flowers, and superfast growth. When growing this flowering plant up a trellis, pole, patio support, or fence, star jasmine reaches 20 ft. (6 m) tall.
Exotic star jasmine is suitable for growing throughout the year in USDA zones 8 to 10. Plant the climber in full sun or partial shade and ensure the soil is well-draining. The landscaping vining plant is drought-tolerant when established.
Types of Climbing Perennial Plants
Climbing perennial plants are incredibly versatile and provide a great way to screen a backyard or create a privacy screen. Many of these plants will climb fences and walls, and their superb foliage and beautiful flowers combine to make a stunning visual impact.
Climbing Hydrangea (Hydrangea anomala subsp. Petiolaris)
Climbing Hydrangea is a flowering perennial climbing vine with masses of eye-catching lacecap flowers. These flattened flower clusters contrast superbly with heart-shaped dark green leaves. Its climbing habit is thanks to aerial roots that cling to structures. This stunning climber requires minimal maintenance and is easy to grow in most areas
Climbing hydrangeas grow up a wall or trellis to a height of 30 to 40 ft. (9 – 12 m) in USDA zones 4 through 9.
Climbing Roses (Rosa)
Climbing Roses are a type of flowering perennial woody vines with long, flexible thorny stems covered in showy flowers. The stems of climbing roses can be trained to climb up trellises, fences, obelisks, and walls. These hardy plants are especially known for their graceful flowers, which add a splash of color throughout summer and fall.
The ornamental feature of these perennial climbers is their abundant clusters of fragrant flowers. Suitable for landscaping in USDA zones 5 through 9, climbing roses grow 5 to 20 ft. (1.5 – 6 m) tall and up to 8 ft. (2.4 m) wide.
Honeysuckle (Lonicera)
Honeysuckle is an attractive perennial climber with clusters of fragrant tubular flowers. The clambering plants attach to structures with twining stems. These are covered in lanceolate or oval leaves and bloom with whorls or brightly colored, scented flowers. Honeysuckle vine flowers can be deep shades of orange, pink, red, or white.
Honeysuckle vines grow between 3 and 10 ft. (1 – 3 m) tall and up to 8 ft. (2.4 m) wide. The deer-resistant vines are excellent for covering pergolas, trellises, and fences.
Black-Eyed Susan Vine (Thunbergia alata)
Black-eyed Susan is a flowering perennial climber with bright yellow, salmon-red, orange, or white flowers and dark brown centers. Twining stems climb trellises or vertical stands, creating a screen of green and yellow or orange colors.
Black-Eyed Susan vine is suitable for growing in USDA zones 10 and 11. Planted in moist, well-draining ground, the perennial flowering climber grows 3 to 8 ft. (1 – 2.4 m) tall.
Black-eyed Susan vines look great growing over fences, walls, and arbors to add a pop of bright yellow or orange colors to your landscape.
American Bittersweet (Celastrus scandens)
American bittersweet is a vigorous perennial flowering climber with yellowish-green flowers, large lance-shaped dark green leaves, and orange-yellow berry-like fruits. This twining, woody vine is a beautiful ornamental plant for trellises, pergolas, fences, and walls. In full sun, the climber grows 15 to 20 ft. (4.5 – 6 m) tall.
American bittersweet is ideal for trellises, fences, walls, and arbors in temperate gardens. Without support, you can also grow the sprawling vining plant as full-sun ground cover.
Virginia Creeper (Parthenocissus quinquefolia)
Virginia creeper is a perennial climber with densely growing colorful foliage, greenish-white flowers, and clusters of bluish-black berries.  The outstanding feature of Virginia creeper is its leaves that emerge bronze-purple and turn green before changing into deep shades of crimson red and burgundy.
This outstanding climber tolerates full sun to deep shade in USDA zones 3 to 11. Using sticky tendrils, the climbing vine can grow up building walls, trellis structures, or fences 30 to 50 ft. (9 – 15 m) tall and up to 10 ft. (3 m) wide. This feature makes the climber ideal for use as privacy screening in garden landscapes.
Related articles: