Ground Cover Plants With Blue Flowers (With Pictures) – Identification Guide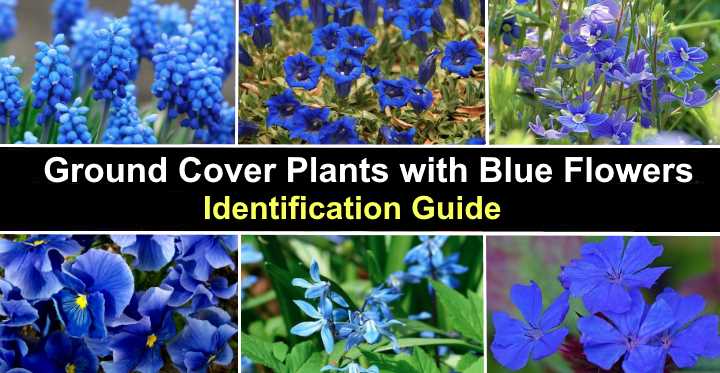 Ground cover plants with blue flowers provide a blanket of soft, colorful plants in shades of indigo, cyan, navy blue, pastel blue and pale lilac. Blue-flowering ground cover plants have several beneficial uses in a garden landscape. The mat-forming plants help prevent soil erosion, keep weeds under control, cover bare patches of ground, and attract pollinators.
Ground cover plants with blue flowers also provide attractive color contrasts in a landscape. Many shades of blue and green create color combinations that are relatively unusual in nature. In addition, the combination of blue and green can help beautify a property foundation line, provide color under shrubs, and add attractive colors to a border or mixed bed.
This article provides ideas and tips on selecting the best blue-flowering ground cover plants for your front or backyard. Pictures and descriptions of spreading evergreens and perennial ground-hugging plants will help you choose the best ones for your garden landscape.
Best Ground Cover Plants With Blue Flowers
There are several types of low-growing plants with blue flowers you can grow as ground cover plants. The best plants for ground cover are those that have a trailing, clumping, or creeping growth habit. These flowering plants should form a blue and green blanket several inches tall.
Depending on the species, you can use blue-flowering ground-hugging plants in full sun, partial shade, or complete shade. In landscaping, the low-maintenance ground cover plants can cover bare ground under shrubs or large trees. Additionally, they are ideal for growing in rock gardens or slopes or adding color and texture to borders.
There are several considerations when choosing the right type of ground cover plant with blue flowers. First, check the plant's USDA growing zone. Some mat-forming plants are listed as "evergreen perennials." This means that in cooler climates, they grow as flowering perennials – dying back in winter. However, in warmer zones, they retain their foliage throughout the year.
Other ways to choose the right blue-flowering ground cover plants for your landscape include sun exposure, soil type, and maintenance needs. Also, don't forget to check invasiveness. Some spreading plants are considered invasive in some areas.
Why Plant Ground Cover Plants With Blue Flowers
Ground cover plants with blue flowers help to add a combination of pastel colors to make it easier to define landscapes. Blue carpets of beautiful blooming plants beautify landscapes. In addition, many ground cover plants grow where other plants cannot. They also help prevent soil erosion, control weeds, and add color to shaded areas of your yard.
Ground Cover Plants With Blue Flowers (With Pictures) – Identification Guide
Ground cover plants with blue flowers are ideal for adding a splash of color to beds, borders, and pathways. Many low-maintenance plants with trailing or creeping growth are also great for planting in containers or for trailing over retaining walls. Here are some of the best blue ground cover plants for your garden.
Dwarf Plumbago (Ceratostigma plumbaginoides)
Dwarf plumbago is a low-growing, mat-forming perennial plant with deep blue flowers resembling phlox blossoms. The wiry plant spreads by underground rhizomes up to 18" (45 cm) wide and 12" (30 cm) tall. Dwarf plumbago is identified by oval to oblong glossy dark green leaves that turn bronze-red in fall.
Dwarf plumbago blue flowers are small five-petalled flowers growing on the end of erect stems. The papery blue flowers measure 0.5" to 0.75" (1.2 – 2 cm) wide. They bloom throughout the summer until the first frost.
USDA growing zones: 5 to 9
Bugleweed (Ajuga)
Bugleweed is an annual or perennial herbaceous creeping ground cover plant with spikes of blue flowers. The ground-hugging creeper also goes by the names carpet bugle or ground pine — terms relating to its prostrate growth habit. Most species of bugleweed have blue to purple flowers and small pointed ovate leaves, with some having shades of purple.
USDA growing zones: 4 to 9
Blue Bugle (Ajuga reptans)
Blue carpet bugleweed is a shade-loving ground cover plant with a spreading nature and spikes of blue flowers. Carpet bugle grows 4" to 8" (10 – 20 cm) tall and 24" (60 cm) wide. Its hardy foliage consists of small leaves growing in tight green, silver, or bronze-colored rosettes measuring 3" (7.5 cm) long.
Upright Bugle (Ajuga genevensis)
Also called Geneva bugleweed, this perennial evergreen spreading plant has striking violet-blue flowers growing on spikes. The blooming spikes, with their dense clusters of deep blue petals, grow between 4" and 12" (10 – 30 cm) tall. The plant is also identified by its elongated oval leaves with smooth margins.
Purple Gromwell (Lithodora diffusa)
Purple gromwell is a carpet-forming perennial plant with attractive lilac-blue flowers. Apart from its five-petalled blue flowers, identifying features of this ground cover plant are its dark, green fuzzy leaves going on upright stems. Species of spreading gromwell grow 6" (15 cm) tall and 24" (60 cm) wide.
USDA growing zones: 6 to 9
Lithodora diffusa 'Grace Ward'
'Grace Ward' gromwell is an evergreen mat-forming plant with attractive star-shaped, bright blue flowers growing at the end of slender spikes. The spreading shrub has trailing stems with small, narrow, dark green leaflets. The trailing plant blooms in late spring through summer. It's also a useful blue-flowering plant for rock gardens and cascading over walls.
'Grace Ward' gromwell grows 36" (90 cm) wide and 12" (30 cm) tall.
Lithodora diffusa 'Heavenly Blue'
'Heavenly Blue' is a sprawling evergreen ground cover plant featuring masses of azure-blue funnel-shaped flowers. This gromwell cultivar has a long flowering season. Narrow, ovate leaves covering erect stems help identify this blue-flowering ground cover plant. It grows 18" (45 cm) wide and 6" (15 cm) high.
Bellflowers (Campanula)
There are hundreds of species of bellflowers, many of which bloom in shades of blue. As the name suggests, bellflowers have flowers in the shape of bells, urns, or cups. Blue-flowering spreading bellflowers typically don't grow taller than 30 cm and can spread up to 24" (60 cm).
For example, some varieties of clump-forming bellflowers have clusters of dangling blue bell-shaped flowers. Others are light lilac blue with cup-shaped flowers and a five-pointed star shape. However, other Campanula species have dainty deep blue bell-like blossoms with backward curved petals.
USDA growing zones: 4 to 9
Phlox (Phlox subulata, Phlox divaricata)
Phlox is a creeping flowering plant that forms a blanket of blue, purple, pink, or white flowers. The vigorously growing ground cover plant blooms with star-shaped, five-petalled flowers that cover the mounding plant. Creeping phlox also thrives in poor soils and is ideal as ground cover for full sun.
The two species of ground cover phlox are Phlox subulata (creeping phlox) and Phlox divaricata (woodland phlox). From the two, creeping phlox has a lower height and wider spread. However, both blue-flowering varieties create mats of fragrant pale to deep blue flowers. The creeping plants are ideal for rock gardens, edging, border fronts, and ground cover.
USDA growing zones: 3 to 9
Phlox subulata 'Emerald Cushion Blue'
The phlox cultivar 'Emerald Cushion Blue' is an attractive, low-growing ground cover plant. The creeping plant is covered in masses of star-shaped lavender-blue flowers throughout spring. The colorful carpet of flowers grows 6" (10 cm) tall and 24" (60 cm) wide.
Phlox subulata' Oakington Blue Eyes'
The phlox cultivar 'Oakington Blue Eyes' is characterized by its low mound of pale lilac-blue, five-petalled flowers, and dark green needle-like leaves. This vigorous creeping plant blooms in late spring. It's a stunning ground cover plant for growing along edges, in rock gardens, or in containers.
Wild Blue Phlox (Phlox divaricata)
Wild blue phlox, also called woodland phlox, is a semi-evergreen, spreading plant with abundant fragrant, lilac-blue flowers. The dainty star-shaped flowers consist of five spoon-shaped petals growing in clusters at the ends of slender stems. This species of phlox is suitable as a ground cover for shade or partial shade. The flowering carpet of blue flowers grows 12" (30 cm) tall and wide.
Speedwell (Veronica prostrata)
Speedwell is a popular herbaceous perennial ground cover plant that is easy to grow. The identifying features of speedwell are flowering blue spikes consisting of tiny blossoms. In addition, the low-spreading plants have lanceolate leaves and create spectacular floral displays when blooming during summer.
The ground-hugging speedwell species with blue flowers is Veronica prostrata which grows 10" (25 cm) tall and is suitable for full sun to partial shade.
USDA growing zones: 4 to 8
Blue Star Creeper (Isotoma fluviatilis)
Blue star creeper is a beautiful mat-forming perennial that blooms with starry soft-blue flowers throughout the summer. This spreading creeper has slender deep green linear leaves 0.47" (1.2 cm) long, solitary pale blue flowers, and thrives in dappled sunlight. Once established, the low-growing plant creates a carpet of green foliage and  light blue flowers.
Blue star creeper grows 2" (5 cm) tall and 12" (30 cm wide). Landscaping uses include edging, ground cover, rock gardens, or growing in containers on a patio.
USDA growing zones: 6 to 8
Stemless Gentian / Trumpet Gentian (Gentiana acaulis)
Stemless gentian is a striking low-growing plant characterized by its vibrantly-colored deep blue funnel-shaped flowers. This mat-forming ground cover plant blooms in late spring through early summer. Each trumpet-like true-blue flower has green spotted throats. The other decorative feature of the evergreen alpine perennial is dark green elliptical leaves.
Stemless gentian, with its spectacular blue flowers, grows 6" (15 cm) tall and 12" (30 cm) wide. The attractive sun-loving ground cover plant is also ideal for edging and adding vibrant colors to rock gardens.
USDA growing zones: 3 to 7
Grape Hyacinth (genus Muscari)
Grape hyacinth is a group of low-growing compact plants with tiny bell-shaped blue flowers growing at the end of erect stems. When the petals aren't opened, the flowering spikes look like a cluster of tiny blue berries. Grape hyacinth is a long-blooming bulbous plant with fragrant spring flowers.
Grape hyacinth grows 5" (12 cm) tall and 2" (5 cm) wide. Grape hyacinth plants can spread rapidly, so to use grape hyacinth for ground cover you may want to restrict the area it grows.
USDA growing zones: 4 to 8
Spanish Bluebell (Hyacinthoides hispanica)
Spanish bluebells are hardy perennials with clusters of bluish-purple bell-shaped flowers nodding on erect stems. The easy-to-care-for bluebell plants form clumps and spread by bulb offsets and seeds. The violet-blue spring flowers can grow up to 18" (45 cm) tall and spread just as wide. Its leaves are shiny and strap-shaped.
Spanish bluebells tolerate full sun, drought, and sandy soils. You can grow the spreading bulbous perennials in borders, beds, rock gardens, and containers.
USDA growing zones: 3 to 8
Lily of the Nile (Agapanthus)
Lily of the Nile is an eye-catching perennial plant with showy purple-blue flowerhead clusters of small star-shaped flowers. The delicate, linear petals are in various shades of blue and purple. The round blue flower clusters grow at the end of long, erect stems that grow up to 4 ft. (1.2 m) tall.
Lily of the Nile is an evergreen perennial — it stays green in warmer climates but dies back in colder zones. The clumping ground cover plant spreads by fleshy rhizomes and tuberous roots.
USDA growing zones: 7 to 11
Blue Wild Indigo (Baptisia australis)
Blue wild indigo is a spreading herbaceous clump-forming perennial blooming with bright indigo flowers. The pea-shaped blue flowers have lipped petals and grow in clusters at the end of long stalks. Apart from the flowers blooming from spring through summer, the trifoliate clover-like leaves add to the plant's attractiveness.
Blue wild indigo is a relatively tall ground cover plant growing 3 to 5 ft. (1 – 1.5 m) tall and wide. Thriving in full sun, the mounding foliage and flowering stalks are suitable for mass plantings, ground cover, or even a low-growing herbaceous hedge.
USDA growing zones: 3 to 9
Blue Dogbane / Blue Star (Amsonia tabernaemontana 'Blue Ice')
Blue dogbane is an outstanding ground cover perennial with clusters of wiry, star-shaped pale blue flowers. Blue dogbane flowers appear early in the season and grow on leafy stems with long, pointed willow-shaped leaves. The dense growth gives the plant a bushy appearance. The fast-growing ground cover forms clumps.
Mounding blue dogbane grows 24" to 36" (60 – 90 cm) tall and wide. Apart from being an undemanding ground cover plant, you can also grow it in sunny gardens, borders, or as an accent plant. It also thrives in boggy ground, making it ideal for growing on banks.
USDA growing zones: 3 to 9
Love in a Mist (Nigella damascena)
Love-in-a-mist is an attractive, bushy annual with feathery green foliage and showy star-shaped blue flowers. The solitary flowers measure 1" to 3" (2.5 – 7.5 cm) across and have several layers of pointed petals with wiry green stamens in the center. Love-in-a-mist is a landscaping favorite in cool-season climates.
Love-in-a-mist grows 18" to 24" (45 – 60 cm) tall and up to 18" (45 cm) wide. Apart from its starry blue flowers, the attractive features of the plant are its slender needle-like leaves and seed pods shaped like a balloon. Its light blue flowers are ideal for dried flower arrangements.
USDA growing zones: 2 to 11
Blue Pansies (Viola)
Pansies are evergreen perennials famed for their spectacular colorful petals. Although they come in various colors, blue pansies are especially stunning. Many varieties of blue pansies have petals with contrasting yellow patches or entire yellow petals. Some dark blue pansies almost appear black. Other types of pansies have pale petals with deep blue to purple centers.
Pansies grow as annuals in colder climates. The low-growing plants grow 3" to 10" tall, and some species spread up to 24" (60 cm) wide. Pansies are ideal landscaping plants for edging, mass plantings, rock gardens, and planters.
USDA growing zones: 4 to 9
Related articles: