Ground Cover Plants With Purple Flowers (With Pictures) – Identification Guide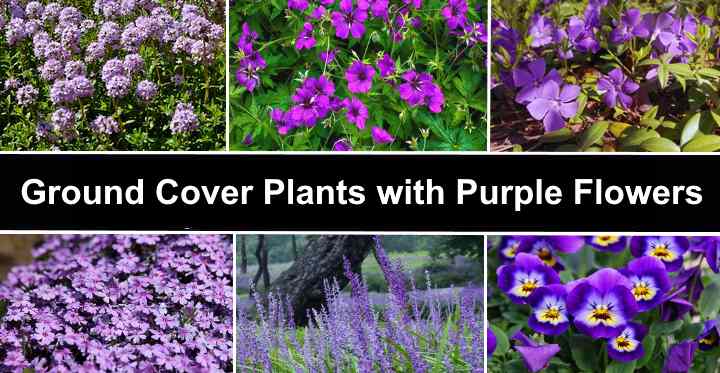 Ground cover plants with purple flowers transform garden landscapes with colorful, low-growing, mat-forming creeping plants. Varieties of ground cover plants grow as perennials or evergreen spreading plants. Depending on your garden, you can plant purple-flowering ground cover plants for shade or full sun. The green leafy foliage and purple flowers will keep your garden looking vibrant, healthy, and full of life in all seasons.
The best ground cover plants with purple flowers are hardy, evergreen perennials that grow throughout the year. You can choose early-flowering creeping plants to enjoy hues of purples and blues in early spring. Other full-sun ground cover plants continue flowering during late spring, through summer and bloom until the fall.
There are endless options to grow ground cover plants if you want to enjoy their purple, lilac, and blue flowers. Creeping purple flowers can transform pathways, grow in between stepping stones, grow along edges and borders, or in mixed beds. You can even grow full-shade purple spreading plants under shrubs or in shaded areas of your yard.
This article is a complete guide to the best purple ground cover plants for sunny or shaded gardens. Descriptions and pictures of ground cover plants with purple flowers will help you choose the best varieties for your garden landscape.
Why Plant Ground Cover Plants with Purple Flowers
Ground cover plants are types of plants that are low-growing, spreading, trailing, or creeping plants. Usually, these mat-forming plants spread quickly, transforming landscapes into colorful scenes. Ground cover plants are also ideal for controlling weeds, preventing soil erosion, or covering bare soil. What's more, the best ground cover plants are generally low maintenance.
Other benefits of ground cover plants are that they lock in moisture and act as an insulating cover for the soil. The blooming carpet of foliage and flowers help reduce maintenance in gardens as the low-growing plants reduce the need for mulch. Some hardy varieties of low-growing plants are suitable substitutes for grass that you can walk on.
Evergreen Ground Cover Plants with Purple Flowers
Let's look in more detail at the best purple-flowering, evergreen ground cover plants for your garden landscape.
Creeping Thyme (Thymus serpyllum)
Creeping thyme is a low-growing shrub-like evergreen plant with pinkish-purple flowers. The sun-loving showy plant creates a cushion of blue-green foliage and purple hues. Not growing more than 3" (7.5 cm) tall, creeping thyme is ideal for growing along garden edges, between paving, in rock gardens, or as full-sun ground cover.
Creeping thyme thrives in USDA zones 4 – 9. Grow in fertile, well-draining soil for the beautiful flowering mat-forming plant to bloom during summer. This easy-care ground cover is also resistant to drought, pests, diseases and is also rabbit and deer-resistant.
In the fall, creeping thyme turns from bluish-green foliage into warm autumn bronze colors.
Creeping phlox (Phlox subulata)
Creeping phlox is a fast-growing evergreen ground cover plant with purplish flowers that thrive in full sun and some shade. This carpet-forming plant blooms with lavender-blue flowers in mid to late spring. Creeping phlox is ideal for covering ground along edging, borders, or its trailing stems will also cascade over a container.
Creeping phlox is a cold-hardy, easy-care plant that thrives in USDA zones 2 – 9. The vigorous flowering plant prefers growing in sandy, well-draining soil and is relatively drought tolerant. Phlox subulata is an ideal ground cover choice for creating a mat of dark green foliage and purple spring flowers.
Bugleweed (Ajuga reptans)
Bugleweed is a vigorous evergreen purple ground cover plant that produces spikes of blue, lavender, or purple flowers. Also called carpet bugle, this spreading plant is ideal for ground cover in full shade or full sun. Its dense growth means it is perfect for choking out weeds. Bugleweed is a horizontal spreading plant with glossy green, obovate leaves, and clusters of tiny purple flowers.
You can grow bugleweed in USDA zones 3 – 10. The fast-growing creeping plant grows between 6" and 12" (15 – 30 cm) tall and grows best in sandy, well-draining soil.
A popular way to use carpet bugle in garden landscapes is as an alternative to grass on shaded banks, slopes, or under shrubs. It's also a good plant choice for patio containers, rock gardens, or small spaces.
Lithodora (Lithodora diffusa)
Purple Lithodora 'Grace Ward' (Gromwell) is a variety of Lithodora with deep blue trumpet-shaped flowers and small linear green leaves. As a carpet-forming evergreen shrub, Lithodora diffusa is perfect for low-maintenance gardens where you need ground cover in full sun. The trailing stems with the dark green fuzzy leaves and purple-blue flowers make this an excellent hanging basket plant.
Lithodora diffusa grows best as a short evergreen shrub in USDA zones 6 – 8. The long-blooming flowers produce spectacular colorful displays from late spring until the end of summer.
In addition to growing as ground cover, Purple Gromwell is ideal for rock gardens, patio plants, borders, and growing on banks to prevent weeds and soil erosion.
Common Periwinkle (Vinca minor)
Periwinkle spreading plants have shiny, leathery leaves and attractive lilac-blue or lavender 5-petalled flowers. The purple tubular flowers contrast with the small oval leaves. The colorful living mat blooms multiple times in spring and summer. Grow purple periwinkle in poor soil as a mass planting to cover ground easily.
Periwinkle plants thrive in full sun or partial shade in USDA zones 4 – 9. The hardy, low-growing vining plant only grows between 3" and 6" (7.5 – 15 cm) tall. It's an easy-care evergreen resistant to drought, deer, rabbits, and salt.
If you are looking for a purple ground cover plant with variegated leaves, choose the Vinca minor 'Variegata.' This cultivar has white and green leaves and violet-blue flowers growing in a low mat of leathery foliage.
Perennial Ground Cover Plants with Purple Flowers
Perennial ground cover plants are low-growing creeping or spreading plants. As cold-hardy plants, purple ground cover perennials come back year after year, covering the ground with green foliage and beautiful lilac, violet, blue, or lavender blooms.
Here are some of the best ground cover perennials with purple flowers.
Spotted Deadnettle (Lamium maculatum)
Spotted deadnettle is a perennial ground cover with trailing stems with heart-shaped leaves and eye-catching purplish pink or magenta flowers. As an easy-care spreading plant, spotted deadnettle grows best as ground cover in full shade. The low-growing plant quickly grows to between 4" and 8" (10 – 20 cm) high.
Spotted deadnettle is an ideal perennial for growing under shrubs or trees, shade gardens, or edging plants. Despite growing in the shade, spotted deadnettle blooms throughout summer, and the flowers persist until fall. It's a drought-tolerant plant that is also resistant to pests, diseases, rabbits, and deer.
Grow spotted deadnettle as a cold-hardy, maintenance-free spreading plant in USDA zones 3 – 8.
Horned Violet (Viola cornuta)
The horned violet is a tender perennial ground cover plant with two-toned violet, blue, and lavender flowers. The green broadleaves are ovate with slightly serrated margins. The horned violet variety has rapid growth and with a creeping horizontal or upward growth. This violet plant is ideal for covering slopes, growing as a bedding plant, decorating walkways, or full-sun ground cover.
Horned violet has foliage that is deciduous or evergreen, depending on the climate. You can grow it as a perennial in USDA zones 6 – 11. In colder climates, horned violet grows as an annual ground cover in sunny spots in your garden.
Wild Violet (Viola sororia)
Wild violet is a low-growing, cold-hardy perennial with pretty bluish-purple flowers and heart-shaped glossy green leaves. Wild violet plants form an attractive ground cover, and they spread quickly, making a gorgeous carpet of green and purple colors. This violet grows between 6" and 10" (15 – 25 cm) in partial shade.
Apart from growing as a perennial ground cover, this versatile violet variety is perfect for bedding, rock gardens, containers, or planting in coastal gardens.
Wild violet is hardy in USDA zones 3 – 7, where it grows best in light shade. You can also grow this delightful spreading plant in full sun if you water it regularly. Continual moisture in the soil is necessary for this violet plant to thrive.
Creeping Liriope (Liriope spicata)
Commonly called monkey grass, creeping liriope is a spreading variety of sun-loving, clumping grass-like plants that are ideal for ground cover. Liriope's characteristics are long, linear, pointed leaves with clusters of pale purple flower spikes. As an easy-care ground cover plant, lilyturf spreads rapidly to form a dense mat of soft foliage.
Creeping liriope grows between 9" and 12" (22 – 30 cm) tall and 24" (60 cm) wide. The spiky ground cover plant thrives in fertile ground that has excellent drainage. As a low-maintenance landscaping plant for ground cover, liriope is resistant to foot traffic, heat, shade, deer, and rabbits.
Grow creeping liriope in USDA zones 4 – 10.
Spike Speedwell (Veronica spicata)
Spike speedwell is a clump-forming perennial with bushy mounds of lanceolate leaves and purple flowering spikes. Spike speedwell's violet-blue flowers bloom all summer long. The plant grows between 12" and 24" (30 – 60 cm) tall and thrives in full sun. Spike speedwell is also a landscaping plant for borders, containers, edging, and foundation plantings.
Spike Speedwell thrives in USDA zones 3 – 8. Grow the mounding ground cover is well-draining soil and keep the ground evenly moist. As a low-care landscaping perennial, spike speedwell is resistant to pests, diseases, rabbits, and deer.
Nepeta Catmint (Nepeta x faassenii)
Nepeta catmint is a perennial ground cover plant that produces masses of long-lasting purple flowers on long stems. The benefits of nepeta catmint as ground cover are that it's fast-growing, performs well in poor soil, and its dense growth chokes out weeds. The Faassen's Catmint grows up to 20" (45 cm) tall and 36" (90 cm) wide.
One of the best landscaping uses for catmint—also named 'Cats Meow'—is as an underplant for shrubs and roses. The ground cover plant is also excellent for growing along pathways, as an edging plant or perennial border.
Grow nepeta catmint as a hardy ground cover perennial in USDA zones 3 – 8.
Wall Germander (Teucrium chamaedrys)
Wall germander is a low-growing evergreen perennial with rosy-purple summer flowers and aromatic oval dark green leaves. As a compact ground cover, wall germander doesn't grow taller than 12" (30 cm). The herbaceous plant doesn't spread, so it's perfect for growing as a small-scale purple ground cover.
Also named Horse Chive, wall germander thrives in USDA zones 5 – 9. It's a drought-resistant perennial and low-maintenance plant, so it's ideal for care-free gardens. Grow wall germander to cover bare ground in full sun and keep the ground well-watered so that it thrives in the summer heat.
Creeping Mazus (Mazus reptans)
Creeping mazus is a low-growing perennial that forms a dense mat of purplish-blue tubular flowers and bright green leaves. The robust growth of creeping mazus means it's a ground cover plant you can walk on. It is also an excellent substitute for turfgrass. Creeping mazus spreads along the ground fast through its rooting stems.
Creeping mazus only grows up to 2" (5 cm) tall and spreads up to 12" (30 cm) wide. It's one of the best ground cover flowering plants for small areas. Grow between stepping stones where it can also withstand plenty of foot traffic.
Creeping mazus is an evergreen perennial in regions with mild winters. It's cold-hardy in zones 5 – 8.
Cranesbill (Geranium)
Also called hardy geraniums, cranesbill are popular ground cover plants due to their papery pink, magenta, purple, blue, and lilac flowers. Hardy geraniums are easy to grow and transform landscapes due to their attractive foliage and masses of dainty flowers that bloom from spring until fall.
Cranesbill are ground cover plants that don't grow more than 12" (30 cm) tall. The compact, low mounds of purple flowers and green foliage are ideal for underplanting shrubs, ground cover in full or partial sun, and small gardens. Its dense foliage means that the plants are excellent for choking out weeds.
Grow cranesbill perennial ground cover plants in USDA zones 3 – 9. Ideally, plant the easy-care plants in light shade.
Blue Star Creeper (Isotoma fluviatilis)
Blue star creeper is a spreading ground cover evergreen perennial with 5-petaled blue or purple flowers. You can enjoy the light-blue star-shaped flowers in springtime. As a low-growing medium-fast creeping plant, blue star creeper grows up to 3" (7.5 cm) high and 24" (60 cm) wide. The prostrate spreading landscape plant thrives in partial shade.
Also named Laurentia or swamp isotome, Blue star creeper stays evergreen in USDA zones 6 – 8 and prefers shade to sun. You can grow this spreading plant for landscape edging, under shrubs, or in shade gardens. Due to its dense growth, this ground cover plant also holds up under foot traffic and keeps weeds at bay.
A benefit of growing blue star creeper is that it performs well in damp or wet soil. You can plant this ground cover near streams, ponds, or in ground with poor drainage.
Dalmatian Bellflower (Campanula portenschlagiana)
Dalmatian bellflower is a fast-growing perennial ground cover plant with bell-shaped, lavender-colored flowers. The purple campanula flowers contrast with the mounds of evergreen foliage that quickly spread over bare ground. Due to its trailing, creeping stems, you can grow dalmatian bellflower plants as container plants, hanging basket trailing plants, or rock garden plants.
Dalmatian bellflower thrives in USDA zones 3 – 9, in full sun to partial shade, and well-draining soil. The vigorous ground cover plant grows up to 12" (30 cm) tall and 36" (90 cm) across. It's good to remember that its fast-growing, spreading nature can make it invasive.
Society Garlic (Tulbaghia violacea)
Society garlic is a sun and heat-loving perennial with light-purple star-shaped, tubular flowers that are very fragrant. The scented lilac-pink summer flowers measure 1" (2.5 cm) and contrast with the clumps of gray-green garlic aromatic foliage. Easy to grow, society garlic spreads slowly without becoming invasive.
Society garlic performs best in USDA zones 7 – 10 in full sun. The mound-forming perennial grows between 12" and 20" (30 – 50 cm) tall and 12" (30 cm) wide. Clusters of lilac-colored flowers sit at the top of long stems.
Grow this stunning tender perennial in containers, rock gardens, mixed beds, borders, and herb gardens.
Hosta (Hosta sieboldiana)
Hosta is a hardy slow-growing perennial with large thick leaves and small whitish-lilac tubular flowers. Hosta plants are primarily grown for their ground-covering foliage. The plant's strong roots crowd out weeds, helping to reduce work in the garden. The mound-forming plants produce clusters of lilac flowers on the end of 27-inch (67-cm) stems in spring and summer.
Grow hosta perennials in USDA zones 3 – 9. The easy-care ground cover plants grow between 2 and 3 ft. (0.6 – 1 m) tall and 4 ft (1.2 m) wide. Tolerant of sun and some shade, hosta is ideal for under shrubs, as foundation plantings, in containers, or as ground cover.
Related articles: