The Best Types of Grass For Florida Lawns (With Pictures) – Identification and Care Guide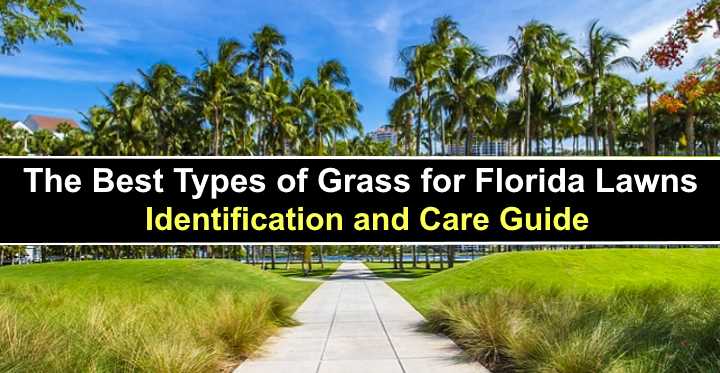 Choosing the right type of grass for your Florida lawn ensures that lush, green turfgrass thrives in your yard throughout the year. Different types of grass are suitable for the various growing zones in Florida. And with a constant supply of heat and humidity in the Sunshine State, finding the right grass for your lawn can be challenging.
So, if you think the grass is greener on the other side of your fence, this article is for you. You will learn about the different types of lawn grass that thrive in North Florida, Central Florida, and South Florida. Pictures and descriptions will help you identify the type of grass suited to your front or backyard.
Types of Grasses for Florida Lawns (By Zone)
Typically, warm-season grasses are the best types for Florida lawns. However, from all the types of lawn grass, St. Augustine is the best for growing in Florida's subtropical warm and humid climate. This native Florida grass type is hardy turfgrass with thick blades and forms a carpet-like surface that prevents weeds from emerging.
When picking suitable grass for your Florida garden, it's vital to consider the growing zone. Florida is divided into three different growing zones — North (including the Panhandle), Central, and South. The types of grasses best suited for each area depend on the USDA's hardiness zone.
North Florida is classified as USDA growing zones 8 and 9a. This region includes the Panhandle and the Gulf Coast of Northern Florida. Suitable lawn grasses for northern Florida include Bermuda grass, St. Augustine grass, and Centipede grass. In areas with prolonged cold winters, it may be necessary to reseed the lawn with cold-season grass to keep it green throughout winter.
Central Florida is classed as USDA zones 9a to 10a. This growing zone is everywhere north of Lake Okeechobee to just north of Orlando. Suitable warm-season turfgrass for Central Florida includes Bahiagrass, Bermuda grass, and Zoysia grass.
South Florida and the Florida Keys are in USDA zones 10 and 11. This area of Florida is hot and humid with year-long sunshine. The best types of turfgrass for growing in South Florida include Bahiagrass and St. Augustine grass. However, it's good to note that St. Augustine grass may struggle in the hottest areas of Florida.
How to Choose the Best Type of Lawn Grass For Florida
A beautiful lush, green lawn will enhance any garden landscape in Florida. But, a well-maintained lawn doesn't just add to your property's aesthetics. Green turfgrass provides space for outdoor activities, aids in erosion control, and provides a cooling effect.
Choosing the best type of lawn grass for Florida depends on your location within the state, as well as your gardening requirements. Some considerations for deciding on which grass seed to buy include the following:
The amount of sunshine your lawn gets
The levels of heat and humidity
The amount of maintenance — irrigation and fertilization — your lawn requires
Will the lawn be subject to heavy footfall or recreational activities?
When you know the answer to these questions, you can pick the right kind of grass for your yard.
What Kind of Grass Do I Have?
Identifying the type of grass growing in your lawn is vital to maintaining it. By examining the blade's shape, width, and tips, you can identify the grass species. Additionally, you can observe the grass's growth habit. For example, does the grass spread by stolons (above-ground runners) or rhizomes (below ground runners)?
Additional ways to identify grass varieties is by looking at the appearance of new grass blades — are they folded or rolled?
Types of Lawn Grass For Florida (With Pictures and Names)
How can you know what type of grass you have in your Florida garden? How can you identify the right type of turfgrass to plant in your area of the Sunshine State?
Here are the best types of grass for Florida.
St. Augustine Grass (Stenotaphrum secundatum)
St. Augustine grass is a warm-season grass and one of the most common types of grass found in Florida. St. Augustine grass is identified by its broad, coarse blades with rounded tips. Typically, this Florida grass has a dark green color. The fast-growing St. Augustine grass requires regular maintenance to keep its lush appearance.
St. Augustine grass is one of the most popular Florida lawn grasses. St. Augustine grass thrives in most areas, apart from the northernmost parts of Florida. This is because colder winter temperatures can cause the grass to turn yellow and possibly brown in early spring.
Another consideration is that the lawn won't withstand heavy footfall. So, if children or pets play in the yard a lot, it's best to install a more robust turfgrass.
Pros:
Thrives in high temperatures and areas with heavy rainfall
Its dense growth prevents weeds from pushing through
Performs well in full sun and partial shade
Excellent salt tolerance for planting in coastal regions
Cons:
It doesn't withstand heavy foot traffic
Cannot tolerate low mowing heights
May lose its color in winter or early springtime
Growth habit: Stolons.
Soil type: Thrives in well-drained, sandy soil.
Mowing height: 2.5" to 4" (63 to 100 mm).
Grass identification
St. Augustine turfgrass is identified by its rounded blade tips and broad, coarse leaves growing 0.3" (8 mm) wide. Young leaves emerge folded, and the grass spreads by stolons. The grass has a bluish-green to dark green color.
Bermuda Grass (Cynodon dactylon)
Bermuda grass is a lush, heavy-duty turfgrass with excellent heat tolerance for all areas of Florida. This ideal warm-season tropical grass has a gray-green color with short, thin blades and a robust root system. You can identify Bermuda grass by its fine texture and vigorous growth.
Bermuda turfgrass is a popular choice for growing on athletic fields, golf courses, and commercial landscapes. It is possible to mow the grass relatively short if necessary, or it can be left to grow longer. However, its fast growth requires high maintenance and can make it challenging for homeowners to care for.
Bermuda grass thrives in full sun and temperatures between 75°F and 99°F (24°C – 37°C). However, in temperatures below 60°F (15°C), the turfgrass will become dormant and is a reason for brown patches developing.
However, as a highly durable turfgrass in hot climates, Bermuda grass is an excellent choice.
Pros:
Tolerates heat exceptionally well
Resistant to heavy foot traffic
A robust root system makes it tolerant of drought
Cons:
Its high maintenance requirements may be impractical for some homeowners
Fast-growing grass requires regular mowing
Not suitable for Florida's northern regions
Doesn't tolerate shade
Growth habit: Stolons and rhizomes.
Soil type: Well-drained, humus-rich fertile soil.
Mowing height: 1" to 2" (25 – 50 mm).
Grass identification
Bermuda grass is identified by its thin, dark-green grass blades. Looking closely at the slender blades, you'll notice they have a pointed tip, and new grass leaves emerge folded. The spreading grass creates a dense, carpet-like covering.
Centipede Grass (Eremochloa ophiuroides)
Centipede grass is ideal for Florida lawns as it's suitable for growing in tropical climates and full sun. The perennial turfgrass has medium to coarse textured blades with pointed tips. The thin blades measure up to 1.18" (30 mm) long. Centipede lawn grass is a light to medium green color and produces an attractive lawn.
Centipede grass is a low-maintenance turfgrass due to its slow growth and minimal fertilization requirements. This means that you don't have to mow a centipede grass lawn as often as other lawns in Florida. However, it requires regular watering in dry spells because it has shallow roots.
Pros:
It doesn't require much maintenance or fertilization
Resistant to insect and disease problems
Tolerates poor soil and shade
Low mowing requirements
Cons:
It doesn't withstand heavy foot traffic
Over-fertilization with nitrogen or over-watering can weaken the lawn's health
Tends to develop heavy thatch
Growth habit: Slow-growing and new growth reproduced by stolons.
Soil type: Sandy and acidic soils that hold moisture well.
Mowing height: 1.5" to 2" (38 – 50 mm).
Grass identification
Centipede grass is noticeably lighter in color than the other Florida grasses. You can identify the warm-season grass by its small blades with pointed or boat-shaped tips.
Bahiagrass (Paspalum notatum)
Bahiagrass is a warm-season, tropical grass for growing in Florida. This low-maintenance lawn grass is identified by its flat, coarse-textured blades with pointed tips. The width of the green grass blades is medium, and grass seed stems can reach 8" to 30" (20 to 75 cm) tall.
Bahiagrass is popular in Florida because it tolerates unfavorable growing conditions. The dense, drought-resistant grass grows in full sun and partial shade and performs well in saline conditions. The grass is an ideal choice where it's difficult to grow other types of grass.
Pros:
Tolerates heat, drought, and poor soil conditions
Low maintenance requirements
A fast growth rate that forms a dense, coarse mat
Ideal for large lawns that lack an irrigation system
Cons:
Susceptible to pests and disease
Frequent mowing is necessary to prevent tall growth
Not the most attractive lawn
Growth habit: Creeping stolons and rhizomes have a vigorous growth rate.
Soil type: Most types of soil, including poor soil.
Mowing height: 3" to 4" (75 – 100 mm).
Grass identification
Also called Pensacola Bahia, bahiagrass is identified by its thin, spindly, light to medium green blades during the growing season. Each blade has a pointed tip, and young blades emerge rolled.
Buffalo Grass (Bouteloua dactyloides)
Buffalo grass is a native perennial shortgrass that thrives in Central and North Florida. The gray-green or bluish-green leaves usually grow 2″ – 5″ (5 – 13 cm) tall and are thin and spindly. In Florida, the hardy Buffalo lawn grass is drought- and cold-resistant and creates a thick, green, robust lawn.
Buffalo grass is classified as prairie grass and is one of the few drought-resistant types of grass suitable for Florida lawns. Buffalo is an excellent turfgrass choice if you want to cut down on lawn irrigation and maintenance. In addition, because of its resistance to light foot traffic, it's ideal for parks, golf courses, residential lawns, and parks.
Pros:
Tolerates alkaline soil
Survives heat exceptionally well
Extremely resistant to drought and minimal water requirements
Requires minimal mowing, watering, and fertilization
Resistant to many pests
Cons:
It can be expensive to buy grass seeds or sod
Weeds can be problematic as the lawn gets established
Grass tends to turn straw-brown from mid-fall to spring
Can be invasive
Not for heavy traffic areas
Growth habit: Mainly branching stolons.
Soil type: All soil types — acidic, neutral, or alkaline, as well as clay and heavy clay soil.
Mowing height: 2" (5 cm).
Grass identification
Buffalo grass is identified by its relatively short, thin grass blades. New blades emerge rolled and develop pointed blade tips.
Zoysia Grass (Zoysia)
Zoysia grass is hardy, non-native grass with a thick blade that thrives in most regions of Florida. Zoysia grass creates a dense, thick mat that feels soft underfoot. The medium sized grass blades have a lush, dark-green color. Advantages of planting zoysia grass include excellent tolerance of salt, shade, weeds, and foot traffic.
This is a warm-season grass tolerant of wet and dry weather and high humidity, making it ideal for Florida. Typically, it's necessary to plant zoysia lawns using the plug planting method or laying sod. Because it's a relatively slow-growing grass, it isn't easy to grow a zoysia lawn from seed.
Pros:
Excellent resistance to heavy foot traffic
It doesn't require frequent watering
It's possible to mow the grass extremely short
It feels soft when walking barefoot
Cons:
The grass loses its color quickly in colder weather
Slow to recover from damage or thinning
Growth habit: Rhizomes and stolons.
Soil type: Adaptable to various loamy, sandy, and clay soils.
Mowing height: 0.25" to 2" (6 – 50 mm).
Grass identification
Zoysia grass has medium-sized leaf blades with pointed tips and a light green color. The turfgrass can have a coarse or fine texture, depending on the variety.
Carpet Grass (Axonopus compressus)
Tropical carpet grass is a native Florida lawn grass variety with glossy, flat, lanceolate blades. Also called blanket grass or Louisiana grass, the warm-season grass is ideal for growing turfgrass in low-fertility soils in partial shade. The large blades can measure 1.6" to 6" (4 – 15 cm) long and up to 0.6" (1.5 cm) wide.
Pros:
Performs well in poor soil conditions
The grass is tolerant of shade
Little maintenance is necessary, and it has minimal fertilization requirements
Dense growth prevents weeds
Cons:
Not tolerant of drought
It turns brown during winter
Fast, sometimes invasive growth, requires frequent mowing
Growth habit: Stolons.
Soil type: All types of soil, including low-fertility, acidic, and wet, poorly-draining ground.
Mowing height: 0.75" to 2" (2 – 5 cm).
Grass identification
Carpet grass is identified by its broad, light-green blades with a coarse to fine texture.
Seashore Paspalum (Paspalum vaginatum)
Seashore paspalum is a native type of perennial warm-season grass with long, slightly hairy blue-green blades up to 3" (7.5 cm) long and 0.78" (20 mm) broad. This lush turfgrass is ideal for coastal and tropical regions. The spreading stolons create a deep root system, making it drought-resistant and creating a weed-free lawn.
Seashore paspalum looks like Bermuda grass and has many of its hardy qualities. However, compared to Bermuda grass, this tropical grass thrives better in shaded conditions. It is also one of the most salt-resistant Florida grasses on this list.
In Florida, seashore paspalum is used in residential lawns, golf courses, sports areas, and parks.
Pros:
High resistance to saline condition, making idea for lawns in coastal regions
Survives being waterlogged
It's possible to irrigate lawns using graywater in areas with restricted water use
It prevents weeds from growing
Resistant to heavy foot traffic
High range of mowing height
Cons:
Not tolerant of cold
Susceptible to pests and diseases
Growth habit: Rhizomes and stolons.
Soil type: Tolerates most soils, including poorly-draining wet soils.
Mowing height: 0.11" to 1" (3 – 25 mm).
Grass identification
Also called biscuit grass, silt grass, or swam couch, seashore paspalum looks like Bermuda grass. The grass blades have a fine texture and are bluish-green, measuring (10 – 19 cm) long.
Related articles: