Top 27 Florida Flowers With Pictures (Native and Non-Native)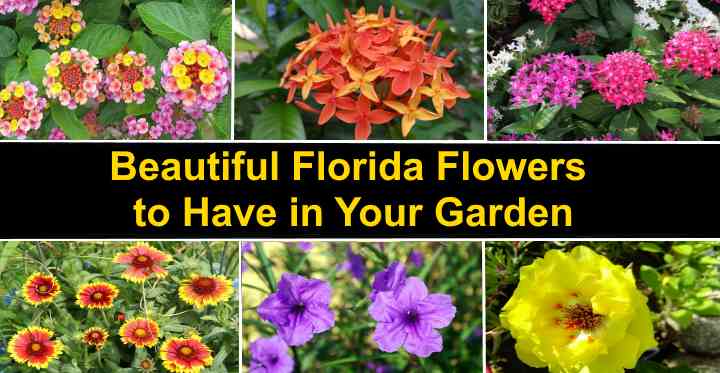 The hot, humid summer of the Sunshine State makes it challenging to find flowers for Florida. Long, warm sunny days mean that Florida flowers have a tough time surviving. The best flowers that grow in Florida are ones that thrive in full sun and partial shade. Many types of colorful tropical flowers are ideal for Florida, as they love humid temperatures and plenty of sunshine.
One of the challenges of growing plants in Florida is its diverse climate. North Florida gets colder winters and maybe some frost. However, in Central and South Florida, year-long sunshine, together with stifling humidity, make growing flowers challenging. But there are plenty of native Florida flowers and non-native plants that thrive in the Sunshine State.
Of course, Florida isn't just famous for beautiful flowers that seem to last all year long. Florida produces most of the orange crop in the U.S. Due to its connection with these flowering citrus trees, the state flower of Florida is the blossom of the orange tree (orange blossom).
This article looks at the best flowers, plants, and shrubs to grow in Florida. Along with pictures of colorful Florida flowers, descriptions of plants will help you decide on the best flowers for your southern gardens.
Growing Zones in Florida
Florida has four USDA growing zones—zones 8 to 11—and these zones will affect what kind of flowering plants you can grow in Florida gardens.
The northern part of the state around Jacksonville is zone 8, where temperatures can drop to 15°F (-9°C) in winter.
Central Florida, where Orlando is located, is in zone 9, where minimum temperatures are 25°F (-3.9°C).
South Florida is zone 10, and the Florida Keys are in Zone 11. Flowers growing in southern Florida will not survive any cold snaps or frost.The
The Best Florida Flowers to Grow in Your Garden (With Pictures)
Let's look at some of the top flowers to grow in sunny gardens in Florida.
Lantana
Lantana is a stunning colorful flower native to Florida. The evergreen Lantana plant blooms continuously throughout the year, filling Florida gardens with flowers in shades of pink, yellow, red, lavender, and creamy white. Lantana flowers are ideal for mixed flower beds, borders, and containers in southern Florida.
Lantana is a perennial flowering plant that thrives in full sun and is ideal for Florida gardens. The colorful herbaceous plants grow up to 1 ft. (30 cm) tall.
Lantana is a year-round flowering Florida plant that grows in zones 10 and 11.
Bougainvillea
Bougainvillea is a showy flowering shrub, popular in southern Florida gardens. The large bougainvillea bush produces masses of vibrantly colored flowers that bloom for most of the year. These evergreen ornamental shrubs grow from 3 to 40 ft. (1 to 12 m) high and the same width. Bougainvillea vine grows best against walls, covering arbors, a ground cover on slopes, or in mass plantings.
Bougainvillea is an ideal flowering shrub for the Florida climate where humidity and long hours of sunshine keep the evergreen foliage lush and the flowers bright and gorgeous.
The stunning bougainvillea flowers are suitable for zones 9 – 11 and thrive throughout Florida. Bougainvillea is in the list of full sun Florida plants.
Blue Daze (Evolvulus)
Blue daze is a flowering ground cover plant, ideal for Florida's sunny climate. Blue daze produces dainty blue–purple flowers and blooms continuously year-round. Easy to care for, regular rainfall is enough to keep the drought-tolerant plant thriving. Blue daze grows as a perennial in South and Central Florida and as a half-hardy perennial or annual in North Florida.
This ground-hugging southern perennial blue daze only reaches 6" (15 cm) in height and has a spreading nature.
Blue daze plant is suitable for growing in zones 9 – 11.
Egyptian Star Flower (Pentas lanceolata)
Simply called pentas, the Egyptian star flower is a low-maintenance perennial Florida flower that thrives in full sun. Clusters of star-shaped pink, red, white, or lilac-colored flowers create beautiful blooms throughout the summer. Loving humidity, heat, and sun, pentas flowers are ideally suited to Florida's climate. Plant in full sun in mixed beds, along borders, or as mass plantings.
Pentas grow as perennials in zones 10 and 11. If you live in North Florida, grow pentas in containers, and take indoors during the winter.
Periwinkle (Vinca)
Periwinkle plants are ideal perennial ground cover with purple flowers for Florida. The mat-forming foliage thrives in full sun, and violet-colored flowers bloom throughout the summer. To brighten up your southern garden, choose variegated periwinkle plants that have yellow and green leaves contrasting with purple flowers. But don't worry if you've got a shaded garden, these ground-hugging plants thrive in the shade as well as sun.
Periwinkles are ideal flowers for growing in all zones in Florida.
Canna Lily (Canna indica)
Canna lilies are native Florida flowers and have dramatic foliage and ornamental flowers. Canna lilies grow best in borders, along walls, or even as small foliage hedges. These tender perennials bloom throughout the summer until fall in all Florida zones.
There are many varieties of canna lilies with various flower colors such as orange, yellow, pink, red, or cream. Canna lily flowers are short-lived but the plant's profuse blooming means your Florida garden has a constant supply of papery, colorful flowers.
Canna lilies are tall perennial flowers that reach a height of 2 to 3 ft. (60 – 90 cm).
Canna lilies grow as perennials in zones 8 to 11 and annuals in colder climates.
Tickseed (Coreopsis)
Tickseed is the official wildflower of Florida. These sunny flowers are bright golden yellow with ray-like petals radiating from the amber-colored center. Many of the 100 species of tickseed are perennial bloomers in Florida, where they grow as low-maintenance, drought-resistant flowers. Their long blooming season means that tickseed flowers last from summer until fall.
Apart from masses of bright yellow flowers, tickseed flowers have various colors such as white, pink, red, orange, or bicolored.
Easy to grow, tickseed thrives best in sunny mixed beds, borders, or containers.
Tickseed is suitable for growing in zones 3 to 10.
Gerbera Daisies (Gerbera garvinea)
Gerbera daisies are showy ornamental flowers that bloom almost year-round in Florida. These daisy species are semi-evergreen perennials that have large rosette flowers. The sun-like colorful flower heads are 2" (5 cm) in diameter and sit at the top of straight tubular stems.
Gerbera daisies need full sun and well-draining soil. However when the temperature is high, gerbera daisies will benefit from afternoon shade.
Grow these daisies at the front of flower beds, along borders, or in patio containers.
Gerbera garvinea daisies are perennials in all parts of Florida.
Purslane (Portulaca oleracea)
Purslane is a flowering ground cover plant which is ideal for Florida flower gardens. Purslane is a type of succulent with oval-shaped leaves and bright yellow flowers. The low-growing flowers don't reach more than 3" (7 cm) tall, and they have a wide spread. However, purslane isn't an invasive Florida flowering plant.
Purslane grows best as a mat-forming annual to give color to sunny Florida yards. You can also grow flowering purslane in hanging baskets, pots, or planters to brighten up a deck or patio.
Purslane is suitable for Florida zones as well as cold climates.
Bolivian Sunset (Gloxinia sylvatica)
Bolivian Sunset gloxinia is a spectacular winter-flowering plant for Florida gardens. The low-growing shrubby plant can grow up to 2 ft. (60 cm) tall and wide and produces bright red flowers that contrast with glossy green foliage. Bolivian Sunset gloxinia grows best along borders or as foundation plantings. Easy to grow, Bolivian Sunset blooms in Florida from mid-fall until mid-winter.
Bolivian Sunset flowers thrive in Florida zones 9 to 11.
Mexican Petunia (Ruellia brittoniana)
Mexican petunia has trumpet-like ruffled purple flowers that grow as perennials in Florida. The hardy southern perennials are resistant to heat, humidity, and drought—perfect for Florida's hot, muggy climate. Mexican petunias produce clusters of pretty dainty purple flowers. This petunia species grows well in full sun and can withstand soggy, wet soils.
Mexican petunias are lovely flowers that grow in Florida zones 8 to 10 and bloom all summer into the fall.
Zinnia
Zinnias are spectacular flowers that bring masses of color to Florida gardens. Zinnias are famous for their large, showy flower heads that can have single, double, or ruffled petals. Some flowers can be up to 6" (15 cm) in diameter. Many species of zinnias are suitable for Florida's hot and humid climate. Zinnias are the ideal border plant where they bloom continuously from early summer until late fall.
Low-maintenance zinnias produce lots of flowers throughout the season. Zinnias are annuals that need replanting every year. Ideal for planting in any Florida garden, they are cold hardy in zones 2 to 11.
Blanket Flower (Gaillardia)
Blanket flowers are colorful daisy-like flowers that bloom from the summer until fall. The clumps of dense foliage produce magnificent displays of short-lived bright orange, red, and yellow bi-colored flowers. The sun-loving perennials return year after year to add warm colors to Florida gardens. These shrubby flowers can grow up to 3 ft. (0.9 m) tall.
Easy-care blanket flowers grow best in perennial borders, flower beds, or containers—ideal for growing in residential gardens in Florida zones 8 to 11.
Coneflower (Echinacea)
Purple coneflowers are native Florida plants. Coneflowers are elegant, tall, hardy perennials that require no care to come back year after year. Coneflowers are famous for their tall stems and large flowers with petals that droop down to form a cone shape. Grow coneflowers as stunning landscape plants wherever you need visual height.
These long-blooming Florida flowers thrive in full sun and are extremely drought resistant. Coneflowers are hardy perennials for southern states such as Florida, as well as colder climates.
Hibiscus
Hibiscus are flowering shrubs that grow as evergreen perennials in Florida. Hibiscus flowers have a long-blooming season (nearly year round in South Florida), and their large, showy pastel-colors are a delight in any summer garden. Flowers growing on hibiscus can be deep red, pink, white, or have patterns like a raspberry ripple.
In South Florida, hibiscus flowers grow as perennials and bloom all year long. In North Florida, hibiscus dies back in the frost but then grows back the following year.
The hibiscus species Hibiscus coccineus is native to Florida and is also named marsh hibiscus, scarlet rosemallow, or swamp mallow. This Florida plant has gorgeous blooms that are bright red and flower from mid-summer until the fall. This native Florida flower is hardy in zones 6 to 13.
Ixora
Ixora is a popular flower in South Florida. Also called 'flame of the woods,' Ixora produces flowers year-round in Florida, and the long-lasting blooms can last for up to eight weeks. This tropical Florida plant has glossy dark green leaves and clusters of red, yellow, orange or pink flowers. Ixora flowers grow best as flowering hedges, evergreen privacy screens, or color-infused border plants.
This ever-blooming shrub grows best in South and Central Florida but away from coastal regions. If you live in zone 9—North Florida—grow Ixora as a container plant on your patio.
Firespike (Odontonema cuspidatum)
Firespike has long red showy flowers that bloom year-round in South Florida. In North and Central Florida, firespike's blooming season is fall and winter. Firespike is a perennial shrub that's ideal for planting at the back of garden beds. The large shrub grows to between 4 and 6 ft. (1.2 – 1.8 m) tall.
Firespike is a drought-tolerant plant that grows throughout the state of Florida.
Star Jasmine (Trachelospermum jasminoides)
Star Jasmine is not a native Florida flowering bush. And, despite its common name, it isn't a real type of jasmine. The vining, climbing plant produces masses of star-shaped white flowers on twining stems. These clusters of creamy-white flowers have a heavenly scent. Star jasmine grows best in Florida gardens as privacy fences, covering arbors, or climbing up walls.
Star jasmine is a sun-loving climbing plant with blossom-filled foliage throughout most of the year. As a flowering vine, star jasmine grows in zones 8 – 10.
Peace Lily (Spathiphyllum)
Peace lilies are ideal ground cover shade plants for south Florida. These evergreen perennial plants have brilliant white flowers emerging from glossy green foliage. The large leaves and love of shade make peace lilies ideal for growing under flowering trees in Florida, along shaded borders, or as an accent in a mixed bed.
Peace lilies shouldn't be confused with true lilies (Lilium) or calla lilies (Zantedeschia).
Peace lilies are clumping plants that grow to between 2 and 3 ft. (0.6 – 0.9 m) high. These plants grow as perennials outdoors in zones 10 and 11. In Florida zone 9, grow peace lilies in containers and bring them indoors during the winter.
Tropical Scarlet Sage (Salvia coccinea)
Scarlet sage is a flowering herbaceous tender perennial plant native to the Sunshine State. Also called blood sage, this low-maintenance plant has crimson red flowers and heart-shaped leaves. The flowering stems grow up to 3 ft. (0.9 m) tall.
Scarlet sage is herbaceous perennial in warmer climates that has a spread of 1 ft. (30 cm). Plant in full sun or partial shade to enjoy this shrubby flowering plant in southern states.
Scarlet sage is a southern native flower that thrives in zones 8 to 10.
Lavender (Lavandula)
Some types of lavender flowers grow exceptionally well in Florida's hot and humid climate. Look for the species such as 'Phenomenal' lavender, Goodwin Creek Gray lavender, or Spanish Lavender for zone 9 lavenders.
Growing lavender in Florida helps fill your southern gardens with delightful herbaceous scents and lilac colors.
Spotted Deadnettle (Lamium maculatum)
Spotted deadnettle flower is an ideal ground cover perennial plant for shade in Florida gardens. Spotted nettle has colorful foliage and dainty purple flowers that bloom for a long time. In Florida climates, spotted dead nettle grows as an evergreen flowering plant. Spotted deadnettle grows best in shaded gardens, as border plants, or under shrubs and trees.
To add more beauty to your southern garden, choose white or silver variegated varieties of spotted dead nettle.
Spotted dead nettle is only suitable for growing in zone 8. So, grow Lamium as ground cover in North Florida on the west coast and around the Gulf of Mexico.
Plumbago (Plumbago auriculata)
Plumbago (Plumbago auriculata) is a beautiful evergreen climbing plant or shrub with clusters of blue or white flowers and glossy green spatulate leaves that grows up to 8 ft. (2.4 m). The most common plumbago cultivar is the blue plumbago with pale blue, five-petaled flowers. The white plumbago (Plumbago auriculata 'Alba') looks similar; only it has brilliant snow-white flower heads.
To care for plumbago plants, grow the scrambling low-maintenance shrub in full to partial sun in organically rich soil that has excellent drainage. Water the plant enough to keep the ground consistently moist, especially in hot weather. Prune the fast-growing vining plumbago stems in early spring to keep the plant tidy.
Growing year round in USDA zones 9-10, plumbago flowers can be grown in central and south Florida. In colder climates, you can grow plumbago as a potted houseplant.
Verbena
Verbena is a drought-resistant flowering ground cover plant that thrives in full sun for landscaping Florida gardens. Verbena blooms profusely all through summer until early fall. The dark green foliage contrasts with the beautiful clusters of pink, white, red and purple flowers. The dangling flowering stems can grow up to 12" (30 cm) long. The upward and spreading growing nature gives verbena plenty of height and spread as well as draping flowers.
The trailing stems make verbena an excellent low-water flowering plant for hanging baskets outdoors in full sun. You can hang these flowering plants on a sunny balcony, porch, or deck area and only water them once in a while. Plant in well-draining soil and allow the soil to partially dry before thoroughly watering.
Verbena is a tender perennial that grows best in USDA Zone 8-10. Tampa verbena grows on the east and west coasts of the Florida peninsula, Whereas beach verbena is found mainly on the east coast.
Golden Dewdrops (Duranta erecta)
Golden dewdrops is a heat-loving evergreen shrub with vibrantly colored clusters of violet and white flowers that emit a sweet vanilla-like fragrance. The star-shaped purple flowers consist of five purple petals with white margins. The shrub can grow to 20 ft. (6 m) tall but can be kept smaller with pruning.
In subtropical climates, golden dewdrops grows as an evergreen ornamental shrub that flowers year-round. However, it is only cold-hardy in zones 10 and 11. Therefore, in temperate climates, you must grow this show-stopping shrub in a container and overwinter it indoors or grow as an annual.
As a word of warning: after the purple flowers fade, brightly colored orange berries appear. While birds enjoy consuming them, the berries are highly poisonous to humans and animals.
Jacobinia (Justicia carnea)
Jacobinia is an upright growing shrub with fragrant clusters of red, yellow, purple, or white flowers. The evergreen flowering shrub thrives throughout Florida, adding color to garden landscapes. Landscape uses for jacobinia are flowering evergreen hedges, container plants, or flowering shrubs in shade gardens.
The shrub grows 3 to 6 ft. (1 – 1.8 m) tall and up to 3 ft. (1 m) wide in partial to full shade. Grow in USDA zones 9 to 11.
Butterfly Bush (Buddleia davidii)
The butterfly bush is identified by its conical clusters of fragrant purple flowers and semi-evergreen foliage. The identifying feature of this ornamental plant is its arching stems with large terminal flower clusters. The cone-like flowers measure 8" (20 cm) long, and the lanceolate leaves are 3" to 5" (7 – 13 cm).
As the name implies, butterfly bush shrubs are ideal for attracting butterflies and other pollinators to Florida landscapes. Other names for Buddleia include summer lilac and orange eye.
Although the flowering butterfly bush grows well in Florida, the high humidity can mean the plant is susceptible to various foliar diseases. Landscape uses for Buddleia are as an informal hedge, growing along a fence, or lining a driveway or sidewalk.
Grow in full sun in USDA zones 5 to 8.
Discover the most beautiful flowering trees in Florida.
Related articles: