The Best Florida Perennial Flowers – Identification Guide (With Pictures)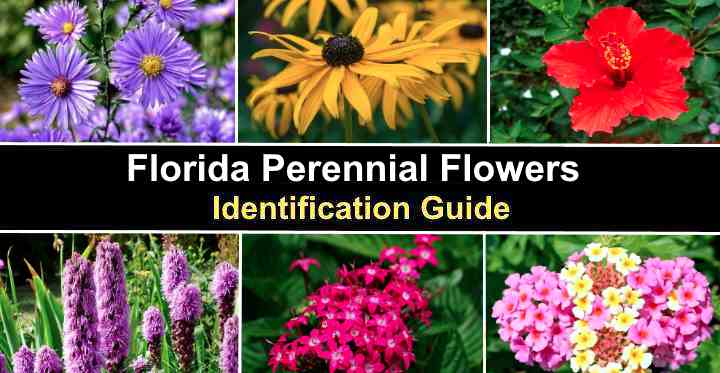 Perennial flowers for Florida are a great addition to a garden landscape to add color, greenery, and texture. Flowers that come back year after year are perfect low-maintenance landscaping solutions. Flowering shrubs, ground cover plants, and beautiful vining plants with stunning flowers beautify a southern garden. In addition, planting perennials in a front yard can improve curb appeal. In contrast, perennial shrubs in a backyard boost aesthetics and act as a privacy screen.
Finding perennial flowers to grow in the sunshine state can be challenging. Florida's diverse climate ranges from subtropical and tropical conditions in the south with warm winters and a humid climate to cold winters in the north, where temperatures can dip below freezing. And there are the effects of salty, coastal breezes to consider.
This article explores some of the best perennial flowers for your Florida garden. Pictures and descriptions of low-maintenance native plants will help you decide which ones are suitable for your landscape.
What Are Florida Perennial Flowers?
Perennial flowers are reliable plants that grow for several years with new flowers and foliage every year. Perennial shrubs and flowers in Florida may die back to the ground and return at various times of the year. Florida's warm climate means that many flowers that grow as annuals in northern states are perennials in the southeast.
Some of the most impressive perennial Florida flowers include lantana (Lantana camara), firespike (Odontonema cuspidatum), black-eyed Susan (Rudbeckia hirta), tropical hibiscus (Hibiscus rosa-sinensis), and beach sunflower (Helianthus debilis). You don't need to plant these flowers every year, and they will bloom year after year. Additionally, these perennial flowers thrive in the Sunshine State's diverse climate.
How to Choose Florida Perennial Flowers
Perennials native to Florida are the best plants in your front or backyard. Native perennials have adapted to the heat, humidity, and constant sunshine of Florida. Therefore, they will perform better than non-native plants, and there is less chance of them becoming invasive.
When choosing perennial flowers for your Florida landscape, check the USDA hardiness zone. Florida's growing zones range from Zone 8 in the Panhandle and northern-central area to Zone 9 in central Florida and Zones 10 and 11 south of Lake Okeechobee.
Other considerations when choosing perennial flowers to grow in the Sunshine State are the following:
Light exposure—Full sun, partial shade, dappled sunlight, or full shade.
Soil type—Most soil types in Florida are sandy, clay, or loamy. However, some areas have a mixture of these soils.
Watering requirements—Most Florida perennial flowers are drought-tolerant plants, but it's worth checking.
Soil drainage—Generally, Florida flowers that come back year after year require moist soil with good drainage.
Florida Perennial Flowers (With Pictures) – Identification Guide
Let's look at some of Florida's best perennial flowers for garden landscapes.
Swamp Sunflower (Helianthus angustifolius)
Swamp sunflower is a perennial herbaceous wildflower native to all regions of Florida. This clump-forming flowering plant has bright yellow daisy-like flowers and tall, sturdy fuzzy stems covered in thin, willow-like leaves. The yellow flowers have up to 20 petals in a ray surrounding a brown disk.
Also called narrow leaf sunflower, swamp sunflower is a large yellow-flowering perennial growing up to 8 ft. (2.4 m) tall and 4 ft. (1.2 m) wide. Its stunning golden yellow flowers bloom in late summer and fall. It's suitable for Florida landscapes north of Lake Okeechobee in full sun.
Standing Cypress (Ipomopsis rubra)
The standing cypress is famous for its stunning vibrant red tubular-shaped flowers growing on tall flowering stems. The beautiful native Florida perennial trumpet-like flowers bloom throughout summer. The rich-red petals have splashes of white. Standing cypress flowers add beautiful red colors to a southern landscape.
Standing cypress flowers grow on thick spikes 2 to 5 ft. (0.6 – 1.5 m) tall. The sun-loving, drought-tolerant perennial flowers thrive in full sun in USDA zones 6 to 9. You can plant the native flowers in borders, cottage gardens, or as back-of-bed plantings for height, color, and texture.
Black-Eyed Susan (Rudbeckia hirta)
Black-eyed Susans are a charming addition to Florida flower gardens as far south as Miami. These clumping perennial flowers have bright yellow petals and dark chocolate-colored cone centers. These attractive flowers grow on slender upright stems covered with lanceolate leaves. The yellow flowers are 3" (7.5 cm) wide, and the leaves are 7" (17 cm) long.
Black-eyed Susan perennial flowers thrive in harsh conditions like drought, heat, and full sunshine. However, with their minimal maintenance requirements, the yellow perennials can easily grow in beds or borders or add native wildflowers to a landscape.
These native Florida flowers grow 2 to 3 ft. (0.6 – 1 m) tall in USDA zones 3 to 10. The yellow flowers in Central and South Florida grow as long-lived perennial plants.
Tall Ironweed (Vernonia angustifolia)
Tall ironweed flowers are deep purple-magenta spiky-looking blooms that grow in flattened clusters on clump-forming perennials. As some of the most beautiful purple perennial flowers native to Florida, the striking flowerheads consist of up to 30 purple flowers. Additionally, the plant has slender, lanceolate leaves and fine fuzzy parachute-like seeds.
The purple flowers of tall ironweed grow on long stems 2 to 4 ft. (0.6 – 1.2 m) tall.
Its native range is the southeastern United States in USDA zones 7 to 9. You can plant tall ironweed in gardens from the Panhandle to Fort Myers and Vero Beach. The flowers are ideal for adding height and color to beds and borders or filling tight spaces in compact gardens.
Firespike (Odontonema cuspidatum)
Firespike flowers are eye-catching red flowers that bloom in Florida all year long. The attractive floral display is upright panicles of crimson tubular flowers growing taller than the foliage. The 12" (30 cm) long flowering clusters grow at the end of straight 6 ft. (1.8 m) tall stems. Evergreen firespike has shiny green leaves with pointed tips.
Firespike thrives in USDA zones 9 to 12, making it an ideal landscaping perennial for Central and South Florida. In southern Florida, it blooms throughout the year. But in Central and North Florida, flowers appear during late fall and winter.
The non-native perennial originated from Central and South America.
Lantana (Lantana camara)
Lantana is a flowering perennial popular in tropical climates of Florida. The outstanding ornamental feature of lantana is the colorful flower clusters of pink, orange, red, purple, and yellow blossoms. The tiny flowers create a large, rounded flower head that contrasts nicely with evergreen wrinkled leaves. In the fall, dark purple berries attract birds.
In warm winter climates like Central and South Florida, perennial lantana shrubs flower year-round. The carefree, free-flowering shrub grows 2 to 6 ft. (0.6 – 1.8 m) tall and up to 10 ft. (3 m) wide. Its value to Florida landscapes comes from its tolerance to extreme drought, humidity, salt, and heat.
Suitable for USDA zones 10 to 12, lantana is ideal for planting in coastal and seaside gardens. In frost-free climates, you can plant the spreading shrub as flowering ground cover for full sun.
Mexican Heather (Cuphea hyssopifolia)
Mexican heather is a tropical evergreen perennial flower that thrives in Central and Southern Florida landscapes. The low-growing, compact perennial plant has small dainty pink, white, or purple trumpet-shaped flowers. Ideal for planting along the Gulf of Mexico or Florida's Atlantic coast, the sun-hardy perennial is resistant to salt, humidity, and heat.
Also called false heather, this flowering perennial plant, with its mounding foliage, creates a lush look in tropical gardens. It's perfect for both sunny, hot areas or partial shade in USDA zones 9 to 11. Use the plant as excellent ground cover, edging, borders, or in planters in container gardens.
Egyptian Star Flower (Pentas lanceolata)
Egyptian star flower is a sun-loving tropical perennial with rounded clusters of eye-catching star-shaped pink, red or white flowers. The non-native plant produces year-long colors in southern gardens with its colorful flowers and lush green foliage. The showy blossoms attract bees and butterflies to gardens. Egyptian star flower heads measure 4" (10 cm) across.
In tropical landscapes, Egyptian star flower subshrubs grow 6 ft. (1.8 m) tall and wide.
Egyptian star flower is suitable for areas of Florida south of Lake Okeechobee. The flowering perennial thrives in full sun in USDA zones 10 and 11. As a result, it's a popular landscaping plant for beds and borders. Or it's grown in containers in colder climates and overwintered indoors.
Bushy Asters (Aster dumosus)
Bushy asters are spectacular pink, lilac, and purple starry perennial flowers for landscaping Florida gardens. The masses of small daisy-like flowers create ground-hugging clumps of green, lavender, and yellow. The hardy flowers thrive throughout Florida, bringing cheerful color to fall landscapes.
Bushy asters are some of the best ornamental flowering perennials to brighten borders, beds, containers, and cottage gardens in the southeast U.S. The star-shaped aster flowers measure 0.5" to 0.75" (1 – 2 cm) wide and grow abundantly on arching stems 1 to 3 ft. (0.3 – 1 m) long.
The long-lasting flowers bloom from late summer through fall in USDA zones 4 to 11.
Swamp Rose Mallow (Hibiscus grandiflorus)
Swamp rose mallow is known for its huge, showy hollyhock-like flowers that bloom from early spring through summer. Native to Florida, swamp rose mallow perennial flowers measure 6" to 10" (15 – 25 cm across). The large pink or white blooms fill tropical landscapes with color and floral aromas.
Growing throughout the Sunshine State in zones 8 to 11, swamp rose mallow thrives in full sun or partial shade. The large shrub-like perennial plant grows 6 to 15 ft. (1.8 – 4.5 m) tall and 4 ft. (1.2 m) wide. Its tolerance for wet soils makes the perennial hibiscus flowers ideal for planting along streams or near ponds.
The large pink and white show-stopping blooms attract butterflies and hummingbirds all season long. Additionally, its heart-shaped leaves and dense foliage make for ideal privacy screening in a backyard.
Tropical Hibiscus (Hibiscus rosa-sinensis)
Tropical hibiscus is an evergreen perennial shrub featuring large, bright red, pink, yellow, white or orange flowers. The spectacular exotic blooms have large ruffled petals and protruding red and yellow stamens. In addition, the tropical plant has oval leaves that keep their color in Florida throughout the year. The showy colorful flowers measure 6" (15 cm) across.
Tropical hibiscus flowers and foliage offer a vibrant pop of color year-long in tropical and subtropical climates. The exotic shrub grows 8 to 10 ft. (2.4 – 3 m) tall and up to 6 ft. (1.2 m) wide. You can plant tropical hibiscus as foundation plantings, flowering hedges, shrub borders, or as a specimen plant.
Scarlet Sage (Salvia coccinea)
Scarlet Sage grows as a perennial flower in warm winter regions like Central and Southern Florida. The ornamental quality of scarlet sage is its vibrant red, tubular flowers loosely growing on tall flowering spikes stretching beyond the leafy foliage. This perennial flower blooms from the middle of summer through fall.
This easy-to-grow perennial flower livens up outdoor spaces and covers bare ground. Growing 2 to 3 ft. (0.6 – 1 m) tall, scarlet sage thrives in full sun or partial shade in USDA zones 8 to 11.
Gayfeather (Liatris spicata)
Also called blazing star, gayfeather is an ornamental perennial flower for Florida gardens with tall flowering spikes consisting of red, white, or purple blooms. The cylindrical flower clusters bloom at the top of stems that are 2 to 4 ft. (0.6 – 1.2 m) tall. These long-lasting flowers persist for four weeks from midsummer through fall.
Native to the eastern United States and Florida, gayfeather thrives all year long in the Sunshine State. You can plant the attractive blazing star flowers to add height, color, and texture to a landscape design or brighten the back of flower beds.
Beach Sunflower (Helianthus debilis)
Beach sunflower is an easy-to-grow perennial ground cover plant with bright yellow blooms and glossy green foliage. This sun-loving Florida native flower spreads over the ground or climbs trellises to beautify southern gardens. In addition, beach sunflower tolerates drought and salty air, making it an ideal landscaping solution for seaside and coastal gardens.
As an attractive yellow Florida wildflower, beach sunflower grows well as edging, yellow-flowering ground cover or to hide a fence. The trailing stems grow 1 to 2 ft. (0.3 – 0.6 m) tall and spread up to 4 ft. (1.2 m) wide. It thrives in sandy, well-drained soils, and the yellow flowers make excellent cut flowers.
Gerbera Daisies (Gerbera jamesonii)
Gerbera daisies are native perennial flowers that thrive in the heat and humidity of Florida. From Jacksonville to Miami and Naples, gerbera daisies look spectacular with their vibrant colors and large disk-shaped blooms, including orange, yellow, red, pink, purple, and white flowers. The sun and heat-loving daisies bloom throughout the year and last for several weeks.
Gerbera daisies have thick, tubular stems with summer-blooming single or semi-double flowers measuring 4" to 5" (10 – 13 cm) across. The evergreen flowers grow 1 to 2 ft. (0.3 – 0.6 m) tall and wide. Suitable for USDA zones 8 to 11, gerbera daisies are some of the most spectacular perennial flowers native to Florida.
Swamp Milkweed (Asclepias perennis)
Swamp milkweed is a perennial known for its flat-topped clusters of white star-shaped flowers. The dense flower clusters contain 20 to 50 fragrant flowers and bloom from late spring for up to eight weeks. Additionally, swamp milkweed has pointed green leaves and drooping seed pods that appear in late summer.
As a white-flowering perennial, swamp milkweed grows 2 to 3 ft. (0.6 – 1 m) tall and 1 ft. (0.3 m) wide. It thrives in USDA zones 6 to 10 in consistently moist to wet soils. Therefore, the flowering swamp plant is perfect for growing beside pools, streams, and ponds.
Cardinal Flower (Lobelia cardinalis)
Cardinal flower is a striking red-blooming perennial wildflower native to Florida. The plant's ornamental feature is its tubular flowers growing on slender green stems. In addition, the clump-forming perennial has lanceolate green leaves. This hardy, easy-care plant adds color and texture to North and Central Florida garden landscapes.
The native perennial is great for adding a splash of red to a garden late in the summer. The tall flower spikes, with their vibrant 2" (5 cm) long blooms, grow 2 to 4 ft. (0.6 – 1.2 m) tall. These perennial flowers are ideal for shade gardens, beds and borders or adding vertical height to a flower bed.
Carolina Wild Petunia (Ruellia caroliniensis)
Carolina wild petunias are ideal purple-flowering ground cover perennials for Florida's tropical and subtropical climate. The ornamental plant's features of this vigorous ground-hugging plant are its light purple, petunia-like flowers, pointed, oval leaves, and fast growth. The spreading perennial grows 1 ft. (0.3 m) tall and up to 2 ft. (0.6 m) wide.
Carolina wild petunias have funnel-shaped purple blooms with creamy white throats. The perennial flowers thrive in the shade throughout the Sunshine State—from the Panhandle to Jacksonville and south to Orlando and the Florida Keys. The spreading flowering plant is ideal as ground cover, cascading over a wall or in mass plantings. Suitable for USDA zones 8 to 11.
Related articles: