18 Small or Dwarf Evergreen Trees For Your Garden (With Pictures)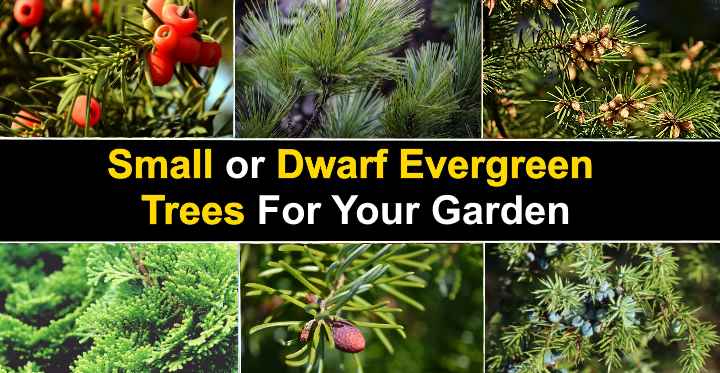 Dwarf evergreen trees are small, compact trees that are perfect for small gardens or growing in containers. The beauty of planting small trees is that they require little maintenance, are green all year round and don't take up much space in your yard. Even in large gardens, planting small dwarf evergreen trees can make beautiful garden landscape features.
Dwarf Evergreen Trees For Landscaping
There are plenty of types of dwarf evergreen trees to choose from and use in the landscape. There are dwarf spruce trees, small pine evergreen trees, miniature cypress trees, dwarf ornamental fir trees, or dwarf weeping trees to pick from.
By planting one or more compact dwarf evergreen trees you don't have to worry about clearing leaves in the fall or trees that grow too tall for your garden.
In this article, you will find out about 15 beautiful ornamental dwarf evergreen trees for landscaping. First, let's look at a few reasons to grow small evergreen trees in your garden or in containers.
Why Plant Dwarf Evergreen Trees in Your Garden?
Apart from their ornamental beauty, small compact evergreen trees require very little maintenance throughout the year.
For example, their short stature and compact nature mean they are easy to plant and don't need extensive pruning. You also don't have to worry about large root systems affecting your property. This makes small trees ideal for planting in small or narrow spaces.
Due to being evergreen trees, the dwarf varieties of these trees can give year-round privacy in your garden. While deciduous types of trees lose their foliage, dwarf evergreens will beautify your garden with green, silver, and even yellow colors in the middle of winter.
Also if you have a small garden and not much space to plant large trees, planting compact trees will not take too much space and will better fit your small-yard landscape design.
Small (Dwarf) Evergreen Trees for Your Garden With Pictures and Common Names
Let's look in more detail at some popular varieties of ornamental dwarf varieties of firs, spruces, pines, cypress, and other evergreen trees.
Mugo Pine Tree
Mugo pine is a great dwarf evergreen tree for small spaces. The mugo pine (scientific name: Pinus mugo) is a small type of conifer tree that is green all year. The Mugo Pine 'Mops' is one of the dwarf cultivars of this evergreen conifer variety. These small evergreen cultivars are also named "dwarf mountain pines."
Dwarf Mugo pine is a compact tree that grows between 3 and 5 ft. (1 to 1.5 m) tall and has short compact branches. Mugo pines can also be planted to provide good ground cover and will grow in most types of soil. Mugo pine is an ideal compact evergreen for landscaping a garden. These small evergreen trees are good for rock gardens, foundation planting, front yard, or as a small evergreen shrub.
This type of small evergreen ornamental plant grows best in USDA planting zones 3-7 and enjoys partial shade. They can also survive harsh winters very well.
Read more: Types of Pine Trees
Green Spire Euonymus
The Green Spire Euonymus (Euonymus japonicus) is a small evergreen tree originating in the Far East. The dwarf cultivar is from the small tree called the Japanese Spindle or Evergreen Spindle.
Unlike the other dwarf evergreen trees on this list, the Green Spire isn't a pine tree, conifer, or spruce. The small bushy tree has rich leafy foliage that stays green all year. The tree/shrub has many cultivars that produce dark green glossy leaves and also variegated cultivars which grow in vertical columns. You can use this small tree to form privacy hedges in your garden or use it as a small ornamental tree for flower beds.
This evergreen leafy tree can grow between 6 and 8 ft. (1.8 and 2.4 m). However with some pruning, you can train the tree to grow to the height you desire. The small compact tree grows well in USDA zones 6-9.
Dwarf Hinoki Cypress Tree
Hinoki cypress (Chamaecyparis obtusa) is a slow-growing dwarf ornamental evergreen tree. This type of small cypress tree is native to Japan and it has a number of beautiful dwarf cultivars. In many countries, Hinoki cypress are evergreen trees that are planted in small gardens for their ornamental look and rich foliage.
Some of the smallest types of Hinoki cypress trees are as short as 12″ (30 cm)! However, not all of these "mini" trees are so small. Other cultivars of the dwarf variety grow between 3 ft. and 6 ft. (1-2 m). So, you just have to choose the right type of Hinoki dwarf evergreen to achieve your landscaping goals.
This evergreen miniature cypress tree has soft feathery needles and dark green foliage. The small hardy trees grow well in well-drained soil where they get full to partial sun.
Some of the most popular dwarf Hinoki cypress evergreen trees include 'Kosteri,' 'Nana,' ''Nana Gracilis,' and 'Spiralis.'
The Blues Weeping Colorado Spruce Tree
The Blues Weeping Colorado Spruce (Picea pungens 'The Blues') is a stunning type of "silvery" small evergreen tree for a small garden. You can also grow this small spruce tree in a container to grace any entrance.
The dwarf "Blues Weeping" is a small evergreen spruce that grows very fast and it will quickly reach its maximum height of 10 ft. (3 m). You can grow it in a container to restrict its growth. This dwarf weeping evergreen tree has silver-blue foliage that drops down to give the tree a compact look.
One of the reasons why gardeners choose this type of dwarf evergreen for landscaping is that every tree grows in a unique way. The crisp blue needles on the foliage also give an oriental feel to any garden. You can, of course, train the tree to grow in a way you want.
The Blues Weeping Colorado Spruce grows well in full sun and moist soil. It's also a hardy tree that grows in USDA zones 2-8.
Dwarf Balsam Fir Tree
The Dwarf Balsam Fir (scientific name: Abies balsamea 'Nana') is one of the most popular compact dwarf fir trees. This small tree has the classic fir tree conical shape and it's an excellent tree for small yards.
The Dwarf Balsam Fir is one of the low-maintenance varieties of compact evergreens as it is slow growing. This evergreen fir produces flat needle-like leaves that stay green throughout the year. As the tree grows and reaches maturity, it develops the distinct cone-like shape of many evergreen firs.
If you have a balcony, porch, or deck area, you can also plant this compact dwarf tree in containers. Due to the fact that the leaves give off a wonderful pine aroma, you benefit from the tree's beauty and fragrance.
The compact evergreen grows well in USDA zones 3-6 and enjoys a lot of sun and well-drained soil.
Dwarf Serbian Spruce Tree
The dwarf cultivar of the Serbian Spruce (Picea omorika 'Nana') is an excellent evergreen tree to plant when landscaping any large or small garden.
This slow-growing compact tree only grows between 3 and 4 inches (7-10 cm) every year.
Like many large and small spruce evergreens, the dwarf Serbian spruce has leaves with green and silver needles that form dense foliage. You can expect the small tree to grow no more than 5 ft. (1.5 m) and it will spread about the same distance at its base. This evergreen dwarf variety doesn't require any pruning to shape it.
Another type of Serbian spruce that belongs to the class of weeping evergreens is the 'Pendula.' This type of spruce tree can withstand temperatures as low as -40°F (-40 °C)
Dwarf Scotch Pine Tree
Called the "Green Penguin," this small fat Scotch pine tree (Pinus sylvestris 'Green Penguin') has a distinctly conical shape.
The dwarf Scotch pine is an evergreen hardy tree that produces bright green needles that keep their green color all year. One of the reasons to add this type of evergreen to your landscaping is that you never need to prune it. You can expect a mature dwarf Scotch pine to reach 6 ft. (1.8 m) over a period of many years.
The dwarf Scotch pine is one of the hardiest evergreen compact trees as it still grows in temperatures as low as -40°F (-40 °C). This dwarf pine tree thrives in USDA zones 3-7.
Miniature Moss False Cypress
The Miniature Moss False Cypress (Chamaecyparis pisifera 'Squarrosa Minima') is more of a dwarf shrub than a true tree. However, the silvery foliage and limited growth make it a good landscaping choice.
This miniature Cypress tree/shrub is perfect as a bedding plant or border plant. The dwarf tree grows into a round globe shape that reaches a height of about 1 ft. (30 cm). You can plant this miniature tree alongside perennials to give some color to gardens in the wintertime.
The little cypress is a tree-like shrub that also grows well in containers and is an excellent choice if you are creating an urban garden.
You should plant the miniature evergreen shrub in soil that doesn't get too dry. This dwarf cypress variety grows well in USDA zones down to zone 4.
Dwarf Japanese Black Pine Tree
The Dwarf Japanese Black Pine (Pinus thunbergii 'Kotobuki') is a delightful miniature tree for any small garden due to its elegant look.
The miniature cultivar of the Black Pine grows to about 4 ft. (1.2 m) tall after about 10 years. This compact tree has small branches that grow vertically to give the tree a dwarf, narrow pyramid look. You can also prune the tree to turn it into a stunning ornamental tree to give your garden an oriental look.
This Japanese Black Pine tree is a dwarf pine variety that grows well in full sun and can withstand harsh winters.
Dwarf Pencil Point Juniper
The Dwarf Pencil Point Juniper (Juniperus communis 'Compressa') is a type of narrow evergreen tree that grows to less than the height of an average person.
Planting the Dwarf Pencil Point Juniper is a good choice for your yard, garden, or container if you need a tall, yet compact tree. The mature upright tree is only about 1 ft. (30 cm) wide and grows no more than 5 ft. (1.5 m) tall. Many gardeners love this miniature accent tree as it grows well in most types of soil. In addition, it's a very hardy tree that withstands temperatures as low as -50°F (-45°C).
For landscaping a garden, plant the dwarf upright Pencil Point juniper where you need some height. This type of dwarf compact tree is a great foundation plant that helps to accent small spaces and provides attractive greenery all year round.
Upright Japanese Plum Yew
Another compact evergreen tree variety is the Upright Japanese Plum Yew (Cephalotaxus harringtonia 'Fastigiata'). This small bushy coniferous tree has delightful vertical branches with needles.
This dwarf yew tree variety grows into a V-shape with thick dense green foliage. Not all varieties of the small Japanese plum yew flower. However, they are a good dwarf plant that provides privacy and protection from wind all year round.
One of the features of this type of columnar tree is its fastigiate branches. Fastigiate trees have branches that grow vertically upward. This growth habit gives the skinny Japanese Plum Yew tree an upright, straight and thin appearance. This columnar tree is an excellent choice for planting in small gardens where space is tight.
You can plant this compact evergreen in well-drained soil where it gets some full sun and also shade.
The female varieties of this Japanese yew produce small plum-like fruits. You can use this dwarf variety to accent an area of your backyard or plant them together for protection.
Norway Spruce
The 'Pumila' variety of Norway Spruce (Picea abies 'Pumila') is a dwarf shrub-like tree that is good for ground cover when landscaping your garden.
This small evergreen tree looks like a bushy cushion when fully grown. It grows to a maximum of 4 ft. (1.2 m) tall and spreads the same distance wide. This Norway spruce variety has attractive green needles and is a great choice for rock gardens or foundation plantings.
You can plant this small evergreen tree in most types of soil and it thrives in cooler climates. Pick an area of your garden where it can enjoy full sun.
Dwarf Alberta Spruce
The Dwarf Alberta Spruce (Picea glauca albertiana 'Conica') is another type of compact conifer evergreen tree to give your garden color throughout the whole year.
If you are looking for an ornamental small evergreen, this dwarf spruce variety is a great choice. The thick green dense foliage on the tree grows in an A-shape and will grace any garden. Although the dwarf Alberta spruce will eventually grow to 12 ft. (3.6 m) high, it will take about 30 years to reach this height.
This Alberta spruce dwarf variety can also be pruned into fancy shapes or be planted in a container as an accent feature.
Chalet Dwarf Swiss Stone Pine
The Chalet Swiss Stone Pine (Pinus cembra 'Chalet') is a decorative slow-growing evergreen type of dwarf tree.
One of the features about this small pine tree for landscaping is its long green pine needles. The Swiss pine dwarf varieties have a columnar shape with dense pine needle leaves. You can use the Chalet Swiss Stone pine as an accent tree to beautify your garden.
In fact, some landscapers describe Swiss Stone Pine trees as some of the most beautiful dwarf pine trees on the market.
This tree grows well in loamy, well-drained soil and enjoys full sun. As with most pine cultivars, this dwarf Swiss pine variety withstands cold winters.
Other dwarf types of Swiss Stone pines include 'Nana,' 'Pygmaea,' and the 'Tip Top' miniature pine evergreen tree.
Green Arrow Weeping Alaska Cedar
The Green Arrow Weeping Alaska cedar (Chamaecyparis nootkatensis 'Green Arrow') is a type of dwarf weeping evergreen tree.
Although the Green Arrow weeping cedar grows up to 20 ft. (6 m), it can still be considered a dwarf variety. This type of cedar tree only measures 1 ft. (30 cm) wide at its base, therefore, it can grace even the smallest of gardens. This is one of the best types of "dwarf" evergreens if you want to provide vertical accents to your landscaping features.
One stunning feature of the Green Arrow cedar is its drooping or weeping branches. The strong vertical tree with its weeping dark green foliage gives the appearance of an arrow shooting up from the ground.
This dwarf evergreen tree grows well in USDA hardiness zones 4-8 with full sun and well-drained soil.
Discover the most beautiful dwarf evergreen shrubs.
Miniature Common Juniper 'Gold Cone' (Juniperus communis 'Gold Cone')
The 'Gold Cone' juniper is a small columnar landscaping tree with dense gold-green foliage. This slow growing juniper tree has an upright, columnar growth pattern which makes it an ideal specimen tree, container tree, or for planting in the front of house. The small evergreen juniper 'Gold Cone' tree grows 3 to 5 ft. (1 – 1.5 m) tall and up to 2 ft. (0.6 m) wide.
The low maintenance dwarf juniper tree doesn't require pruning, tolerates a wide range of soils and is drought tolerant when established.
Grow in full sun in well-drained soil in USDA zones 4 – 8.
Lawson Cypress 'Minima Aurea' (Chamaecyparis lawsoniana 'Minima Aurea')
The dwarf Lawson cypress cultivar 'Minima Aurea' is a small conifer that features attractive golden yellow, soft feather-like sprays. The slow growing small evergreen tree has a pyramidal growth pattern. It grows between 1 and 4 ft. (0.3 – 1.2 m) tall and 2 ft. (0.6 m) wide.
Dwarf Lawson cypress looks great as a specimen tree, foundation planting, or container tree.
Grow in USDA zones 5 – 8 in full sun to part shade in well-drained soil.
Dwarf Eastern White Pine (Pinus strobus 'Nana')
The 'Nana' white pine cultivar is a slow-growing small evergreen tree with a dome shape and dense, silver blue-green needle leaves. This small pine tree thrives in full sun and has a growth rate of up to 5" (12 cm) per year. The tree grows between 2 and 7 ft. (2.1 m) tall and up to 10 ft. (3 m) wide.
The dwarf Eastern white pine is generally a low maintenance tree. The small pine tree grows best in full sun in fertile well-drained soil in cool climates in USDA zones 3 – 8. This dwarf tree is not tolerant of air pollution or salt spray.
Grow the 'Nana' white pine tree in rock gardens, as a specimen tree or foundation plant.
Discover the best types of small evergreen shrubs to plant in your garden.
Related articles: