32 Dwarf Conifers: Dwarf Pine, Spruce, Cypress, Juniper & Yew (Pictures)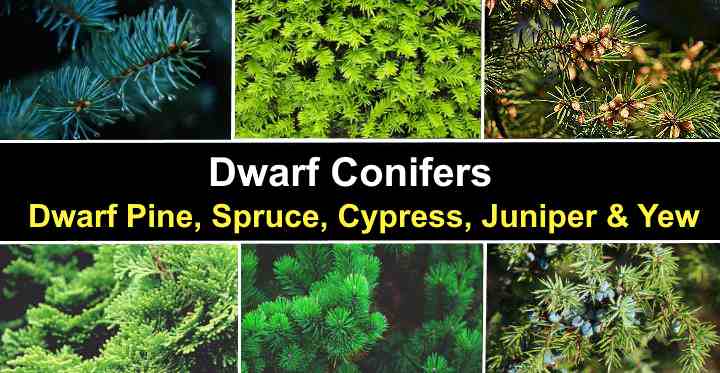 Dwarf conifers are small ornamental trees that provide year-long decorative value in garden landscapes. Small and miniature evergreen conifer trees or shrubs such as compact junipers, pine trees, cypress shrubs, yews, and spruce trees are easy to grow and look after. The dwarf conifers keep their color and foliage throughout the year. Regardless of your garden's size—large, small, or a container garden—there are compact conifers that are well-suited for landscaping.
Dwarf Conifers for Landscaping
Dwarf conifers have numerous uses in landscaping. Many landscape ornamental evergreens grow between 1 and 3 ft. (0.3 – 1 m) tall. You can plant the miniature trees or small shrubs as foundation plantings, evergreen borders, short hedges, ground covers, a vertical accent, container plant, or a focal point.
Ornamental dwarf conifers typically thrive in USDA zones 3 through 8. However, some specific spruce shrub cultivars may be hardier in colder climates. Also some dwarf decorative cypress trees are only cold hardy to zone 5. Almost all dwarf conifers for landscaping grow well in full sun to partial shade.
The Best Small or Dwarf Conifers
Ornamental dwarf conifers come in all shapes and sizes. Some ornamental conifers are slender, narrow trees, shrubs with a rounded growth, weeping conifers, or short conical trees.
Here are some of the best examples of small or dwarf conifers suitable for landscaping gardens:
Dwarf juniper shrub (Juniperus)—Evergreen ornamental dwarf conifers with pyramidal, columnar, rounded, or creeping growth. Dwarf juniper are conifer shrubs that can be blue-green, dark green, or bright golden-green colors. Grow junipers as border shrubs, ground cover, or hedge plants.
Small arborvitae conifer (Thuja)—Dwarf arborvitaes are short decorative conifer trees with feathery foliage and dense growth. The best arborvitae conifers for landscaping are ones with a conical shape or rounded growth.
Dwarf pine trees and shrubs for landscaping—Slow-growing shrubs or small trees typically having dense, compact foliage and a domed shape. Some spectacular landscaping dwarf pines have weeping growth habit.
Miniature cypress bushes—Small landscape conifer shrubs such as cypress plants look pretty throughout the year in any location.
Dwarf ornamental spruce trees—Dwarf landscaping conifer trees that can have a weeping, rounded, or spreading growth to add interest to gardens, patios, and deck areas.
Small Yew decorative trees—These beautiful compact evergreen trees are hardy and slow growing conifers that help enhance garden landscapes with their compact dense sprays of green foliage.
Dwarf cedar trees – There are small cultivars of the big trees with interesting shapes and foliage in beautiful colors.
Dwarf Fir trees – Dwarf varieties of these evergreen conifers are some of the most popular Christmas trees.
Why Plant Dwarf Conifer Trees in Your Garden?
Small conifer trees are perfect for adding color, form, and shape to any size of garden. Growing dwarf conifer trees in a front or backyard gives you many visual options. Planting short evergreen trees as mass plantings is ideal for a short screen or hedge. Evergreen trees keep their color and needle-like leaves throughout the year.
Planting dwarf conifers allows you to grow trees that would otherwise be too tall for gardens. Many dwarf cultivars of cypresses, pine, and spruce trees don't grow more than 4 ft. (1.2 m) tall. However, some of these towering evergreen trees can reach over 80 ft. (24 m) tall in the wild.
Many dwarf conifers are ideal for compact gardens because they are slow-growing. For example, dwarf cultivars may grow less than 6" (15 cm) in a year.
The variety of dwarf conifer tree shapes also makes them desirable for use in landscaping. Small conifers have conical, spherical, and columnar growth habits. Depending on your landscaping needs, you can plant spreading, mounding, and slender upright evergreen trees.
Dwarf Conifers (With Pictures)
Let's look in more detail at some of the best dwarf conifers to plant in a garden landscape.
Dwarf Spruce Trees (Picea) – Excellent Dwarf Conifers for Landscaping
Dwarf spruce trees (botanical name Picea) have needle-like leaves attached singly to small twigs. Dwarf varieties of spruce grow between 10" and 4 ft. (25 cm – 1.2 m) tall. The compact evergreen can have a conical, weeping, or spreading growth. Spruce trees thrive in USDA zones 3 to 8.
Small spruce trees are suitable for landscaping because they add tremendous ornamental value to gardens. The foliage color can have a bluish tint or have silver-green leaves. As mass plantings, small spruce trees and shrubs can act as a privacy screen or wind barrier. Spruce shrubs are also wonderful container plants.
Here are some examples of ornamental dwarf spruce trees to plant in your garden:
Dwarf Globe Blue Spruce (Picea pungens 'Globosa')—This small, rounded evergreen shrub has silvery-green or blue needle-like leaves. The slow-growing, miniature conifer grows 3 to 5 ft. (1 – 1.5 m) tall and up to 6 ft. (1.8 m) wide. The 'Globosa' spruce is suitable for USDA zones 2 to 8.
Dwarf Serbian Spruce (Picea omorika 'Nana')—The Siberian spruce tree 'Nana' is a dwarf conifer variety with a pyramidal shape. This elegant evergreen is perfect as a foundation planting, border, or dense hedge. The dwarf Siberian spruce grows 4 to 8 ft. (1.2 – 2.4 m) tall and wide in ten years.
Blue Weeping Colorado Spruce (Picea pungens 'The Blues')—The weeping Colorado spruce is a miniature tree, ideal for compact gardens or containers. The outstanding feature of this spruce is its silvery blue needles and drooping branches. The tree grows about 6" to 12" (15 – 30 cm) a year and matures at 5 ft. (1.5 m) tall and wide.
Dwarf Alberta Spruce (Picea glauca 'Conica')—The compact, cone-shaped shrub-like spruce tree is a hardy plant, tolerant of drought, cold, heat, and wind. The slow-growing conifer has fragrant, short, light-green leaves. This spruce grows slowly at 4" (10 cm) a year and mature at 4 ft. (1.2 m) tall and 3 ft. (1 m) wide after ten years.
Norway Spruce 'Pumila' (Picea abies 'Pumila')—If you're looking for evergreen ground cover, then the dwarf Norway spruce 'Pumila' is ideal. The mounding shrub grows 4 ft. (1.2 m) tall and has a spread of 4 ft. (1.2 m). The lower branches spread outward and the upper branches upward to create a cushion-like evergreen mound.
Dwarf Juniper (Juniperus) – Decorative Evergreen Conifer Trees and Shrubs
Dwarf juniper trees (botanical name Juniperus) have columnar, cone-like, or low-spreading growth. Some varieties of juniper trees have scale-like leaves, and others have short spiky, needle-like leaves. Dwarf juniper shrubs and trees can be as small as 3" to 6" tall or grow up to 5 ft. (1.5 m) tall.
Small juniper trees are ideal for landscaping gardens because they are versatile, hardy trees that thrive in most conditions. The decorative elements of junipers are bluish-green leaves, spiky foliage, and shrub-like growth.
Here are some examples of ornamental dwarf spruce trees to plant in your garden:
Dwarf Pencil Point Juniper (Juniperus communis 'Compressa')—The Pencil Point juniper gets its name from its slender, columnar, cone-shaped growth. It's a small tree that grows 3 ft. (1 m) tall and 2 ft. (0.6 m) wide. Ideal as an accent plant, front of house plant, or patio container plant. In winter, the blue-green foliage turns coppery-bronze.
Dwarf Japanese Garden Juniper (Juniperus procumbens 'Nana')—The low-growing, mat-forming juniper is a creeping shrub with prickly bluish-green needles. The Japanese garden juniper 'Nana' grows 6" to 12" (15 – 30 cm) tall and up to 6 ft. (1.8 m) wide. Ideal for ground cover in full sun in USDA zones 4 to 9.
Blueberry Delight Juniper (Juniperus communis 'AmiDak')—The name of this spreading juniper cultivar 'blueberry' comes from the blue-colored berries that appear in the fall. The 'AmiDak' juniper grows 1 to 2 ft. (0.3 – 0.6 m) tall and 8 to 10 ft. (2.4 – 3 m) wide. This hardy evergreen shrub thrives in USDA zones 2 to 6.
Miniature Common Juniper 'Gold Cone' (Juniperus communis 'Gold Cone')—The 'Gold Cone' dwarf juniper cultivar is a beautiful landscaping tree with dense gold-green foliage. With its upright, columnar shape, the slow-growing juniper looks great as a specimen tree, foundation planting, or container tree. The juniper 'Gold Cone' grows 3 to 5 ft. (1 – 1.5 m) tall and up to 2 ft. (0.6 m) wide.
Dwarf Cypress (Chamaecyparis) — Excellent Conifers for Landscaping
Small and miniature cypress trees (botanical name Chamaecyparis) are conifers that have soft, scale leaves or soft needle-like leaves. Ornamental cypress shrubs are typically various shades of green, from light bluish-green to dark green. Landscaping cypress trees and shrubs can be narrow, columnar trees or bushy conical or rounded shrubs.
Small cypress trees are excellent conifers for garden landscapes because they are hardy, slow-growing shrubs. The decorative plants are perfect for rock gardens, ornamental shrubs, foundation plantings, or a specimen tree. Most dwarf cypress trees are suitable for growing in USDA 4 or 5 to 8.
Some cypress trees have the common name cypress but are not in the Cupressus genus. They are referred to as false cypress trees or false cedars.
Here are some examples of ornamental dwarf cypress shrubs and trees to plant in your garden:
Hinoki cypress (Chamaecyparis obtusa 'Nana Gracilis')—The Hinoki cypress is one of the most popular dwarf conifers for landscaping. The attractive conical tree has an irregular shape and lush, glossy green foliage. The small ornamental tree grows around 6" (15 cm) per year and eventually matures at between 3 and 6 ft. (1 – 1.8 m) and 4 ft. (1.2 m) wide.
Lawson cypress 'Minima Aurea' (Chamaecyparis lawsoniana 'Minima Aurea')—The dwarf Lawson cypress cultivar is a small conifer that features attractive golden yellow, soft feather-like sprays. The short, stumpy growth of the pyramidal evergreen shrub means the slow-growing tree only grows between 1 and 4 ft. (0.3 – 1.2 m) and 2 ft. (0.6 m) wide.
False Cypress 'Golden Charm' (Chamaecyparis pisifera 'Golden Charm')—The 'Golden Charm' is a miniature conifer that has thread-like, golden yellow needle leaves. As a specimen or accent plant, the dwarf, bushy cypress shrub grows as a pretty hedge, background plant for beds, or container plant. Prized for its foliage, the 'Golden Charm' cypress adds color, shape, and texture to a garden landscape. The cultivar grows up to 6 ft. (1.8 m) tall and 8 ft. (2.4 m) wide.
Dwarf Ornamental Arborvitae (Thuja) Conifers
Arborvitae is a genus of conifers that belong to the cypress family Cupressaceae. Arborvitae trees are evergreen conifers that can be identified by their feathery, soft scale-like green leaves, reddish bark, and inconspicuous cones. Also called cedars or thujas, these coniferous trees are popular landscaping plants for hedges, specimen trees, or foundation plantings.
Soft, dense foliage is one of the reasons why arborvitae trees are prevalent in garden landscapes. From most species of conifer, arborvitae is some of the fastest-growing, low-maintenance plants. Some varieties of Thuja grow around 3 ft. (1 m) a year. Depending on the species, arborvitae trees thrive in USDA zones 3 to 7.
Here are some examples of decorative dwarf arborvitae shrubs and trees to plant in your garden:
Little Giant Dwarf Arborvitae (Thuja occidentalis 'Little Giant')—The 'Little Giant' arborvitae is a globose shrub that stays green throughout the year. The round shape of this dwarf conifer makes it suitable as an accent plant, foundation plant, or in containers at an entranceway. Grows 4 ft. tall and wide.
Thuja orientalis 'Aurea Nana'—The dwarf arborvitae 'Aurea Nana' is a cone-shaped conifer with a slightly rounded form. The decorative evergreen tree has yellowish-green foliage that turns bronze in winter. The miniature tree thrives in zones 6 to 9 and grows 2 to 5 ft. (0.6 – 1.5 m) high and up to 4 ft. (1.2 m) wide.
Thuja occidentalis 'Woodwardii'—The arborvitae 'Woodwardii' is a compact dwarf coniferous shrub for landscaping that has a rounded form. The green foliage holds its color in full sun. Grows between 4 and 10 ft. (1.2 – 3 m) and 8 to 15 ft. (2.4 – 4.5) wide.
Thuja occidentalis 'Fire Chief'—The Thuja cultivar 'Fire Chief' is a miniature landscaping shrub with a rounded, ball-like shape. The attractive feature of this 'Fire Chief' is its golden spring foliage that turns green and then develops fiery red tips in the fall. Grows 3 to 4 ft. (1 – 1.2 m) tall and wide.
Dwarf 'Hetz Midget' arborvitae (Thuja occidentalis 'Hetz Midget') – This is a round dwarf arborvitae with attractive dark green foliage that turns into hues of bronze in the winter. Being one of the shortest arborvitae shrubs, the 'Hetz Midget' is best for foundation plantings, mixed borders, miniature hedges, or rock gardens. This dwarf Thuja is also perfect as a container plant on terraces, patios, or porches. Height: 3 or 4 ft. (1 – 1.2 m).
Dwarf Western Red Cedar (Thuja plicata 'Pygmaea')—The dwarf coniferous shrub has attractive green foliage that turns bronze in the winter. The densely packed evergreen scale-like leaves make this beautiful shrub an ideal hedge, shrub border, or potted tree. The pygmy conifer grows 2 to 3 ft. (0.6 – 1 m) tall and wide and suitable for zone 5 to 8.
Dwarf Pine Trees (With Pictures)
Miniature pine (Pinus) trees and shrubs make stunning landscaping plants due to their long needle leaves, reddish, scaly bark, and attractive cones. You can identify pine trees by the bunches of between two and five needles growing on branches. Dwarf pine trees are generally slow-growing, easy-care plants in USDA zones 3 to 7.
Pine trees are prized as landscaping plants because they adapt to a wide range of conditions. Trees in the Pinus genus thrive in full sun and most soil types. The dwarf varieties of pine are ideal as foundation plantings, shrub borders, specimen, or accent plants.
Here are some examples of ornamental dwarf pine trees and shrubs to grow in your garden:
Mugo Pine (Pinus mugo)—The miniature Mugo pine is an evergreen shrub suitable for small garden landscapes and containers. The compact pine tree grows between 3 and 5 ft. (1 – 1.5 m) tall and wide. There are many Mugo pine dwarf cultivars to choose from.
Dwarf Scotch Pine Tree 'Green Penguin' (Pinus sylvestris 'Green Penguin')—The short, stumpy Scotch pine has bright green needles. The slow-growing pine tree takes ten years to mature at 4 ft. (1.2 m) tall and 18" (45 cm) wide. Hardy in USDA zones 3 to 7.
Dwarf Japanese Black Pine (Pinus thunbergii 'Kotobuki')—The fast-growing ornamental dwarf pine tree has upright growth and a narrow, conical shape. The 'Kotobuki' pine tree cultivar grows up to 4 ft. (1.2 m) tall and 2 ft. (0.6 m) wide.
Chalet Swiss Stone Pine (Pinus cembra 'Chalet')—The 'Chalet' pine cultivar is a dwarf conifer with soft, dark bluish-green needles and upward-pointing oblong cones. This dwarf cultivar grows between 5 and 8 ft. (1.5 – 2.4 m) and up to 4 ft. (1.2 m) wide over the first ten years.
Dwarf Eastern White Pine (Pinus strobus 'Nana')—The 'Nana' white pine cultivar is a slow-growing tree with a dome shape and dense, silver blue-green needle leaves. This pine thrives in full sun and has a growth rate of up to 5" (12 cm) per year. The tree grows between 2 and 7 ft. (2.1) tall and up to 10 ft. (3 m) wide.
Dwarf Eastern White Pine (Pinus strobus 'Blue Shag')—The globe-shaped growth of the 'Blue Shag' white pine makes this conifer a landscaping favorite. The bunches of soft green needles and irregular branching make it an attractive accent plant or container plant for small gardens. Its growth rate is 6" per year, and it eventually matures at 6 ft. (1.8 m) tall and wide.
Pinus strobus Vanderwolf's Green Globe—The dwarf white pine Vanderwolf's Green Globe is a globe-shaped conifer shrub with a short growth habit. The deep green foliage grows up to 3 ft. (1 m) tall and wide.
Dwarf Yew (Taxus baccata) Shrubs – Excellent Small Conifers For Landscaping

Compact yew shrubs are perfect evergreen conifers for landscaping due to their soft needles, dense growth, and spreading nature. Dwarf yews grow as narrow conical evergreen trees or shrub-like bushes. You can landscape a garden with compact yews to create a formal hedge, accent shrub, or foundation planting.
Dwarf yew shrubs are ideal for landscaping due to their attractive green colors. Yews require minimal pruning and care to grow well in most garden landscapes. Also, yews are relatively resistant to disease and pests.
Here are some examples of ornamental dwarf yew trees and shrubs to grow in your garden:
English Yew (Taxus baccata 'Repandens')—The English yew is a popular landscaping shrub thanks to its glossy green foliage and slightly drooping branches. This low-growing evergreen is ideal as ground cover, foundation planting, or a specimen plant. It grows between 2 and 4 ft. (0.6 – 1.2 m) and 6 to 15 ft. (1.8 – 4.5 m) wide.
Anglo-Japanese Yew (Taxus x media 'Densiformis')—Due to its dense, rounded growth and spreading habit, the 'Densiformis' yew cultivar is ideal for growing as a low hedge. The conifer shrub grows 4 ft. (1.2 m) tall and up to 6 ft. (1.8 m) wide.
Dwarf Bright Gold Japanese Yew (Taxus cuspidata 'Bright Gold')—This dwarf landscaping yew cultivar has upward, spreading growth and a mounding habit. The slow-growing bush grows 3 ft. (1 m) tall. Growing in full sun, the beautiful leafy foliage is green needles that are often yellow beneath and turn golden yellow in winter.
Dwarf Cedar Trees (Cedrus)
True cedars are typically tall, majestic conifers. However, several dwarf cedar shrubs are suitable for use in garden landscaping.
Himalayan dwarf cedar (Cedrus deodara 'Feelin' Blue')—The 'Feelin' Blue' cedar is a low-growing, spreading shrub or small tree. As a shrub, the landscaping conifer has spreading branches with long blue-green needles. This dwarf cedar has arching, cascading foliage growing as a tree, giving the conifer a weeping look. The Himalayan dwarf cedar thrives in USDA zones 6 to 8 and grows 1 to 3 ft. (0.3 – 1 m) tall and up to 10 ft. (3 m) wide.
Gold Cascade Himalayan cedar (Cedrus deodara 'Gold Cascade') – This is a dwarf conifer with conical shape, drooping branches and golden leaves. It has a height of 4 – 5 ft. (1.2 – 1.5 m) at maturity.
Dwarf Fir Trees (Abies)
Fir trees are woody plants that belong to the genus Abies. They are closely related to other coniferous trees in the family Pinaceae such as pines and cedars. Some dwarf fir cultivars are an excellent choice for small yards.
Dwarf balsam fir (Abies balsamea 'Nana') – one of the most popular compact dwarf fir trees. This slow growing small tree has the classic fir tree conical shape. This evergreen fir produces flat needle-like leaves that stay green throughout the year. Height and spread: 1 – 2 ft. (0.3 – 0.6 m).
Compact white Fir (Abies concolor 'Compacta') – This is a slow growing dwarf fir with beautiful evergreen blue-green foliage. It has irregular shape but can be pruned to conical shape. It reaches to around 3 ft. (1 m) tall by 2 feet (0.6 m) wide.
Related articles: