Purple Flowering Weeds (With Pictures): Identification Guide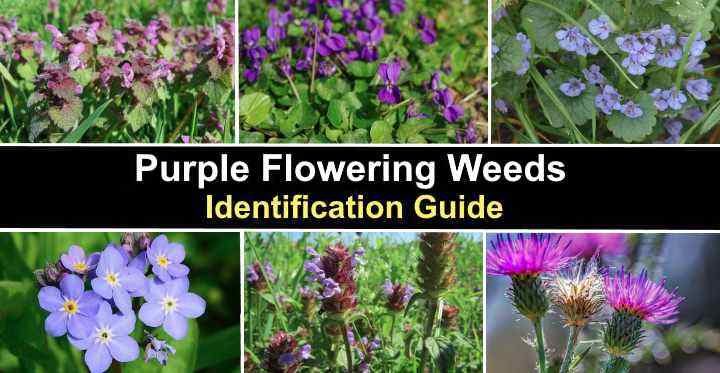 Purple flowering weeds in your garden or yard can become a nuisance. Invasive plants with purple flowers might appear attractive initially, but they can be bothersome if they thrive in undesired areas. Moreover, various types of purple-flowering weeds have the potential to outcompete other plants in flower beds or spoil the appearance of lawns. By identifying weeds with purple flowers, you can find out which plants need removal and take steps to protect your garden.
Maintaining a healthy and vibrant garden requires careful attention to detail. Unfortunately, purple flowering weeds can easily blend in with other plants. This makes it difficult to spot the pesky plants before they start spreading. These weeds can quickly take over your garden beds, turning lawns into a mat of purple flowers, or compete with your ornamental plants for nutrients and space.
Knowing how to identify purple-flowering weeds is key to eradicating them. This identification guide has detailed descriptions and pictures of the most common purple flowering weeds you will come across in your front or backyard.
What Are Purple Flowering Weeds?
Purple-flowering weeds are non-cultivated plants with vibrant purple blooms. The weedy plants typically grow in gardens, roadsides, or fields and often spread rapidly, becoming invasive and choking out native species. Common purple-flowering weeds are creeping Charlie, thistles, fireweed, and henbit. These noxious plants disrupt native ecosystems but can also provide beauty in unexpected places.
Purple Flowering Weeds (With Pictures and Descriptions)
Let's look in detail at some of the most common fast-spreading weeds that produce purple flowers.
Blue Vervain (Verbena hastata)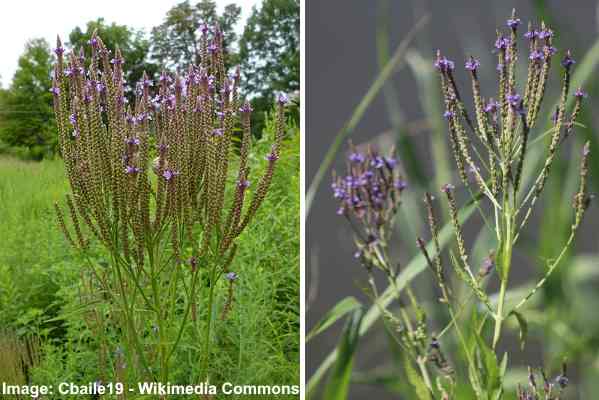 Blue vervain is a common perennial purple weed that spreads in areas of your yard where you don't want it. The annoying purple-flowering weed is identified by its tall, erect stems and clusters of small bluish-purple or lavender flowers. The weed's lance-shaped leaves are long and narrow, with toothed edges.
Blue vervain is a fast-growing clumping perennial plant that thrives without much care. Classed as a native wildflower, the weedy plant grows 2 to 5 ft. (0.6 – 1.5 m) tall. It thrives in wet, boggy soils and is also tolerant of drought. It flowers from spring through summer.
This purple-flowering weedy plant spreads rapidly through seeds. Therefore, removing the purple flowers before they go to seed is vital to help control that plant.
Bugleweed (Ajuga reptans)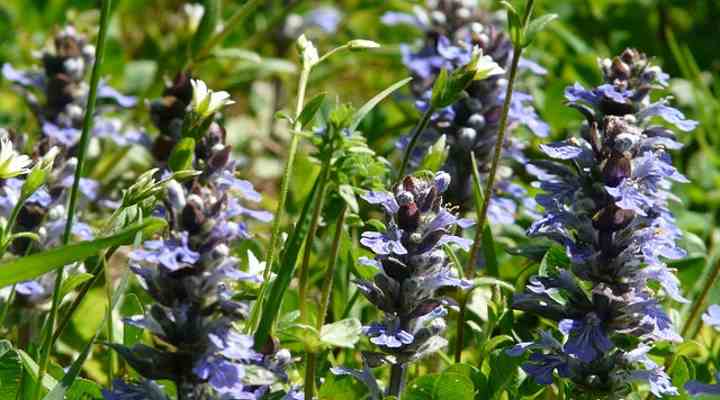 Bugleweed is a low-growing perennial weed with purple flowers. Its uncontrolled growth comes from its creeping habit, where it spreads through stolons. The fast-growing plant can rapidly take over yards, forming dense mats of purple flowers and green foliage. Bugleweed is an invasive plant in North America and can become a nuisance lawn weed with purple flowers.
Despite its weedy and invasive habit, bugleweed produces attractive tubular purple flowers in dense spikes and oval leaves growing in a rosette pattern. The ground-creeping, mat-forming plant grows 8" (20 cm) tall and spreads quickly. It also goes by the names carpetweed, blue bugle, and common bugle.
Improving soil and turfgrass health and drainage can prevent bugleweed from getting established in unwanted areas. The most effective eradication methods for this purple weed are hand-pulling and removing the flowers before distributing seeds.
Canada Thistle (Cirsium arvense)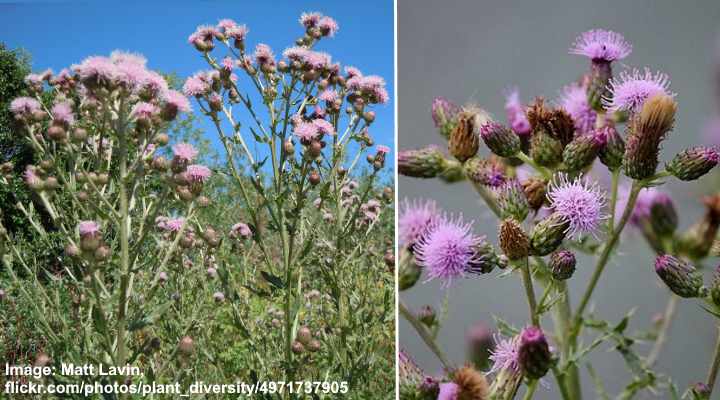 Canada thistle is a perennial flowering weed that can quickly take over gardens, filling them with jagged leaves and pale purple flowers. The easily identifiable purple weed has deeply lobed leaves with spiny edges growing on upright, bluish-green, or silvery-blue stems. Small, purple flowers appear in clusters during summer.
The issues with Canadian thistle weeds are that they grow up to 4 ft. (1.2 m) tall and develop extensive root systems. The spiky weeds reduce biodiversity by spreading rapidly, shading out native wildflowers, and choking them at the root level.
If not controlled, creeping thistle spreads through underground rhizomes and seeds—around 2,000 seeds per plant. Canada thistle is difficult to control, and digging up all the roots can be challenging. However, regular mowing and maintaining a healthy lawn help prevent weeds from taking over grassy areas.
Musk Thistle (Carduus nutans)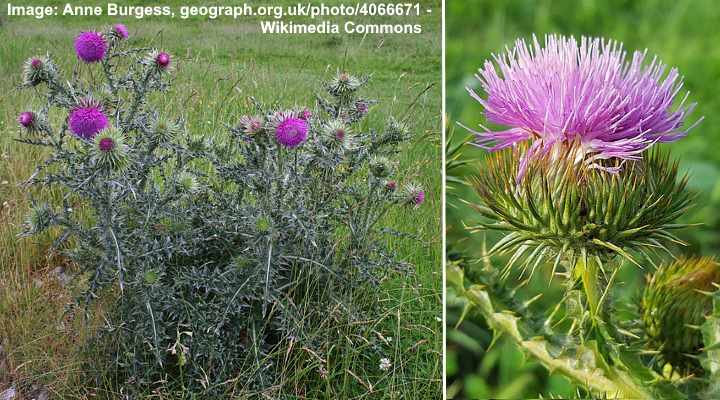 Also called nodding thistle, this purple-flowering noxious weed can be difficult to control in backyards. Identification features of musk thistles are their large magenta-purple flower heads, dark green leaves with white spiny margins, and a strong root system. The nodding purple thistle flowers can produce over 120,000 seeds per plant per season.
Musk thistles become a nuisance in gardens due to their jaggy leaves and almost uncontrollable growth. The noxious weeds displace native plants by competing aggressively for resources like water, nutrients, and sunlight. Also, its deep, robust taproot makes eradication labor-intensive and challenging.
Bull Thistle (Cirsium vulgare)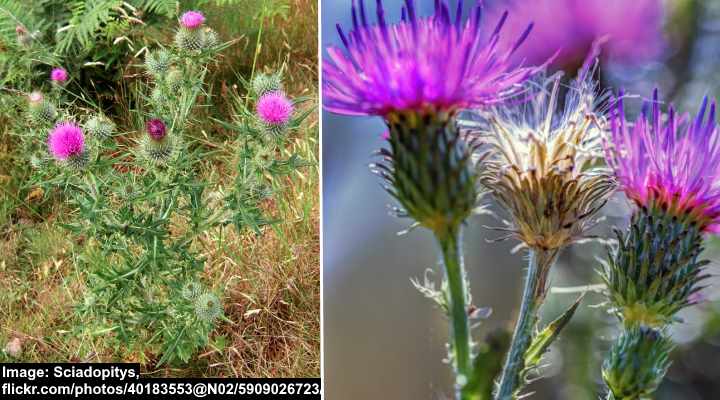 Bull thistle is a common purple flowering weed that can invade gardens and take over flower beds. The pesky weed is identified by its distinctive spiny, deeply lobed leaves and characteristic thistle flowers. Additionally, the square stems are covered in spines. The tall weedy plant with its purple or pink flowers grows 6 ft. (1.8 m) tall.
Bull thistle is identified as a noxious weed in several states in the US. Despite its beneficial properties for attracting pollinators like monarch butterflies, few people want bull thistles in their yards. Because it spreads through seeds and a deep tap root, removing the flowers and digging out as much of the root as possible is the best control method.
Have thistles become a weed problem in your lawn? If so, regular mowing and maintaining a healthy lawn can prevent bull thistles from becoming established. This is because thick, healthy grass will compete with the weed, making it easier to maintain a weed-free lawn.
Fireweed (Chamaenerion angustifolium)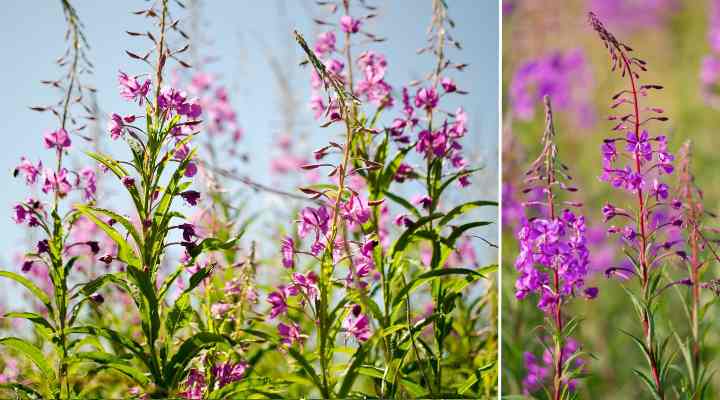 Fireweed is a perennial weed with purple-pink flowers that invade lawns, flower beds, and other open areas. This purple-flowering weed is characterized by its tall, slender reddish-brown stems, narrow linear leaves, and clusters of pink or purple flowers that bloom all summer. Fireweed spreads quickly and becomes invasive if not controlled.
Fireweed is an opportunistic weed that colonizes open areas, bare patches of lawns, or empty flower beds. It can be a nuisance weed because seeds can remain dormant for several years before growing. The best way to stop this weed from taking over your yard is to mulch bare ground and keep sunny lawns healthy. It's also vital to prevent the weed from going to seed, which will contribute to its spread.
Fireweed grows up to 8 ft. (2.4 m) high and produces over 80,000 seeds per plant that get easily spread by the wind.
Heal-All (Prunella vulgaris)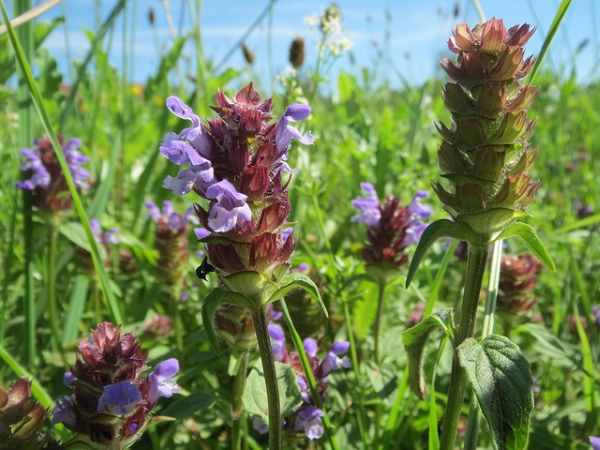 Heal-all is a common purple-flowering perennial weed that spreads quickly and takes over yards if uncontrolled. This invasive weed has a low-growing habit with creeping, self-rooting tough stems. Heal-all is identified by its lance-shaped leaves with red tips and tubular vibrantly-colored purple flowers growing in dense clusters that bloom throughout summer.
Controlling common self-heal in backyards is crucial because it can thrive in various growing conditions, making it difficult to eradicate. The purple weed forms dense mats that can choke out desirable grass species or ornamental plants. It's a mat-forming weed with aggressive growth that doesn't grow more than a foot (30 cm) tall.
Simple ways to eliminate heal-all from your yard include hand-pulling, mowing, mulching, and improving lawn health.
Bittersweet Nightshade (Solanum dulcamara)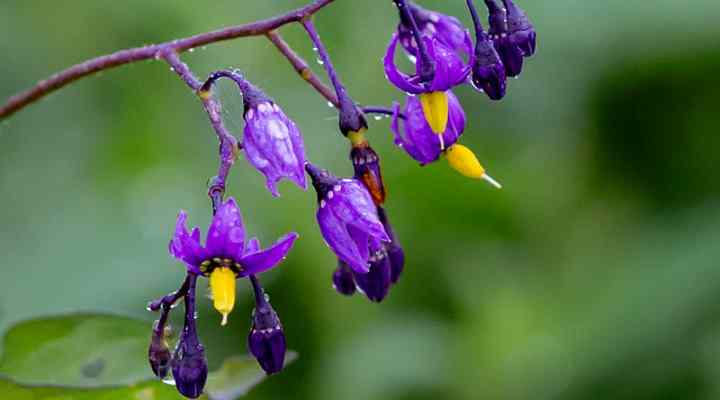 Bittersweet nightshade is a purple-flowering perennial vine considered a weed due to its invasive nature and ability to spread rapidly. The invasive weed is identified by its clusters of small purple flowers, small red berries, and dark green ovate leaves. The scrambling, fast-growing vine can grow 10 ft. (3 m) tall and 8 ft. (2.4 m) wide.
When hang-pulling bittersweet nightshade to control, it's vital to remember that all parts of the vine are toxic. Therefore, wear gloves when handling the plant, which can cause skin irritation.
Black Nightshade (Solanum americanum)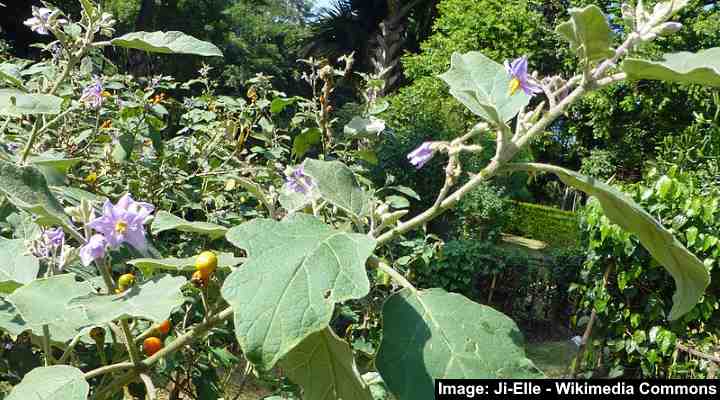 Also known as small-flowered nightshade, this aggressive weed can wreak havoc in vegetable plots if left unchecked. The annual weed features small funnel-shaped pale purple flowers, blackish-purple berries, and large leaves with lobed, wavy margins. If not properly controlled, black nightshade has the potential to dominate over crops or grassy areas.
Black nightshade grows 2 to 4 ft. (0.6 – 1.2 m) tall and up to 3 ft. (1 m) wide. Like its weedy counterpart, bittersweet nightshade, the plant is highly toxic and should be handled carefully. Therefore it's best to wear gloves when hand-weeding. You can also prevent the weed from getting established by using cover crops to reduce seed germination and growth.
Comfrey (Symphytum officinale)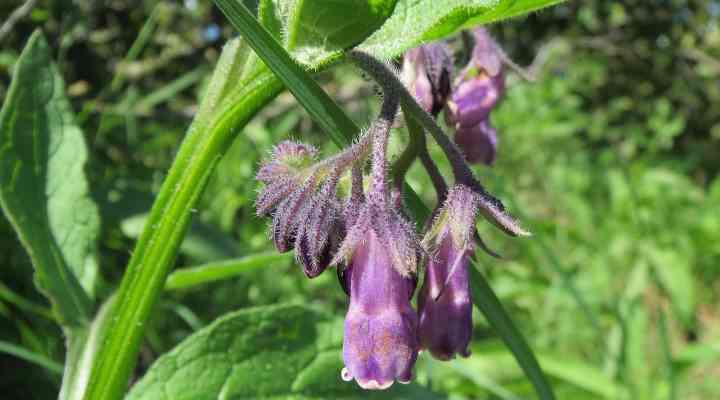 Comfrey is a perennial, clump-forming weed with purple flowers that can become problematic in gardens. This invasive weed is characterized by its hairy leaves and bell-shaped lilac or pink flower clusters. Comfrey spreads through its extensive root system and can quickly colonize a yard without proper control.
Comfrey is useful as a purple-flowering ground cover plant for full sun. However, its invasive nature means you should take care when planting it. It thrives in moist soil, sun, or dappled shade and can quickly get out of control. The weedy perennial grows 1 to 3 ft. (0.3 – 1 m) tall.
To eradicate the spreading weed and its purple flowers, pulling the plant by hand is vital to try and remove all the roots. It is also essential to prevent comfrey from going to seed to prevent its uncontrollable spread.
Dove's-Foot Geranium (Geranium molle)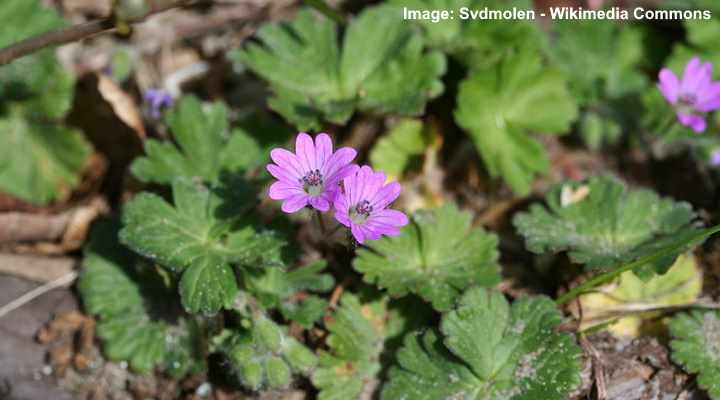 Dove's-foot geranium is a common purple-flowering weed because it aggressively spreads and takes root where you don't want it. The garden weed doesn't grow taller than 1 foot (30 cm). The purple weed is identified by its low-growing habit, deeply lobed, jagged leaves, and purple-pink flowers that bloom from April through September.
Controlling a dove's-foot crane's bill is important to prevent it from taking over your yard. The plant's aggressive growth and spreading habit is through seed dispersal. Therefore, removing the flowers before they go to seed is vital to prevent them from spreading extensively in a yard.
Ground Ivy (Glechoma hederacea)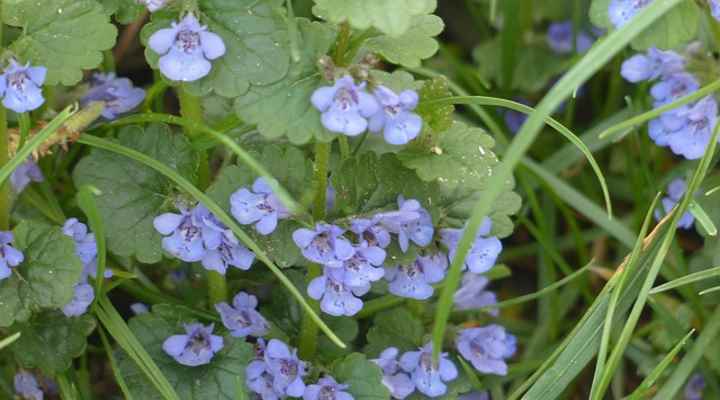 Also called creeping Charlie, this ground-hugging spreading ivy plant is a common perennial lawn weed with purple flowers. Ground ivy is identified by its long-blooming blue, purple, or lavender tubular flowers, triangular leaves with scalloped edges, and invasive growth. The mat-forming plant blooms in spring and summer, growing 1 ft. (0.3 m) tall.
Ground ivy spreads aggressively through creeping stems that root at the nodes. If it gets out of hand, the weedy ivy plant is difficult to eradicate without herbicides. Therefore, pulling up the ground-hugging stems before they take over your yard is the best control method.
The plant's tolerance for poor soils, sun, and deep shade, along with its creeping, spreading nature and rapid growth, make it one of the most challenging purple-flowering weeds to control in yards.
Henbit (Lamium amplexicaule)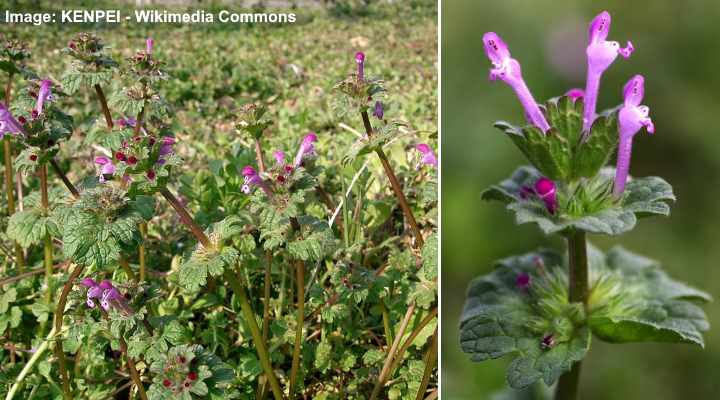 Henbit is a common purple-flowering weed that invades flower beds and lawns. It's an annual weed characterized by square stems, pink, purple, or lavender tubular flowers, and compound leaves growing oppositely on stems. The low-growing purple weed can quickly spread if not controlled.
Controlling henbit is important because it competes with desirable plants for nutrients, water, and sunlight. Hand-pulling can be effective for small infestations. Also, you can mulch flower beds or under shrubs to prevent weed growth. Henbit prevention is possible in lawns by maintaining a healthy, dense lawn to control this weed.
Purple Dead Nettle (Lamium purpureum)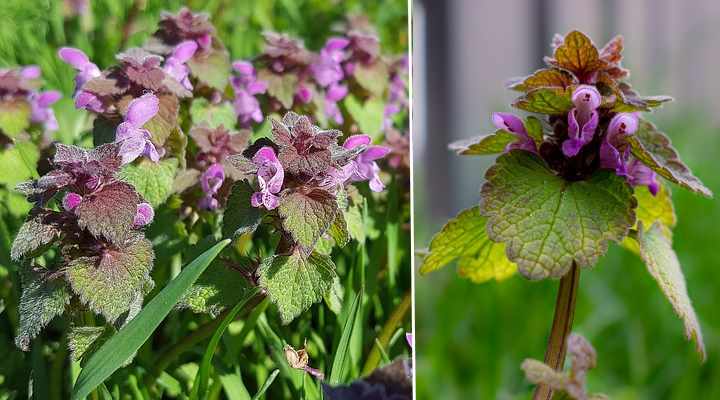 Purple dead nettle is a vigorous purple-pink wildflower that easily gets out of control in gardens. It's a common purple-flowering invasive weed, identified by its dense flower clusters, long blooming seasons, heart-shaped green and purple leaves, and vigorous growth. Purple dead nettle weeds rarely grow more than a foot (30 cm) tall.
Purple dead nettle starts to grow and spread rapidly in spring. Also called purple archangel, the weed forms large mats of clumping flowers and foliage if left to its own devices. It is also easy to confuse the purple dead nettle with henbit.
It's possible to stop its vigorous growth by hand-pulling stems. Sometimes, you can use white vinegar as a natural herbicide to kill the pesky plant. However, you should be careful not to let the vinegar affect plants nearby.
Purple Loosestrife (Lythrum salicaria)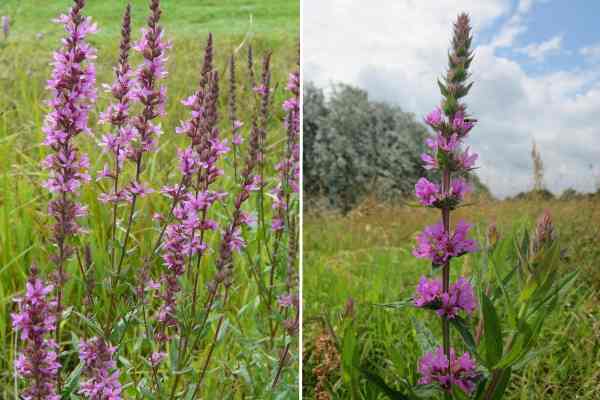 Purple loosestrife is a highly invasive purple-flowering perennial plant that poses a significant threat to wetlands and other natural habitats. This aggressive weed is characterized by its tall, showy spikes of purple-pink flowers and lance-shaped leaves. It spreads rapidly through its abundant seed production, producing over 2 million seeds annually.
Weedy purple loosestrife is an invasive plant that grows 2 to 4 ft. (0.6 – 1.2 m) tall and 2 ft. (0.6 m) wide. Effective control methods include deadheading the plant to prevent self-seeding or cutting the plant to the ground in mid-summer. Alternatively, you can look for sterile cultivars to enjoy the plant's vibrant purple colors in a front or backyard without purple loosestrife getting out of control.
Spotted Knapweed (Centaurea maculosa)
Spotted knapweed is a highly invasive purple-flowering weed that can quickly take over flower beds. The perennial weed is identified by its thistle-like pink to purple flowers with distinct black spots on the flower bracts. The weed's leaves are deeply lobed and covered in fine hairs, giving them a grayish-green appearance.
Spotted knapweed spreads through both seeds and an extensive taproot system, making it difficult to control. This type of unwanted plant thrives in dry soil, so it's not a major weedy problem in most gardens. However, its seeds can lay dormant in the soil for several years.
The fast-growing weed can grow 3 ft. (1 m) in a single season. Its gray-silver leaves grow 8" (20 cm) long, and the purple-lavender flowers are 1" (2.5 cm) tall and feature prickly, black-tipped bracts.
Common Blue Violet (Viola sororia)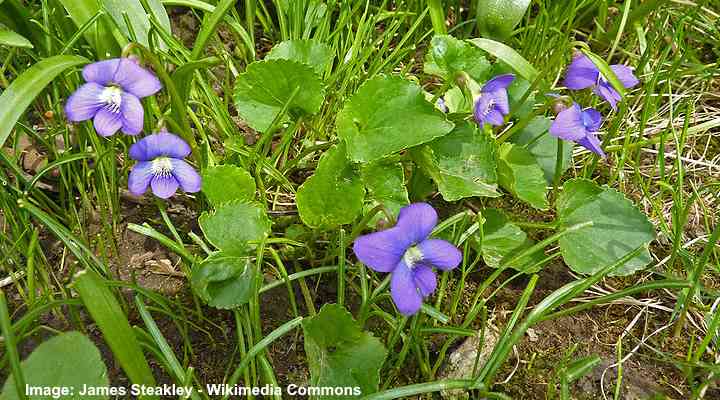 Common blue violet is a purple-flowering creeping lawn weed that can spoil the appearance of turfgrass if not controlled. These common bluish-purple perennial weeds have identifiable clusters of deep blue-violet five-petalled flowers contrasting with heart-shaped leaves 3" to 6" (7.5 – 15 cm) wide. This clumping fast-growing weed grows less than 1 foot tall (30 cm).
Common wild violet gets weedy due to its spreading growth, shade tolerance, and ability to compete with ornamental plants for nutrients. The purplish wild violet weed forms dense mats that smother other ground-hugging plants and vegetation. Additionally, the plant spreads through underground rhizomes and can produce a large number of seeds.
Controlling common blue violet requires typical control methods—hand-pulling the weed and removing flowers before they start seeding.
Red Clover (Trifolium pratense)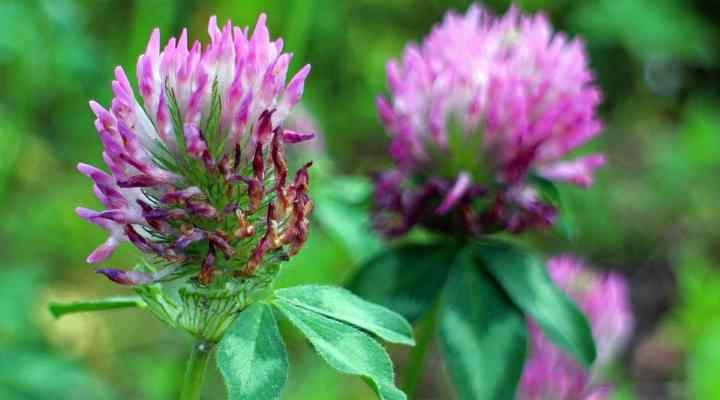 Red clover is a common short-lived perennial weed with rose-pink or pinkish-purple flowers that invade garden beds and lawns. This weed is identified by its clusters of purplish flowers, trifoliate leaves, and slender stems. Red clover has a slender stalk and can quickly spread, taking over areas if not controlled properly.
Red clover is often considered a beneficial plant for its ability to fix nitrogen in the soil and attract pollinators. However, it becomes a nuisance when it dominates lawns or grows in unwanted places. It self-seeds easily and spreads aggressively through rhizomes.
Deadly Nightshade (Atropa belladonna)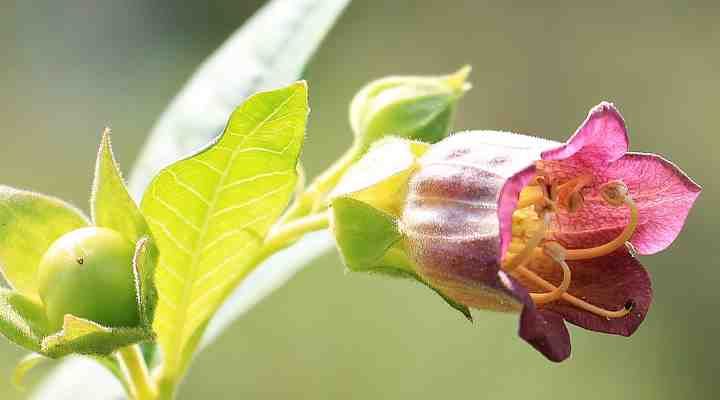 Deadly nightshade is a highly toxic purple-flowering perennial weed that has invasive qualities. Identifying features of this weedy plant are its bell-shaped purple flowers, glossy black berries, and dark green ovate leaves. Deadly nightshade grows 3 to 4 ft. (1 – 1.2 m) tall and wide.
Deadly nightshade rapidly spreads before dying in winter and regrowing in spring. Controlling deadly nightshade in gardens involves removing the roots entirely. However, it's vital to wear protective clothing to avoid skin contact.
Suppose deadly nightshade has become a problem in your yard or garden. In that case, consult a professional for safe and effective removal methods, as the purple weed is highly toxic.
Common Burdock (Arctium minus)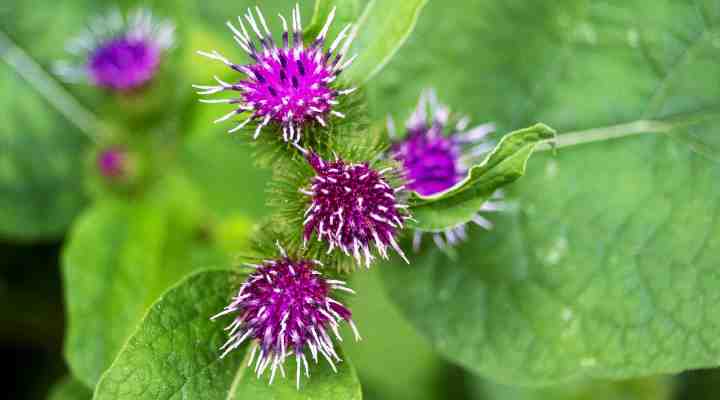 Common burdock is a purple-flowering biennial weedy plant that aggressively invades gardens. This unwanted plant is identified by its large, round, spiky purple flower heads and broad, heart-shaped leaves. The fast-growing weed grows 3 to 6 feet (1 – 1.8 m) tall. Its weedy nature comes from its deep taproots.
Burdock is notorious for its prickly burs that are difficult to remove once the purple weed is established. To eradicate this noxious weed, removing the weed before it goes to seed is crucial. Additionally, hand-pulling can be effective in eliminating burdock from gardens and landscapes.
Related reading: How to remove sticker weeds from lawns.
Dame's Violet (Hesperis matronalis)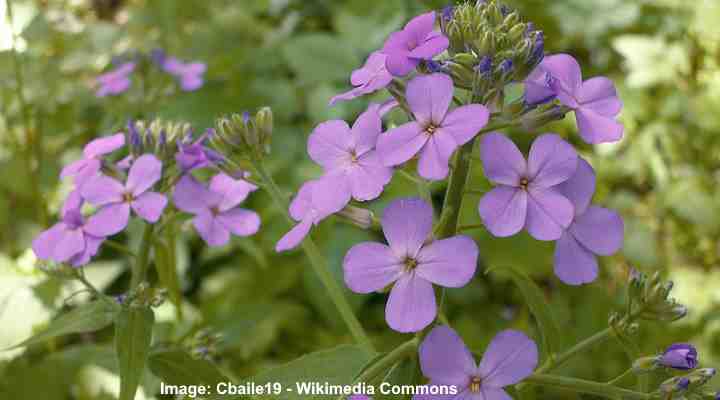 Dame's violet is a highly-weedy purple-flowering plant that can be difficult to get rid of because of its prolific overseeding. This perennial purple weed is identified by its lance-shaped leaves and flowering spikes of fragrant purple, lavender, or pink flower clusters. The annoying weed grows up to 3 ft. (1 m) tall.
Dame's violet flowers have four petals forming a cross shape that bloom in spring. Its weedy nature means it competes with native plants, eventually choking them and taking over yards. Hand-pulling or digging out the plants, including their roots, is usually effective in controlling Dame's violet flowers.
Hedge Woundwort (Stachys sylvatica)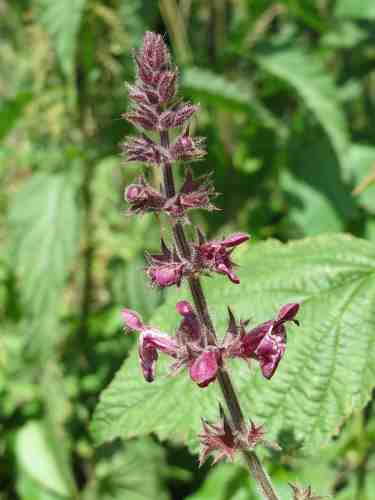 Hedge woundwort is identified as a perennial flowering weed with whorls of purple flowers blooming at the end of slender, leafy stalks. Also called hedge nettle, the weed can become invasive in gardens and landscapes due to its slender underground runners. This growth habit makes it difficult to control once established.
Hedge woundwort purple weeds grow 1 to 3 ft. (0.3 – 1 m) tall. Unfortunately, the weedy plants can quickly take over garden beds and compete with desirable plants for resources. Its aggressive growth habit and ability to starve other plants of nutrients can lead to a decline of native species. Non-native hedge woundwort thrives in dappled shade.
Mowing is an effective control method for lawns, and weeding by hand removes small infestations from beds.
Common Forget-Me-Not (Myosotis sylvatica)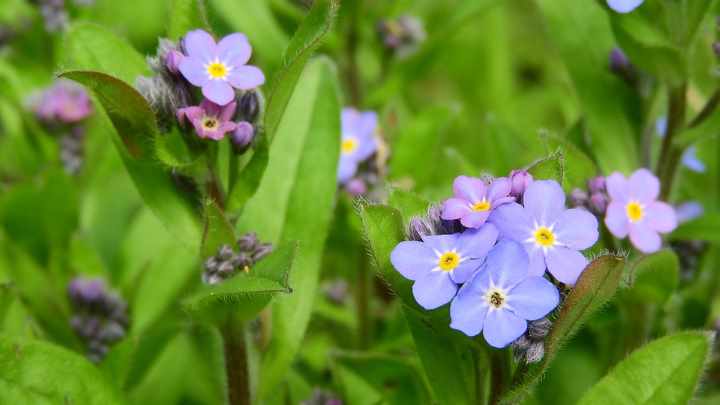 Common forget-me-not is a low-growing weedy plant with beautiful five-petalled bright bluish-purple flowers. The star-shaped blue or purple flowers have a yellow center and bloom in dense clusters in spring and summer. Forget-me-not plants are short-lived perennials that are often grown as annuals. They can grow 12" (30 cm) tall and self-seed prolifically.
Forget-me-nots are particularly problematic in moist, shady areas where they can quickly take over and outcompete other plants. Remove the plant as soon as you notice it growing in the spring. This helps prevent the weed from taking control of your yard. Also, eradicate existing plants before they go to seed to reduce the spread of forget-me-nots.
However, vigilance and perseverance are crucial for eliminating the purple weed completely to ensure the rapidly-spreading purple flowers don't return.
Related articles: