Types of Wisteria Plants: Trees, Vines, Chinese Wisteria, Japanese Wisteria (With Pictures)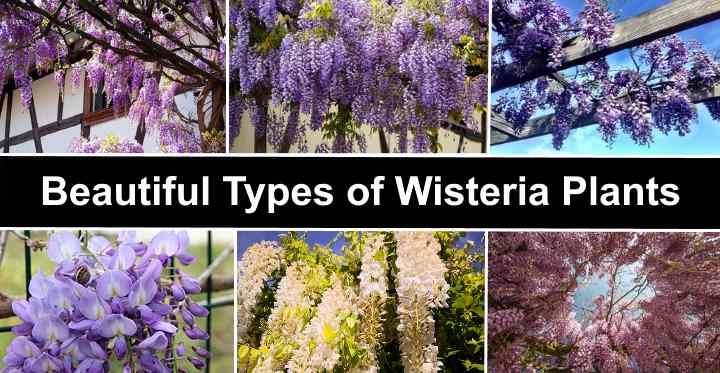 Colorful wisteria vines and trees are stunning flowering plants that bloom in beautiful hues of purple, pink, white, and lilac. The beautiful, scented clusters of wisteria flowers cascade from woody vines, filling garden landscapes with color and fragrance. Popular types of ornamental wisteria plants are American wisteria (Wisteria frutescens) and Asian wisterias—Japanese wisteria (Wisteria floribunda) and Chinese wisteria (Wisteria sinensis).
This article is a complete guide to the most stunning and colorful types of wisteria plants. You will find out about caring for this woody vining plant and how to fill your spring and summer gardens with vibrant colors.
What is Wisteria?
Wisteria is a genus of deciduous flowering climbing or vining plants, famed for their colorful pendulous flower clusters called racemes. Many wisteria plant species are fast-growing vines that can grow between 10 and 40 ft. (3 – 12 m). The long colorful wisteria flowers grow up to 24" (60 cm) long.
There are ten species of wisteria plants, all belonging to the legume family Fabaceae. The blooming vines are native to Japan, China, Korea, and the United States.
Types of Wisteria Plants
The main types of wisteria vines are the Asian and American varieties. Asian wisterias include the Japanese wisteria (Wisteria floribunda) and Chinese wisteria (Wisteria sinensis). The American wisteria vines include the American wisteria (Wisteria frutescens) and the Kentucky wisteria (Wisteria macrostachya).
The difference between American and Asian wisterias is that the Asian varieties tend to have showier, longer, and more colorful blooms. However, native American wisteria vines are not as invasive as the Asian varieties.
How to Care for Wisteria
To care for a wisteria vine, grow the climbing plant in full sun and well-draining, moderately fertile soil. Wisteria vines benefit from regular, heavy pruning to control their size and encourage purple, pink, and white flowers to bloom. Grow the climbing vine near a fence, pergola, arbor, or house wall for support.
When to Plant Wisteria
The best time to plant wisteria is in early spring or fall. During this time, the plant is dormant and suffers less stress when replanting. It is also easier to care for a container wisteria when planted in the ground if transferred during dormancy.
Where to Plant Wisteria
Plant wisteria vines in full sun at a south- or west-facing wall to ensure it flowers regularly. Choose a location with moist, fertile soil that drains well and has compost added. However, it's good to know that, once established, wisteria is a relatively drought-tolerant perennial vining plant.
Wisteria is a robust, sturdy vining plant that grows for many years. You will need to choose a location to plant a wisteria vine with strong enough support for a vast vine and masses of colorful flowers.
Many pictures of flowering wisteria vines show them on house walls. However, it's good to remember that the strong vines and roots can damage property. Also, once established, it's almost impossible to replant wisteria vines.
Wisteria plants also grow well in containers. Potted wisteria plants are restricted in size by the containers. So, you can enjoy the colorful dangling flower clusters even in small, compact gardens.
Pruning Wisteria
Wisteria plants are high-maintenance ornamental vines that require regular pruning. It's necessary to prune wisteria twice a year—in summer and late winter. Bi-annual pruning encourages an impressive floral display of purple, pink, or white flowers.
When trimming a wisteria in summer, cut back leggy growth to about 12" (30 cm) long. There should be about five or six leaves left on the stem. This type of wisteria pruning encourages flower buds to grow. Later in winter, trim the wisteria vines back to about three buds, or 4" (10 cm).
Until wisteria has covered the garden structure or wall, you don't need to prune it.
Wisteria Tree vs. Wisteria Vines
Wisteria is a species of woody vining plant that can be pruned and trained to grow as a tree. Growing a wisteria tree is an excellent way to enjoy the spectacular color displays of cascading racemes without supporting an enormous vine. To grow a wisteria tree, it's vital to support the main stem and regularly prune side shoots to build up an overhanging canopy.
Wisteria Flowers
Clusters of beautifully scented colorful flowers cascading from vines are the most recognizable feature of wisterias. The impressive flower displays turn garden landscapes into hues of purple, lilac, mauve, pink, and white. Wisteria flowering vines bloom in early spring and may persist until summer.
It's good to remember that you may have to wait a few years for newly-planted wisterias to explode into color. After getting established in the ground, wisterias bloom profusely every year with dangling purple, white, and pink racemes.
To encourage species of wisteria to bloom with masses of flowers every year, make sure the plant gets six hours of sunshine daily. Prune twice a year to encourage blooming and don't overwater or over-fertilize the wisteria vines.
Wisteria Color
Purple is the color most associated with wisteria flowers. However, Japanese wisterias, Chinese wisterias, and American wisterias have cultivars in various pastel hues. The most common wisteria flower colors are purple-blue, pink, lilac, and white.
Wisteria Leaves
Wisteria leaves are compound leaves made up of small, glossy green, smooth leaflets. Leaflets grow between 1" and 3" (2.5 – 7.5 cm) long and up to 1" (2.5 cm) wide. The pinnate wisteria leaves are 4" to 12" (10 – 30 cm) long and have 7 to 19 leaflets on each stem.
Being a deciduous plant, wisterias drop their leaves in the fall. Generally, their fall color is bright yellow to bronze-tinted yellow foliage.
There is an evergreen wisteria plant with the botanical name Millettia reticulata. However, this fragrant flowering perennial vine is not a true wisteria plant.
Wisteria Tree
A wisteria tree is a beautiful small blooming tree with drooping branches and cascading flowers when appropriately trained. Wisteria trees grow between 6 and 10 ft. (1.8 – 3 m) tall and up to 10 ft. (3 m) wide. Varieties of wisteria trees are relatively easy to grow in USDA zones 4 – 9.
Growing small wisteria trees in containers is another option to enjoy the scented purple or lavender flowers in your garden. Containers help manage the size of mature wisteria plants.
Wisteria trees are also popular bonsai trees. Wisteria bonsai trees are stunning miniature versions of the larger tree. With proper trimming, a stately wisteria bonsai produces dangling, small conical clusters of purple flowers.
Blue Chinese Wisteria Tree
The blue Chinese wisteria tree (Wisteria sinensis) is a spectacular specimen tree with cascading dark purple-blue, fragrant flowers. The unusual deep blue flowers create an eye-catching focal point in a spring garden. The fact that the drooping clusters appear before the leaves only adds to the stunning visual appeal of the blue wisteria tree.
Types of Wisteria (With Pictures)
Let's look in more detail at the most popular varieties of colorful wisteria vines and trees. Descriptions and pictures of wisteria plants will help you choose the best flowering vine for your garden landscape.
Chinese Wisteria (Wisteria sinensis)
Chinese wisteria (Wisteria sinensis) is a colorful perennial climbing plant with heavily scented spring and summer flowers. The wisteria blooms with cascading masses of violet, bluish-purple, white, or pink flowers. The fragrant colorful Chinese wisteria flowers grow up to 12" (30 cm) long and almost cover the plant's silver-gray stems when in full bloom.
The Chinese wisteria grows between 10 and 25 ft. (3 – 7.5 m) high in full sun. The fragrant purple, white, or pink flowers start blooming early spring and appear before the foliage. Blooming lasts for a few weeks until early summer.
Chinese wisteria has the longest-lasting blooms when compared to other wisteria species.
Leaves on the Chinese wisteria emerge as copper or bronze leaflets. The elongated ovate leaves grow between 7 and 13 leaflets on each pinnately compound leaf. The pointed leaves have smooth margins. The green summer foliage turns a soft bronze yellow in the fall.
After the flowers stop blooming, velvety bean-like seed pods appear dangling from the woody stems.
To grow Chinese wisteria, plant in full sun for best flower production. The wisteria grows best in moderately fertile soil that has medium moisture. However, the hardy perennial vine will withstand some drought periods.
Like all wisteria vines, the Wisteria sinensis looks stunning with its waterfalls of pendulous flowers decorating arbors, walls, pergolas, or fences. Or you can grow a Chinese wisteria tree as a beautiful specimen lawn tree.
You can tell Chinese wisteria vines apart from Japanese wisteria vines by their growth pattern. The gnarled Chinese wisteria stems grow in an anticlockwise direction, whereas Japanese wisteria grows, turns, and twists clockwise.
Japanese Wisteria (Wisteria floribunda)
The Japanese wisteria (Wisteria floribunda) is a deciduous vine producing masses of long, drooping clusters of purple, white or pink flowers. The long conical clusters of pea-like flowers grow up to 18" (45 cm) long. Japanese wisteria flowers fill gardens with sweet scents while adding plenty of pastel hues.
The Japanese wisteria grows between 10 and 30 ft. (3 – 9 m) tall. It's best to grow this wisteria variety in full sun and keep the ground moderately moist if you want plenty of flowers. Japanese wisteria cultivars thrive in USDA zones 4 – 9.
Like all wisterias, the Wisteria floribunda has pinnately compound leaves that grow between 12" and 15" (30 – 38 cm) long. Between 15 and 19 leaflets are arranged alternately on the long stalks. Emerging leaves are green with a reddish tinge, and they turn brilliant yellow in the fall.
Japanese wisteria cultivars also have flowering clusters in several colors. Some varieties of Japanese wisteria (Wisteria floribunda) have rose-pink, white, red-violet, or white and purple flowers. Some showy wisteria panicles (clusters) also consist of double flowers with an intensely sweet fragrance.
Japanese wisteria trees are potted wisteria plants that are suitable for small or compact gardens. The twisting, arching vines turn shades of purple or pink when in bloom from late spring until summer.
You can identify Japanese wisteria vines because of the gnarled silvery-gray vines that turn in a clockwise direction.
American Wisteria (Wisteria frutescens)
The American wisteria (Wisteria frutescens) is a woody vine with large aromatic clusters of showy purple or white flowers. The drooping conical flowering clusters grow up to 6" (15 cm) long and bloom in April or May after the leaves appear.
American wisteria vines thrive in USDA zones 5 through 9. The tall climbing stems can grow between 15 and 40 ft. (4.5 – 12 m) in full sun or partial shade. Although this is a drought-tolerant plant, it produces the most flowers growing in moist ground and full sun.
Leaves on the American wisteria are pinnately compound leaves, comprising of 9 to 15 leaflets. The shiny, dark green lanceolate leaves are arranged oppositely on stems.
To ensure rapid growth, it's necessary to prune established American wisteria vines every spring after flowering.
Compared to the Chinese wisteria, the Wisteria frutescens is less aggressive. The thin climbing stems grow quickly over arbors, pergolas, up house walls, or trellises. One way to tell native American wisteria vines from Asian wisterias is their seed pods—American wisterias have smooth, not fuzzy, bean-like pods.
Amethyst Falls American Wisteria (Wisteria frutescens 'Amethyst Falls')
The American wisteria cultivar 'Amethyst Falls' is one of the most popular ornamental wisteria plants. Less aggressive than Asian varieties, the 'Amethyst Falls' has beautiful cascading clusters of lavender-purple, lightly fragrant, pea-like flowers. The drooping racemes grow between 4" and 6" (10 – 15 cm) long.
'Amethyst Falls' wisteria vines are cold-hardy in USDA zones 5 – 9, growing in full sun and well-drained soil. As a fast-growing climber, this American wisteria cultivar grows between 8 and 25 ft. (2.4 – 7.6 m) tall and up to 15 ft. (4.5 m) wide.
Leaves on the 'Amethyst Falls' wisteria are small green pinnate leaves with lanceolate leaflets arranged oppositely on long stems.
After the American wisteria 'Amethyst Falls' has finished blooming, the purple flower clusters develop into coppery-brown seed pods. These shiny, smooth pods grow at least 3" (7.5 cm) long. In the fall, you may hear popping noises as the pods explode and fire out the bean-like seeds.
Kentucky Wisteria (Wisteria macrostachya)
The Kentucky Wisteria (Wisteria macrostachya) is a deciduous, twining vine with early-summer scented purple or white flower clusters. The conical racemes grow between 8" and 12" (20 – 30 cm) long and consist of fragrant pea-like flowers. However, you'll have to wait until the hardy plant is established before blooms appear.
The Kentucky Wisteria is one of the cold-hardiest wisterias. The non-invasive climber is hardy in USDA zones 4 through 9. This fast-growing climber twists around supports. The purple or white vines bloom best when growing in full sun. This climbing vine grows between 20 and 30 ft. (6 – 9 m) tall.
The Kentucky wisteria species used to be classed as a cultivar of American wisteria (Wisteria frutescens 'macrostachya'). However, due to its longer blooms and tolerance to freezing temperatures, the Kentucky wisteria is now classed as a separate species from the American wisteria.
The Kentucky wisteria blooms in early summer with purple or white panicles (flower clusters). Leaves on this wisteria species are characteristic of all wisteria vines—pinnately compound leaves comprising up to ten leaflets.
After blooming, long twisted olive-green seed pods appear at the end of summer.
Blue Moon Wisteria Vine (Wisteria macrostachya 'Blue Moon')
The 'Blue Moon' wisteria is a cultivar of the Kentucky wisteria (Wisteria macrostachya). Clusters of bluish-purple or lavender fragrant flowers characterize this wisteria variety. The aromatic flowers bloom in June, forming large dangling conical clusters up to 12" (30 cm) long, creating dramatic floral displays.
The 'Blue Moon' wisteria is a woody vining plant that can climb up walls, grow over trellises and pergolas, or be trained to grow as a specimen tree. The beautiful purple vine grows between 15 and 25 ft. (4.5 – 7.6 m) tall with a spread of up to 8 ft. (2.4 m).
Leaves on the 'Blue Moon' Kentucky wisteria are deep green pinnately compound leaves. Each leaf contains around nine ovate to lanceolate leaflets. The wisterias fall color is golden yellow before the leaves drop to reveal light gray twining, twisted vines growing in a counterclockwise direction.
An outstanding growth feature of the 'Blue Moon' wisteria vine is its prolific blooming. Growing in full sun, the flowering vines can bloom up to three times a season. The long-blooming time of 'Blue Moon' makes this a popular choice for adding color to summer gardens.
Another notable characteristic of the 'Blue Moon' wisteria plant is that it's a cold-hardy cultivar. The hardy perennial vine thrives in USDA zones 3 through 9, making it hardy to -40°F (-40°C). This purple flowering vine grows best in full sun and moist soil.
Learn how to grow and care for wisteria trees.
Related articles: