Florida Privacy Plants (With Pictures) – Identification Guide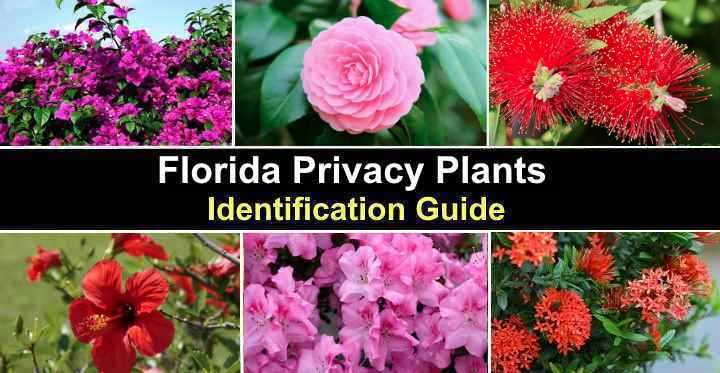 Privacy plants are an excellent choice for planting in a Florida garden. Shrubs and climbing plants with dense foliage provide a natural barrier for screening, increasing security and protecting your front or backyard. Whether you're looking for evergreen shrubs or flowering vines, there are plenty of options available that will thrive in the Sunshine State. By providing a tall, natural screen around your yard, you can also keep out prying eyes. 
Choosing the best privacy plants for Florida garden landscapes can be challenging. The bushy plants and climbers must tolerate year-long sunshine, high humidity, and coastal sea air. In addition, Florida has a diverse climate, with subtropical conditions in the south and central regions, and cold winters in northern Florida. 
The good news is that plenty of tall shrubs for screening yards are suitable for growing throughout Florida.
Some of the best privacy plants for Florida are gardenia (Gardenia jasminoides), bougainvillea, evergreen azaleas (Rhododendron), and Leyland cypress (Cupressus x leylandii) plants.
This article is an identification guide with pictures of some of the most popular varieties of plants with screening capabilities. In addition, you will find helpful tips on how to grow these privacy plants in tropical and subtropical climates. 
What are Florida Privacy Plants
Privacy plants are shrubs, trees, and vines that can be used to create a natural barrier or screen around a backyard. The shrubs or climbers should grow well along a fence line and have enough height to stop people from looking in your yard. Ideally, privacy plants should be at least 6 ft. (1.8 m) tall and have evergreen foliage. 
How to Choose the Best Privacy Plants For a Florida Garden
When choosing privacy plants for a Florida garden, there are several factors to consider. First, check the plant's sun, watering, and maintenance requirements. Most Florida privacy plants should be for full sun or partial shade. However, depending on your yard, you may need plants that tolerate the shade in Florida. 
Second, buy plants suitable for your USDA hardiness zone. For example, growing zones in Florida range from 8 and 9 in the Panhandle and north to 10 and 11 south of Lake Okeechobee and the Florida Keys. And if you live near the Gulf of Mexico or the Atlantic Ocean, then salt-tolerant shrubs for privacy are a must.
You can choose privacy plants with additional features depending on your privacy and security needs. For example, thorny shrubs can deter intruders from entering your property. Or you could plant evergreen flowering shrubs to add a pop of color and fragrance throughout the year.  
17 Florida Privacy Plants (With Pictures and Descriptions)
What are the best plants for screening to increase privacy around your property in Florida? Please read on to find out. 
Bougainvillea
Bougainvillea is the perfect landscaping solution for Florida gardens to bring a splash of bright color and increase the privacy of your outdoor space. This stunning woody vine thrives in central and south Florida. It has evergreen foliage, thorny stems, and masses of brightly colored flower-like bracts. The privacy plants flower throughout the year.
This sun-loving, densely growing plant grows 8 to 30 ft. (2.4 – 9 m) tall and wide. Suitable for USDA zones 10 to 12, it performs best in full sun and well-drained soils. In addition to planting bougainvillea for screening, you can use it to cover a fence, grow along a wall, or decorate arbors. 
Bougainvillea produces vibrant flowers in various colors, including deep purple, pink, orange, and yellow. 
Tropical Hibiscus (Hibiscus rosa-sinensis)
Tropical hibiscus is an exotic evergreen shrub, ideal as a privacy hedge or outdoor divider for Florida gardens. The outstanding feature of these heat-loving shrubs is their large trumpet-shaped flowers in spectacular shades of pink, magenta, white, yellow, and red. In addition, these tropical privacy shrubs have evergreen foliage consisting of large oval leaves. 
Tropical hibiscus thrives in warm climates like Florida. The flowering plants grow 8 to 10 ft. (2.4 – 3 m) tall and up to 6 ft. (1.6 m) wide. Not only does the evergreen foliage protects your yard from nosey neighbors, but the stunning floral display attracts pollinators and fills gardens with sweet scents. 
This fast-growing evergreen shrub is perfect for creating privacy barriers or outdoor dividers. It's tolerant of drought and can grow as a flowering hedge, foundation planting, or shrub border. 
Related reading: How to care for tropical hibiscus shrubs.
Viburnum
Viburnum is an evergreen flowering shrub that thrives in warm climates, making it suitable as a hedge in northern and central Florida. The dense, bushy shrub has glossy green foliage and produces clusters of white or pale pink flowers in the spring. These fragrant blooms are followed by bright red berries in the fall.  
Viburnum is native to Florida and grows 8 to 10 ft. (2.4 – 3 m) tall and wide, making it an ideal choice for privacy screening. In addition, the evergreen shrub is tolerant of drought and can be used as a foundation planting or shrub border. Most varieties are suitable for USDA zones 4 to 8; however, some cultivars perform well in zone 9.
Evergreen Azaleas (Rhododendron spp.)
Planting evergreen azaleas in a Florida garden landscape is an ideal solution to add spectacular floral displays and increase privacy. Their sprawling canopy with widely funnel-shaped showy flowers and lush evergreen foliage transform garden landscapes when blooming from late February through April. The funnel-shaped flowers bloom in purple, pink, white, orange, yellow and red shades.
Most azaleas thrive in north and central Florida, from Jacksonville to Orlando. However, a few azalea cultivars will perform well south of Tampa to Miami. The best evergreen azaleas for privacy grow 6 to 8 ft. (1.8 – 2.4 m) tall and wide. They are also low-maintenance flowering shrubs.
In addition to screening a yard, the shrubs work well as foundation plantings, specimen plants, or mass borders. 
The native azalea shrub in Florida is Chapman's azalea (Rhododendron chapmanii). 
Related Reading: Plants that grow throughout the year in Florida.
Cape Jasmine (Gardenia jasminoides)
Cape jasmine shrubs are spectacular white-flowering shrubs with glossy green, lanceolate leaves. The large evergreen shrubs with fragrant blooms are ideal for creating privacy screens in southern gardens. The shrubs flower throughout the year in warm climates and from late spring through summer in north Florida. 
Suitable for growing throughout Florida, cape jasmine is an evergreen shrub that grows 4 to 6 ft. (1.2 – 1.8 m) tall and wide. Although it's not a low-maintenance shrub, the repeated blooming and sweet floral scents make it worthwhile. 
Cape jasmine shrubs are suitable for growing in USDA zones 7 to 11 in full sun or partial shade. 
Leyland Cypress (Cupressus × leylandii)
Leyland cypress is an ornamental evergreen conifer tree and one of Florida's most popular privacy trees. Attractive features of this evergreen are its soft, lush, feathery foliage, rapid growth—up to 5 ft. (1.5 m) per year—and dense foliage. Thanks to its thick foliage, this conical bushy tree creates an impenetrable screen for any space around your property. 
Leyland cypress grows 35 to 50 ft. (10 – 15 m) tall and 15 to 25 ft. (4.5 – 7.6 m) wide. The conifers perform well throughout Florida, apart from the Florida Keys. Its blue-green foliage rarely needs pruning, unless you want to keep it to a manageable height. Leyland cypress trees create an excellent windbreak, privacy hedge, or tall living screen when grown in a line.
Wax Myrtle (Myrica cerifera)
The wax myrtle is a native evergreen shrub or small tree native to Florida. This versatile, easy-to-care-for shrub provides excellent attractive year-round foliage making it perfect for privacy screening. Identifying features of the shrub are its irregular vase-shaped crown, spatula-shaped leaves, and inconspicuous green flowers.
Wax myrtle multi-stemmed shrubs grow 15 to 25 ft. (4.5 – 7.6 m) tall and wide. Landscaping ideas for Florida yards include a privacy hedge, specimen plant, or container plant for a patio. Also called the southern wax myrtle or southern bayberry, the attractive shrub thrives in USDA zones 7 through 11. 
Ixora (Ixora coccinea)
The Ixora shrub is a native Florida evergreen plant famous for its large rounded clusters of red, orange, pink, and white tubular flowers. Apart from its spectacular flowers, ornamental features of this tropical perennial are its lanceolate leaves that emerge bronze, its densely branching habit, and its attractive shape. 
Depending on the variety, Ixora shrubs grow 10 to 15 ft. (3 – 4.5 m) tall and 4 to 10 ft. (1.2 – 3 m) wide. Its lush, dense foliage and compact habit make it ideal for privacy screening in outdoor areas around your property. Additionally, the shrub is tolerant of drought and salty air, making it an ideal landscaping solution in Central and South Florida.  
Camellias
Do you need a privacy plant for Florida that tolerates shade? If so, camellia shrubs are ideal for growing as background shrubs, privacy hedges, and container planting. Camellias are known for their glossy evergreen foliage and stunning showy pink, white, and red flowers. These attractive shrubs provide year-round interest in southeastern landscapes.
Camellia flowering shrubs thrive as far south as Lake Okeechobee. The best place to grow these privacy plants is in partial sun or full shade. These attractive ornamental shrubs grow 6 to 10 ft. (1.8 – 3 m) tall and up to 6 ft. (1.8 m) wide. You can plant them in your yard to increase privacy or as a screen to section off parts of your garden.
Other uses for camellia shrubs include foundation planting, creating a flowering shrub border, or planting at the front of the house to add curb appeal. 
Bamboo (Bambusa vulgaris)
Bamboo is an ideal landscaping solution for lining fences or creating privacy barriers on your property. Clumping bamboo is one of the best choices for growing as a privacy plant. The fast-growing ornamental grass will create a solid screen in a single season. And although not native to Florida, bamboo is non-invasive in the Sunshine State. 
Most varieties of clumping bamboo thrive in USDA zones 9 and 10. The tropical grasses can reach up to 20 ft. (6 m) tall. To create a privacy screen from clumping bamboo, you should plant them 4 to 6 ft. (1.2 – 1.8 m) apart. Then, very soon, you will have a thick green screen of lush tropical foliage. 
Clusia (Clusia guttifera)
Clusia is one of the most popular evergreen privacy plants in Florida. The fast-growing hedge plants are identified by their thick, leathery foliage that creates a dense natural screen. In the southernmost regions of Florida, the attractive Clusia shrubs may produce pale pink flowers in the summer. 
Small leaf Clusia (Clusai guttifera) grows up to 25 ft. (7.5 m) tall. Because of its low-branching habit, it's perfect as a heat-loving, sun-tolerant hedge plant to add privacy to your yard. Landscaping ideas using small-leaf Clusia shrubs include lush hedges, natural privacy barriers, and growing in containers as poolside planters.
Bay Laurel (Laurus nobilis)
Bay laurel is a large evergreen shrub with a dense growth habit, making it an ideal privacy plant. Bay laurel is known for its tough, aromatic ovate leaves, clusters of yellowish flowers, and glossy purple-black berries. This long-lived shrub is a great addition to southern gardens. 
Also called sweet bay laurel, the evergreen shrub grows 20 to 40 ft. (3.6 – 12 m) tall and wide. However, the shrub is easy to prune and doesn't require much maintenance. Apart from growing as a privacy hedge or screen, you can plant the shrub as a foundation planting or container plant in a herb garden. 
Boxwood (Buxus)
Several boxwood varieties are ideal privacy plants in north or central Florida. Features of boxwood that make them perfect for shielding your garden from view are its dense evergreen foliage, tightly-branched habit, and fast growth. In addition, evergreen shrubs like Korean boxwood can create tall yet narrow privacy screens.
Here are the best boxwood shrubs to grow a mid-sized to tall privacy hedgerow in USDA zones 6 to 9:
Variegated English boxwood (Buxus sempervirens 'Variegata') – a tall bushy shrub that grows between 5 and 8 ft. (1.5 – 1.8 m) tall and wide.
Common Boxwood (Buxus sempervirens' Dee Runk')

—This evergreen shrub has a columnar habit and grows up to 8 ft. (2.4 m) tall and 2 ft. (0.6 m) wide. 

Boxwood 'Fastigiata' (Buxus sempervirens' Fastigiata')

—An ideal shrub for creating a tall privacy screen up to 12 ft. (3.6 m) high. 
Eugenia (Syzygium paniculatum)
One of the best privacy plants for growing in southern Florida is Eugenia—also called brush cherry. This evergreen privacy plant is native to Florida. It is identified by its showy white flowers, reddish leaves that turn dark green, and dense foliage growth. It is easy to clip the shrub to form a privacy hedge. 
The versatile Eugenia plant can be grown in a hedge or container, making a great addition to large and small garden landscapes. The large shrub grows 12 to 20 ft. (3.6 – 6 m) tall and 8 to 15 ft. (2.4 — 4.5 m) wide. You can plant the shrubs in rows to screen off a backyard, giving you total privacy from nosy neighbors.
Jatropha
Jatropha is a tropical flowering privacy shrub with its dainty clusters of five-petalled red flowers. The two Jatropha species that thrive in central and south Florida are Jatropha multifida and Jatropha integerrima. Identifying features of the privacy plant are its star-shaped red flowers, large lobed leaves, and slender stems.
These fast-growing, evergreen shrubs offer a splash of color and privacy in Florida landscapes south of Lake Okeechobee. The easy-grow shrubs require minimal maintenance, and they thrive in heat, sunshine, and humidity.
Bottlebrush (Callistemon spp.)
The bottlebrush evergreen shrub is known for its showy flowers consisting of bright red fuzzy spikes—just like a bottle washing brush. The reasons why bottlebrush shrubs are excellent Florida privacy plants are their evergreen foliage and tolerance to heat, full sunshine, humidity, and salty air. Upright varieties of red-flowering bottlebrush shrubs are ideal as privacy screens. 
Most bottlebrush shrubs thrive in USDA zones 10 and 11, growing between 4 and 10 ft. (1.2 – 3 m) tall and wide. The attractive shrubs feature bright green foliage consisting of linear leaves and red, fuzzy flower spikes. Apart from growing as a flowering privacy screen, these shrubs are ideal foundation or border plants
Angel's Trumpet (Brugmansia)
Angel's trumpet is an excellent privacy plant with some of the most stunning flowers in Florida. The eye-catching feature of angel's trumpet shrubs is the fragrant funnel-shaped yellow or orange flowers that dangle en masse. These spectacular blooms can measure 6" to 24" (15 – 60 cm) long.
Angel's trumpet shrubs thrive in warm, sunny locations and are suitable for all areas of Florida. The tropical look of these shrubs will create stunning floral displays in any tropical residential landscape. Depending on the cultivar, the privacy shrubs grow 8 to 15 ft. (2.4 – 4.5 m) tall.
The large, fragrant flowers in shades of white, yellow, orange, and pink add a touch of elegance to any outdoor space. And the dense foliage creates ideal privacy in a southern garden. 
Related articles: