The Best Flowers For Trellis – Identification Guide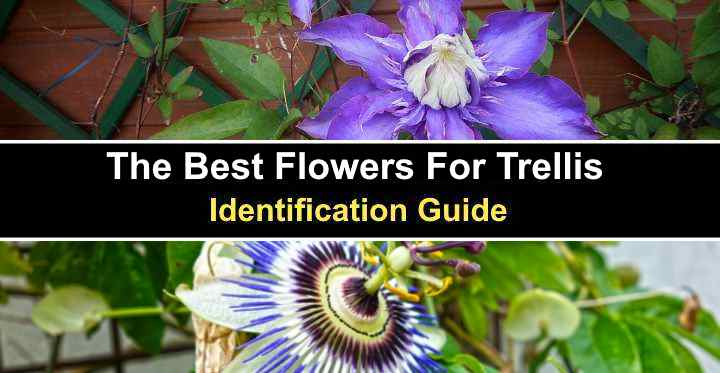 Flowering climbing plants that grow up a trellis can add stunning visual height to a garden landscape. The best flowers for a trellis bloom for a long time, and they grow on stems that have clinging tendrils or wrap around the trellis structure. Vining plants climbing a trellis also help cover walls, fences, and unsightly garden structures or help define borders on an outdoor space.
Using a trellis to support fast-growing flowering vines is an excellent way to landscape a front or backyard. The trellis can be a wall-mounted frame, a free standing obelisk, a lattice framework, a folding frame with trellis netting, or expanding bamboo or wooden framework. Whatever structure you use, a trellis allows beautiful plants to grow vertically and horizontally. 
Growing beautiful, fast-growing flowering vines allows you to accent an area of your garden, add more privacy, or encourage pollinators and other beneficial insects. In addition, adding vertical height helps maximize space in a small, compact garden without compromising on beauty.
What Are Flowers For Trellis?
Flowers for growing on a trellis are tendril climbers, twiners, or fast-growing vines that can cling to structures. The trellis supports vining plants and can be constructed from wood, bamboo, metal, plastic, or another material. The climbing plants cling to the open framework or lattice of interwoven supports to create a flowering foliage screen. 
How to Choose Flowers to Grow on a Trellis
When choosing flowers to grow on a trellis, it's crucial to consider four factors. These are your USDA growing zone, sun exposure, water requirements, and mature height. Choosing flowering twining or tendril vines with large leaves can add texture and create a dense privacy screen with attractive blooms. 
17 Best Flowers For a Trellis
Are you looking for climbing plants with beautiful flowers that can cover a wooden, plastic, bamboo, or metal trellis? If so, please continue reading to learn about the best annual, evergreen, and perennial vines for growing on a trellis. 
Flowering Morning Glory Vines (Ipomoea purpurea)
Morning glory is a beautiful flowering vine, ideal for adding bright green foliage and trumpet-shaped purple flowers to a vertical space. Morning glory flowers are characterized by their rich purple-blue color and white throats. These trellis flowers grow 2" to 3" (5 – 7.5 cm) long. The heart-shaped, luminous green leaves create a privacy screen.
The long vines of morning glory plants grow 6 to 10 ft. (1.8 – 3 m) tall and spread up to 6 ft. (1.8 m) vertically. In cold climates, this popular trellis plant grows as an annual vine. In contrast, it's an exotic, tropical perennial vine in warmer regions. The twining vine blooms continuously from early summer through early fall. 
Morning glory is suitable for growing in USDA zones 2 to 11. 
Firecracker Vine (Ipomoea lobata)
The firecracker vine is an attractive flowering climber, suitable for clambering up a trellis, support structure, or arbor. The stunning yellow, orange, and red tubular flowers and showy green leaves create a beautiful vertical accent in a landscape. This fast-growing climbing plant twines around trellis frameworks.
Firecracker vines are fast-growing annual twiners that are great for growing in full sun. In tropical regions, the red-flowering plants are perennial vines with long-season ornamental value. They grow 16 ft. (5 m) tall and spread 2 ft. (0.6 m) wide. Landscaping uses for firecracker vines include growing on a trellis, arbor, or along fences for vertical accent and privacy.
The vine gets its name from its long, tubular flowers that look like clusters of firecrackers on flowering spikes. It is also called the Spanish flag vine due to the flower colors resembling Spain's flag. 
This trellis flowering plant is suitable for growing as a perennial vine in USDA zones 9 through 11 and as an annual vine in cool climates in zones 2 through 8. 
Related reading: Fence landscaping ideas. 
Moonflower (Ipomoea alba)
Moonflower is an exotic and captivating annual vine that can quickly cover a tall trellis.  The stunning large, ivory-white blooms appear in the evening and persist until the sun's rays hit them the following morning. The large white flowers measure 3" to 6" (7.5 – 15 cm), and large heart-shaped leaves grow densely on twining stems.
With its spectacular flat white flowers, moonflower is a perennial vine in warm areas. However, its rapid growth means it grows 3 to 6 ft. (1 – 1.8 m) in a single season. The exotic vines grow best in full sun, evenly moist, well-drained soil. The white-flowering vine looks stunning on a tall trellis or obelisk.
The flowers are suitable for growing on a trellis outdoors throughout the year in USDA zones 9 through 11; however, they grow as an annual vine in a cooler climate. 
Flowering Clematis Vines
Flowering climatic vines are some of the best plants for climbing a wooden or plastic trellis. The flowers on these rambling plants are large, showy, star-shaped blooms in purple, pink, white or red shades. Other varieties of clematis vines have clusters of dainty bell-shaped flowers with recurved petals. 
Clematis vines are divided into several groups:
Evergreen clematis: Evergreen clematis vines have long-blooming flowers to add interest to a trellis or other support structure. These hardy, vigorous climbing plants bloom in winter with pretty star-shaped or bell-like small flowers.
These spectacular vines have an all-season interest because their leafy foliage persists throughout the year in zones 7 to 11. They grow 20 to 40 ft. (6 – 12 m) tall.
Reblooming clematis flowers: Clematis vines in the early large-flowered group have incredibly large blooms measuring 6" to 10" (15 – 25 cm) across. These beautiful climbing plants bloom in two phases—early spring and rebloom in late summer. 
Summer and fall-blooming clematis flowers: Clematis climbing shrubs in the Viticella groups have medium-size star-shaped flowers measuring 2" to 5" (5 – 13 cm across). These form the bell shape and bloom over a long period from summer through fall. Clematis blooms from this group easily grow over trellises, pergolas, arbors, fences, or arches. 
Suitable for USDA zones 4 to 11, these vigorous climbers grow 10 to 15 ft. (3 – 4.5 m) tall.
Related reading: Clematis flower care. 
Flowering Honeysuckle (Lonicera spp.)
Honeysuckle is a fragrant flowering plant for trellises. The ornamental features of honeysuckle vines are their colorful whorls of tubular flowers, fragrant blooms, and large green leaves, creating dense foliage. Due to their growth rate, fast-growing honeysuckles are ideal for covering a trellis due to their flowers that bloom throughout the season.
Depending on the species, honeysuckle vines grow 8 to 25 ft. (2.4 m – 7.5 m) tall with a spread of 6 ft. (1.8 m). The attractive white, yellow, pink, orange or red flowers add color to a spring and summer garden and attract hummingbirds, pollinators, and butterflies.
Easy to grow and tolerant of drought and most soil types, honeysuckle flowers on a trellis, arch, or arbor add ornamental value to a garden landscape.
Depending on the cultivar, honeysuckle flowers thrive in USDA zones 4 to 9.  
Passion Flowers for Trellis (Passiflora incarnata)
Passion vines are fast-growing trailing and climbing plants with exotic purple flowers. The colorful flowers look stunning on a freestanding plant trellis. The edible pink, purple, or white flowers have large pointed petals with a crown of wiry filaments in the center. In addition, the purple flowers have large conspicuous stamens in the center. 
Passion flowers grow well on trellises and similar supports in USDA zones 7 to 11. The purple-flowering vines, with their clinging tendrils, grow 10 to 30 ft. (3 – 9 m) tall. Passion flowers bloom from spring through fall in warm weather regions and late summer in cooler climates. 
Flowering Trumpet Vine (Campsis radicans)
The flowering trumpet vine is a vigorous, fast-growing deciduous climbing vine native to North America. The showy feature of this ornamental climbing plant is its trumpet-shaped flowers in vibrant shades of red, orange, or yellow. These funnel-like colorful blooms grow in clusters at the ends of woody branches. 
Trumpet vine flowers and stems attach to trellises with clinging tendrils. This allows the flowering plant to scramble or climb over tall pergolas, arbors, and arches or easily wrap around a freestanding obelisk. In addition, this great accent trellis plant has attractive bean-like seed pods and pinnate leaves with small oval leaflets.
Trumpet vines are heat, cold, and drought-tolerant trellis plants that thrive in zones 5 through 9. 
Crossvine – Trumpet Flower (Bignonia capreolata)
The trumpet flower, also called crossvine, is a beautiful flowering vine that looks stunning growing on trellises or arches. This self-clinging vine is identified by its long, trumpet-shaped flowers in summer that measure 2" (5 cm) long. The red, yellow, and orange flowers contrast nicely with the large lanceolate leaves to create a floral privacy screen or define an open space.  
The flowering vine is native to Florida and the southeastern US, thriving in USDA zones 6 through 9. The green stems and tubular flowers attach to trellises with twining tendrils with sticky tips. This climber has some of the most abundant clusters of flowers from any vine. The vine grows 30 to 50 ft. (9 – 15 m) tall. 
Perfect for training on trellises or arches, trumpet flowers are easy to care for. Additionally, the spreading stems make crossvine ideal for ground cover in full sun.
Black-Eyed Susan Vine (Thunbergia alata)
Brighten your trellis with orange and yellow flowers thanks to the black-eyed Susan vine. This beautiful climber produces clusters of large, orange, and yellow flowers with dark black or purple centers. The brightly colored five-petalled flowers bloom abundantly among luscious dark green heart-shaped leaves. Thanks to its fast climbing habits, it quickly fills a vertical space. 
Ideal for full sun in USDA zones 10 and 11, the black-eyed Susan vine is a vigorous climber growing up to 20 ft. (6 m) tall in warm winter regions. In temperate climates, the stunning orange-flowering vine grows as an annual, reaching 3 to 8 ft. (1 – 2.4 m) tall in a single growing season.
This climbing flowering plant for sunny walls or trellises blooms throughout summer until fall.
Carolina Jessamine (Gelsemium sempervirens)
The yellow-flowering Carolina jessamine is a charming, graceful, evergreen twining vine with beautiful blooms. Native to the southern United States, this climber has attractive 1.5" (3 cm) yellow star-shaped funnel flowers that burst into bloom in late winter. The bright flowers create a spectacular display on trellises with the lance-shaped foliage. 
Carolina jessamine grows 10 to 20 ft. (3 – 6 m) tall and thrives in full sun but also tolerates some shade. The showy yellow flower clusters bloom for almost the whole year. They attract pollinators and hummingbirds to gardens. The flowers' bright colors, dense foliage, and rapid growth make the vine perfect as a privacy screen growing over a lattice fence or wooden framework. 
Chocolate Vine (Akebia quinata)
The chocolate vine is a fast-growing flowering vine, ideal for covering a trellis. This vigorous grower is famous for its fragrant burgundy-purple flowers that give off a chocolatey aroma. Additionally, the bright green leaves turn violet-purple in the fall foliage. After flowering, the twining woody vine produces sausage-shaped purple seed pods.
Thanks to its clinging tendrils, the chocolate vine grows rapidly up trellises, lattice frames, or arbors. Performing well in USDA zones 5 to 9, the climbing stems with the wine-purple flowers and spicy aromas grow 20 to 40 ft. (6 – 12 m). Apart from decorating a trellis with dark purple flowers, the vines can grow as ground cover in shaded areas. 
Climbing Hydrangea (Hydrangea anomala petiolaris)
The climbing hydrangea is a beautiful flowering vine with masses of white, flat-topped lacecap flowers. The dark green foliage and bright flowers are perfect for adding color and texture to any trellis. Climbing hydrangea's large white flower clusters measure 8" (20 cm) across. And the heart-shaped dark green leaves add privacy screening to garden landscapes. 
Climbing hydrangea thrives in USDA zones 4 to 9, where the cold-hardy vine grows 30 to 40 ft. (9 – 12 m) tall. This flowering vine is one of the few climbers to thrive in the shade. Its self-clinging stems and dense foliage can cover fences, arbors, lattice supports, and large tree trunks. The popular climbing plant can also grow as ground cover in the sun or shade. 
Japanese Hydrangea Vine (Schizophragma hydrangeoides)
The Japanese hydrangea vine is a stunning flowering vine perfect for use on trellises, chain link fences, and stone walls. The climbing stems have sticky pads that attach to structures. The showy white flowers bloom throughout summer and perform well in full shade. In addition, the glossy heart-shaped leaves provide dense foliage to increase privacy. 
Japanese hydrangea vines thrive in USDA zones 5 to 8 and grow 15 to 30 ft. (4.5 – 9 m) tall and up to 10 ft. (3 m) wide. The hardy climbing plant also grows as mounding, fast-spreading ground cover in heavily shaded areas. 
Nasturtium Flowering Vine (Tropaeolum majus)
Nasturtium vine is an easy-to-grow flowering climbing plant vine with abundant cheerful yellow, orange, red, and apricot trumpet-shaped flowers. This fast-growing annual vine can quickly cover a lattice frame or wall or grow in a planter box with a trellis. Climbing nasturtium vines grow 6 to 10 ft. (1.8 – 3 m) tall.
There are several varieties of vining nasturtiums in various colors, each with edible blooms and beautiful foliage in the shape of parasol-like leaves. 
Star Jasmine (Trachelospermum jasminoides)
Star jasmine is famed for its stunning star-shaped flowers that emit sweet aromas. This beautiful and versatile vine, with its lush green foliage, fragrant white pinwheel flowers, and wiry, twining stems, is a popular privacy plant for trellises. The evergreen climber grows up to 20 ft. (6 m) tall and performs best in full sun or partial shade. 
Star jasmine fragrant white flowers bloom in late spring to fall. Another ornamental feature of the trellis flowering vine is its foliage which emerges bronze-purple and turns shades of red in cold weather. The flowers are perfect for growing on trellises, arbors, columns, pillars, or fences in warmer climates. 
Suitable for USDA zones 8 to 10. 
Scarlet Runner Bean (Phaseolus coccineus)
The scarlet runner bean is an easy-to-grow vining legume plant with bright red flowers, green leaves, and drooping bean pods. With their scarlet blossoms and heart-shaped leaves, the twining vines can be trellised and used as a privacy screen, garden divider, or to cover an unsightly fence.
The edible vining plants grow 6 to 12 ft. (1.8 – 3.6 m) tall and up to 5 ft. (1.5 m) wide. They are suitable for USDA zones 7 to 11; however, you can plant the flowering vines as an annual in cold climates. 
Sweet Pea Vine (Lathyrus latifolius)
Sweet pea is a beautiful, fast-growing flowering vine with showy, colorful blooms. The beauty of this annual vine is that it's light enough to grow on a free standing plant trellis. Sweet pea is a great choice for adding color to your garden, as it produces an abundance of fragrant flowers in shades of pink, purple, white, and red. The foliage is also attractive, with bright green leaves providing a nice backdrop for the colorful blooms.
The fast-growing perennial vine has long-lasting flowers and blue-green leaves on tendril stems. It grows 6 to 9 ft. (1.8 – 2.7 m) tall and 3 to 6 ft. (1 – 1.8 m) wide. Ideal for USDA zones 5 to 9 and full sun, sweet pea is a great plant to twine onto trellises. Or, you can allow the sprawling shrub to spread over the ground. 
Related articles: