Fast Growing Vines to Cover Fences and For Privacy (with Pictures) – Identification Guide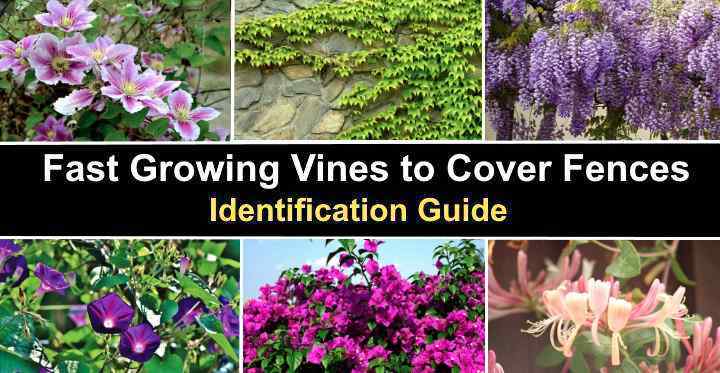 Fast-growing vines are an ideal landscaping solution for adding color, greenery, floral scents, and height to your garden. Climbing plants that have rapid growth scramble over walls or chain link fences or climb over trellises, pergolas, and arbors. Fast-growing vines are also excellent for adding height to a garden landscape and removing harsh lines between foundation plantings, lawns, flower beds, and manufactured structures.
One of the beauties of planting fast-growing vines in your backyard is that they require little maintenance. Native flowering vines climb or spread rapidly without becoming invasive or choking out other plants.
This article explores the best fast-growing flowering and evergreen vines for fences and privacy. These beautiful climbing and trailing plants will help to enhance curb appeal or add privacy to your backyard. Furthermore, descriptions and pictures of fast-growing vines will help you decide on plants that complement your landscape.
Why Choose Fast-Growing Climbing Plants for Fences?
Fast-growing climbing plants make attractive privacy barriers and cover unsightly fences. Flowering climbing plants with rapid growth quickly add visual interest to your outdoor space. Additionally, vining plants typically require minimal upkeep and are more affordable in comparison to many fencing options. They provide a lasting aesthetic appeal and beautify your backyard.
Many flowering fast-growing vines also add color and fragrant blooms, attracting hummingbirds and pollinators to spring and summer gardens. Additionally, a natural evergreen barrier created by vining plants acts as screening, protecting your backyard from prying eyes, wind, and noise.
How to Choose Fast-Growing Vines for Fences and Privacy
You should consider a few things when choosing suitable climbing plants for your backyard. First, check your USDA growing zone to ensure the vining plant is cold-hardy for your winter temperatures. Next, consider how much sun exposure and moisture the vining plant will get. Lastly, learn about how much maintenance the plant requires. Some non-native vines rapidly grow and can quickly take over your backyard.
What Are the Fastest Growing Vines?
The fastest-growing vines are typically climbing plants from the clematis, honeysuckle, and star jasmine varieties. These flowering vines can grow several feet annually and eventually reach between 30 and 50 ft. (10 – 15 m). Additionally, some species of clematis and star jasmine have evergreen foliage—ideal for privacy, screening, and covering a fence all year long.
Fast Growing Vines
Fast-growing climbing plants are perfect for adding visual height and depth to your garden. In addition, climbing vines help create privacy and hide unsightly garden structures, wooden fences, or chain link fencing. Instead, you have a natural wall of color in your garden.
Virginia Creeper (Parthenocissus quinquefolia)
Virginia Creeper is a fast-growing deciduous vine that is ideal for creating privacy. This creeper plant creates a mass of foliage, quickly covering fences or walls. The stunning vine has palmate leaves with five toothed leaflets that emerge purple in spring and turn green in the summer before becoming bright red in the fall.
The Virginia creeper grows 30 to 50 ft. (9 – 15 m) tall and up to 10 ft. (3 m) wide. The vine thrives in full sun to partial shade in USDA zones 3 to 11, making it suitable for covering fences or adding privacy to gardens throughout the United States.
When planting Virginia creeper vines to cover a wall or brick structure, it's vital to remember about the sticky tendrils. These have an adhesive-like substance, and they stick to walls. While they won't penetrate mortar or brick, they can pull parts of walls off when removing the vines.
Scarlet Runner Beans (Phaseolus coccineus)
The scarlet runner bean plant is an heirloom vine that can be used as a decorative privacy screen or to cover fences and arbors. This fast-growing vine has colorful reddish flowers, heart-shaped leaves, and edible beans growing in unusual purple seed pods measuring 1" (2.5 cm) long.
Fast-growing scarlet runner beans reach a height of 6 to 12 ft. (1.8 – 3.6 m) and spread 3 to 5 ft. (1 – 1.5 m). Suitable for growing in USDA zones 7 to 11, the vining bean plants thrive in full sun and moist, well-drained soil.
Fast-Growing Flowering Vines
Planting fast-growing flowering vines to climb up fences is an excellent way to increase privacy and boost aesthetics in a backyard. Here are some of the best flowering vines that have rapid growth.
Climbing Hydrangea (Hydrangea anomala subsp. Petiolaris)
Climbing hydrangea is a fast-growing climbing vine with dense, dark-green foliage, serrated lanceolate leaves, and attractive sprays of creamy-white flowers. This climber clings to fences, arbors, pergolas, and trellises by its aerial roots. The abundant white lacecap vine flowers bloom throughout summer.
Climbing hydrangea thrives in USDA zones 4 to 9 and grows 30 to 40 ft. (9 – 12 m) tall and up to 6 ft. (1.8 m) wide. The shade-loving flowering vine performs well in dappled sunlight or full sun, making it a highly versatile climbing vine. You can also grow this vining hydrangea as a sprawling shrub.
Related reading: How to care for hydrangea plants.
Clematis
Clematis flowering vines are famous for their showy blooms that blossom in a wide array of colors. Some clematis vines have impressive flowers with showy pink, star-shaped blooms measuring 5" to 10" (13 – 25 cm) across. Other clematis climbing plants have clusters of dangling bell-shaped flowers with recurved petals.
Clematis vines are some of the fastest-growing plants you can grow. The vigorous flowering vines grow 10 to 40 ft. (3 – 12 m) tall and 3 to 12 ft. (1 – 3.6 m) wide, depending on the variety.
Most varieties of clematis are suitable for growing in USDA zones 4 to 9 and in full sun. Flowers bloom in a variety of colors, ranging from deep pink to lilac, white, purple, and red.
Related reading: How to care for clematis vines.
White Trailing Fuchsia Vine (Fuchsia x hybrid)
A wide variety of trailing fuchsia plants have vining habits and are perfect for covering fences quickly. Fuchsia vines are known for their teardrop-shaped pink, white, purple or red flowers. These attractive flowers easily grow up a fence, arch, pergola, or trellis. The small dangling flowers add a pop of vibrant colors against lush foliage.
The fuchsia vine with white flowers has showy bell-shaped double flowers with conspicuous pinkish stamens. These pretty flowers grow in clusters on arching stems contrasting with sparse green foliage.
Fuchsia vines are typically suitable for growing in warm climates in USDA zones 9 to 11. However, it is possible to find cold hardy fuchsia plants with trailing vines suitable for hanging baskets.
Blue Morning Glory (Ipomoea purpurea)
Blue morning glory is a vigorous twining plant with eye-catching trumpet-shaped purple-blue flowers and velvety, heart-shaped leaves. The outstanding feature of morning glory is its long blooming period—from late spring until fall. In addition, its fast-growing, quick-climbing habit means the plant easily grows up fences, walls, trellises, and pergolas.
Blue morning glory thrives in USDA zones 2 to 11 in full sun. Its vigorous nature means the vine quickly reaches heights of 6 to 10 ft. (1.8 – 3 m) tall and up to 6 ft. (1.8 m) wide. Morning glory grows as an evergreen vine in warmer regions and as an annual in cooler climates.
Related reading: Varieties of purple-flowering vining plants.
Fast-Growing Vines to Cover Fences
Many types of sprawling vines and climbing plants grow well along fence lines. Here are some of the most beautiful flowering vines for fencing.
Climbing Roses (Rosa)
Climbing roses are easy to train to grow against a fence or wall to provide beautiful blooms throughout the summer. The outstanding feature of climbing roses is their fragrant double flowers that bloom in shades of red, apricot, peach, pink, orange, and white. Some of the most vigorous climbing roses grow 10 to 20 ft. (3 – 3.6 m) tall.
With a little training, climbing roses make a colorful addition to a garden landscape, growing on fences, arches, pillars, trellises, and walls. They are suitable for planting in USDA zones 5 to 10.
Rambler roses are another variety of rose shrub with long arching stems. These flowering shrubs produce large clusters of small, showy flowers in spring and summer. Compared to climbing roses, rambler roses are easier to train and grow to cover fences and arbors.
Wisteria
Wisteria is an eye-catching climbing vine with masses of drooping clusters of purple pea-like flowers. Blooming in late spring or early summer, woody wisteria vines have conical flower clusters measuring up 20" to 24" (50 – 60 cm) long. It has attractive golden yellow and bronze fall colors. And velvety finger-shaped seed pods appear in late fall.
Depending on the wisteria variety, flower colors can be lilac, purple, pink, or brilliant white.
Wisteria climbing plants are suitable for USDA zones 5 to 9. However, if you plan on growing the vines on a trellis, fence, or pergola, ensure the vine has plenty of support, as it can become heavy.
Related reading: Types of wisteria plants.
Hops (Humulus lupulus)
Hops is a cold-hardy fast growing perennial vine that forms a privacy screen as it climbs fences, pergolas, and walls. The screening value of hops foliage is from the large chartreuse leaves with several lobes and serrated edges. Fragrant flowers appear in late summer, followed by papery fruits in fall.
Hops thrive in colder climates in USDA zones 3 to 8. The attractive, decorative vines grow 15 to 25 ft. (4.5 – 7.5 m) tall and up to 6 ft. (1.8 m) wide. Their fast growth means that hops quickly cover unsightly structures and form excellent privacy barriers from spring until late fall.
Honeysuckle (Lonicera)
Honeysuckle is one of the fastest-growing flowering vines with showy clusters of colorful tubular flowers. Ornamental features of this fence-friendly vine are its vibrant trumpet-shaped flowers, lush dark green lanceolate leaves, and bluish-black berries. Honeysuckles can grow 20 to 25 ft. (6 – 7.6 m) high and 6 to 8 ft. (1.8 – 2.4 m) wide.
The vigorous growth of flowering honeysuckle vines means they easily cover fences, retaining walls, arches, or trellises. Their lush foliage and fragrant, colorful flowers add charm to a garden landscape. And despite their fast growth, native honeysuckles are not an invasive species.
Honeysuckle flowering vines are suitable for growing in USDA zones 4 through 9 and fertile, well-drained, fertile soil in full sun.
Japanese Honeysuckle (Lonicera japonica)
Japanese honeysuckle is a vigorous, twining flowering vine with white tubular blossoms that give off an intensely sweet fragrance. The vining plant quickly covers walls, fences, and other structures. It has densely growing foliage of dark green leaves, attractive white flowers, and glossy black berries.
The sun-loving vine grows 15 to 30 ft. (4.5 – 9 m) tall and up to 6 ft. (1.8 m) wide. It is cold-hardy in USDA zones 4 to 9. However, it's good to note that Japanese honeysuckle is considered an invasive plant species in some places.
Bougainvillea
Bougainvillea is one of the most beautiful fast growing tropical flowering vines you can grow in warm climates, with flower colors ranging from purple to pink, as well as red, orange and white. The eye-catching flowers on this ornamental woody vine are colorful bracts or leaf-like structures.
Bougainvillea vines blossom in full sun in zones 9 through 11. The fast growing large shrubby vines spread along walls, climb up trellises, and cover arbors. The evergreen, colorful vine grows 8 to 40 ft. (2.4 – 12 m) tall and wide.
Crossvine (Bignonia capreolata)
Crossvine is a spectacular flowering vine known for its lush foliage and showy red, yellow, and orange flowers. In addition, the fast-growing, self-clinging vine is one of the most floriferous climbing plants. It is covered in clusters of brightly-colored funnel-shaped flowers from spring through summer, followed by dangling seed pods in the fall.
Crossvine woody vines thrive in USDA zones 6 to 9. Their vigorous growth means the climbing plants can quickly cover walls or fences within one or two seasons. This feature makes crossvine plants ideal for creating a privacy barrier or hiding unsightly garden structures.
Crossvine plants grow 30 to 50 ft. (9 – 15 m) tall and 6 to 9 ft. (1.8 – 2.7 m) wide.
Fast-Growing Vines For Privacy
Evergreen climbing plants are perfect for screening a backyard as they don't lose their leaves in winter. The evergreen foliage provides year-long privacy and helps to protect yards from noise, nosy neighbors, and strong winds.
Evergreen Clematis
Evergreen clematis is a group of fast-growing flowering vines with foliage that stays on the climber all year long. These vigorous vining plants bloom profusely from late winter through summer. The vines have abundant clusters of star-shaped flowers in shades of white, green, and pink.
Evergreen clematis flowering fines thrive in USDA zones 7 to 11, full sun or partial shade, and well-drained, moist soil. These quick-growing vines grow 20 to 40 ft. (6 – 12 m) tall and 10 ft. (3 m) wide.
Star Jasmine (Trachelospermum jasminoides)
Star jasmine is an evergreen vine that is a popular choice for decorating fences, walls, and trellises. The outstanding features of star jasmine are its fragrant, dainty, pinwheel white flowers and glossy green leaves. Its climbing nature means the vine scrambles over fences to create attractive privacy screens or hide brick and concrete structures.
Star jasmine, with its beautiful star-shaped white flowers, thrives in USDA zones 8 to 10. The evergreen vine grows 10 to 20 ft. tall and wide (3 – 6 m).  You can also let the spreading stems grow across the ground for white-flowering ground cover.
Carolina Jessamine (Gelsemium sempervirens)
Carolina Jessamine is a yellow-flowering evergreen climbing plant that adds color and beauty to fencing and walls. This spectacular vine has attractive golden-yellow, funnel-shaped flowers growing in large clusters on the ends of arching stems. The climbing vine easily scrambles over garden structures, fences, or trails along the ground as yellow-flowering ground cover.
Carolina Jessamine is suitable for planting in USDA zones 7 to 10. The climbing plant grows 10 to 20 ft. (3 – 6 m) tall and 6 ft. (1.8 m) wide.
Fastest Growing Vines
The fastest-growing vines allow you to achieve your landscaping goals in super quick time. Apart from clematis and honeysuckle, here are two of the most popular flowering vines with "lightning-speed" growth.
Chocolate Vine (Akebia quinata)
The chocolate vine is one of the fastest-growing flowering vines and grows two to three feet (0.6 – 1 m) per season.  The climbing plant quickly covers walls and fences. Its flower and foliage decorate fences with unusual burgundy-red to deep purple blooms, bright green evergreen leaves, and sausage-shaped purple seed pods.
Suitable for USDA zones 5 to 9, the chocolate vine grows 20 to 40 ft. (6 – 12 m) tall. The hardy vine thrives in full sun or shade, making it exceedingly versatile for landscaping a backyard. Apart from quick screening for fences, trellises, and walls, you can plant it as ground cover for full shade.
Trumpet Vine (Campsis radicans)
The trumpet creeper vine is a native flowering climbing plant in North America. The woody climber is known for its showy trumpet-like orange or red flowers that grow abundantly in large clusters. The long-lasting tubular flowers contrast nicely with the small shiny, dark green leaves. After blooming, the orange-red flowers are followed by bean-like seed pods.
Trumpet vine is suitable as a fence-covering climbing plant in USDA zones 5 to 9. The stunning vine climbs and scrambles by attaching its stems with aerial rootlets. With its beautiful flowers, this vine grows 20 to 40 ft. (6 – 12 m) tall and up to 10 ft. (3 m) wide. It also grows as a vigorous full-sun ground cover plant.
Related articles: