17 Florida Hedge Plants (With Pictures) – Identification Guide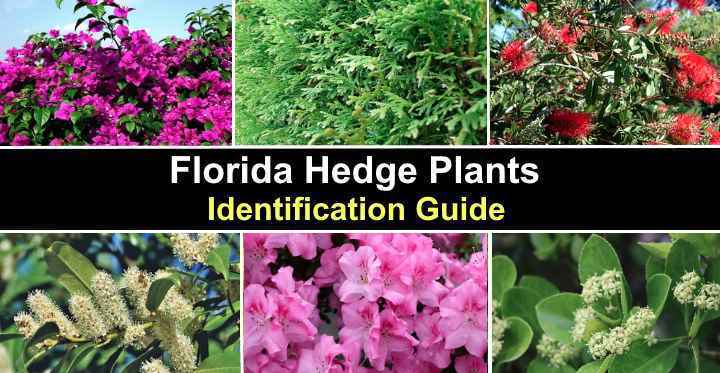 Hedge plants for landscaping a Florida garden help to increase privacy, improve its aesthetics, and act as a noise barrier. However, finding the best plants to grow as a hedge in Florida is challenging. Florida's unique climate means that hedge plants should tolerate humidity, full sunlight, coastal air, and periods of drought.
The good news is that there are plenty of options if you want to plant a hedge in Florida. Many fast-growing shrubs and bushes are well-suited to Florida's growing zones and climatic conditions. Some are evergreen plants that maintain privacy around your property throughout the year. In addition, many ornamental plants suitable for southern hedges are low-maintenance and require little care.
In this article, you will learn about the best native plants for growing a hedgerow if you live in Florida. In addition, descriptions and pictures of low-maintenance landscaping plants will help you choose the best type of shrub to plant around your yard. 
What Are the Best Florida Hedge Plants For Privacy
The best plants to grow for privacy in Florida are fast-growing, evergreen plants that tolerate at least six hours of sunlight. Some examples of hedge plants for privacy in Florida are English laurel, Florida boxwood, Leyland cypress, clusia, and cape jasmine – all have dense evergreen foliage and rapid growth and are perfect for growing as a hedge. 
When looking at a list of plants for growing as a natural screen in the southeast, it's important to consider Florida's growing zones. Northern and central Florida are typically USDA zone 9. In contrast, southern Florida is in zones 10 and 11. Some Florida-friendly plants also thrive in coastal regions and sandy soil.
Fast-Growing Hedges For Florida
Planting fast-growing hedge shrubs helps you achieve landscaping goals faster. So what are some of the fastest-growing plants suitable for Florida? Among the fast-growing Florida hedge plants are wax myrtle shrub, viburnum, English laurel, and thuja 'Green Giant.' These rapidly-growing plants add 1 to 2 ft. (0.3 – 0.6 m) of height annually.
How to Choose Privacy Hedge Plants For Florida
Before planting evergreen shrubs as a hedge or screening plant, it's vital to consider local conditions. The perfect plants for hedges should withstand full sun, grow in poor soil, and require little maintenance. Also, growing hedges in North and Central Florida (zone 9) require them to withstand cold and frosty winters.
But suppose you live south of Lake Okeechobee. In that case, you should select shrubs from a list of plants suitable for USDA zones 10 and 11.
17 Florida Hedge Plants (With Pictures)
Let's look in more detail at a wide range of deciduous and evergreen shrubs suitable for growing a hedge around a Florida landscape.
English Laurel (Prunus laurocerasus)
English laurel is a popular hedge plant in North and Central Florida due to its rapid growth and tolerance for drought, sun, salt, and cold winters. The features making English laurel suitable for a hedge or screen are its wide spread, dense evergreen foliage, glossy leaves, and adaptability for sun or shade. English laurel is also one of the fastest-growing hedge plants. 
Also called cherry laurel, this evergreen hedge plant grows 10 to 20 ft. (3 – 6 m) tall and up to 11 ft. (3.5 m) wide. Other landscaping features of English laurels are clusters of white flowers blooming in spring, glossy green, leathery leaves, and black cherry-like fruits. 
Portuguese Laurel (Prunus lusitanica)
Portuguese laurel is a perfect plant to grow as a hedge in a Florida landscape. The evergreen shrubby plant has glossy dark green leathery leaves, reddish stems, white flower clusters, and small red berry-like fruits. Suitable for USDA zones 4 to 9, this plant is ideal for screens, windbreaks, and hedges.
Portuguese laurel has a dense, spreading, bushy habit — perfect for hedges in North and Central Florida. The shrub grows 25 ft. (7.5 m) tall and 15 ft. (4.5 m) wide. This drought-tolerant plant thrives in full sun and well-drained chalky, or sandy soils. Additionally, it is tolerant to wind, sun, and heat. 
Thuja Green Giant (Thuja plicata x standishii 'Green Giant')
The arborvitae cultivar 'Green Giant' is a cold-hardy hedge plant suitable for growing as an evergreen hedge in North Florida. This majestic thuja has a conical to pyramidal habit. The shrub-like tree has dense foliage consisting of soft sprays of shiny green leaves. It can grow 40 to 60 ft. (12 – 18 m) tall and wide.
The fast-growing 'Green Giant' grows at a rate of 5 ft. per year (1.5 m). However, if you need a smaller variety, the cultivar to grow a living fence in Florida is the dwarf arborvitae Thuja plicata x standishii 'Virginian.' This compact shrub grows up to 15 ft. (4.5 m) tall. 
Landscape uses in northern Florida for the thuja 'Green Giant' include privacy hedges, windbreaks, noise screens, or as an accent plant.
Florida Boxwood (Schaefferia frutescens)
One of the most popular hedge plants in residential Florida gardens is the native plant, Florida boxwood. This small to medium-sized fast-growing evergreen shrub is suitable for South Florida in USDA zone 10 and 11. It is characterized by yellowish-green lanceolate leaves, dense foliage, and clusters of small white flowers. 
The native Florida boxwood grows 15 to 25 ft. (4.5 – 7.6 m) tall and 10 to 15. ft. (3 – 4.5 m) wide. The shrub grows well in part sun and shade and tolerates sandy or loamy, well-drained soil. It's ideal for a privacy screen because its dense evergreen foliage remains throughout the year. 
Other landscaping uses in southern Florida yards include a foundation plant, a border plant, or a buffer strip. 
Clusia Bush (Clusia guttifera)
Clusia is an excellent privacy plant with shrub-like growth for growing a dense hedge in southern gardens. The heat-loving, sun-tolerant, low-branching shrub grows 20 to 25 ft. (6 – 7.5 m) tall and wide. However, it's easy to prune and maintain around 5 to 10 ft. (1.5 – 3 m) tall.
A clusia hedge is characterized by its dense foliage consisting of small glossy, waxy, leathery leaves, a rounded crown, and red peeling bark. Once established as a hedge, clusia tolerates salty air, drought, and poor soil. It also has excellent pest resistance in southern Florida's warm, humid climate. 
Eugenia (Syzygium paniculatum)
Eugenia is a popular hedge plant in central and southern Florida due to its excellent heat tolerance and dense, evergreen foliage. This attractive shrub has rapid growth and is easy to maintain at 5 or 6 ft. (1.5 – 1.8 m) tall. It is ideal for hedging both large or small, compact gardens.
Eugenia is popular in southern gardens because of its creamy powder puff flowers, attractive foliage, and small red berries.
Apart from planting as a flowering hedge, other landscaping uses for Eugenia include the following: 
Screening to hide unattractive areas

Increasing privacy from nosy neighbors

Using it as a noise barrier
Additionally, because of its shallow root system, it's an excellent foundation plant. 
Jatropha
Jatropha is a spectacular shrub to grow as a flowering hedgerow in Central and South Florida landscapes. The evergreen foliage consists of lobed leaves contrasting with showy red or pink five-petalled flowers. The hedge plant is easy to maintain at 5 to 8 ft. (1.5 – 2.4 m) tall with regular pruning.
One of the attractive features of a jatropha hedge is that it blooms constantly. This outstanding shrub attracts butterflies and pollinators and keeps a pop of red color throughout the year in a southeastern landscape. It is ideal as an evergreen hedge, privacy screen, entryway accent, or to hide unsightly garden features. 
Viburnum Shrubs for Privacy
Several viburnum shrub varieties are ideal if you want to plant a flowering hedge in North Florida. Viburnum shrubs are known for their showy foliage of glossy green leaves and spectacular clusters of white flowers followed by red or black berry clusters. In addition, Viburnum hedges provide an attractive privacy screen for your front garden. 
Viburnum shrubs grow 4 to 10 ft. (1.2 – 3 m) tall, depending on the species. The best cultivars for growing a deciduous hedge in northern Florida include the following:
Sweet Viburnum (Viburnum odoratissimum) — This shrub is suitable for full sun in USDA zones 7 to 9. 
Sandankwa Viburnum (Viburnum suspensum) — Grow the plant in North Florida as a hedge growing in the shade.
Chindo Sweet Viburnum (Viburnum awabuki 'Chindo') — This is an evergreen variety suitable as a hedge or screen in northern Florida.
If you want to grow an evergreen viburnum hedge in southern Florida, choose the ornamental viburnum shrub Laurustine (Viburnum tinus). This is suitable for growing in full sun in USDA zones 8 to 10.
Wax Myrtle (Myrica cerifera)
The wax myrtle is a beautiful evergreen Florida native plant suitable for growing as a hedge throughout Florida in zones 7 to 11. The shrub-like tree is characterized by light olive-green leaves, small tubular flowers, and bluish-white drupes. The wax myrtle also has delightful aromatic leaves and extremely fragrant flowers, giving the shrub year-long landscaping value. 
Wax myrtle grows 20 to 25 ft. (6 – 7.6 m) tall and up to 10 ft. (3 m) wide. The hedge plant thrives in most regions of Florida — from the Panhandle in the north and south to West Palm Beach, Naples, and Miami.
In addition to being a great hedge plant, wax myrtle is also used for screening, as a noise barrier, or as a small ornamental tree. 
Leyland Cypress (Cupressus × leylandii)
Leyland cypress is a coniferous tree used as a hedge, privacy screen, windbreak, or noise barrier in North, Central, and South Florida. The evergreen conifer grows rapidly and has sprays of soft green scaly leaves growing on reddish-brown branches. Suitable for Florida's growing zones 6 to 10.
The Leyland cypress is one of the fastest-growing coniferous trees for use as a hedge plant. The majestic tree grows between 60 and 70 ft. (18 – 21 m) tall and 10 to 15 ft. (3–4.5 m) wide. It also has an impressive growth rate of 3 to 4 ft. (1 – 1.2 m) per year.
Its dense foliage makes Leyland cypress the perfect choice to create a secluded or private backyard. 
Fast-Growing Hedges For Florida
Fast-growing flowering shrubs make excellent hedges to add beauty, color, floral scents, and texture to a southern landscape. So which are the best plants with flowers and shrubby growth suitable for Florida landscapes? Please read on to find out. 
Azaleas
Azaleas are attractive evergreen hedge plants that grow rapidly in North and Central Florida. Florida azalea shrubs are known for their showy flower clusters, sprawling growth habits, and attractive evergreen foliage. There are many varieties of tropical azaleas to choose from to create a beautiful informal hedge that flowers in late winter and early spring. 
Most Florida azaleas thrive in USDA zones 4 through 9. The small flowering shrubs for Florida gardens grow 3 to 8 ft. (1 – 2.4 m) tall and wide. Depending on the species, you can enjoy blooms of pink, yellow, red, white, and lilac flowers. 
Choose an azalea cultivar from the Encore series to grow a flowering hedge in southern Florida in growing zone 10.
Bottlebrush (Callistemon spp.)
The bottlebrush is a tropical, fast-growing shrub with unusual red flowers that look like cylindrical bottle-cleaning brushes. The evergreen shrub features lance-shaped aromatic leaves growing on elegantly arching branches. Additionally, the fuzzy-looking red flowers give off a lemony aroma. Bottlebrush shrubs are suitable for growing in southern Florida.
Bottlebrush plants growing as a hedge in Florida grow between 3 and 6 feet (1 – 1.8 m) tall. The shrub is known for its exotic flowers that bloom in Florida throughout spring and summer. Its landscape uses for tropical yards include foundation planting and growing in containers.
Cape Jasmine (Gardenia jasminoides)
Cape jasmine is an attractive white-blooming shrub with rapid growth in Florida landscapes. The evergreen shrub produces beautiful white blooms contrasting with glossy dark green leaves and small orange berries. The attractive hedge shrub also has long blooming times — blooming throughout the year in southern Florida.
Cape jasmine is a versatile plant, hardy in USDA zones 8 through 11. The beautiful ornamental shrubs grow 3 to 6 ft. (1 – 1.8 m) tall and wide. These tropical bushes are excellent for creating flowering privacy screens or hedges around your property.
Paradise Plum (Chrysobalanus icaco)
The paradise plum is a low-growing deciduous shrub ideal for landscaping in Florida because it grows rapidly and requires little maintenance. Paradise plum shrubs are identified by their leathery oval leaves, clusters of small greenish-white flowers, and rose or dark-purple edible drupes. 
Paradise plum shrubs grow 3 to 10 ft. (1 – 3 m) tall. The native plants are suitable for Florida growing zones 10 to 12 and perform best in full sun or light shade. 
Bush Allamanda (Allamanda schottii)
The allamanda bush is a fast-growing tropical shrub suitable for use as a hedge in South Florida. This Florida hedge plant is characterized by its bright yellow trumpet-shaped flowers, dark green lanceolate leaves, and relatively low growth.
The landscaping shrub grows 4 to 5 ft. (1.2 – 1.5 m) tall and wide. It's suitable for Florida growing zones 10 and 11 in full sun and well-drained, moist soil. 
Bougainvillea
In Central and South Florida, you can plant Bougainvillea to create a spectacular hedge with bright colorful flowers. In warm climates, this evergreen shrub blooms periodically throughout the year. However, the fast-growing vining shrubby plant requires some support to grow as a hedge or privacy screen. 
Bougainvillea has spiny thorns covering its woody stems. The sun-loving, rapidly-growing vining shrub grows 8 to 30 ft. (2.4 – 9 m) tall and wide. Apart from using it as a hedge in tropical landscapes, you can use the shrub as flowering ground cover, wall-side borders, or growing over a trellis or arbor. 
Suitable for USDA zones 10 to 12.
Oleander (Nerium oleander)
Oleander is a fast-growing, tall bushy evergreen shrub that thrives in northern, central, and southern Florida. Its upright growth and dense branching make it ideal for a privacy screen or flowering hedge. The tropical shrub has long, lance-shaped, dark green leaves and funnel-shaped blooms in colors of orange, pink, red, white, and yellow. 
Oleander shrubs grow 6 to 20 ft. (1.8 – 6 m) tall and up 10 ft. (3 m) wide. It thrives in USDA zones 8 through 10. Apart from being used as a hedge, oleander shrubs are ideal for hiding eyesores, keeping out unwelcome guests, or covering chain link fences. 
A consideration when planting oleander shrubs is that all parts of the plant are toxic if ingested. Therefore, it's a good idea to keep the plants away from children's play areas or where pets could nibble the leaves.
Related articles: