Types of Bluebell Flowers (with Pictures) – Identification Guide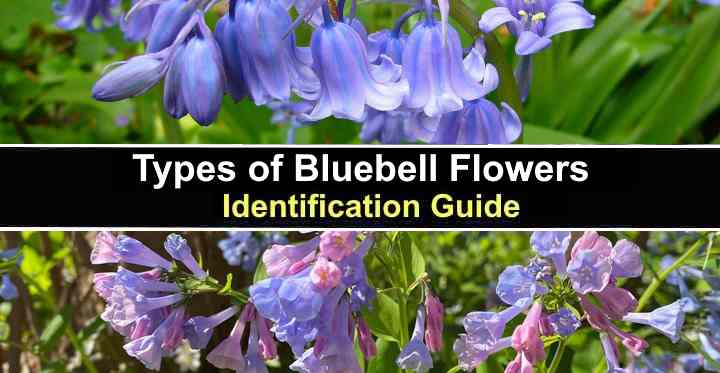 Bluebells are a type of clumping wildflower famed for their nodding bell-like flowers in vibrant blue and purple shades. Bluebell flowers usually grow in woodland areas, and they are popular for adding a splash of purple, blue, indigo, and lilac colors to garden landscapes. The low-growing blue-flowering plants appear in early spring and sometimes last until early summer.
This article is a guide to identifying different types of bluebell flowers. Descriptions and pictures of various bluebell species will help you recognize and appreciate the beauty of these delicate and vibrant flowers.
How to Identify Bluebells
Bluebells are easily recognizable by their gracefully arching stems with downward-facing bell-shaped violet-blue flowers. The flowering stems, with their drooping sweetly fragrant flowers, grow 12" to 24" (30 – 60 cm) tall. Bluebell leaves are strap-shaped and form clumps around the flowering stems.
When Do Bluebells Flower?
Bluebells typically flower in late spring, from April to early May, depending on the region and local climate. The spreading ground cover plants create a vibrant carpet of blue color in woodlands. Bluebells typically signal the arrival of spring.
Do Bluebells Come Back Every Year?
Bluebells come back every year. They are perennial plants, which means their lifecycle extends for several years. After blooming in late spring, they die back, with their bulbs remaining dormant underground until the following spring when they reemerge and bloom again. This makes them a reliable and low-maintenance choice for gardens and natural settings.
Types of Bluebell Flowers
Let's look in detail at the different varieties of bluebells—native and non-native—to help identify them.
English Bluebell (Hyacinthoides non-scripta)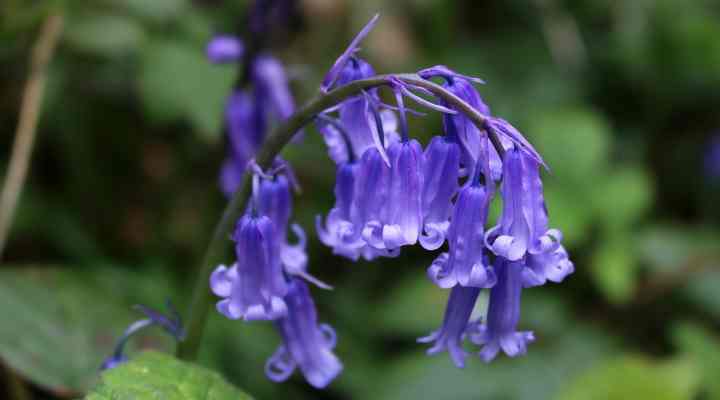 English bluebells are a beautiful wildflower, identified by tubular, bell-shaped nodding purple-blue flowers. This vigorous bulbous perennial blooms in mid to late spring with sweetly scented flowers, four to 16 blue tubular flowers dangling from arching stems. English bluebells also have clumps of grass-like, linear leaves that contrast with the violet-blue flowers.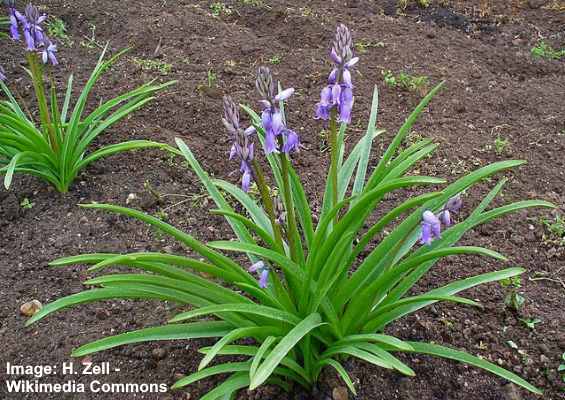 English bluebells are native to the United Kingdom but are well-suited for growing in USDA zones 4 to 10. They prefer moist, well-draining soil and partial to full shade. The spreading clumps grow 12" to 18" (30 – 45 cm) tall and spread up to 6 ft. (1.8 m).
Also called the common bluebell, wild hyacinth, and bell bottle, the spring flowers are perfect for planting in woodland gardens, shade gardens, underplanting shrubs, blue-flowering ground cover for shade, or under trees. You can also grow them in containers or use them as cut flowers.
These low-maintenance plants will naturalize over time, creating a carpet of colorful blooms. Despite being vigorous growers and native to Europe, they are not invasive flowers in North America.
Scottish Bluebell (Campanula rotundifolia)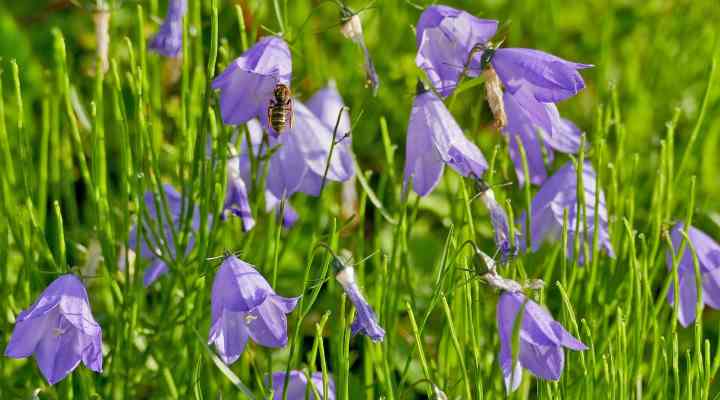 The Scottish bluebell is a delicate, charming perennial plant with blue-violet bell-shaped flowers. Pretty purple-bluish flowers dangle in clusters or singly at the end of slender, thin stems. The bell-shaped flowers bloom from late spring and throughout summer. Scottish bluebells grow 12" to 18" (30 – 45 cm) tall and up to 12" (30 cm) wide.
Also called harebell, blawort, and heath bells, the attractive nodding bluebell flowers dance on summer breezes. Unlike common bluebells, Scottish bluebells thrive in full sun and partial shade. However, they require consistently moist soil to perform well. You can also extend the bloom time by deadheading the blue-flowering wildflowers.
Scottish bluebells are ideal for rock gardens, borders, containers, naturalized areas, or ground cover. The violet-blue Scottish bluebells are hardy in USDA zones 3 to 8 and prefer well-drained soil. They grow in full sun but require partial shade in hotter climates.
Spanish Bluebell (Hyacinthoides hispanica)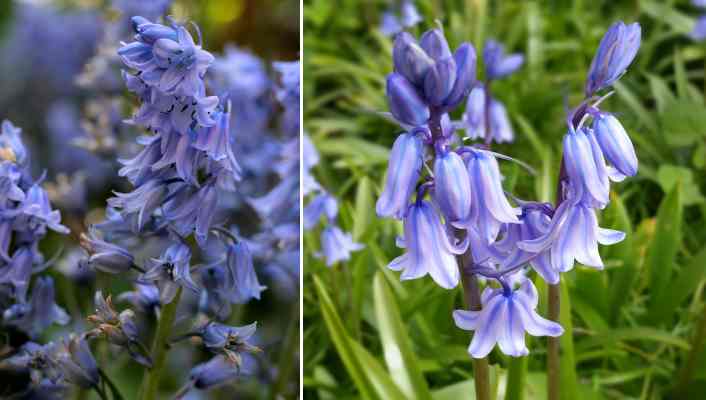 Spanish bluebell flowers are beautiful, nodding, bell-shaped, vibrantly colored flowers that appear in spring. The vigorous perennial low-growing plant has clusters of dangling bell flowers growing at the top of erect stems. The clumping plant produces foliage of glossy green, smooth, linear grass-like leaves.
Spanish bluebell flowers return year after year, covering woodland floors and open spaces with purple-blue carpeting. The flowers grow 6" to 24" (15 – 60 cm) tall and wide. This low-maintenance, non-native plant also blooms in shades of pink and white, adding a splash of color to shaded landscapes.
Despite their attractive appeal, Spanish bluebells can become invasive in North America. The vigorous plant spreads through self-seeding and extensive underground roots. However, they are excellent wildflowers for borders, understory planting, and rock gardens if kept under control. These hardy plants can withstand heat and cold, making them suitable for various climates.
Spanish bluebells are suitable for growing in USDA zones 3 to 8 in direct sunlight, partial shade, or full shade.
Virginia Bluebell (Mertensia virginica)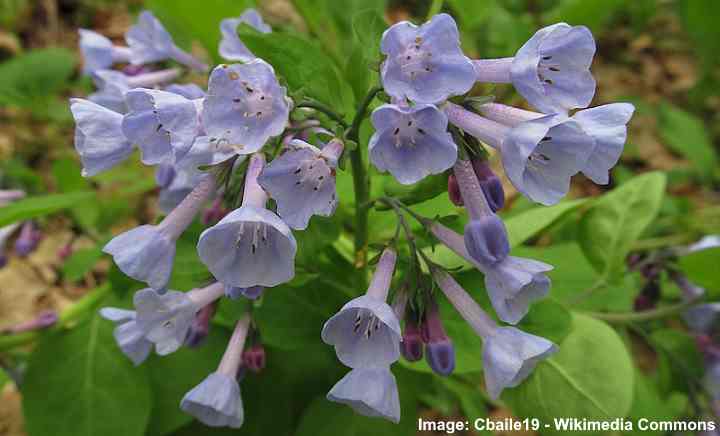 Virginia bluebell flowers are beautiful spring bloomers with trumpet-shaped blue-violet nodding flowers growing in clusters on erect stems. Virginia bluebells are native wildflowers in North America. The pretty blossoms emerge from pink buds before turning pale to sky blue, but sometimes pink and rarely white. The plant has soft-blue, oval leaves growing 4" (10 cm) long.
Virginia bluebells grow 12" to 24" (30 – 60 cm) tall and wide. The spring perennials thrive in shady areas with moist, well-drained soil. The long-lasting bluebell blooms emerge in spring and persist through early summer, where the plant dies back to the ground before returning the following year.
Virginia bluebell flowers are ideal for understory planting, woodland areas, shady borders, or planting in mass around trees and shrubs. The charming pale purple or blue flowers and bright green foliage thrive in USDA zones 3 through 8. They are a great addition to any garden looking to add a splash of color in the early spring months.
Bellflowers (Campanula)
Bellflowers are beautiful five-lobed deep purple to blue bell-shaped flowers that thrive in sunny locations. Also called campanula, these flowering plants produce blue, purple, pink, or white flowers blooming throughout summer. The bell-shaped flowers dangle from tall, arching stems, adding a touch of elegance to any garden or landscape.
There are many different species of bellflowers, each with unique characteristics. Here are some varieties of campanula that thrive in most regions of the United States:
Canterbury bells (Campanula medium)
This blue-flowering plant has long-lasting bell-shaped blooms in shades of violet-blue, pink and sometimes white.
Campanula (Bellflower) 'Sarastro'
A clump-forming, ground-cover plant with rich violet-blue bell-shaped flowers drooping from arching stems. It grows 18" to 24" (45 – 60 cm) tall and wide.
Creeping bellflower (Campanula rapunculoides)
This late-blooming flowering plant has slender, bell-shaped blossoms on flowering stems. It grows 12" to 31" (30 – 80 cm) tall and wide.
Serbian bellflower (Campanula poscharskyana)
The bluebell flowers are star-shaped and have various lilac shades. They bloom on creeping stems that grow up to 10" (25 cm) long.
Bellflowers are a fantastic choice for sunny gardens. Their vibrant colors and graceful blooms brighten up outdoor spaces. Their versatility means you can plant the bluebell flowers as ground cover, garden borders, underplanting shrubs, or in containers.
Further reading: Campanula Flowers: Varieties, and Caring For Campanula Bellflower Plants.
Hybrid Bluebell (Hyacinthoides x massartiana)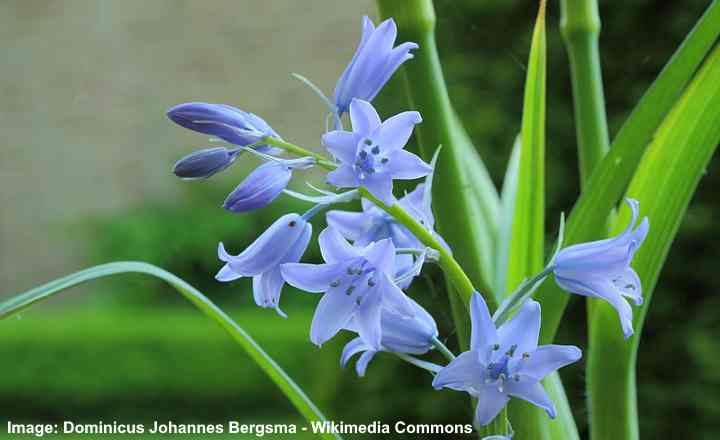 The hybrid bluebell is a beautiful flowering plant with blue and lilac bell-shaped flower clusters. Identifying characteristics of the hybrid plant are its flowers resembling native bluebells—blue flowers that look like nodding bells with recurved petals. Also, the clumping plant has arching, strap-like foliage and a clumping nature.
Hybrid bluebell flowers are a cross between the Spanish bluebell (Hyacinthoides hispanica) and the English bluebell (Hyacinthoides non-scripta). The low-maintenance plant is perfect for borders, rock gardens, or naturalizing in wooded areas. It is a hardy plant that can tolerate a wide range of soil conditions and is resistant to pests and diseases.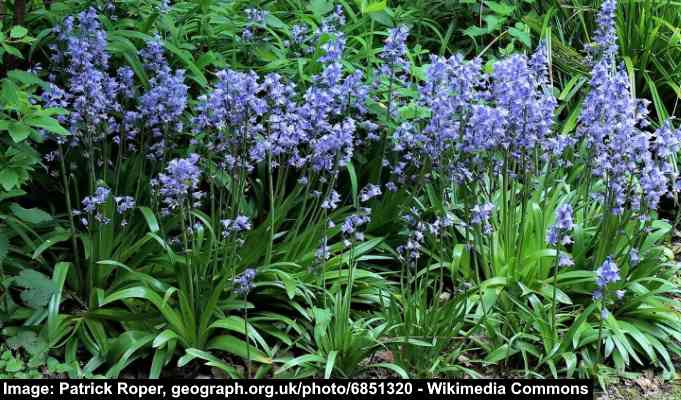 Hybrid bluebells grow up to 20" (50 cm) tall and have pointed strap-like leaves 1" (25 mm) wide. Compared to English bluebells, the hybrid variety is larger and more robust, and its flowers don't have a sweet, fragrant scent. Hybrid bluebell flowers tend to be invasive and can put native populations of bluebells at risk.
This sun-loving plant is suitable for USDA zones 4 to 9. It's best to plant the bluebells in full sun to partial shade and well-drained soil to grow successfully. With its stunning flowers and easy care requirements, the hybrid bluebell is a great addition to any sunny garden if you keep it under control.
Other Types of Bluebells
Several other types of bluebells in the genus Mertensia grow in woodlands, shaded spaces, and open landscapes.
Sea Bluebells (Mertensia maritima)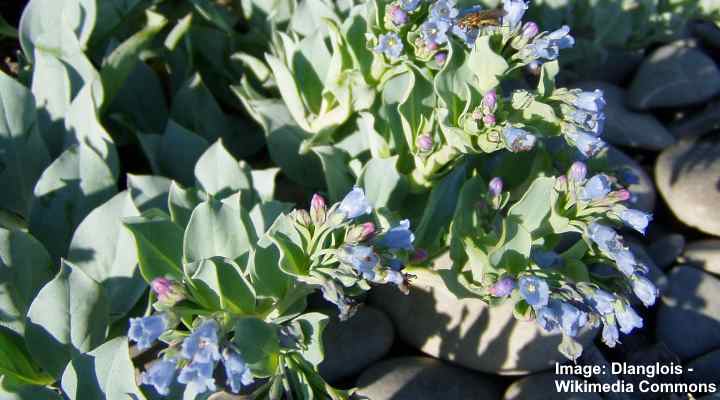 Sea bluebells are a species of ground-hugging blue-flowering plant with tiny bell-shaped flowers. Also known as the oyster plant, the spreading prostrate perennial has bright blue flowers and silvery, blue-green foliage. The hardy flowers bloom in late spring, and the foliage dies back in the winter.
Sea bluebell flowers grow on spreading stems that grow 4" to 6" (10 – 15 cm) tall and 5" (12 cm) wide. The attractive mat-forming plant tolerates full sun, sea spray, and drought. It's an ideal ground cover plant for coastal gardens, rock gardens, or ground cover in full sun. It thrives in poor, sandy soil that has excellent drainage.
Sea bluebells thrive in USDA zones 3 to 7.
Prairie Bluebells (Mertensia lanceolata)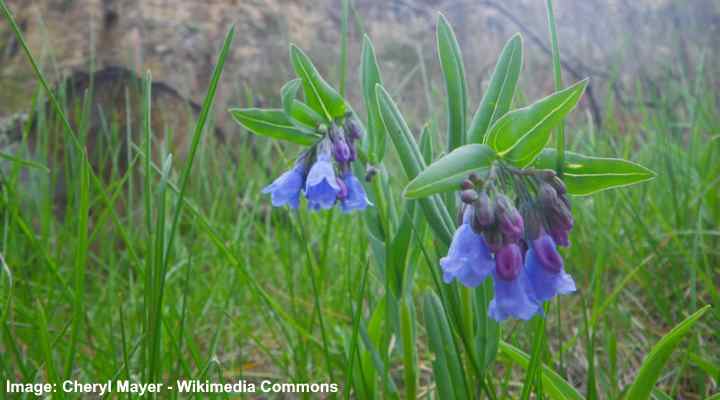 Prairie bluebells are native wildflowers with beautiful dark blue to pale blue, sometimes pinkish-blue bell-shaped flowers. The dainty tubular flowers dangle in clusters from arching stems surrounded by long, lanceolate leaves. The bluebell flowers grow 8" to 24" (20 – 60 cm) tall, and they form clumps 24" (60 cm) wide.
These beautiful blue prairie bluebell flowers bloom in late spring and early summer. The plant thrives in dry, gravelly sandy soils in partially shaded conditions. These tubular flowers are ideal for naturalizing wildflower gardens, decorating rock gardens, or understory planting in poor soil.
Prairie bluebells are suitable for growing in USDA zones 3 to 6.
Small Bluebells (Mertensia longiflora)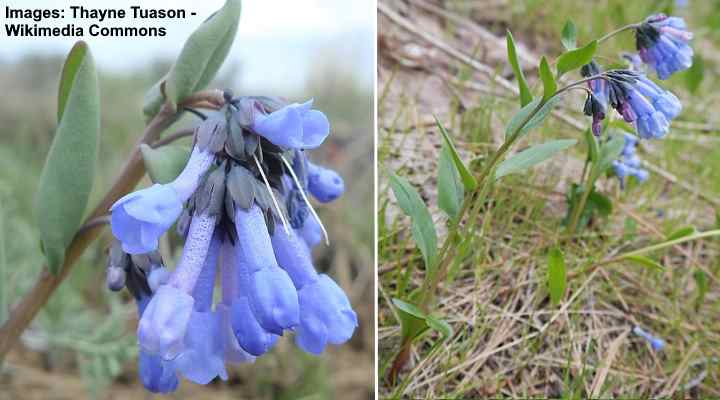 Small bluebells are delicate, elongated, bell-shaped flowers that bloom in shades of light blue. The small tubular flowers have five petals that flare at the tips. The clusters of bluebell flowers contrast nicely with the oblong or lance-shaped gray-green leaves that grow alternately on slender stems.
Also called long-flowered bluebells, the foliage and flowering stems grow in clumps 12" to 24" inches (30 – 60 cm) tall. In the wild, you will usually find the wildflowers in moist, shaded woodland areas, streambanks, and other damp, forested habitats.
Small bluebells are native to North America and are often found in meadows and woodland areas. The charming perennial flowers attract bees, butterflies, and other pollinators to the garden. They bloom in early spring, adding a touch of color to the landscape after the winter months. Small bluebells are also easy to grow and require little maintenance.
Small bluebells are suitable for growing in USDA zones 3 to 8 and prefer partial shade to full sun. They can be planted in borders, rock gardens, or naturalized areas. These petite flowers are a beautiful addition to any garden, adding a touch of elegance and charm.
Tall Bluebells (Mertensia paniculata)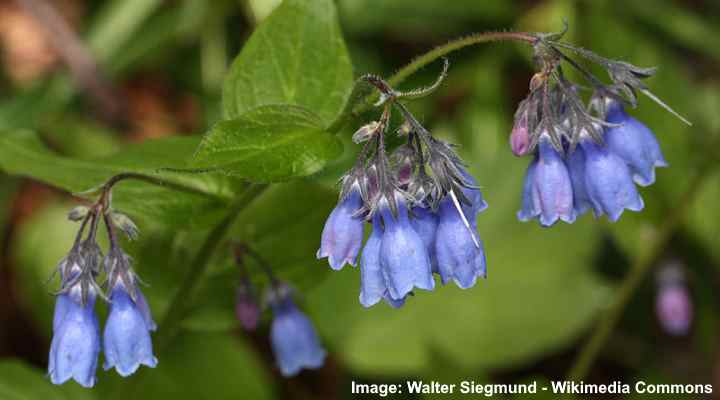 Tall bluebells are beautiful, vibrant blue flowers dangling in small clusters in late spring to mid-summer. The clusters of bright blue bell-shaped flowers bloom at the end of arching stems. The stems grow to a height of 8" to 36" (20 – 90 cm) and have sparse foliage consisting of lanceolate leaves.
Tall bluebell flowers thrive in sunny areas in moist, well-drained soil. They are ideal for adding a pop of vibrant color to a garden landscape. The easy-grow perennials require minimal maintenance and spread freely by self-seeding or underground rhizomes without becoming invasive.
Tall bluebells thrive in USDA zones 3 to 8 and prefer well-drained soil.
Sagebrush Bluebells (Mertensia oblongifolia)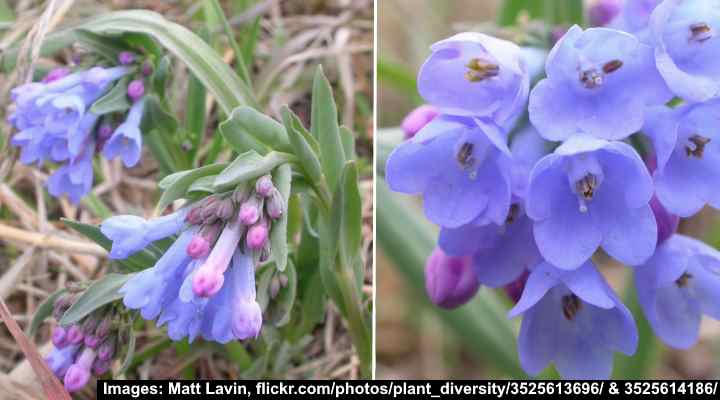 Sagebrush bluebell flowers are eye-catching tubular blue to pinkish-blue flowers with bell-like mouths. Like many species of bluebells, the bell-shaped flowers grow in dense clusters on thin, slender stems. The wildflowers bloom in late spring to early summer, transforming landscapes with attractive pastel colors.
Also called desert bluebells, sagebrush bluebell flowers grow in low mounds 6" to 12" (15 – 30 cm) tall. The blue flowers thrive in drought-prone, arid landscapes and are well-suited for xeriscaping or rock gardens. They are also low-maintenance wildflowers that attract pollinators such as bees and butterflies to the garden.
Sagebrush bluebells are suitable for growing in USDA zones 4 through 8.
Mountain Bluebells (Mertensia ciliata)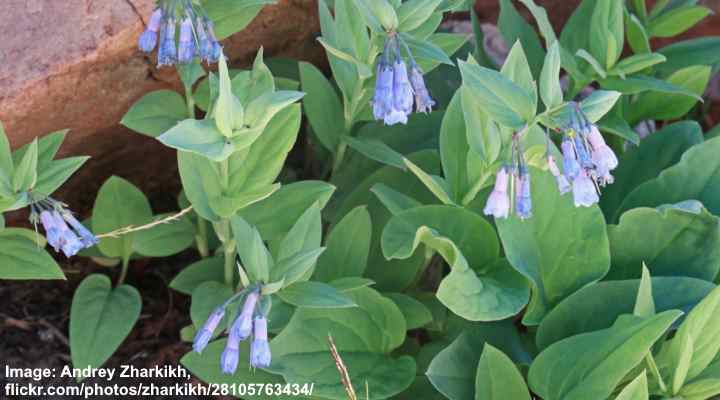 Mountain bluebells are identified by their purple-blue flowers consisting of five fused petals that form a bell-like shape. The bluebells grow on tall stems surrounded by large lance-shaped leaves 6" (15 cm) long. As the tallest variety of bluebells, the clumping blue-flowering plant grows 1 to 4 ft. (0.3 – 1.2 m) tall.
Tall mountain bluebells are easy to grow in garden landscapes. You can plant the bluebells for their sweet-scented tubular flowers to attract pollinators. The native bluebells perform well in wildflower gardens, rock gardens, borders, foundation plantings, and understory planting.
Mountain bluebells are suitable for planting in USDA zones 3 through 8. They can be grown in rock gardens, borders, or as a colorful addition to any sunny landscape.
Where to Find Bluebell Flowers
You typically find bluebells creating a carpet of blue flowers during spring in woodlands and floodplains in Eastern North America. Native bluebells, like Virginia bluebells (Mertensia virginica), thrive in shaded landscapes on woodland edges where the ground is organically rich and moist.
How Do Bluebells Spread?
Bluebells spread through seed dispersal and their extensive underground rhizome root system. This spreading habit allows native bluebells to form large colonies of flowers rapidly. However, the blue-purple flowering ground cover plants aren't invasive because they disappear in summer before reappearing the following spring when few other plants are in bloom.
Can Bluebells be Grown from Seeds, or is it Better to Plant Bulbs?
Bluebells can be grown from both seeds and bulbs. Growing them from bulbs is a more common and straightforward method, as it ensures the true characteristics of the species. However, growing from seeds is possible, but it may take longer to see flowers.
English Bluebells vs. Spanish Bluebells
Although not native to North America, English bluebells are not as invasive as the Spanish varieties. To tell the species apart, look at how the bluebells dangle on stems. English bluebells only flower on one side of the stem, whereas Spanish bluebells bloom around the stems.
Spanish bluebells are more robust and have larger flowers than English varieties. Also, you are more likely to find Spanish bluebells in open spaces because English bluebells only grow in dappled sunlight or full shade, never in direct sunlight.
How to Grow Native Bluebells in Your Garden
The easiest way to grow Virginia bluebells in a shaded garden is to plant dormant rhizomes in early spring, as soon as the last frost has passed. Choose an area under shrubs or trees to ensure partial to full shade. Then place the root 1" (2.5 cm) into the ground, leaving the tip above ground.
Related articles: